Fifteen months!  Such a big boy!
growth
Hudson had his 15 month doctor's appointment yesterday and he measured to be 24 pounds and 31 inches tall.  His weight has barely changed over the last several months but he's grown quite a bit taller – long and lean, losing those sweet baby rolls!
He's in 18 month clothes, although they are a little big (thankfully now that it's summer he can wear shorts where the length variation isn't as obvious as pants).  Size 5 disposables, largest rise and 4 snaps in the middle in his cloth diapers (he's been in that same size for months and months!).
He now has seven teeth – four on the top and three on the bottom.  His hair is so curly and crazy.  People comment on it all the time!  Sometimes it's like a big puffy frizz and he looks like a crazy professor and sometimes there are tons of little ringlets.  I don't really do anything to style it except comb through the tangles after his bath.  I just let it do it's thing and I think it's always adorable :).
Side note: Hudson hated the doctor visit yesterday.  The very first thing we do before we even go to a room is to get weighed and he freaked as soon as I laid him down on the weighing table thing.  He cried about getting his head measured, his height, his temperature (on his head), looking in his ears, everything.  It was not a pleasant experience.
food
Hudson loovvvveeesss to eat.  For the most part he is a really good eater.  Fruit is definitely his favorite – it's the first thing he eats off his plate and he always signs for "more".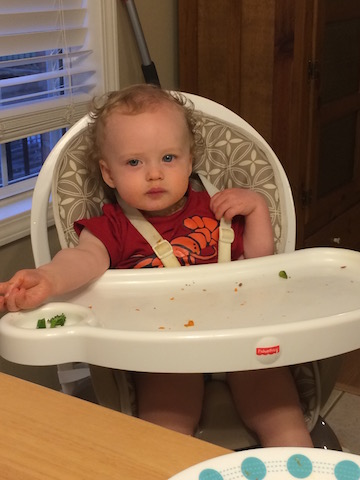 It's gotten to where we can't eat anything in front of him if we aren't willing to give it to him (i.e. something unhealthy or messy that we don't want him to have) because if he sees that we have something he doesn't have he will cry and pitch a fit about it.
One night we were eating fish and had cut up some lemons to squeeze lemon juice on them.  He was crying and crying and pointing at the table and we offered him everything on the table and none of it made him happy.  Finally we gave him a lemon wedge and apparently that was what he wanted because he quit crying and happily chewed on it.  He did the same thing with sour cream a few days later and wanted to just eat straight sour cream.  So strange.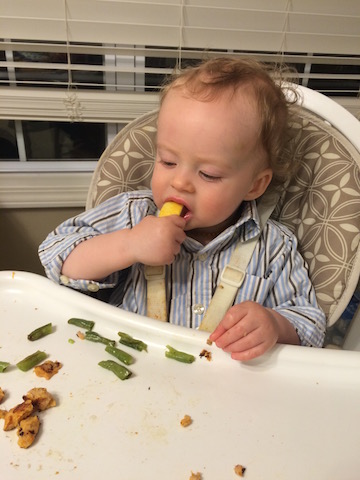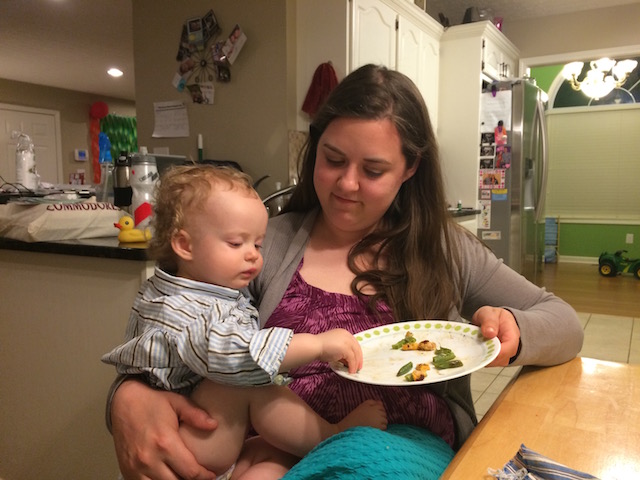 Hudson loves to put food in his hair.  Which is so annoying because it gets all stuck down in his curls and it's just gross.  This is what happens when I look away for a bit…he smears avocado tuna all over the place.  Eww.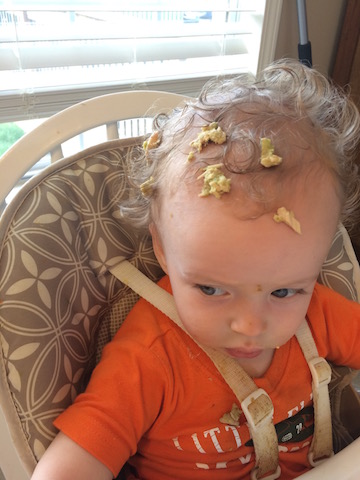 Michael shared a bit of his strawberry kefir with Hudson one afternoon and Hudson loved it – he ended up drinking most of Michael's glass!  
We're still nursing about three times a day (right after Hudson wakes up, in the afternoon, and before bed).  There have been a few days he has only nursed twice (morning and night) so I think we're on our way to transitioning to just 2 times a day.
sleep
Pretty good actually. (I know!  Amazing.)  He's been going to bed around 8pm and sleeping until around 8am with one nap during the day (around lunchtime).  We still have our nights full of multiple wake ups or taking forever to go to sleep, but overall it's been much better than the past few months.  He's still in our bed at night and I hold him for his naps.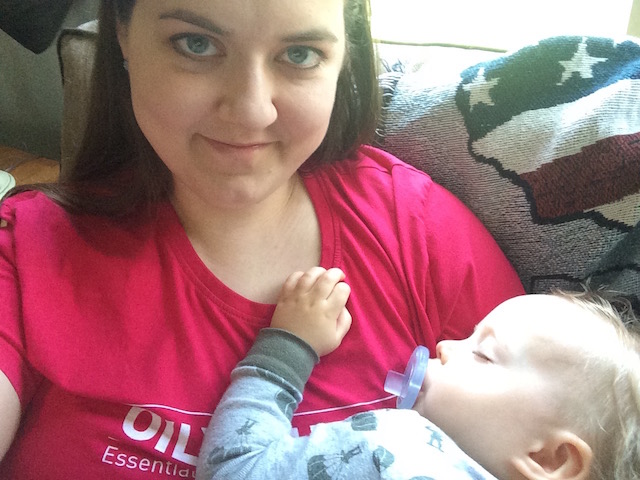 communication
Strangely he quit saying his one word (bye) that he used to say all the time and for a while wasn't using any words (I mean, he "talks" constantly, but there weren't any we could actually understand) but toward the end of the month he learned a new word (fish, which sounds like "ish").  We have a white noise machine with a projector that projects fish onto the ceiling and he loves them.  He's started pointing at the ceiling and saying "ish! ish!".  Of course he also says "ish" for other things…but we can definitely tell when he's talking about the fish.
He very consistently uses his sign language though and learned one new sign this month (drink).  And like I said, he babbles all.the.time. so I think it won't be long before he starts talking up a storm!
firsts
One first this month was his very first kids meal!  Yep, now that he's eating so much we can't share a regular adult meal with him because there isn't enough food for us and him!  After no eating out for a month (because of Whole30) we celebrated and went to eat at Moe's and got Hudson his own meal (the chips come with it automatically but we just gave him the burrito to eat).
We've also eaten at KFC a few times and there he actually gets an adult meal (chicken breast and sides).  Whew!  Our wallet is feeling the effects of buying three adult meals instead of just two!
Now that the weather is warming up we got a bike trailer so we could ride together as a family.  Problem is, Hudson HATED it!  Well actually he hates his helmet.  The first time we went out he cried and cried.
The second time (and other subsequent rides) have been better.  We gave him some books and toys and so he rides fairly happily now (although he usually keeps on hand on his helmet at all times…he just really does not like it!).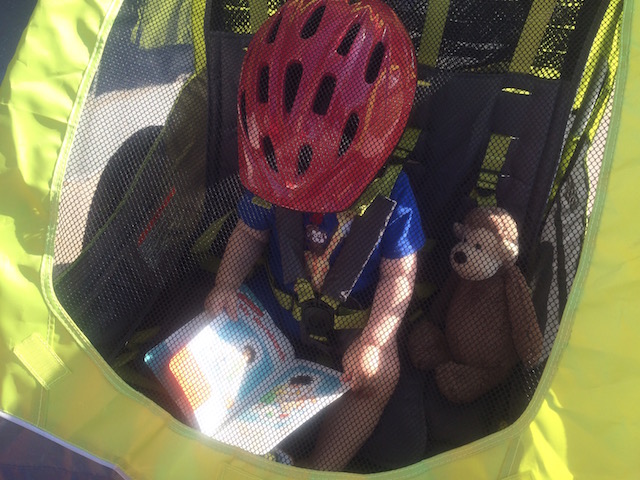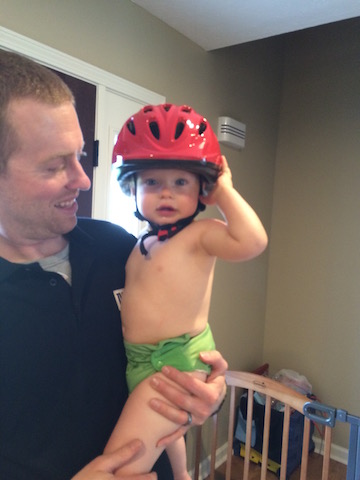 dislikes
Well, he's a toddler so there are a LOT of things that he dislikes (diaper changes, bed time, being told "no", etc.) but there are two in particular that he reallllllly dislikes.  One is animals.  He is so terrified of most animals, but especially cats and dogs.  When he spots one, especially if it comes close, the scream he lets out is one of pure terror.  I hate seeing him afraid and wish I could figure out how to help him but have yet to come up with a great solution.
The second are shoes.  Yep.  The only shoes he will wear are the leather-soled Robeez.  He actually has quite a few other cute little shoes but when I put them on his reaction is this.  In fact, he usually drops down to the floor and refuses to walk if he has shoes on (will crawl instead).  So for now we just wear those Robeez everywhere and will continue to work on wearing regular shoes.
Oh and one other thing, I'm sad to report, is that Hudson has started hating the carseat again.  We did so well for several months thanks to Daniel Tiger, but recently even that hasn't been enough.  Thankfully he isn't screaming like he did before, but he is crying more and pitching big 'ol fits when it's time to get in the carseat.  Sigh.
adventures
Now that the weather is warm we've been trying to get outside more.  At first Hudson hated that (remember how he hates snow, leaves, and grass?) but now has come to love it and in fact cries when it's time to go back inside.
This was our first day out once it got warm.  Please note the shoes he has on – this is the one and only day he has tolerated shoes other than his Robeez!  Too bad it only lasted one day!  We went to the park with friends from church and at first he was verrrry nervous, cried if I put him down, wouldn't play, etc.  But I just sat on the ground with him and gradually after a while he started walking around.  And then he took off and toddled all over the playground and had a blast!  He doesn't like to put his hands down on the ground though so if he falls/sits down then he'll just sit there until I come to help him back up.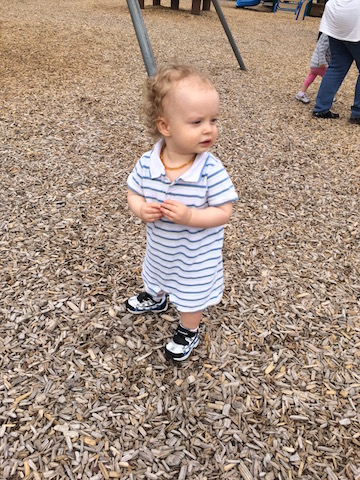 On Easter we went home to visit family.  Hudson got to participate in the Easter egg hunt this year (last year he was only 2 months old!) and I was afraid he wouldn't like it because of the grass but he got right out there and walked around.  He only wanted to pick up one egg…once he got one he was content to just play with that!  Ha!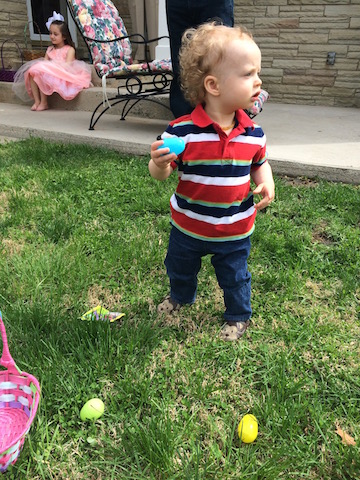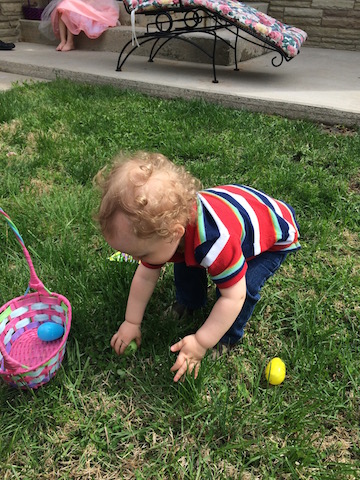 I don't have any pictures, but we went to Lads to Leaders in Nashville, TN for one day to support the kids from our church.  We had never been so it was a really fun experience.  Hudson did great for being dragged all over Opryland Hotel all day and of course he loved getting to play with the big kids :).
We also participated in an event called the Great Cloth Diaper Change, a day every year where people across the world get together in groups and you all change your child's diaper at the same time.  They try to break a record for most cloth diapers changed but also use it as a way to teach people about cloth diapering.  We missed out last year because of another conflict so I was very excited to get to go this year!  It was fun and although I don't have any pictures of the event I did snap one of this cool wet bag we got as a goodie bag – I love the symbols for babywearing, cloth diapering, and breastfeeding!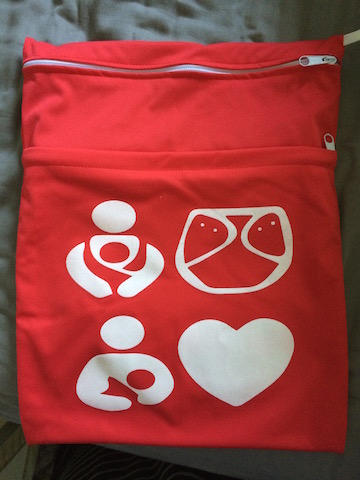 Michael had to travel out of town again this month.  We intended to go with him but the closer we got to the trip the more I dreaded trying to travel with an active toddler.  So long story short we decided to sit this trip out and we headed to my mom's house instead.  Hudson had a rough week (turns out he was teething) – very fussy and did not sleep well.  So I'm glad we didn't end up going out of town and staying in a hotel with Mr. Fussypants!
Watching an old favorite of mine – Wee Sing in Sillyville.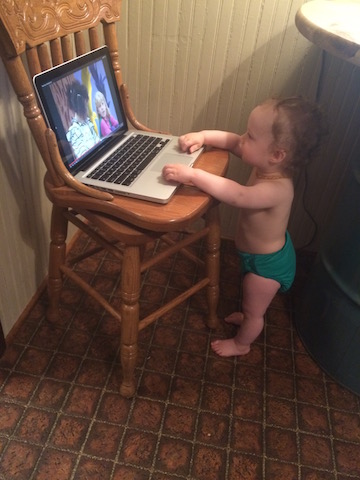 Stirring a bowl fill of chip clips – one of his favorite "toys".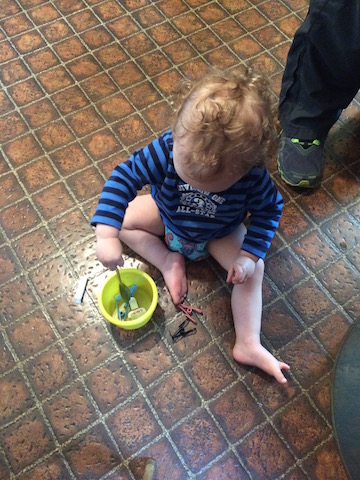 We went to do some shopping in Nashville one day so that mom could entertain Hudson while I shopped (it is SO hard to shop with a little one!).  He really liked the car at Shoe Carnival :).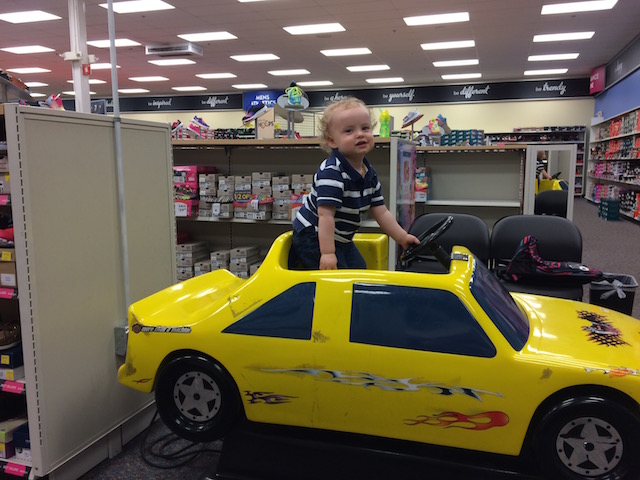 Like I said though, he was having a rough week and did not enjoy our trip.  He usually does fine in his stroller but he was not having any of it at the mall so on my back he went.  Poor fussy, sleepy boy.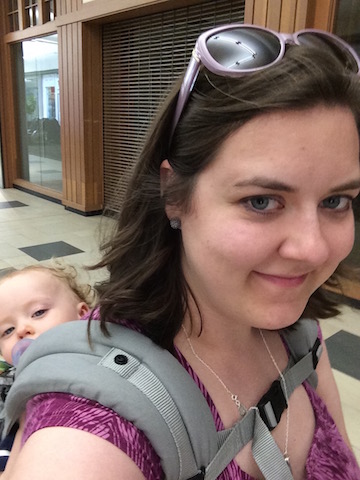 Hudson and I went one day to visit my friend Anne's classroom and I read a story to her kindergarteners. Hudson had a ball checking out all the cool things in Miss Anne's room!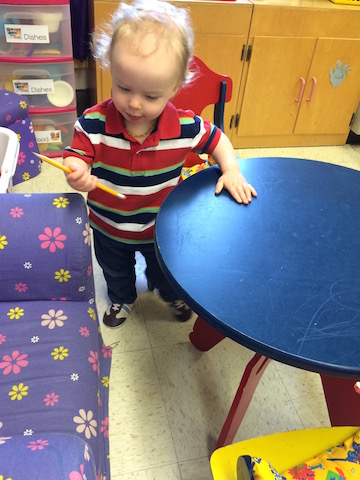 other stuff
We got a free newspaper in our mailbox one day and it provided hours of entertainment!  Hudson loved it when we stacked it up and then he would unstack and throw the papers everywhere.  He also liked to use his broom/mop to push them around the floor.
It's the simple things!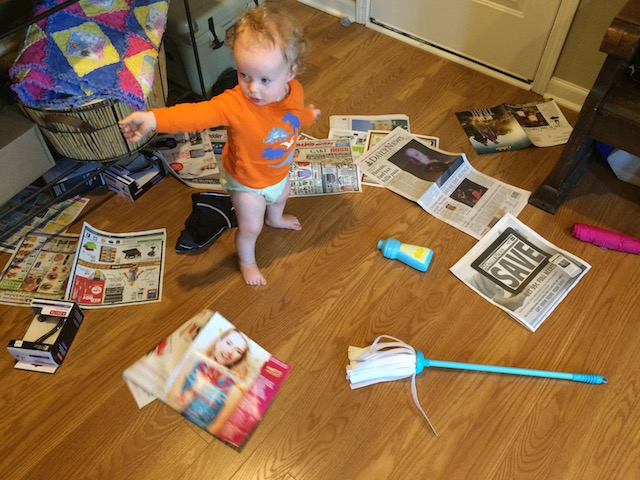 He still loves to sit and look at books but something new this month is that now he actually tolerates being read to.  Before he wanted to turn the pages really fast and got impatient after just a minute or two of reading but now he sits and listens, and actually he has started bringing us books and asking us to read to him.  It's adorable!  (He actually brings you the book, hands it to you, and then holds his hands up in this cute gesture that he uses to indicate "hold me".  Heart melter.)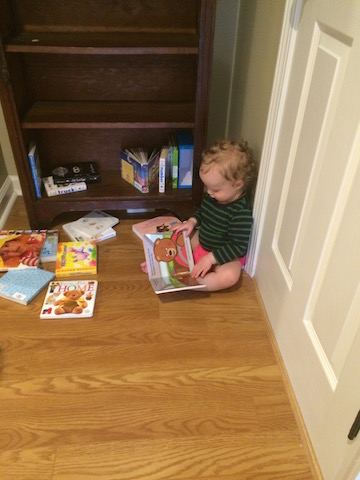 Speaking of books….after removing one of my books from him for the millionth time and him having a big fit about it I just removed all the books from the shelf that were not his (i.e. the ones that could be torn up) and moved them upstairs out of reach.  Now he has full access to the bookshelf and it only contains his books so he can get any without restriction.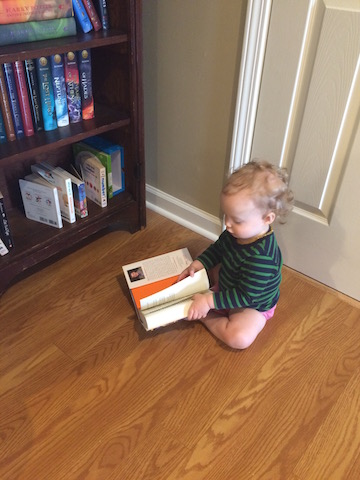 How adorable is this suit??  Oh he's just soooo cute!  On months that there is a 5th Sunday the young men at church lead the evening service and it has become somewhat of a tradition that all the men wear bowties on the 5th Sunday.  So of course Hudson had to join in too :).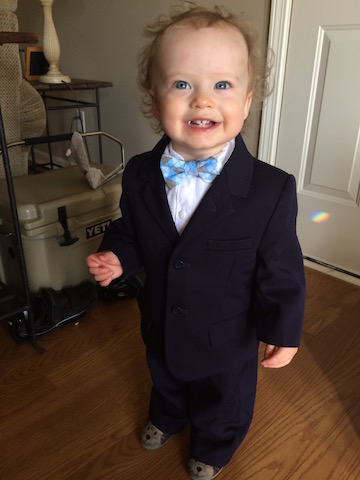 My boys in their bow ties.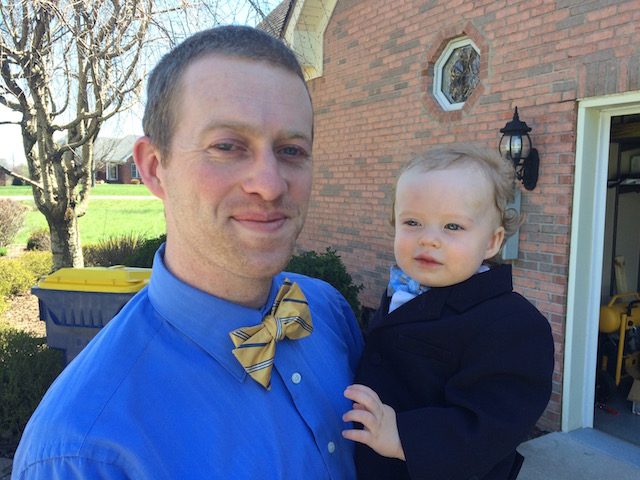 He rocked a more casual bowtie look for evening service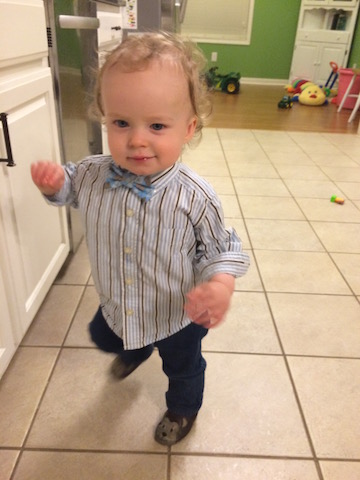 His cleaning supplies are still his favorite toys.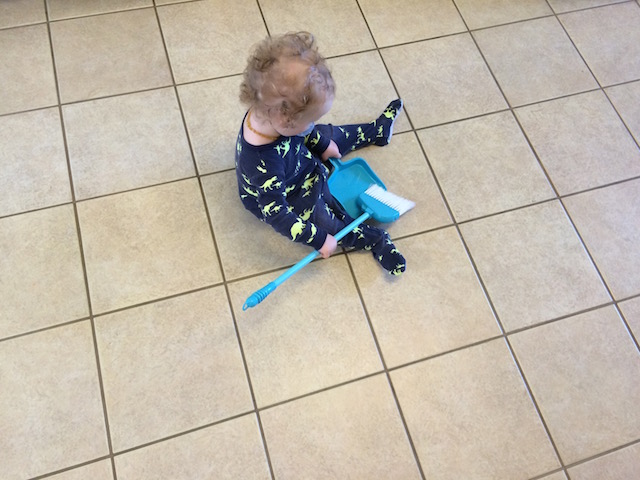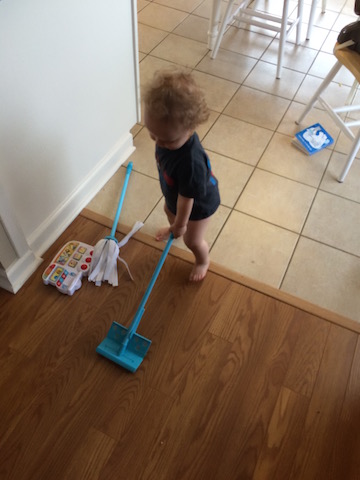 He also likes to stand at the windows and look out.  We bought a birdfeeder and hung it right outside the kitchen window so he can watch the birds while he eats or plays.  He really likes it (surprising since he's afraid of so many other animals, but apparently birds are not scary to him).
It's amazing how much he watches, soaks up, and mimics.  He was trying to hard to put his pants on!  He also "brushes" his hair with his comb, tries to put his amber teething necklace around his ankle at bedtime, takes oil bottles and mimics rubbing the oil on his feet, and more.  A good reminder that they're always watching!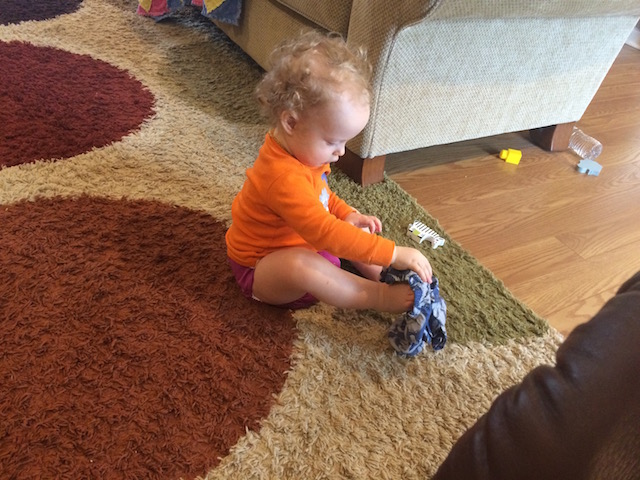 Oh how I love my little guy!  Even though sometimes I miss him being a teeny tiny baby, I just love him at this curious, funny toddler stage!  He makes me laugh all the time and he's so active.  I'm really looking forward to the summer this year – I think we're going to have so much more fun then we did just sitting around last year with a itty bitty baby!