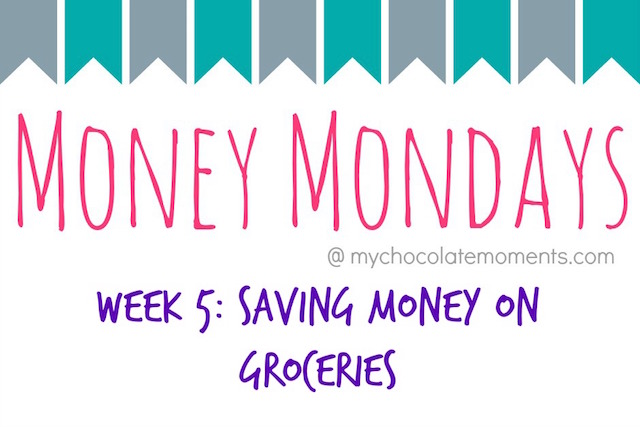 You have lots of budget categories that are fairly set in stone and the amount isn't going to change much (like your bills), but one category where you usually can cut back is your grocery budget.
When we first talked about budgeting I mentioned that different people have different priorities.  For us, eating fresh food, organic when possible, local, etc. is important to us and so our grocery budget is larger than some.  It's also difficult to do all the crazy couponing and such when you eat few processed foods but you can still do several things that will help you spend less and save money.
To be very honest I do not save nearly as much on our groceries as I could.  In fact, some of these things I'm going to share with you today I do not do consistently (so I need to take my own advice) but I know they are possible and work if you put the effort in to them.  This post has a bit of "do as I say but not as I do" ;).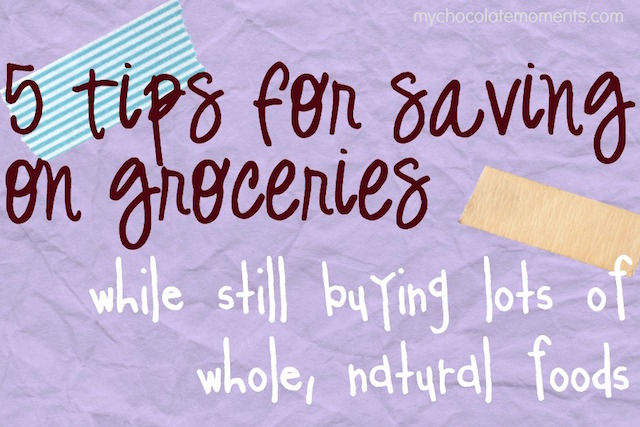 Ok so five ways to save on your groceries
1.  Plan meals around sales – Funny that this is my #1 thing on my list because I don't actually do this.  I know that I should, but it's just really hard for me to look at the sales and then figure out what to eat based on what's on sale.
However, this is a good way to save money – look at the ads for your grocery store and see what's on sale, then plan what you're going to eat that week using the sale items.
2.  Use coupons – Even if you eat lots of fresh produce you can still coupon.  Maybe not as much as some might, but still enough to make a difference.  Kroger is our main grocery store and they frequently send us coupons for things like $5 off a deli purchase, $3 off a produce purchase, etc. where it doesn't have to be brand-specific or something boxed.
I usually can find coupons for paper towels, toilet paper, tissues, diapers, wipes, laundry detergent, etc. plus other things that we buy like crackers, cereal, bread, etc.
Some people hard-core coupon and I did that for a brief time several years ago but it was too much for me to keep up with.  I did learn that combining coupons with sales (wait until an item is on sale and then use coupons when you buy) is the best way to get rock-bottom prices.  If you want to learn more about couponing I highly recommend checking out southernsavers.com – she teaches you all about how to coupon.  Very helpful!
3.  Go meatless – Meat is usually one of the most expensive components of your meal (that and cheese…boy we love us some cheese!) so trying to eat a meatless meal or two each week will really help.  Things like potato soup, pancakes, rice and beans, and vegetable soup are good options.
4. Use grocery apps – There are several smart phone apps that you can download where you can get money back for buying certain items.  It's like couponing but after the fact…so you purchase the item, scan it in to your app to prove that you bought it, and then they give you money back.  Once you get a certain amount in your account (usually a minimum of $10) then they pay you (some are checks, some via paypal, some in gift cards, etc.)
I love these apps because very often I have a store coupon for an item AND I can get money back on that same item via an app so I basically save twice on the item.  Very cool.
The ones I use are Ibotta, Checkout51, and Saving Star.  Ibotta is definitely the best of those three so if you're only going to try one I recommend that one.  All three often have some more natural or obscure brands (not just the same old ones that are in the newspaper coupons every week) and what I love most about Ibotta is the fact that they also have very generic guidelines…like an amount back on peanut butter in general (no specific brand), or milk, or eggs, or bread, etc.  That way you can get whatever brand you prefer and still earn money back.
(screenshots from the Ibotta app)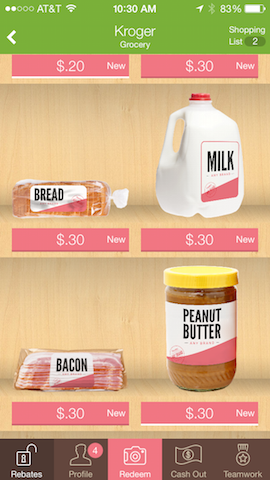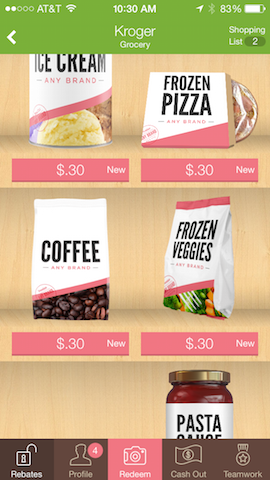 I also recently learned about an app called Receipt Hog where all you do is take pictures of your receipts (no scanning barcodes of specific items) and that allows you to earn points – when you accumulate enough points they pay you via PayPal.  I just downloaded that one this week so I haven't experienced it a lot but it has good reviews and sounds very easy so I'm going to give it a try!  If you sign up and need a referral code, mine is drit5295 (I don't know if that gets me points or you extra points or what…but if it asks feel free to use it ;) )
5.  Stock up – Stock up on things while they are on sale and/or you have a coupon.  Things that are nonperishable are easy because they won't go bad but you can also stock up on perishables and freeze them or go ahead and use them to cook meals and then freeze the whole meal ready to go.
Last week when I went to the grocery I had a $5 off $15 purchase of meat.  The chicken that we buy also happened to be on sale so I went ahead and bought 2 packs of chicken breast to take advantage of the sale and my coupon and put them in the freezer to be used at a later date.
So there are my five tips.
Now let me quickly walk you through my grocery process from start to finish.  I know I could spend hours and hours trying to find the best deals, shopping at several stores, matching coupons, hunting down extra savings, etc. but that's not my thing and I'm not willing to do tons and tons of work.  So I have a system that takes me about 30-45 minutes of prep before the trip and then maybe 5 minutes of work after the trip.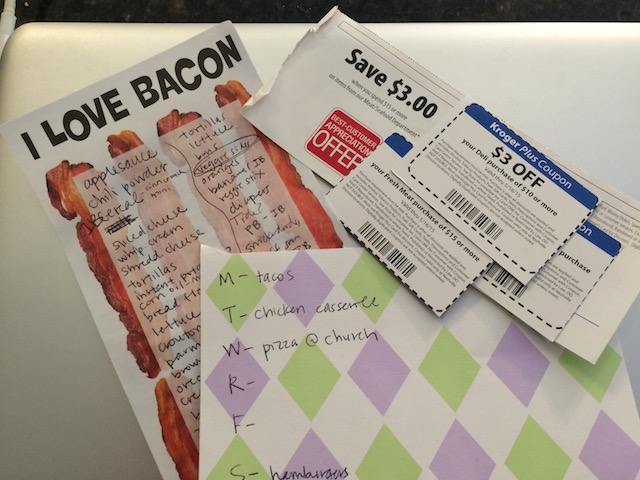 1.  I make my grocery list first.  I sit down and decide what meals we want that week, look at what ingredients we need to purchase, check on other items we need for snacks, breakfasts, lunches, etc.
This is 100% contrary to what I told you in step 1 of my five tips because I make my list before I look at the sales.  But like I said, I know it would be better to do it the other way, I just haven't wrapped my head around doing that quite yet.
2.  Pull up the Kroger ad and southernsavers.com and check out the Kroger sales to see if any of our staples are on sale this week.  If so, add those to my list.
3.  Look for paper coupons.  We do not get a newspaper so most of my coupons are either the ones Kroger mails us (which are usually fantastic since they use your Kroger Card data to tailor the coupons to you) or I check out coupons.com and print off coupons for items we use.
4.  Then I pull up the Kroger coupon app and go through the digital coupons and select any for items I'm buying.  I always do digital second because at our Kroger they will double paper coupons under $0.50 but not digital, however the digital coupon gets applied first.  So say I have a $0.50 off Tide digital coupon and a paper one, I'd rather use the paper one because it doubles to be $1.00 and I don't load the digital one to my card because the system would use that one first and then not let me use my paper one (unless I was buying 2 things of Tide…then I could use both – one for each).
5.  After I've got my coupons I open my shopping apps (Ibotta, Checkout51, and Saving Star).  I look at each of those to see if any of my items get money back this week.  If so, I make a note on my grocery list (you can see in the picture about where I have IB, C51, or SS written out to the side).  This has been hugely helpful because when I get home from the grocery I can just look at the notes on my list to see what items need to be scanned for which apps.
6.  Ok whew!  Time to actually go to the grocery!
7.  At the check out I give them my coupons but other than that most of the "work" (besides the actual shopping of course!) is all done in advance.
8.  When I get home I unload all the groceries from the bags and scan/upload items and receipts to all my apps before I put the groceries away.  I found that if I tried to wait and do it later then receipts would get lost or I'd forget to ever do it so I just make sure and do it immediately.
And that's that!  My grocery shopping routine.  It's not particularly glamorous or mind-blowing but it does help us save some on our groceries and every little bit helps!
(Here's another post I wrote that might be helpful: 10 tips for eating real food on a budget)
Your turn!  What tips do you have for saving money on groceries?