Every month I marvel at how much Hudson changes and all the new things he does – this month is no different!
growth
Hudson weighs 25 pounds and is 32 inches tall.  He wears 18 month clothes.  We no longer put him in sleepers with the feet because he couldn't walk well in them so he wears little pj sets instead.  I think they are so cute!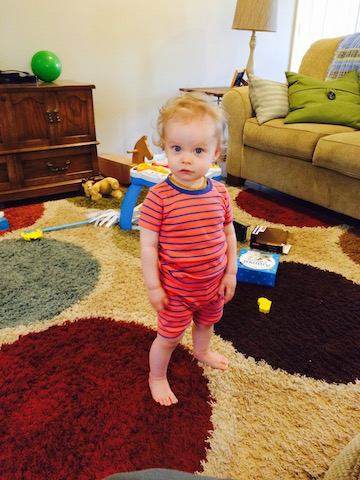 teeth
Well this has been an interesting month, teething-wise.  One morning toward the beginning of the month Hudson woke up with a fever.  It got higher as the day went on (up to 102.7, his highest fever yet), he was very fussy, and his diapers were very runny.  I thought he was sick (obviously) so we stayed home from church, cancelled appointments, etc.
By the next day the fever had gone down and he was relatively back to normal, although still a bit fussy/clingy.  A few days later I was putting some teething cream on his gums and low and behold my finger bumped into a molar!  Now the odd "sickness" made sense…it was from teething!
The reason I never expected a molar is because up to that point he had four teeth on the top and three on the bottom.  I've always been told that teeth come in pairs so I was waiting for that fourth bottom tooth to come shortly after #3.  I couldn't see bottom tooth #4 trying to poke through and of course the molars weren't even on my radar so I never suspected teething.
But apparently some kids can and do get their teeth "out of order".  He actually got both top molars (or more accurately, both top molars started coming through…one isn't quite finished yet) before he got that fourth tooth on the bottom.  I was starting to worry that he had some weird missing tooth thing and it wasn't going to ever come through but it finally did.
Alllllll that to say, we ended the month with 9.5 teeth (one molar is all the way through but the other is only halfway through).
communication
Hudson still isn't talking that much (not words that we can understand, at least).  His absolute favorite word is still "fish" and he uses it correctly.  He loves the fish on our ceiling (from the white noise machine/projector) and he knows where all the fish are in his books.  His favorite books are the ones with fish and he'll go get the book, flip the pages until he finds the fish, and then point and say "ish, ish" over and over.  It's adorable!
He also says "hi" and "bye" (and uses them correctly) and will repeat "no no" when we say it to him.  He started saying "uh oh" (it sounds like ah-ah) – he repeats it when we say it but also says it after he throws something (purposefully) on the floor.  Obviously we need to work on clarifying when things are actually "uh ohs" ;).
Those are really the only understandable words he uses.  There have been times that I've *thought* he was trying to repeat things I've said but it's hard to tell.
He is still using all his signs and using them correctly (except for "eat"…he used to do that one all the time but recently quit doing "eat" and uses "more" to mean both eat and more).  It is so helpful for him to be able to tell us what he wants!  Up to this point we have only been doing basic signs/words (eat, more, drink, milk, diaper, bath, all done) but are going to start working on others now.
Another new thing this month is that he started reaching for us to pick him up in this really adorable way.  He will bring me a book and then make the "pick me up!" and it's just so sweet…and of course I pick him up and we read!
He is also in this stage where he wants to know what everything is.  He points at everything and makes a noise (sounds kind of like "this?") asking what it is.  So we spend much of our day identifying objects.
food
Hudson is still a great eater.  A few weeks ago he ate a whole ribeye by himself!  He currently likes berries (blueberries, blackberries, and strawberries) best.  I do NOT love the resulting diapers from those though!  We have a strawberry patch in our garden and in the evenings we'll go out with Michael while he works in the garden and Hudson eats the strawberries right off the vine.  He loves them!
He does not seem to like cow's milk or juice.  We have tried giving him both and he refuses to drink them.  Thankfully he drinks lots of water so I'm not concerned about dehydration, I'm just surprised that he won't drink anything else yet (I thought all kids loved juice!).
We bought a patio set for our deck this month and have been enjoying eating many of our meals outside.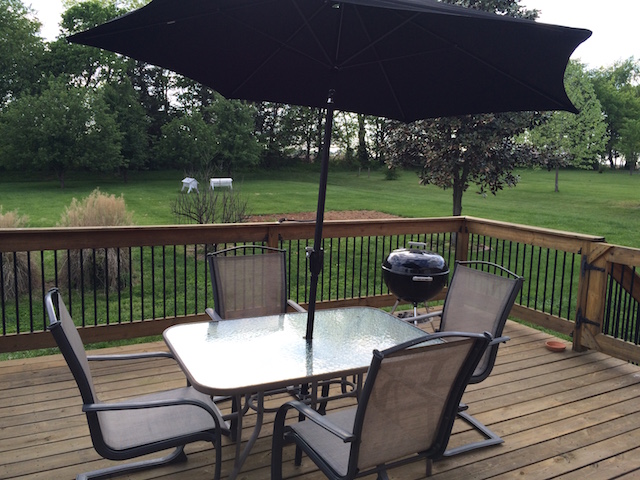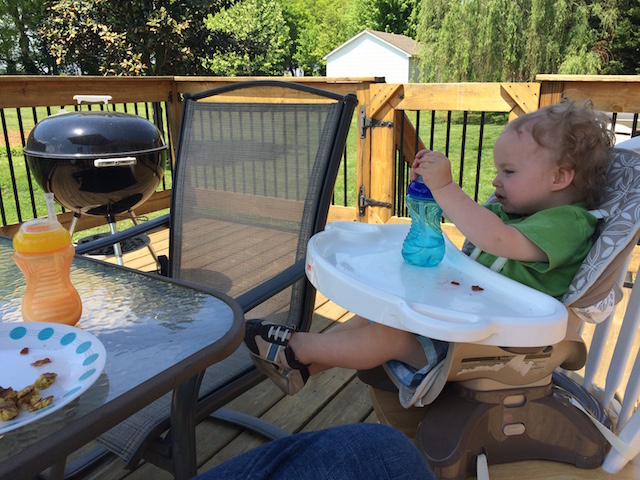 Hudson loves to play peek-a-boo.  Which is pretty cute until he does it while his hands are covered with spaghetti sauce…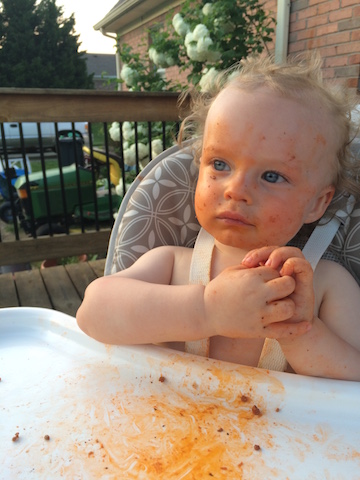 He has learned how to suck on his applesauce packets instead of us having to squeeze it into a spoon and feed him.  That makes feeding him on the go much more convenient!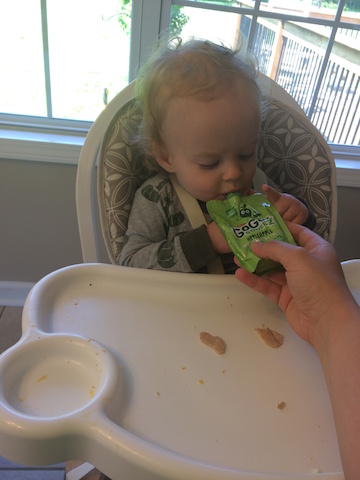 He nurses twice a day – in the morning after he wakes up and at night before bed.
sleep
Welllllll…read the big long saga above about teething and that might clue you in to how our sleep has been this month.
It has not been awful.  Many nights are good – he goes to bed around 8 pm and sleeps until 8 am.  But we did have a week or so where he refused to go to sleep until 10/11pm and then lots of nights where he has been very restless.
This BIG news this month is that I am no longer holding him for naps!  We started off the month with me still holding him but I started laying him down for naps in our bed and he has done really well.  He usually wakes up at least once a nap and I have to run in there and lay down next to him to get him back to sleep.  He sleeps longer and better if I'm next to him so lots of days I use that time to read or blog or work on oily things, but some days I clean, do laundry, wash dishes, etc.  It is SOOOOO nice to not be trapped in a chair holding him for several hours.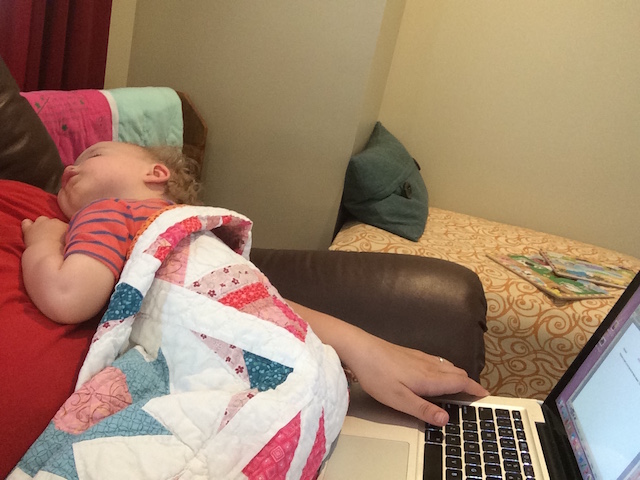 He takes one nap, usually in the afternoon.  He was napping from 11 to 1 or 2 and it was such an odd schedule because it was too early to eat lunch before nap but then by the time he woke up we were having a crazy late lunch.  Now I've got him to where he eats lunch first then goes down for an afternoon nap.  He usually sleeps 2-3 hours.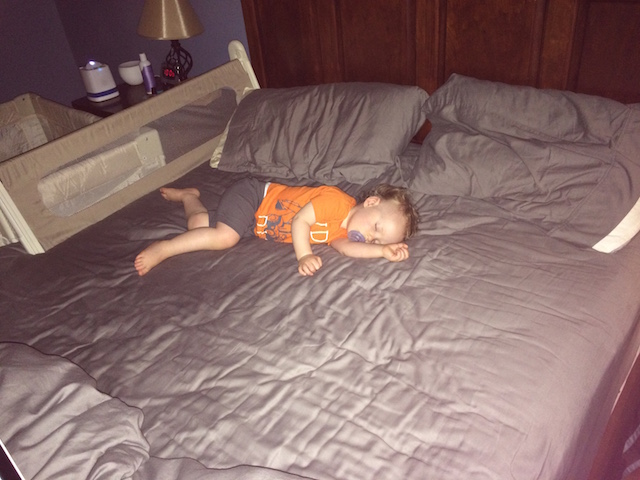 He's still a total bed hog.  He also does not like to have covers on him!  If we put the covers on him at all, even just on his legs, he will kick and thrash until he gets them off.  He sleeps in between us now and that makes for some difficult maneuvering for us to be covered while keeping them off him!  Ha!
We finally took his co-sleeper down this month (the pack n play-type thing that was by our bed).  He hadn't slept in it in months but we hadn't gotten around to taking it down until just now.  After 15 months of having it and/or the Rock n Play next to our bed it's weird to have nothing there!
Hudson always wakes up in a good mood and most of the time he wakes up super quickly. Occasionally he will take his time waking up and lay there for a bit but most of the time he wakes up, immediately sits straight up, and says "hi!".
new skills
Climbing!
He had only climbed on one or two things prior to this month but now he's up and down all the time (on small stuff, he still hasn't learned how to climb up on a kitchen chair or couch or anything).
One afternoon I was sitting at the kitchen table and he was playing in the living room/foyer.  I heard him making some whimpering noises and after a minute I got up to check on him and see what was wrong.  I rounded the corner and saw that he had gotten up on a box that had been delivered earlier that day and could not get down!  Of course like a bad mom awesome blogger I grabbed my phone to take a picture and document the moment.  I really didn't think he would try to get down but of course right at that moment he decided to try and ended up doing a full summersault off the box onto the floor.  I felt terrible!  But thankfully he wasn't seriously hurt, just a bump.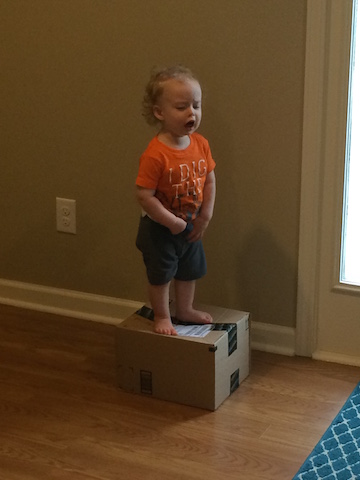 Then just a few hours later that same day he got up on a case of water bottles and couldn't get down.  Did I learn my lesson the first time and help him instead of taking a picture?  Why, no!  But at least this time I got him off before he fell…and still got the picture!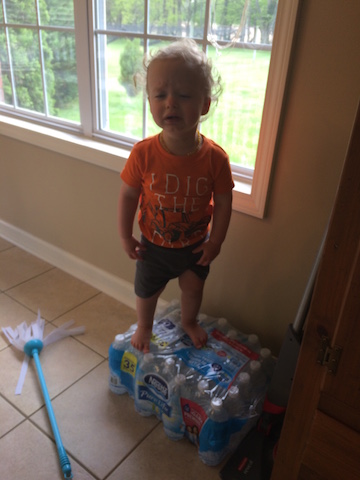 Now he can get up and down.  He also learned how to climb on and off of his riding toys and his rocking horse.
Another new "skill" (if you want to call it that) is "shushing".  I didn't realize he had learned to mimic that until one day in church when another parent somewhere else in the auditorium shushed their child (loudly enough that we could hear it) and Hudson looked at me, put his finger to his lips, and said "shhhhhh!".  It was hilarious!  Now if we shush him he does it back.
He laughs a lot.  Sometimes he'll genuinely laugh (like when we tickle him or play peek a boo) and sometimes he'll do this hilarious fake laugh (like if he hears someone else laughing).  What a ham!
dislikes
He's still terrified of most all animals.  We went over to our neighbor's yard to chat one afternoon and Hudson freaked when he spotted their dog.  I think his screaming actually scared the poor dog and she didn't want to have anything to do with us!
He did get to see a bunny rabbit for the first time at our friends' house and after he got over the initial wariness he seemed to like it (as long as it kept a good distance).  I sure hope he gets over this soon.  I really want to take him to the zoo but am afraid to spend the money and then him be terrified of all the animals!  Too bad we don't have an aquarium nearby so we can go look at all the "ish" (although I'm not sure that he would even like them in real life!).
One animal he isn't afraid of are birds – he loves to stand at our window (and now that he can climb he likes to climb up on a case of water and look out the window) and watch the birds at our feeder.  The bird feeder and the new patio set have been great purchases – we have really enjoyed both of them!
adventures
After being pretty adverse to all things outdoors (snow, leaves, grass, outside in general) Hudson is finally not afraid of outside.  And not only is he not afraid…he loves it!
We try to get out every day if possible.  I got a FitBit recently that has really motivated me to start walking so I can earn my daily steps so we have started going for walks around the neighborhood most days.  Several times though Hudson has fallen asleep while we were strolling (like at 5 pm) and that did not bode well for getting him to bed on time!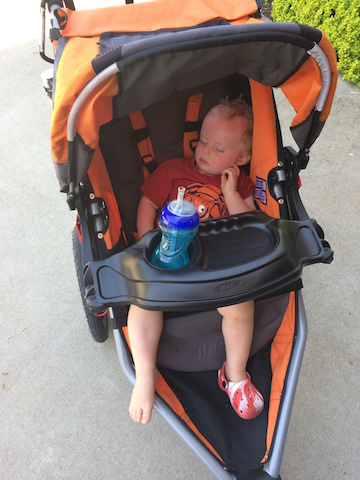 He also seems to have inherited (from my side of the family) skin that gets super red and blotchy.  I promise he is not sun burned in the picture below, nor was it very hot outside (and he was just sitting, not running around), but his face just gets super red.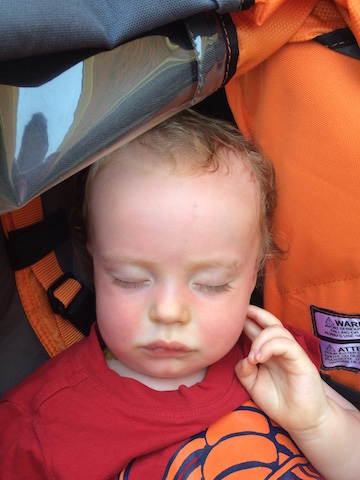 He likes to sit on me while I stretch after our walks – he thinks it's hilarious!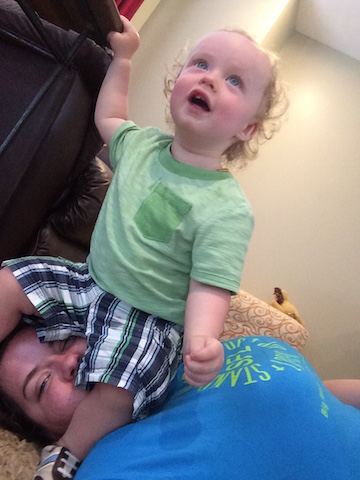 We have gone to the park several times to play and he has a ball.  As clingy as he can be at home I'm surprised at how independent he is when we go outside or to a park to play.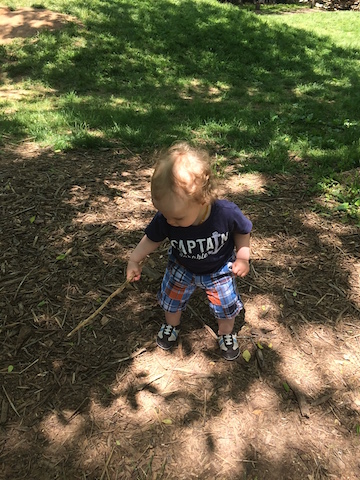 This particular park had lots of mulch and he had so much fun playing in the mulch…and putting it in his hair!  He has a total mess by the time we got home!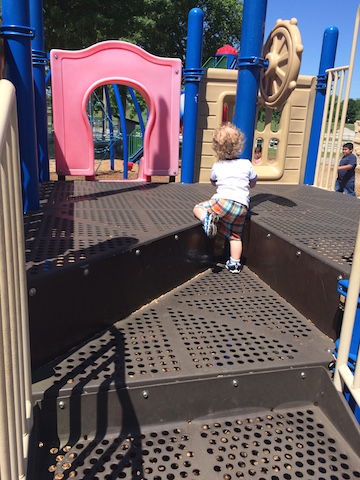 We also got a wagon that Hudson really likes.  I thought he might be afraid since he would feel a little off balance sitting up in the wagon and being pulled but he has loved it from day one and usually cries when I take him out.  If only I could get him to wear a hat – no shade in the wagon like there is in the stroller and with his pale skin (and sparse hair) I'm going to have to keep lots of sunscreen on him this summer!
We went to Lexington and that is the first time we've travelled a long distance since Christmas, I think.  Hudson did pretty well.  On the way down there he fell asleep (we left at nap time hoping he would sleep) but only slept about 30 minutes.  I had hurt my back and was barely able to move, much less hand him things and keep him occupied and I had to sit in the front for my back and his show ended (whhhhyyyy doesn't the Amazon app have autoplay!?!) while we were stuck in Lexington traffic and couldn't get back there to start another so the last 30 minutes or so was a scream-fest.  But the rest was fine and the ride home went smoothly too.
other stuff
Good news on the shoe front!  We are no longer only wearing leather, Robeez-type shoes.  As much as he freaked and refused to wear any other types of shoes am I so relieved that we have finally gotten past that.
I didn't care all that much until we started going out to play a lot.  The grass is often wet from dew or rain and the wetness was ruining his little leather shoes.  I really wanted him to wear something else when we went out to play so I started putting Crocs on him at first.  I figured that even though they were bigger and more structured at least they were not as heavy as other shoes.  He did not like them very much but didn't cry every time so I kept putting them on and eventually he got used to them.
My other trick was when I would get him dressed to go somewhere (usually church) I would put his (non-Robeez) shoes on and carry him straight to the car.  Somehow by getting used to the shoes while sitting in his carseat on the way he didn't seem to mind walking in them once we got there.  If I set him down on the floor as soon as I put the shoes on he would have a fit and refuse to walk but by easing him in to it we got to wear he would wear them without a fuss!  Yay!
I still put him in the leather shoes most of the time if I know we're going to be inside because he does a much better job walking with them on (and they hurt much less if he starts kicking his leg and hits me!).
Of course on this day I had clearly lost my mind and put him in two different shoes (and didn't notice until we were almost through at the first store on our long list of errands).  Not only did I not intend to put the monkey shoe on but it's also not even on the correct foot.  Mommy brain!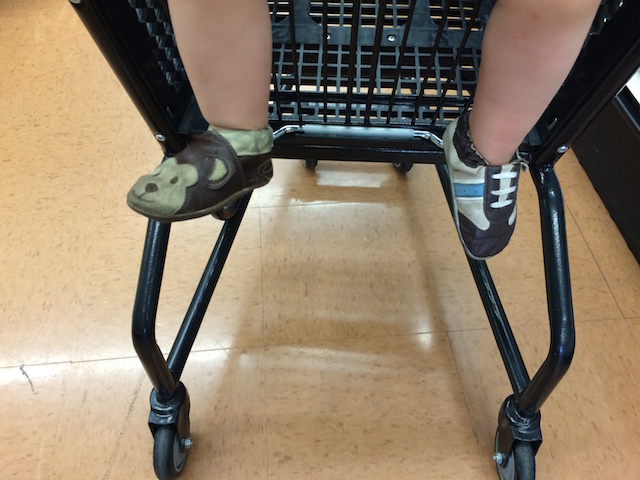 Something else new and unusual is how attached Hudson has gotten to Michael.  He has always loved his daddy, of course, but mommy is the one he usually wants most of the time.  Not so anymore!  He wants Michael to hold him bunches when he's home.
Oh and one Sunday morning at church Michael was an usher and during the second song the ushers walk down the aisle and collect the attendance cards.  Michael was coming down the aisle toward our pew and then turned to go back to the back of the church.  I guess Hudson thought he was coming to sit with us and then when he didn't he got SO upset!  He started bawling!  Everyone around us was cracking up and thankfully we were singing so you couldn't hear him too much over the singing but it was so out of character for him that I was shocked!
And one last thing I have to mention is that we made it 16 months without him falling off any beds but that streak has sadly ended.  He fell off our bed twice this month!  Both times I was in the bed with him and it happened so fast that I couldn't catch him in time.  He wasn't hurt either time (although the second time his head narrowly missed a sharp corner – whew!) but it scared him (and me!).  Obviously he's not very good at understanding the bed boundaries yet so I have to keep a closer eye on him because he's so quick!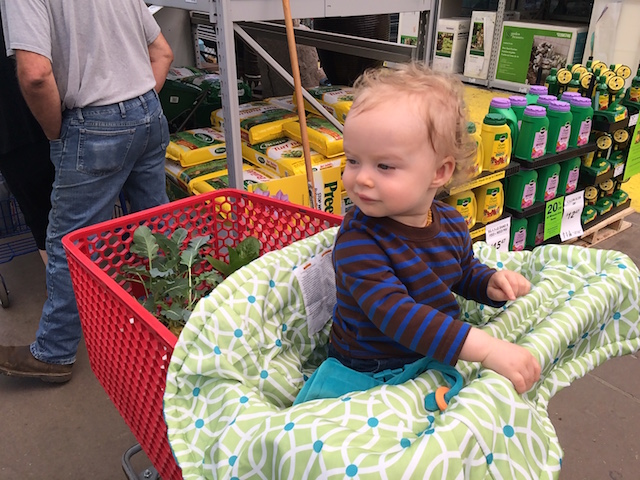 It is so weird to think back to last summer – Hudson wasn't even sitting up on his own and when we would go to playdates or the park he just laid on a blanket while the other kids played.  Now he's running all over the place and having a big ol' time.  My baby is not a baby anymore!  He's definitely an active toddler covered in dirt and bruises and a farmer's tan.