I love all things taco and I love a good chicken salad so when the idea popped in my head to try making a taco-ish chicken salad I figured "why not?" (I very rarely make up my own dishes…I mostly use other recipes that I've found or been given).  I call it "southwest chicken salad" – it turned out really yummy and is super easy to make, plus it's perfect to serve on a hot summer day!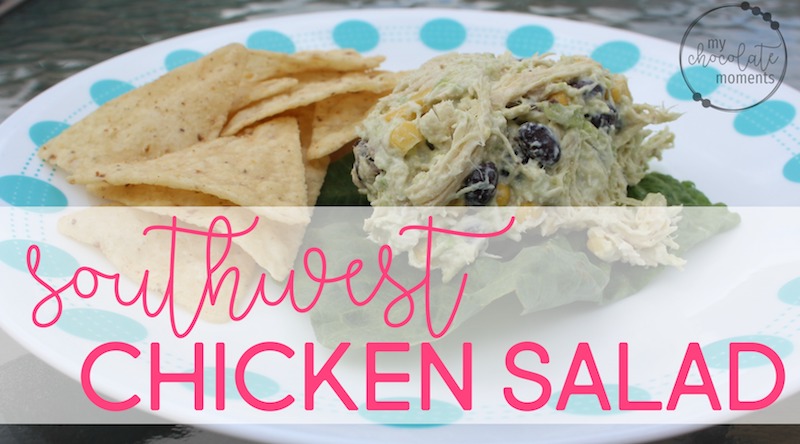 What you need: chicken, corn, black beans, cheese, sour cream, avocado, lime, and taco seasoning.
What you do: Mix it all up.
Seriously.  Almost no prep work!  Other than cooking the chicken you're just mixing a whole bunch of ingredients together.
Recipe:
– 5 cups cooked, shredded chicken (I use a package of 3 chicken breasts and that makes 5 cups, give or take)
– 1 can corn, drained
– 1 can black beans, rinsed
– 1 cup shredded cheddar cheese
– 2 avocados, mashed
– 1/2 lime, juiced (or more if you prefer more of a lime flavor, I just use a little to keep the avocado from browning so quickly)
– 1 cup sour cream
– 1 TBSP taco seasoning (we make our own using this recipe)
Instructions:
Cook and shred your chicken (I cook my chicken breasts in a crock pot on high for about 4 hours then shred either with a fork for bigger pieces or in my stand mixer for more finely shredded chicken).  Combine chicken with all other ingredients and mix well.
This can be served on a sandwich, with crackers, with chips, on a tortilla, a pita, eaten by itself, topping a salad, or many other ways.  I like the crunch of the tortilla chips so that's my preferred way of eating it.
This makes a LOT of chicken salad!  It's perfect to take to a gathering or if you are having guests over but it might be a bit much for one person to eat up by themselves.  I have not tried freezing it to see if you could freeze half for later but I think it would probably freeze nicely.
For those counting calories a 1/2 cup serving is 267 calories.