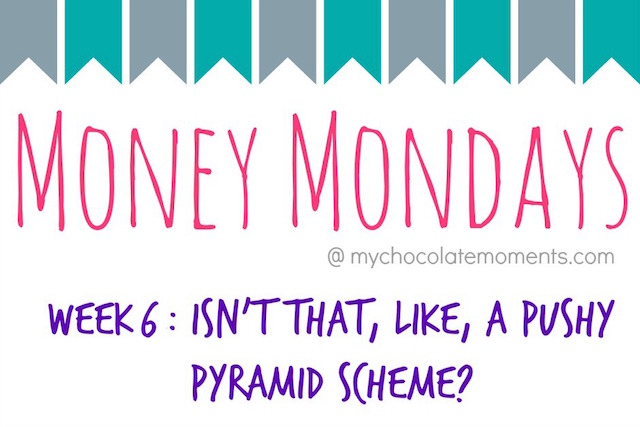 Welcome back to the next installment in our Money Mondays series!  Today we're going to be talking all about multi-level marketing, or MLMs (or direct sales, or network marketing… I hear the terms used interchangeably).  I mentioned a few weeks ago when we talked about how to increase your income if you find yourself having more budget expenses than you have money that I would do a separate post all about MLMs/direct sales/network marketing.
(fyi the answer to my graphic above is no…pyramid schemes are illegal anyway…)
If you've been reading along with the series you know that when Hudson was born last year I quit my job to stay home with him and so that took us from two incomes to one.  Right about that same time I also joined Young Living essential oils as a wholesale customer (a distributor) strictly so that I could get oils at the discount.  However I kept telling all my friends about how much I loved the oils and *they* were getting interested and wanted to try them for themselves and their families.  I started to see the potential for this as a business – I could share my love of oils with people and then also make some money.  I thought even if I only made enough to cover our own oils and Young Living product costs each month that would be have been super helpful for our budget and if I made more that would be amazing!  After being involved with Young Living as a business for the last year and a half I really think MLMs can be a fantastic way for people to earn some extra money.
Prior to this I had no experience with multi-level marketing.  I have lots of friends who are involved in various companies and I've purchased products from them but I had never been in one or really knew how they worked.  I wasn't anti-MLM or anything – I thought it was fine for others but didn't think it was something that I would want to do.
This post is NOT to convince you that MLMs are awesome.  I'm not trying to change your mind or persuade you if you already hate network marketing.  Instead I'm going to give you some of my tips, or things to ask yourself, if you are thinking about joining one of these companies, as well as try to give you a general overview from several popular companies.
First up, lets answer the questions: Is a MLM right for me and if so, which one?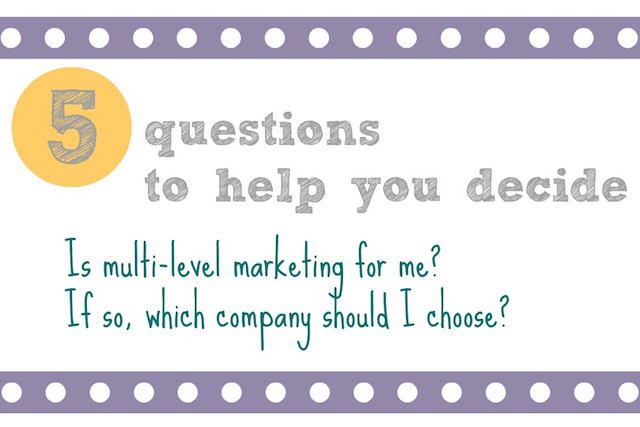 Some questions to ask yourself:
1.  Do I want to do this as a hobby (i.e. just for a little bit of extra money and/or on a short-term basis) or as a business (i.e. I want to earn enough to quit a job or make as much as I was making in my other job or something along those lines, basically a serious paycheck)?
Deciding what your goals are (or what you think your goals are, because of course they can always change) will help you determine which company you want to join.  If you want to do this casually for a little extra money then you can go with most any company that floats your boat.  If you're one of the ones who wants to really pursue this as a second income, a replacement income, make big bucks, etc. then you need to think more critically about which company you join.
My first goal with my Young Living business was to make enough each month to cover our monthly oil and Young Living purchases.  I make more than enough for that now and my next goal is to earn as much with my Young Living business as I did in my previous job (as a teacher and librarian).  I am not there yet but can see the potential and think I will eventually get there.
2.  Do I love the product?  
Listen, if you don't love a product you don't need to try to sell it.  I always said I could never "sell" anything but once I saw the difference essential oils were making for myself, my family, and others I couldn't not tell others and encourage them to try for themselves.  It took me finding a product that I really loved and believed in to make it where I could actually feel comfortable "selling".
Sure, you can sell something that you don't love or believe in, and some people could sell anything in the world and make you want to buy it, but for most of us it is going to show through to the people around us whether we really are passionate about a product or if we're just trying to make a buck.
Another question to ask to go along with this is "Would I recommend this product or talk about this product even if I didn't get any money in return?".  Would you be recommending your bags or makeup or oils or exercise routine or whatever just like you would tell someone your favorite restaurant or brand of clothes or brand of cereal or medicine?  If the answer is yes then that's a plus for the company.  If it's a no then maybe you should look for something else that you actually recommend.
I would tell people about Young Living essential oils and strongly encourage them to try them even if I did not make a penny off that.  That's how much I love them and believe in them.
3.  Who is my target audience?
If you are wanting to do this as a hobby or for just a short amount of time, this question is not that important to you.  But if you are wanting to do this long term, you need to think about how sustainable that is.  Is the company or product you are thinking about selling something that will only appeal to a small percentage of people?  Is it something that you yourself will outgrow (say 5-10 years from now would you still need or use this product or is it for a certain age range only)?  Is this a product that lots of people want or need and I can see myself using this for the rest of my life, sharing it with people of all ages and situations?
4. Do I like people?
I'm being a bit facetious here but seriously, being part of an MLM requires you to get out and talk to people – doing parties, teaching classes, vendor events, sharing about your product.  People do this at different degrees and levels as far as what works with their lifestyle and personality (and that's the beauty of this business!) but if in general you do not like to be around people or talk to people then succeeding in this business will be difficult for you.
5. Am I self motivated?
MLMs have a lot of autonomy.  One reason why I love my Young Living business is because I set my hours, I decide how much or how little I work, I work around family and Hudson and church and all kinds of things.  However, you do have to be organized and motivated.  If you say "Oh I'd love to be one of those who makes $1,000 a month, or $5,000 a month, or $15,000 a month" (yep, I know people personally who makes these figures!) then you actually have to do something.  You can't just sit around and wait for the money to roll in because despite what some people tell you, it doesn't work that way.
Owning your own business also comes with having to keep up with paper work, making sure you properly report and file your taxes, keeping good documentation, etc.  If you are not naturally organized (or are not self-motivated enough to get organized) then that will be a struggle for you.
So there are five big questions to get you started.  Of course there are some other things that you might want to think about but those are the main five, in my opinion, to help you decide if you should even be in an MLM to begin with and then if so, which one.
Some other things you might want to consider if they are important to you:
– Is my area/church/school/friend group already overrun with consultants/distributors of a certain company?
– What are the ethics of the company?
– Does the company focus more on their actual product and how great it is or are they all about the money side of things and how much you can make?
– Do I have to keep stock at my home or are things done online?
– How much does it cost to join?
– How much to do I have to sell or spend a month?
– Realistically, what should I expect to earn?
Also, if you are considering an MLM I recommend the book The Four Year Career – it's a super short read but really helps you to understand what network marketing is, how it works, and why it's a good source of income.  And it's cheap.
In preparation for this post I created a survey and asked my Facebook friends who were involved in various MLMs to fill it out.  I wanted to get an overview of some of the popular companies.  I got responses from Young Living (essential oils), Mary Kay (makeup), Jamberry (nail wraps), Pampered Chef (kitchen gadgets), Norwex (cleaning supplies), Arbonne (makeup), Younique (make up), Origami Owl (necklaces), Pure Romance ("relationship enhancing" items), Rodan and Fields (skin care), Paparazzi Jewelry (jewelry), and Thirty One Gifts (bags and purses).
Once I started wading through the responses I realized that the companies are all so different and it was hard to figure out how I was going to condense that information and share it with you!  But here's a generalization (if you want more information about a specific company let me know and I can share what info I was given and I can hook you up with a rep as well if you need one).
What do you have to do to be a distributor/representative/consultant and how much does it cost to get started?
Most everyone said to be a distributor they either had to purchase a starter kit of some sort and/or have a wholesale membership.
The starter kits ranged from $45 to $995 (and funnily enough…that was the same company that had both the lowest and highest kits – Rodan and Fields apparently has a lot of sign up options in a wide variety of price ranges).
There were also a few where if you were already a customer of the company then it was only $20 or so to become a distributor (Arbonne) or if you sold a certain amount within your first so many days then you got your kit free (Norwex).  Some companies had multiple kit options and the larger your kit the more items you got (either for you personally to use or as inventory if it is a company where you keep inventory).
Most of the starter kits were $99-$200, so I think it's a safe assumption to say that's probably what you should expect to spend to join an MLM.
How much do you have sell and/or buy each month to stay active and/or earn commissions?  What happens if you miss a month (don't sell or purchase enough)?
I didn't realize when I asked this just how confusing all the answers were going to be!  Ha!  Some companies run on quarters or yearly versus monthly and there was a wide variety of answers.
What I did learn across the board is that with most of the companies if you don't sell or purchase one month it's not a big deal – you probably won't earn your commissions but there are no penalties (as long as you meet your quarterly/yearly totals if applicable).  That is how Young Living is (if you choose not to purchase your monthly amount there is no penalty, you just won't earn your commissions) and it's good to hear that other companies are like that too.  That way if life gets crazy or finances are tight you can take a break and then pick it up later.
Briefly explain the compensation structure of your company.
Whyyyyyy did I even ask this question?  Ha!  Reality is that there is no brief way to explain the comp plan of most companies.  Unfortunately (for me while trying to wade through all the responses) there are lots of "if this then this" and "you earn this on that level" and so on.
Based on the responses, the earnings ranged from 10%-50% on products that people buy directly from you and then a different (smaller) percentage when you sign other distributors up under you and they make sales as well.
I recommend checking with Google or an active consultant for the specific company(ies) you are considering and take a closer look at their compensation structures that way.
What are the pros of being a distributor/consultant/rep for your company?
Some of the common responses were:
– setting your own hours
– helping other people
– earning trips
– getting bonuses
– being able to do your work online
– having a flexible side job in addition to a full time job
– making friends/the camaraderie of the company
– getting free/discounted products
What are the cons of being a distributor/consultant/rep for your company?
Some of the responses included:
– saturation of consultations (lots of people already sell that product)
– taking more time than anticipated to support your team
– making new contacts if you are an introvert
– having to be self-motivated
– the bad reputations that MLMs/direct sales sometimes have
– people being turned off by the prices of products
– cost of maintaining a website
– customers unhappy with products breaking
– feeling pushed by upline to sell/work more than you want to
The bottom line is: you'll find good things and bad, positive and negative, about each company.  You'll find many consultants (like the ones who answered my survey) who adore their product and company as well as others who hated it and quit.  There will be some people who do this full time and make big bucks and many others who do this part time and earn a little extra spending money.
My best advice if you want to join an MLM is to pick a product that you love.  You will definitely have the most success selling something that you enjoy that that you truly think others will want/need too.  It's also good to sign up with someone you are friends with or who you know will offer you lots of support since that's the person you'll be working the most closely with during your direct sales journey.
Of course I would be happy to talk to you about Young Living if you are interested in trying essential oils and/or being a distributor.  I also have the contact information for all the ladies who filled out my survey so if you want me to pass that on to you so you can get in touch with a certain consultant let me know.
Are you involved with any sort of MLM/direct sales/network marketing?  Anything you would like to add to what the survey takers mentioned above?
(Also, this is the last Money Monday I had planned.  If you have a specific topic you'd like me to address let me know, otherwise this is the end.  It's been fun!)