It's hard for me to wrap my mind around this completely, but our breastfeeding journey has come to an end.  Yep, Hudson is now fully weaned!
When Hudson turned 16 months he was still nursing twice a day – when we first woke up and then before bed at night.  Up until now we'd been dropping one feeding session every month or more so I was very surprised that we dropped those last two within one month (by the time he was 17 months he was weaned).  I didn't really do anything special to wean him but since I've had people asking "how" I did it, here's kind of what happened:
I was not sure how to go about dropping these last two feedings.  I figured that the night time feeding would be last to go but I didn't know how to go about dropping the morning one.  Typically we woke up and before we even got out of bed he was signing for milk so we'd breastfeed first and then do breakfast.
But it so happened that for several days in a row Hudson decided to wake up much earlier than normal – before Michael had left for work.  After a day or two of him doing that I realized this might be a great opportunity to see how he'd do dropping a feeding.  So Michael would get him out of bed when he (Hudson) woke up and I would continue to sleep (that was a nice bonus).   Michael would feed him breakfast and then bring him back to me before he left for work.
That worked really well!  There was a day or maybe two that later in the day (midmorning/lunchtime) Hudson would kind of remember that he hadn't had his milk and ask for it so we'd nurse when he asked, but then after that he totally quit asking all together.
I figured it would take a month or two before he'd be ready to drop that last feeding but a few weeks later we went to church camp and he completely weaned himself!  Sunday night (our first night there) I got him all ready for bed – bath, pjs on, etc.  We have very little cell service in general at our camp and none at all in the lodge where I was staying, so I took Hudson up to the porch so I could check my phone before we went to bed.  I sat down in a rocking chair and started rocking while I checked my phone and within five minutes he was passed out.  No nursing at all!
I took him to our bed and laid him down, expecting that he would wake up at some point during the night and want to breastfeed, but he never did.  He slept all night long!  And you know what, he never once asked for milk again.  I wasn't sure if it was a fluke or not, but the next night I got him ready for bed and took him up to the porch to try rocking again.  That wasn't working so I passed him off to Michael so I could go shower and when I got back up there after my shower, Hudson was fast asleep.  Again, I put him to bed and that was that.  The rest of the week was similar – he went to bed easily every night without needing milk.
When we got home from camp I thought he might get back into a routine and want milk again but he didn't seem to notice.  He still uses his sign for milk occasionally but when he does that he just wants me to hold him and he doesn't actually want to nurse.
The thought had crossed my mind that I wondered if camp might help him to finally wean, but I was still surprised that he did it so easily and quickly and on his own.  It was obvious that he was ready.  I think that my milk had dropped, if not disappeared completely, when I got pregnant (I had noticed he was not really drinking anything when he nursed, just using me more like a pacifier) so I think that helped him to wean more easily.
I'm not sure what my "approach" to weaning would be considered – I didn't cut him off completely at a certain set time but I also didn't just go until he did it himself.  I guess I gently guided him along the weaning process.  Part of that was because he wasn't one that asked to have milk outside of his "normal" set times and so I thought that he was doing it more from routine than necessarily from a want or need for it.  And part was because even though I totally support extended breastfeeding, I didn't want to keep going indefinitely.
Through the whole weaning process I used distractions and change in our day to day routine to help drop each feedings.  Things like traveling worked especially well since I knew he'd be busy with other things.  That worked great for us and each time we dropped a feeding it was no big deal because he was occupied with stuff.  And of course, if he asked for milk we'd still nurse, but really he didn't ask much and it would only take a few days before we'd have our new routine with one less feeding.  It was a very slow process – dropping one feeding every month or two (up until these last two all in one month) and I think that kept it from being too traumatic for either of us.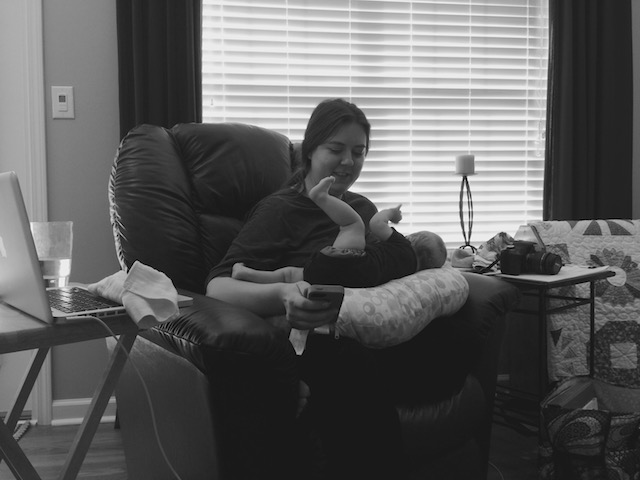 Emotionally, it wasn't as hard as I expected.  Part of me was very ready to be done – being pregnant again I know that the whole breastfeeding experience will start over again in a few months and it will be nice to have a little bit of time without breastfeeding.  But at the same time, we worked HARD to breastfeed.  It was a huge battle that I am so proud to have overcome, and seeing the end of it is bittersweet in many ways.  I miss that connection and bond.  But, I think the fact that he weaned during church camp was a blessing to both of us because I was busy and distracted as well so I didn't dwell on it.  Part of me wishes I had known that Saturday, June 13 would be our very last nursing session so I could have savored it, but then part of me is glad I didn't know so that I didn't get all sad about it.
So here's to almost 17 months of breastfeeding my sweet boy.  I am so glad that we made it this far!