We're already halfway to 18 months now so I'm a bit behind, but here's what Hudson was up to last month (and a very eventful month it was!).
growth
I totally forgot to weigh/measure so we'll just wait and see next month, but I'd assume he's about the same weight and maybe a bit taller.  Still in 18 month clothes, although a few of his outfits have gotten too small.  We also had to loosen up his cloth diapers one snap.
I know everyone said he looked *just* like Michael from the time he was born, but I think he looks more and more like him as he gets older.  In fact, when I look back at his pictures from several months ago I actually see quite a bit of myself in him.  When I look at pictures now though it's alllllll Michael.
I found this old picture of Michael flipping through a scrapbook one day and was blown away by how similar they look – I had to make a side-by-side comparison to show it off.  Twinsies for sure.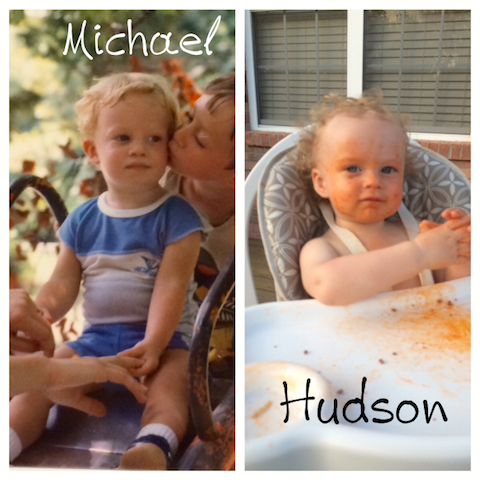 teeth
At the end of last month he had one molar and part of a second.  Now that second one has popped all the way through and a third one followed right behind it.  The last molar from this "set" hasn't come through yet but I think it's on it's way soon based on how he's been acting.
communication
Hudson's communication has absolutely skyrocketed this month!  He has added a ton of words both to his speech and his signing.
In addition to the words he could already say, he now says "go go!", bubbles, ball, car, mama, dada, arf arf (when asked what a dog says), quack, duck, egg, cat, meow, shoes, cracker, moo, eyes.  That brings him up to 21 words.
And in addition to the signs he already knew, this month he learned: banana, apple, please, no, cracker, water, pear, shoes, grapes, hat, cheese, paci, wash hands, pajamas, book/read, amen, horse, sleep, eggs, clean up, down, ball, pray, peach, car.  That brings him up to a total of 32 signs, I think.
A lot of the time when we tell him "no no" we say it and sign it and then he will yell "nononono" back at us while signing it because he's mad that we told him no.  It's so funny to see but of course isn't good at all that he's doing that so I laugh inside but don't let him know that I think it's funny (that happens a lot – it is so hard to keep a straight face sometimes when he's doing something that he shouldn't be doing)
I'm going to do a whole separate post later talking about the tools that we used to help him (and us) learn so much sign language so quickly so be watching for that, but I just have to say that is has helped SO much for him to be able to communicate with us!  I feel like a lot of his frustrations we dealt with in the past have gone away since he can more easily tell us what he wants.  It is amazing how quickly he picked up the signs and started using them correctly.  And I'm thrilled that he's started talking more too!
food
He still loves a variety of food.  We were at church camp for a week this month and that exposed him to a bunch of different foods that he's never tried.  The aforementioned sign language skills have helped out a ton in him being able to tell us not only that he wanted to eat but also *what* he wanted to eat.

He is really good at using a fork but we haven't practiced using a spoon very much yet.  Spoon-worthy food are of course much more messy and I just don't want to deal with the clean up so most of the time if it requires a spoon (soup, yogurt, etc.) then I feed it to him.  We'll start working on that…eventually ;).  I did let him try out a spoon with some yogurt one day but he mostly just dipped the tip in the yogurt, he doesn't understand how to scoop yet.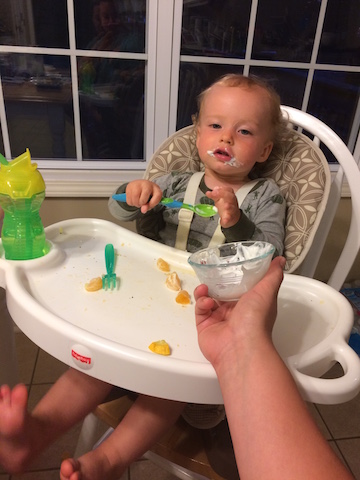 Our super big news this month is that Hudson is completely weaned now!  I wrote a whole post talking about that and how we weaned if you want to read the details.
Sleep
A nice change from so many of the previous month is that sleep is really pretty good now.  He sleeps 10-11 hours at night and unless his teeth are bothering him he sleeps soundly.  He's still in our bed and he's a total bed hog.
He takes one nap a day, usually after lunch.  Typically he sleeps about 2 hours, sometimes longer if he's really tired.  I can lay him down for a nap and leave the room to do things but he does usually wake up several times so I have to run back in there and settle him back down.  Since I've been pregnant I've started using his nap time to either lay down with him and take a nap myself or just lay there and rest or read a book.
Several time recently he hasn't even needed me to rock him to get him to sleep for his nap.  I'll just be holding him in my lap and look down and he's fallen asleep.  That is very out of character for him!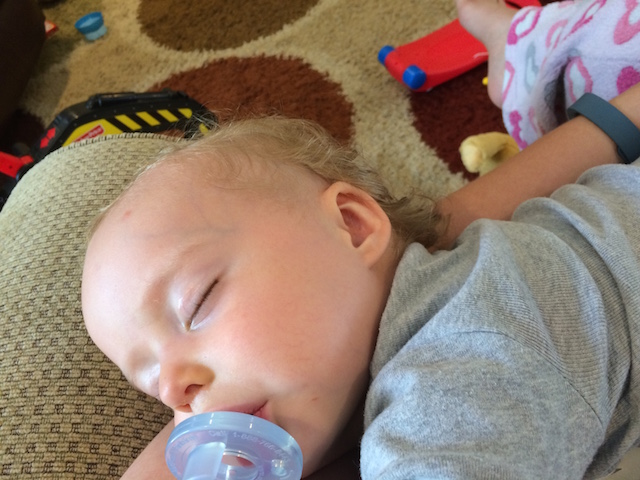 Just to be clear he did NOT climb up here and fall asleep on his own (I may faint if that ever happens) – he fell asleep in my lap and I laid him down on the couch and he stayed asleep for a bit.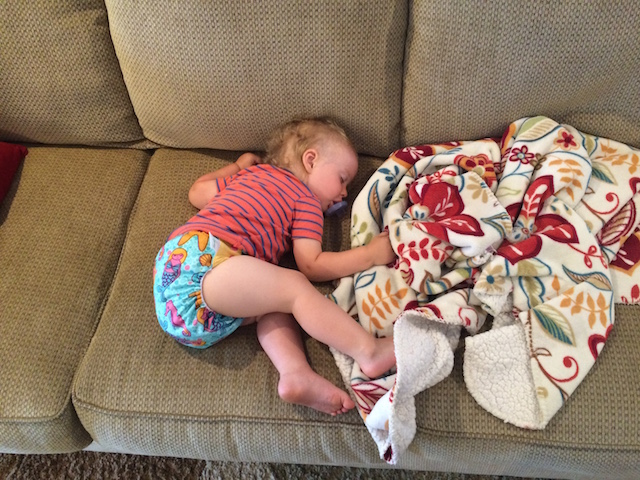 new skills
While we were at church camp Hudson learned all kinds of new things.  He had climbed on a few things before but now can climb up in the recliner, on the couch, on the church pew, on boxes…he climbs on all kinds of things!
He climbed all over our suitcases and bins while we were trying to unpack from camp!
One afternoon I found him up on the pew just hanging out eating a cracker (he looooooves crackers – he calls everything a cracker: chips, cookies, french fries, actual crackers and he'll shout "cacka cacka" while signing it at the same time.  It's adorable)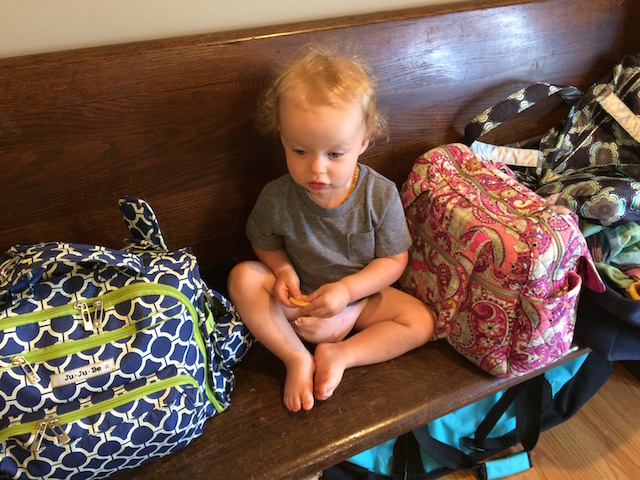 He also has learned how to turn lights on and off so he'll climb up on our pew and flip the light switch over and over.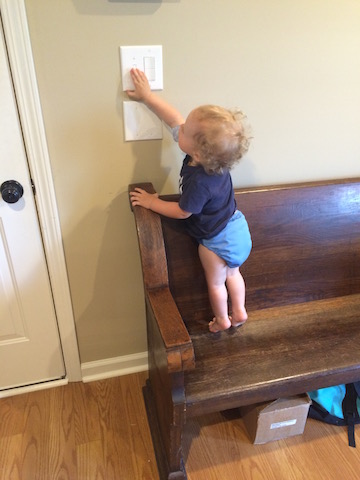 He can get down off the bed with assistance.  If I turn him around and help him get his legs dangling off the bed he can slide down (he doesn't like it…I think the big drop scares him) but he doesn't seem to remember how to do it on his own without my help.
One of his favorite songs is "This Little Christian Light of Mine" and he knows to blow on his finger or my finger when we get to that part of the song.
adventures
Like I've mentioned before we went to church camp this month and Hudson had an absolute blast.  I thought it was going to be hard but honestly church camp was easier this time with a toddler than it was last time (when he was 8 months, I believe).  I think the fact that he was able to run and play made him much happier, plus I didn't have to hold him all that time.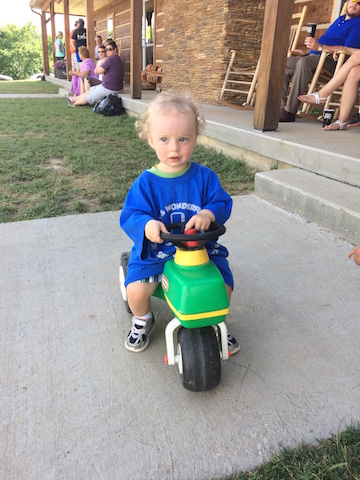 He looked so big sitting here beside us at chapel!  That didn't last long – he'd much rather play in the mulch during chapel ;).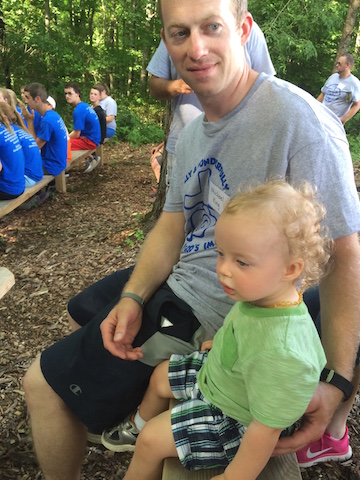 Mmmm Ningxia Red.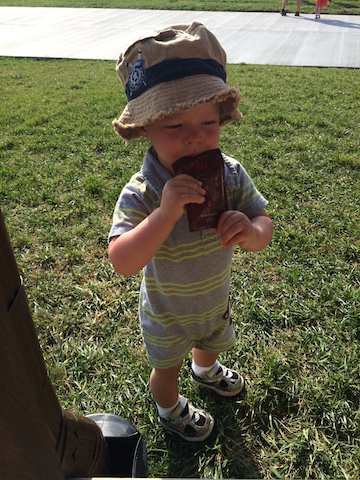 I thought this Kiddie Car Wash was the coolest thing ever!  One of the men at church built it for the kids to use at camp.  Hudson was not a fan (duh, water) but the other kids loved it.  How fun would this be for a summer birthday party?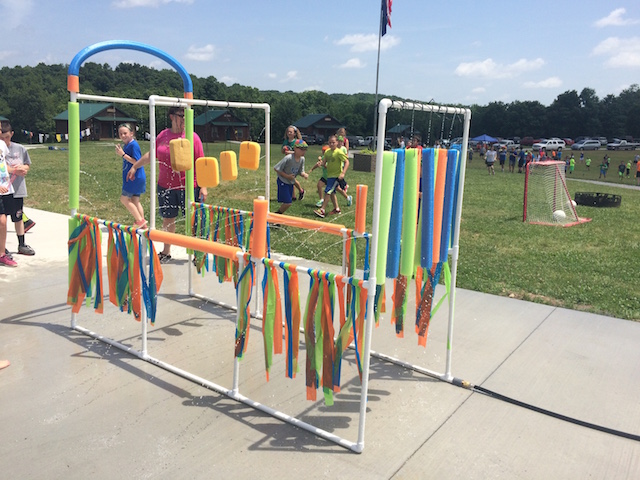 I tried to be very diligent about keeping a hat on Hudson, especially since he is so fair and his hair is so sparse so lots of scalp shows through.  We went outside one day and I forgot to grab his hat; I didn't have to time run in and get it before my class started so I just used a bandana.  He's cracking me up looking like a little biker dude.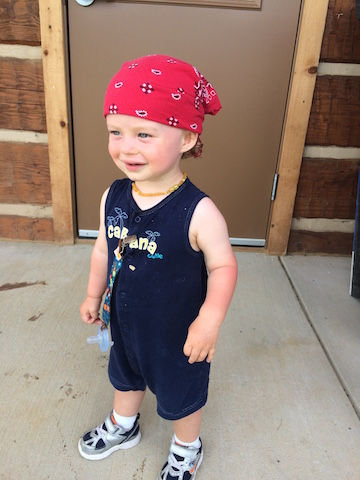 Speaking of fair skin, my poor little guy got pretty burnt at camp.  I tried to be so careful about putting lots of sunscreen on but it must not have worked (or I didn't apply enough).  His face didn't get burnt thanks to the hats (I know it looks super red here but that's what he looks like anytime he goes outside and gets hot – it goes away once he cools down) and his legs were fine but his arms got toasty.  He had a nice little farmer's tan and then the day that he wore this sleeveless outfit his poor shoulders got burnt too.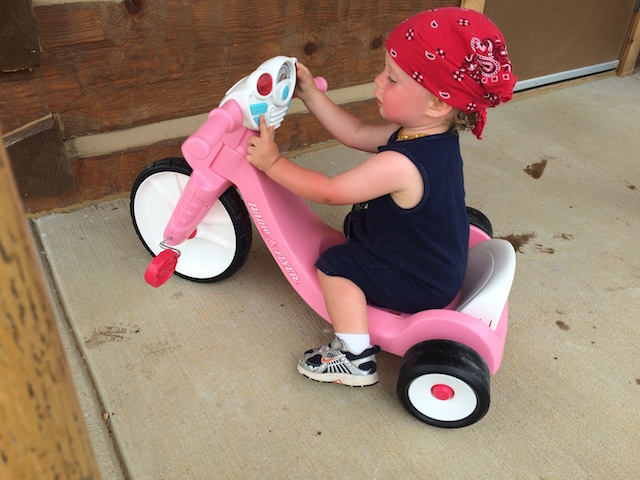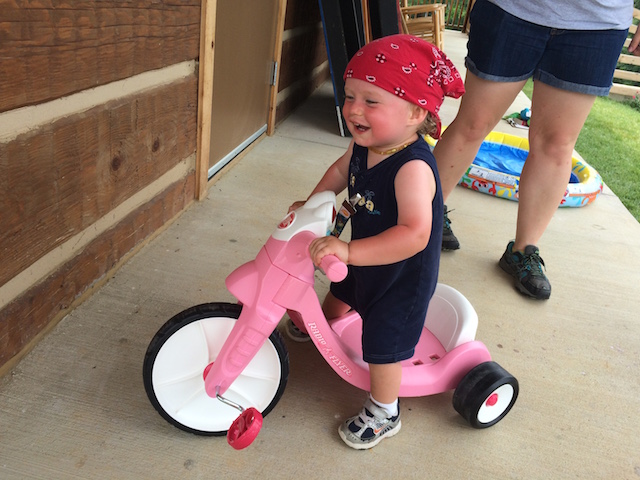 Beautiful rainbow

We had fireworks at camp one night and Hudson did not like them but he didn't freak out like I thought he might.  He clung to me pretty hard and whimpered some but was much calmer than when he sees, say, a cat.  In fact, after he got over the initial fear then he just fell asleep while we watched them.
And of course our other big news from this month, and the next big adventure for our family, is that Hudson is going to be a big brother!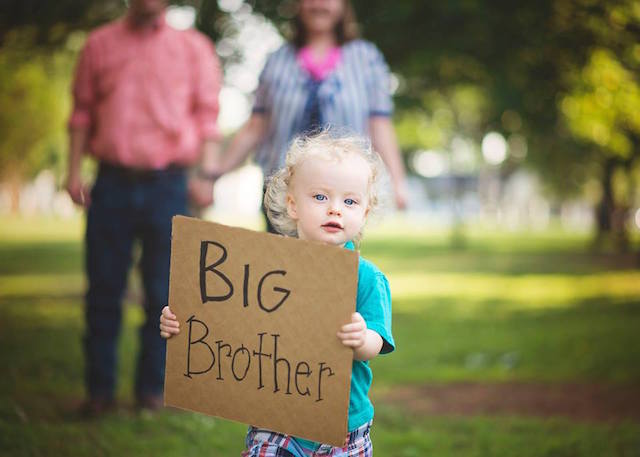 I love these pictures because they look so ironic – announcing that he's going to be a big brother and looking not a bit happy.  But in reality obviously he has no idea what that even means and he was just crying because he wanted to go outside and I was trying to get a picture of him.  Ha!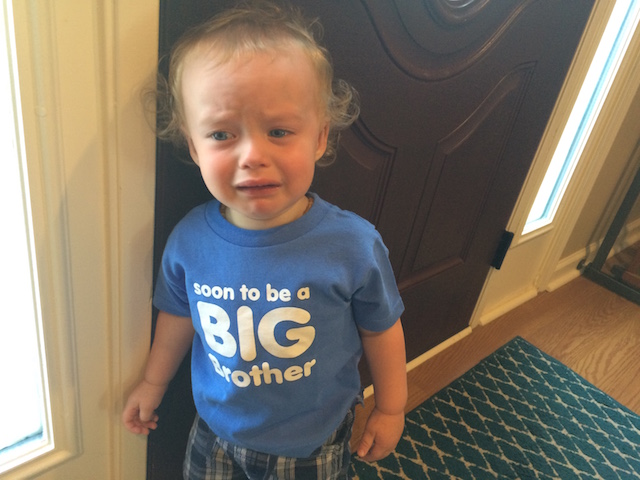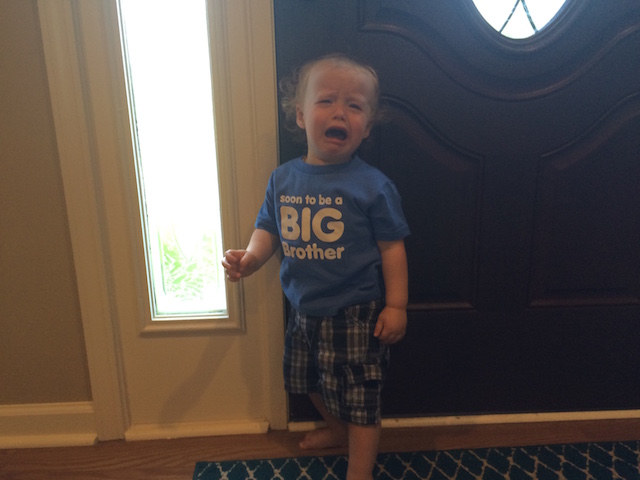 other firsts
Nearly all of Hudson's "firsts" this month were injury-related.  He is definitely becoming an active little boy and with that come lots of bumps and scrapes.
He got his first blister and as a result his first bandaid for a boo boo (he's had bandaids at the doctor's office but never at home for an injury).  He was fascinated by his blister and kept pointing at it and poking it.  He was not a fan of the bandaid and cried when I put it on.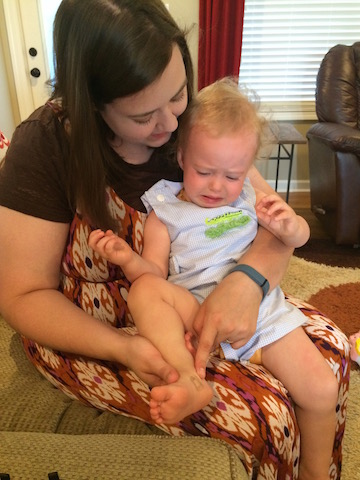 He had his first scraped knees when he fell on the concrete at church camp and his first splinters when I let him walk on our deck without shoes (I won't do that again!  I bet he got 20 splinters in 5 minutes and it took Michael forever to get them all out).  He also had his first bloody nose although I have no idea what caused it.  He woke up one morning at church camp with it bleeding (a small amount, not anything crazy) and the only thing that I can figure is the fact that it was absolutely freezing in our room in the lodge at camp so maybe that or dry air or something made it bleed.
other stuff
He's completely over the shoe issue.  We don't wear the Robeez at all anymore and he's fine in tennis shoes, sandals, crocs, whatever.
He went through a thing early in the month where he was chewing on/eating everything.  I caught him taking bites out of magazines and receipts and multiple times putting money in his mouth.  He seems to be over that now (or maybe we've just moved everything out of his reach).
He also went through a phase for a few weeks where he wouldn't give very many if any kisses.  He's always been pretty affectionate so that was odd but now he's back to giving all kinds of big smoochy kisses.
I know this one is blurry but it's such a cute poochy lip kiss picture.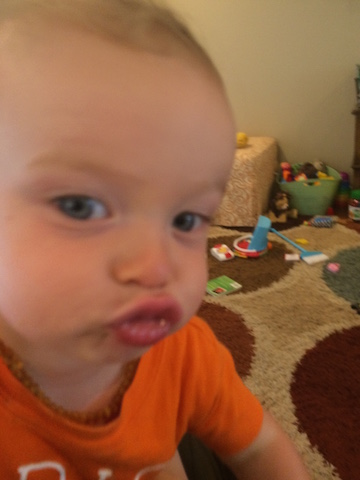 I'm not sure how much of this is toddlerhood in general and how much is just Hudson's personality but he seems to have a bit of a temper sometimes.  Thankfully he doesn't hit or bite often (he does it some but not much) but if you tell him no or take something away or anything else that he doesn't want to do he will pitch a fit (shout at you, drop dramatically to the ground) and occasionally will even bite the couch or table – you can see his mind working like "I want to bite something but I know I can't bite Mommy so I'll bite the closest piece of furniture".  Thankfully this is not a frequent occurrence and hopefully just a phase!
He is in to everything that isn't locked – cabinets, drawers, you name it.  I have to watch him like a hawk.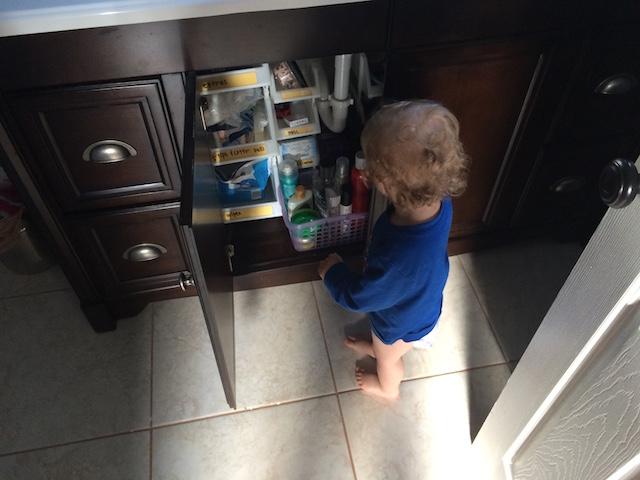 He loves to pretend to drink out of a cup.  These are actually the "feet" for a rooster from an animal nesting toy but he uses it like a cup (and I think it looks like those little cups of tea you get at Japanese restaurants).
Hudson loves to be outside.  He'd play outside all day if I'd let him!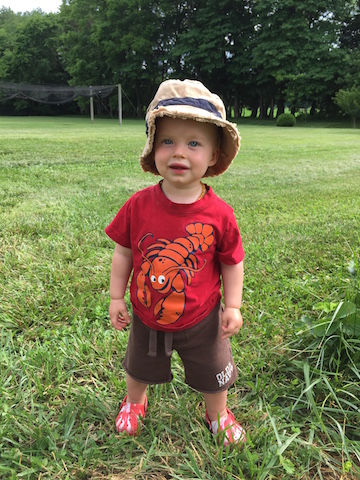 He also loves to read or be read to.  It melts my heart to see him looking at a book.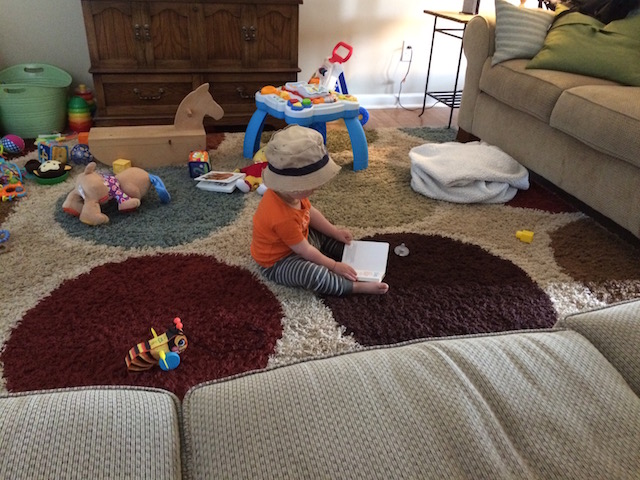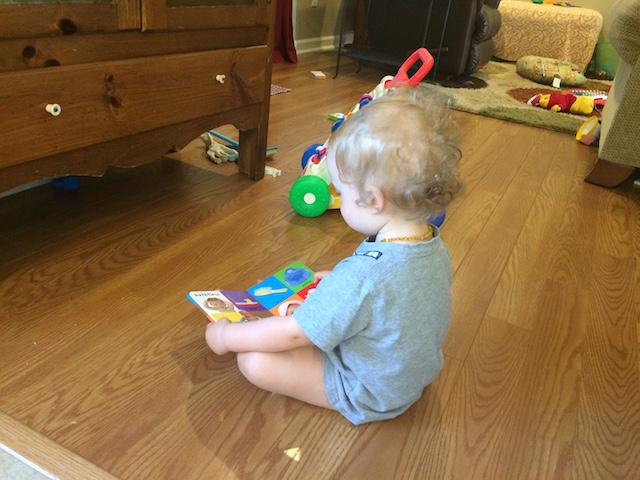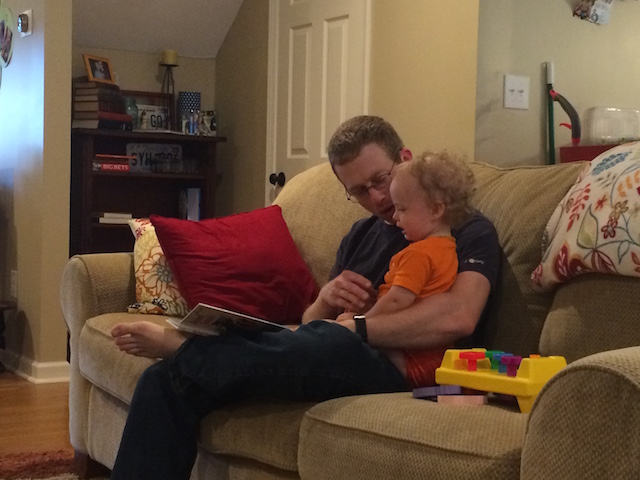 He fell asleep on a bike ride with daddy and woke up with some pretty amazing helmet hair!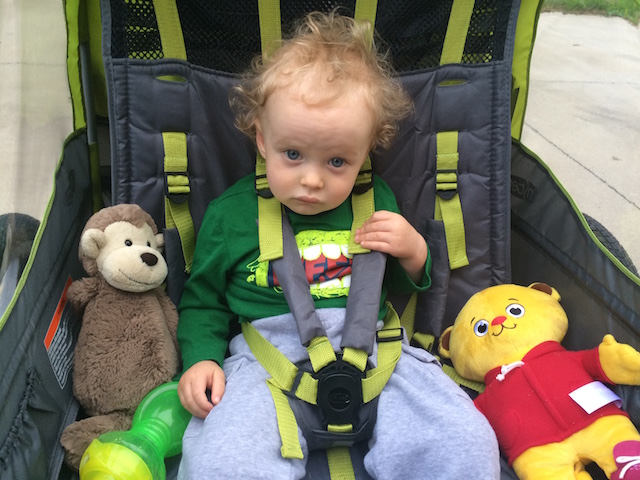 Future jouster, perhaps?

It is so cute (and also amazing and scary) at how much kids pick up.  As soon as he gets down from a meal if he's made a mess we grab a broom to sweep it up.  He runs and gets his broom too to come help.  We usually set him down and brush crumbs off him onto the floor before we sweep so now when we set him down he automatically brushes himself off, even if he doesn't have any crumbs.  He certainly knows our routine.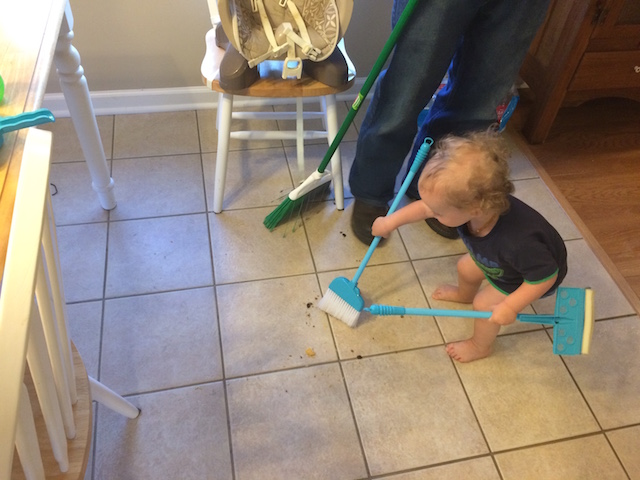 You might not have noticed but we aren't too big on clothes around here ;).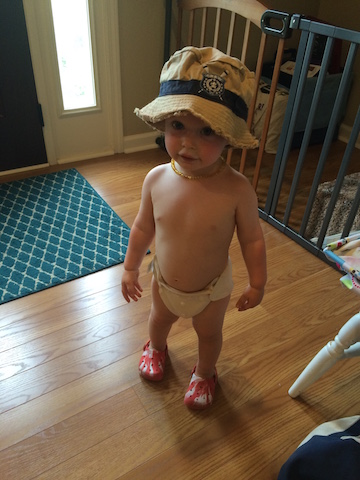 Hudson loves bubbles.  It's one of his favorite words to say and he has so much fun chasing them.  The bubbles in the long skinny tube with the elongated wand are by far the best, in case you wondered (I buy ours at Kroger).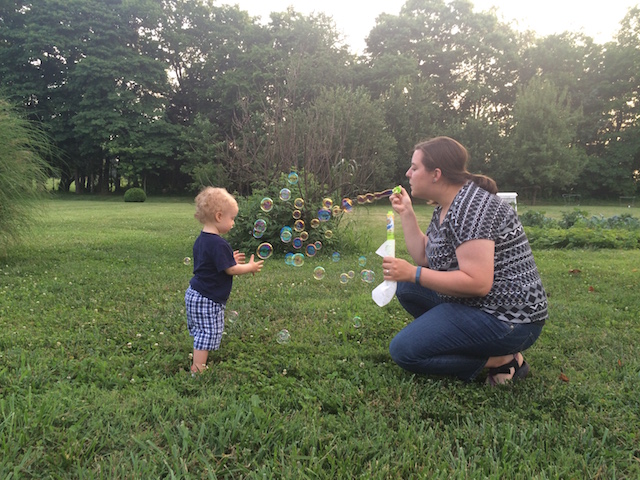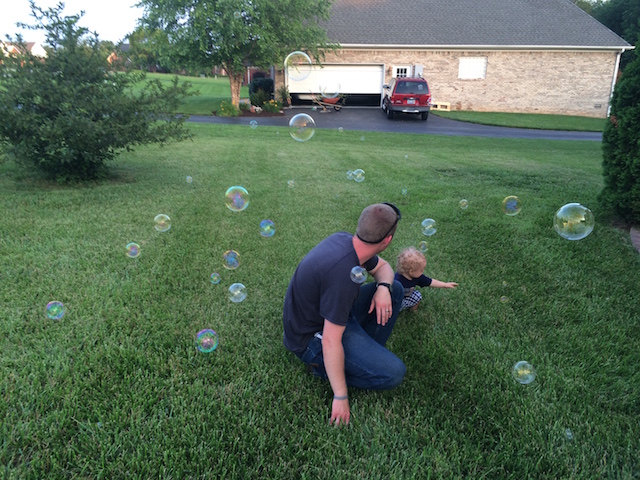 Selfies with mommy.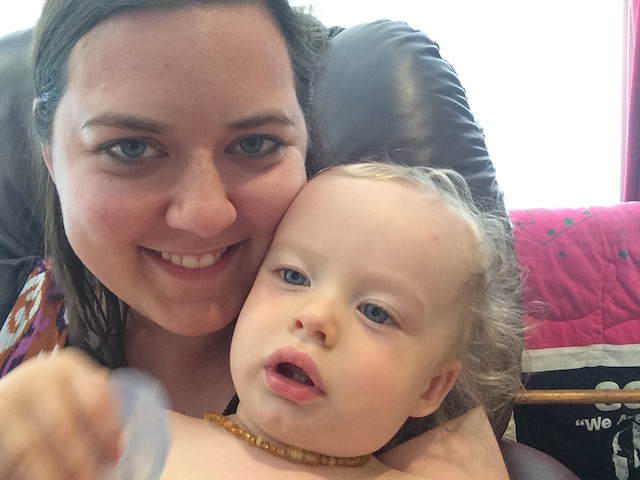 Trying on bathing suits before camp.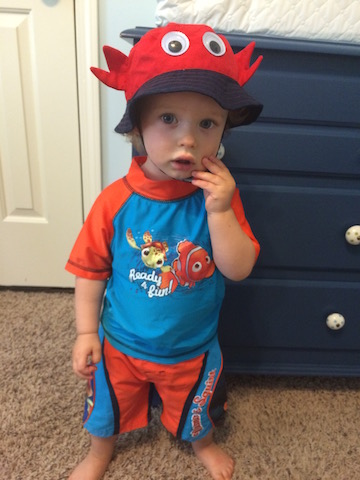 His amber teething necklace completes the surfer boy look for sure!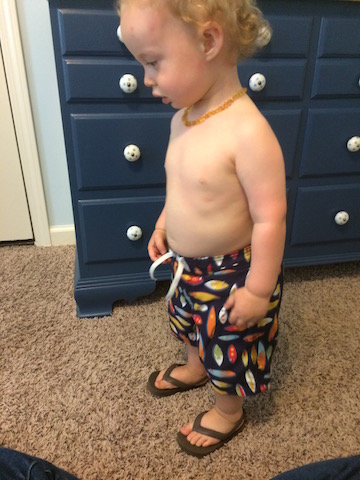 Looking so big in his ball cap.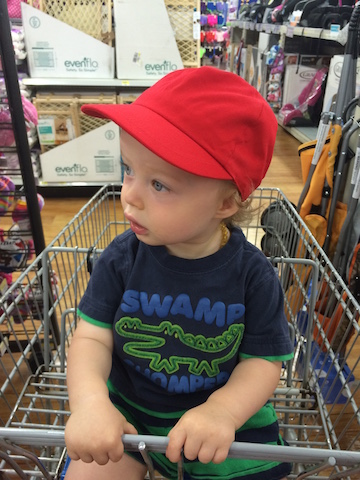 Crazy morning hair.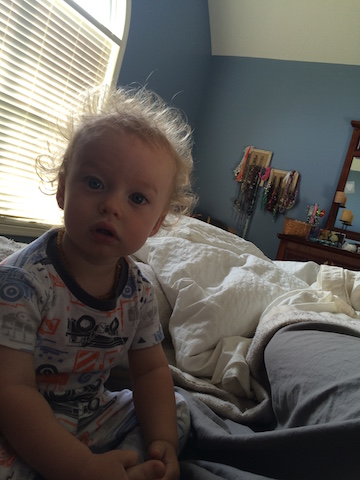 Playing in the toy room at my chiropractor's office.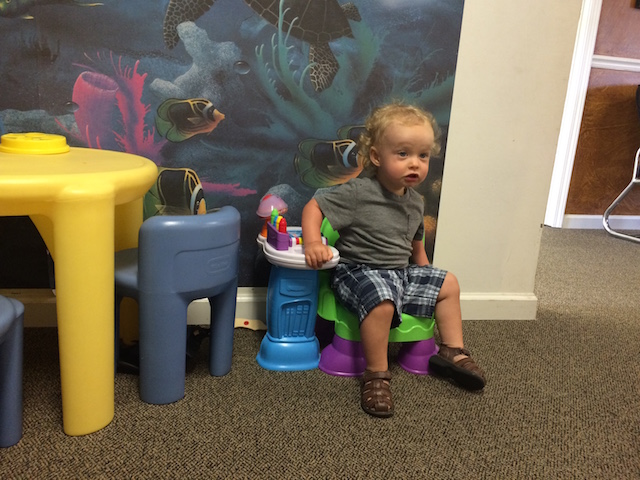 My sweet, sweet boy.  I just love him to pieces and it's so fun watching him grow and change!