Before I ever had kids I knew I wanted to use sign language with my babies.  I'd heard so many great things about babies who couldn't talk yet but who could communicate with others via signing.  Plus I figured learning signs as well as learning to speak had to be good for cognitive development.
I have a little bit of a background in sign language.  We had a deaf interpreter at our church growing up, I had attended a few sign language classes, and we also learned several sign language songs at church camp when I was younger.  So I knew the alphabet, numbers, some basic words, and some songs.
We started using signs with Hudson before he turned one (I really don't remember when exactly we started) and right around 12 months he started signing back.  Until he was 16 months though we only did milk, more, eat, all done, drink, diaper, and bath.  Those were all very useful but as he got older I wanted to start using more.  The problem was, *I* didn't really know lots more (or at least, not the types of words that would be helpful to teach him).
I figured surely YouTube would have some videos for kids that we could watch.  The only thing we had ever tried before was the Baby Einstein signing video and to be totally honest it was super boring.  Neither Hudson or I cared a bit about it.  But after a little searching I hit pay dirt with this video.
It's about an hour long and has signing instruction as well as songs.  We watched it a few times times – I learned several new signs, immediately started using them with Hudson, and within a few days he was signing them as well.
I did some investigating and found out that this video was actually a compilation of songs and clips from several different sign language videos in the Signing Time series.  Signing Time is a company that makes sign language videos for babies up through preschoolers.  Usually the dvds have a theme like "farm animals" or "colors" or "our day".  I checked at our local library and they had quite a few of the dvds so we went one day and I picked several for us to try.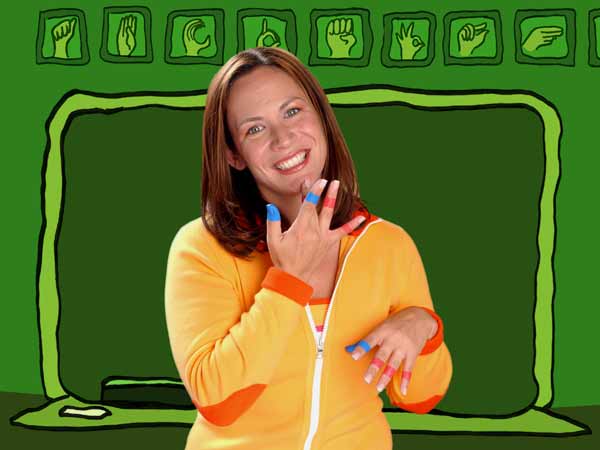 [source]
(You can also check out their other free videos on YouTube here)
Every time we watched a new dvd I would watch it through with Hudson.  Thanks to the repetition and catchy songs usually by the time we finished watching it I had picked up most of the signs.  Then I'd start using them with him in our day to day life or while we read a book about animals or however it seemed appropriate.  Usually within a couple of days he had picked up on the ones that we used frequently.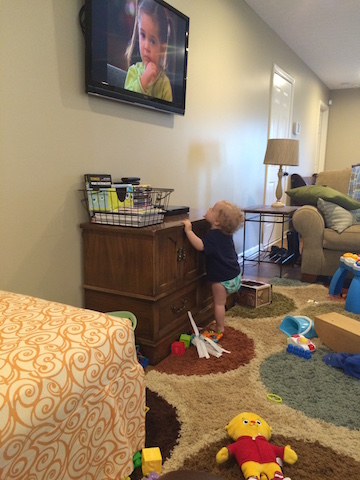 I get comments all the time from people who are interested in Hudson's sign language and want to know how we taught him.  Honestly it's just like "teaching" him how to talk – we talk to him, use descriptive words, etc. and eventually he has picked up on words.  With signing we both say and sign the words and again, he just picks up on the signs in his own time.  The catch that is most of us already know how to talk, but we don't know signs.  That's where having dvds like this comes in handy!
This was a perfect way for me to learn the signs so that I could start using them with Hudson!  I do not think that he would have picked up on the signs if I'd just plopped him down in front of the dvd (an older child might but I don't think he would have) but us watching together, me learning the signs, and then implementing them in our lives really helped him pick them up quickly.  In about two weeks he had gone from 5 or so signs to 30 or so.  Michael also quickly picked up the signs, either from watching the dvds with us or just seeing me use them with Hudson.
The most useful ones right now have been food signs.  For a long time he could tell us he wanted to eat or that he wanted more, but now that he can tell us what he wants to eat it eliminates a lot of frustration.
It has been truly remarkable how much better Hudson can communicate with us now.  He is talking more as well as signing but the majority of his communication is via sign language.
If you have been thinking about using sign language with your baby or even your older kids, I recommend watching that YouTube video I linked and checking to see if your library has any of the signing time dvds.  You can also purchase the dvds individually or as sets from their website, but I haven't done that yet.  So far we've just been checking them out from the library but I would love to own them all someday!