A year and a half…where has time gone?!  The older Hudson gets and the more active he is the less (good/clear/still) pictures I seem to get of him.  But here are a few (ok, still a lot) of pictures from this month and a bit about what he's been up to.
growth
At this 18 month check up earlier this week he was 26.2 pounds (89th percentile) and 32 inches tall (35th percentile).
Hudson HATED the doctor's visit.  He never seemed to care up up to his 12 month appointment, but his 15 month and 18 month appointments were horrendous.  He screamed through us sitting him on the table to weigh him, trying to stand him up and measure his height, putting that measuring tape thing around his head, looking in his ears, his mouth, etc.  A blood curdling, freaking out scream.  He even cried about the stickers he got at the end.  The only thing he didn't get upset about during this visit was his eye exam, oddly enough.
We don't have another well visit until he's 2 years old so hopefully our next visit will be better.  It's so embarrassing, plus I can hardly focus or hear the doctor when he's screeching like that.  Sigh.
Check out these red shoes.  They were my very first baby purchase from a friend at her yard sale after we found out we were pregnant with Hudson.  We used them in our gender and name announcement pictures – it's so neat to see him wearing them!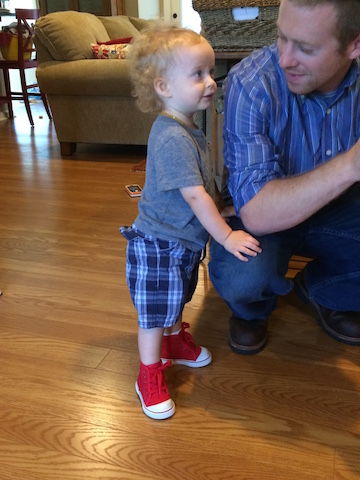 teeth
Molar #4 has come through and canine #1 (top right) has poked through.  I can see the other three canine beneath the surface so I'd say they'll be along pretty soon.
I just realized the other day that all he has left are these canines and his 2/3 year molars, then we should get a break for a while until his next molars come through (Around 6 years old?  Is that right?).  It seems crazy that we're so close to the end of teething…and that he has almost a full mouth of teeth!  It feels like yesterday when he got his first two little teeth!
communication
The new signs he started using this month are strawberry, rock, orange, bird, yes, bear, church, and turtle.  His new words/sounds include baa (like a sheep), car, whoooo (like an owl), roar (lion), God, and church.  He also learned to pinch his nose when we say P.U.  So cute!
food
Hudson actually got a bit picky this month.  Up until now he has been such a good eater but this month several times he refused to eat some of the foods that typically he would gobble up!  I hope it's just a short phase and he'll continue to eat a wide variety of foods.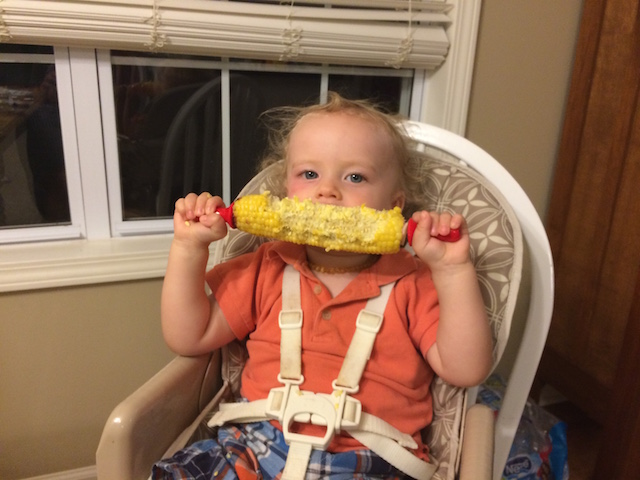 Some of his favorite foods right now are cheese, crackers, apple sauce, any fruit, yogurt, and peanut butter sandwiches.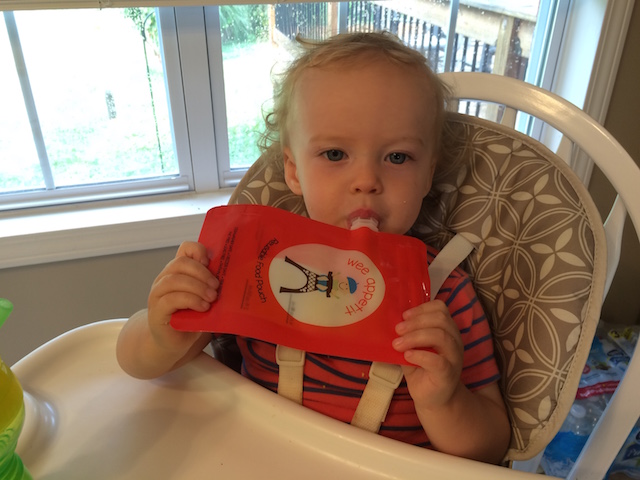 sleep
According to what I read on The Interwebz apparently a lot of kids go through a big sleep regression around 18 months.  I'm pretty sure Hudson happens to be one of those kids.  About halfway through the month he started bucking bed time pretty hard and it would take upwards of 2-3 hours from the time we started bedtime to when he'd actually go to sleep.  Fortunately once he was asleep he stayed that way through the night, but it has been very stressful dealing with this multi-hour bedtime junk.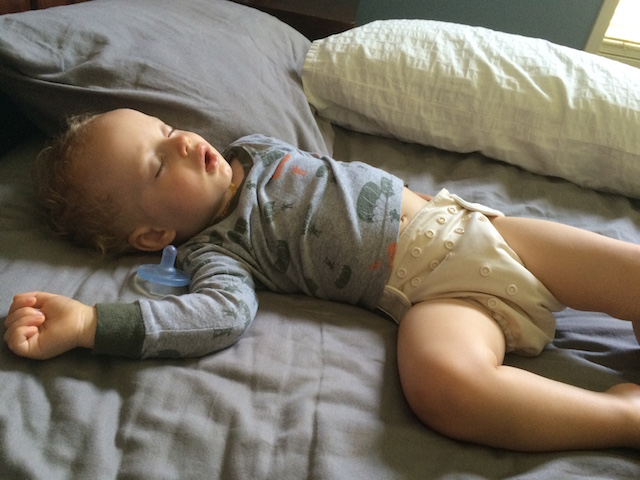 Naps have still been pretty good.  Most days he takes a 2-3 hour nap, although there have been a few days that he has slept for less than an hour and a half, or fallen asleep in the car for 15 minutes on the way home, and then that's been it for the rest of the day.
One day though he woke up from a nap (I was laying the bed next to him) and leaned on me.  I figured he would get up in a minute but then I realized he had fallen asleep!  I eased him back down and he slept for a bit longer.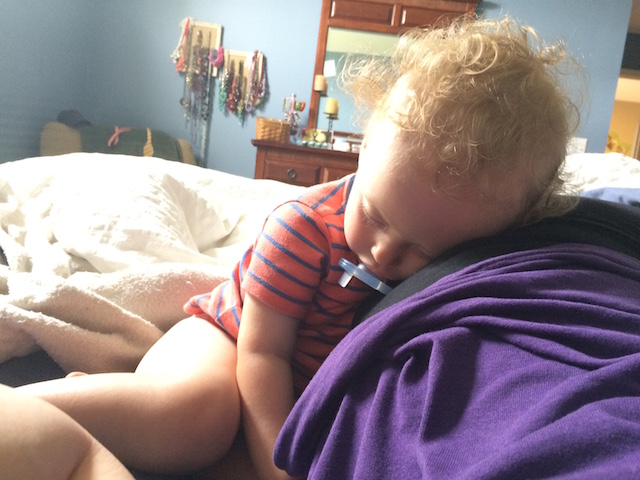 new skills
We found out this month that Hudson is really good (in my opinion) at throwing and catching a ball.  Honestly I don't worry about or even keep up with which milestones Hudson is supposed to reach at certain ages.  I figure every child develops at their own pace and I'll be able to tell if he's significantly "behind".  But because of that I don't really know when kids are supposed to be able to catch a ball, but I have certainly been impressed with his coordination and ability!
adventures
We celebrated 4th of July this year by grilling out with friends and then going to watch the fireworks at a local church who has an amazing fireworks show.  Hudson reacted about the same to these fireworks as he did the ones at church camp – he held on to me pretty tightly and did not want to watch the fireworks, but he didn't cry or get super upset either.
We brought his little camping chair out there but he didn't like it (hence the very concerned face in the picture below).  Maybe when he gets a bit bigger!
Hudson and I went with my mom to my grandparents' to visit for a few days.  Hudson had fun playing with all the toys there and getting into all kinds of cabinets and other non-baby proofed things.  He loved carrying my Granddaddy's cane around too!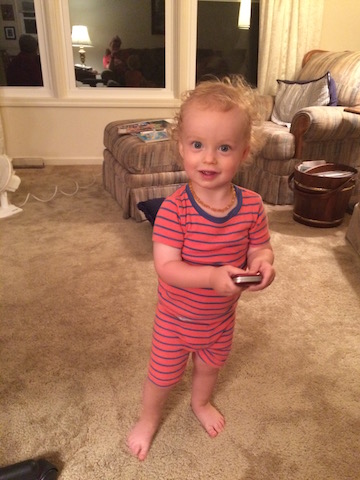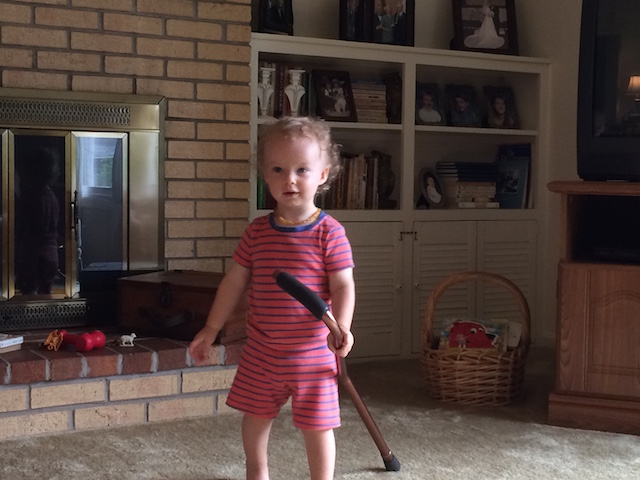 We had our church's Vacation Bible School this month.  There was a kick off event on Saturday where we released balloons with invitations on them out into the community.  Hudson actually really liked the balloons (up until now he's been afraid of helium balloons) so we found two that were starting to lose their helium and he carried them around for a long time.
A friend snapped these pictures of Hudson at VBS and I just love them!  Look at those curls and those pretty blue eyes!
Cool dude with his Mission: Possible sunglasses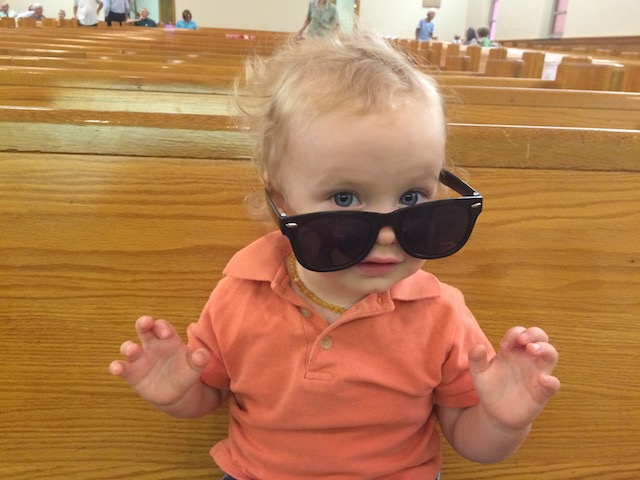 Tiffany and kids came to visit for a day.  It's so fun to have all my babies together!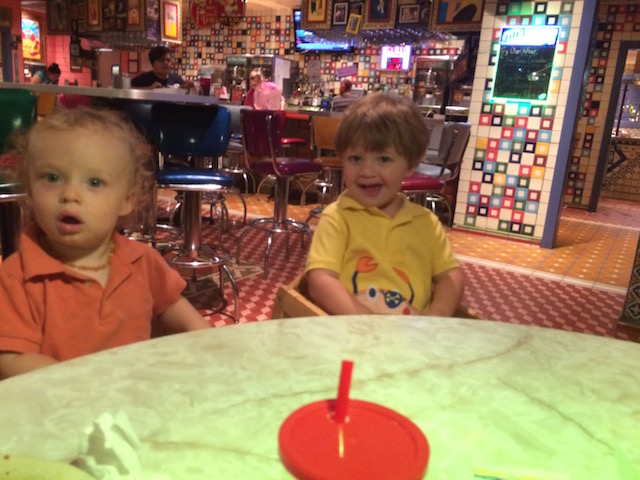 Levi helped Hudson learn how to shake hands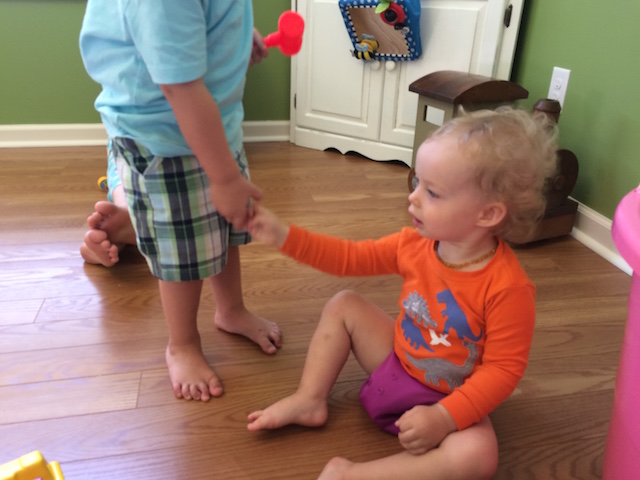 Sweet boys playing together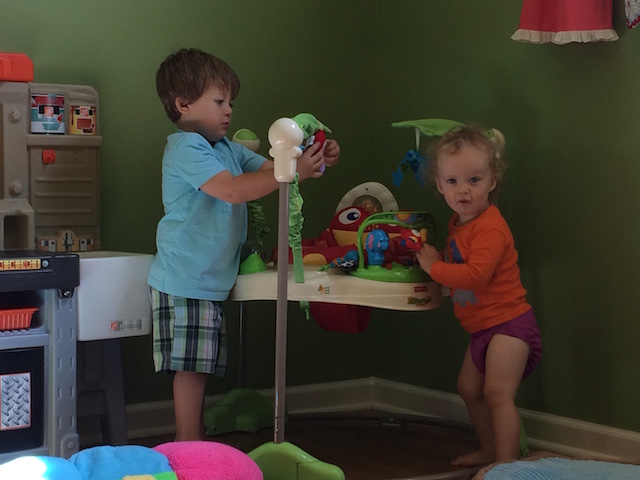 We went down to our other church camp (with the church I went to when I still lived at home) to visit mom and Riley for the day.  Hudson had so much fun running around and playing outside.  They also had a guest speaker that day who brought a bunch of reptiles and creatures (boa constrictors, strange lizards, cockroaches, etc.).  Hudson didn't want to touch or hold them but he did sit and watch the whole program and didn't cry when he saw the animals, so that's progress!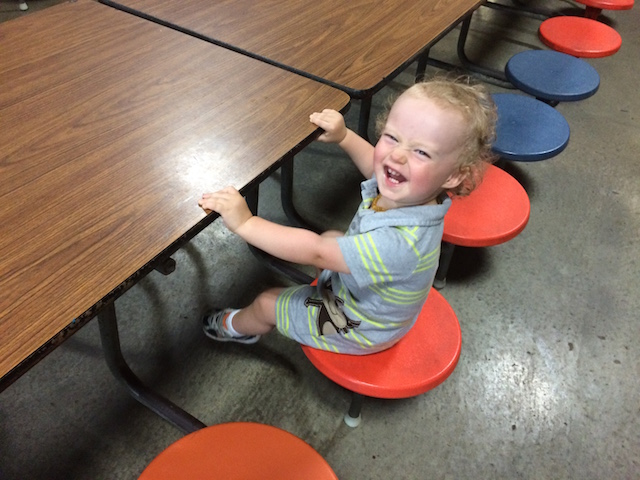 They have a creek that the kids love to play in.  It's probably most people's favorite spot at camp and Hudson loved it too.  I was really surprised!  I thought he'd be scared of the water or not like how cold it was, but he did really well.  He didn't like it when he fell/sat down in the water and got wet, but otherwise he had a good time walking around and pretending to pick up things with his net.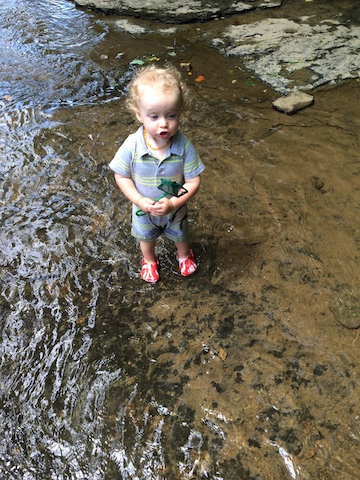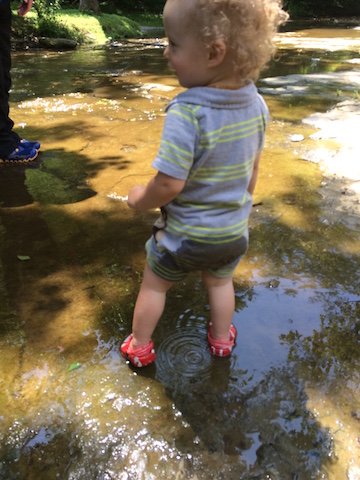 My brother Riley was in The Fiddler on The Roof.  That's one of my favorite plays and I really wanted to go see him.  Hudson had never been to a play of any kind and I was unsure how he'd do (I figured one of us adults would end up outside in the hallway entertaining him for the majority of the time) but he did great!  He sat (or stood – don't worry, we were in the last row) in my lap for the whole first act (which was at least an hour and a half long) and watched intently.  The second act did not go as well – he had gotten to run around during intermission and then didn't want to have to sit still again when it was time.  But fortunately the second part was much shorter.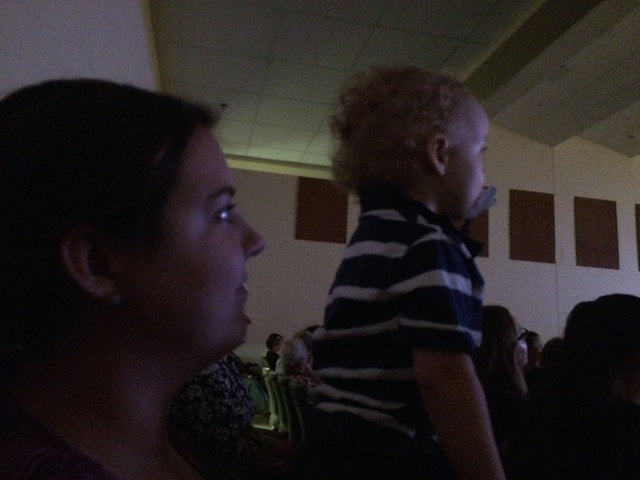 I found this little (well, pretty big actually) blow up kiddie pool for less than $20 at Walmart and it has been a wonderful hang out spot this summer.  Hudson has so much fun playing in the water and I like that it's big enough for me to sit in and cool off too (and sometimes Michael gets in with us when he gets home from work too – plenty of room in there!).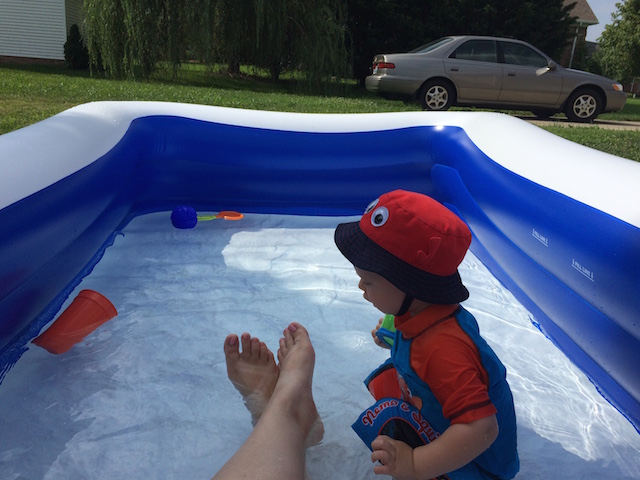 other stuff
This month really has just been a reversal in a lot of ways – not eating as good, sleep issues, and also the carseat!  Ever since we discovered (after 11 loooooong months) that watching a tv show in the car kept Hudson from screaming we've been doing that and he's been great in the car.  Until this month.  He's started to go back to hating the car again and he'll cry quite a bit, even with a tv show on for him to watch.  That has been realllly stressful and so disappointing since we thought we had a great solution.  I'm hoping this won't last long!
And now just a few random pictures:
Crazy bathtub hair styling.  I wish I had a picture of it when we rinse it and it hangs down his back – it's SO long!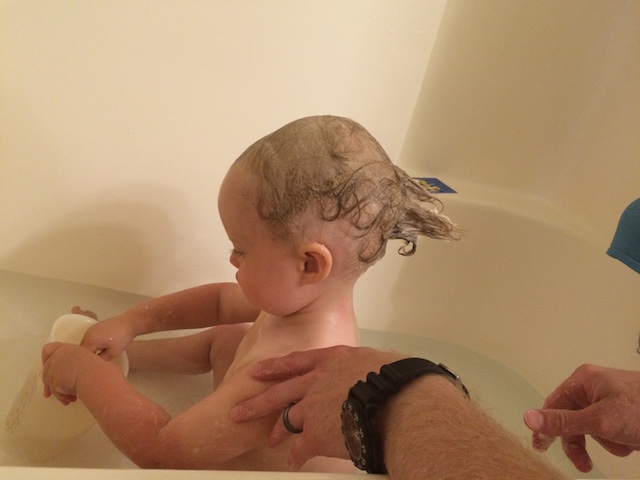 This child gets in to everything!  Nothing is safe.  He found Michael's sunglasses one morning while I was getting ready and next thing I know he's got them on his head…just like daddy!  So cute!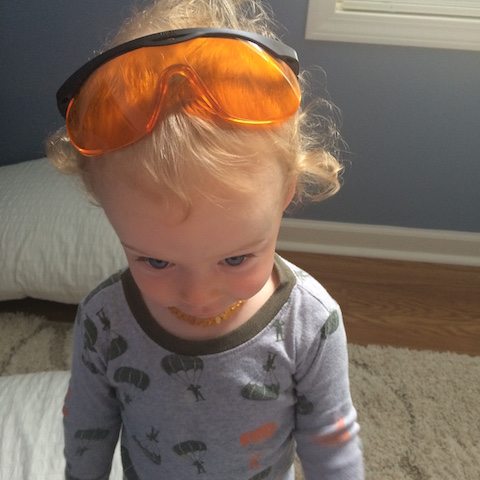 Sitting up there on the couch like such a big boy!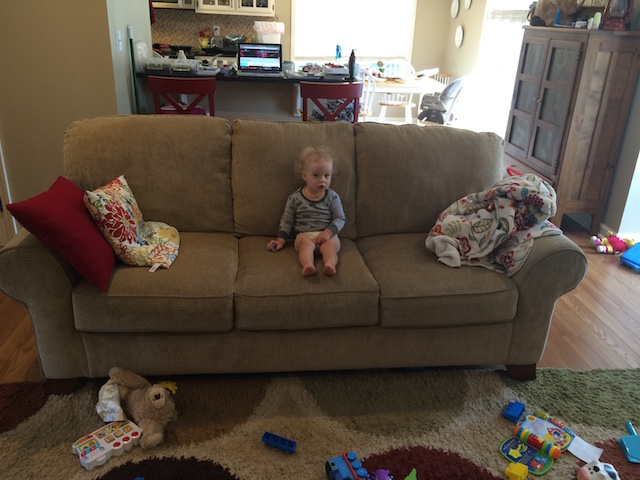 We start yard work early in this family ;).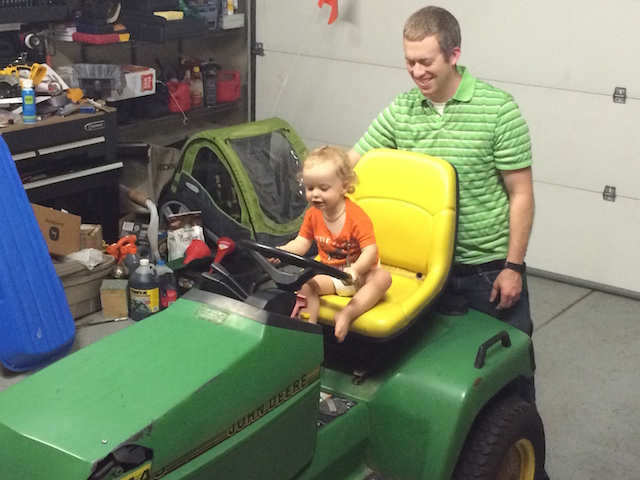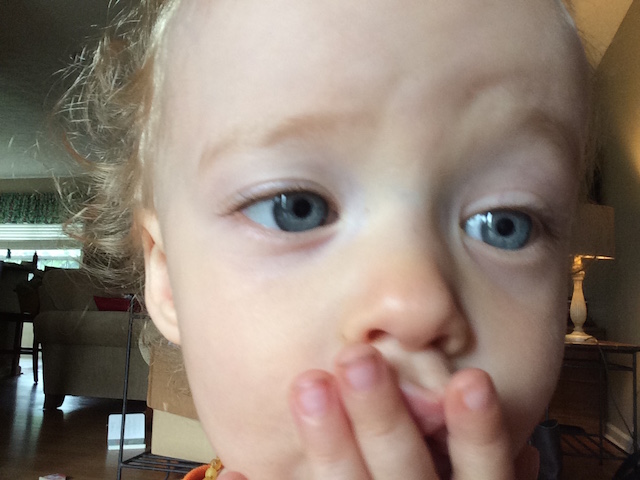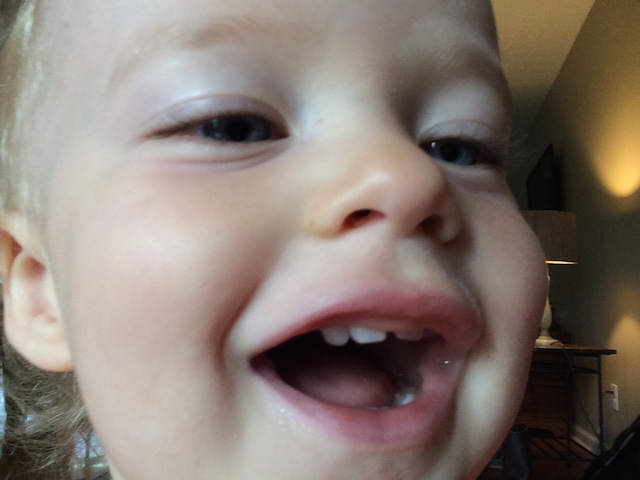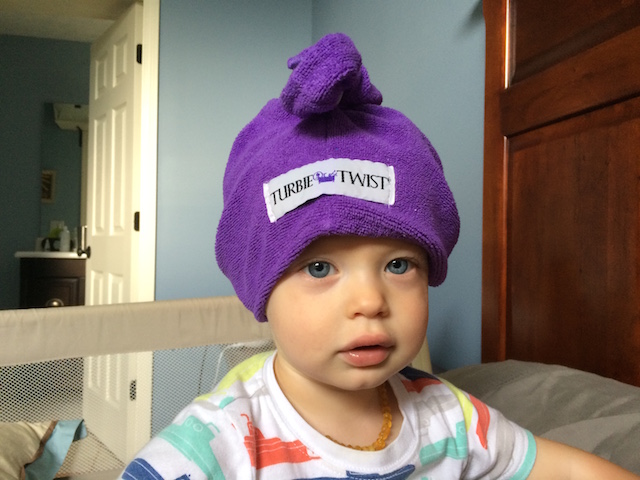 Happy half birthday, my precious boy!