As predicted I haven't been nearly as diligent about posting pregnancy updates with Baby #2 as I was with Hudson.  This is only the second one so far and the first one was over a month ago – whoops!
How far along – 15 weeks
We had a check up at 13 weeks and got to hear the heartbeat for the first time.  Nice and strong, heart rate of 165.
Symptoms – Basically nothing.  I do feel some pains/twinges in my belly when I turn over at night or move in certain directions, but other than that I really can't even tell I'm pregnant.  I feel pretty much just like my non-pregnant self.
Weight/belly – I have not gained any weight yet.  As far as my belly goes…I really can't tell a difference.  Part of that is because I haven't been taking pictures to compare but mostly it's because I never lost the baby weight from Hudson so my stomach is quite a lot larger this time around than it was with Hudson and subtle changes aren't nearly as noticeable.
I have been trying to be a lot more conscious about my health this time around.  With Hudson I used pregnancy as a ticket to eat as much of whatever I wanted.  Since I'm starting this pregnancy so much heavier than I was with Hudson I want to try to limit the amount of weight gain if at all possible (I know I'll probably gain some, and I'm not starving myself or anything, just trying to be mindful).  During the few weeks of the first trimester when I felt nauseous I ate whatever sounded good but as soon as that passed (week 11 or 12?) I started making sure I was eating real, whole, healthy foods, very little junk or sugar, eating when hungry but not just eating to eat.  I'm pleased with my food choices and now need to work on exercising.  I'm not going to start anything crazy, but I'd like to do some things that will help strengthen my muscles and support my body as I get ready to deliver a baby (which is pretty much an athletic event in and of itself, and I'm in no way in shape for athletics).
Movement – Around week 11 I was really thinking I felt the baby move.  Like, a lot.  I knew that was wayyyy early and I asked at my doctor's appointment at week 13 and they said they thought it was too early, too.  The feelings that I was having have since gone away so I'm guessing it was not the baby and was something else instead.  I haven't felt that, or anything else, recently so I'm guessing I haven't felt the baby moving yet.
Food cravings – I would drink gallons of Ningxia Red if I could but that stuff's expensive so I limit myself!  Other than that, no particular cravings.
(Like I said, no belly pictures, and really I have very few pictures of me at all, but I feel like I must have a picture with each blog post so here's one I had of me downing the last bit of Ningxia from a bottle – I usually pour it into a small glass each day but when it gets low I unleash my inner rebel and chug it straight from the bottle.  Ningxia Red is a high antioxidant nutrient juice from Young Living that I drink every day, for those who are unfamiliar with it.)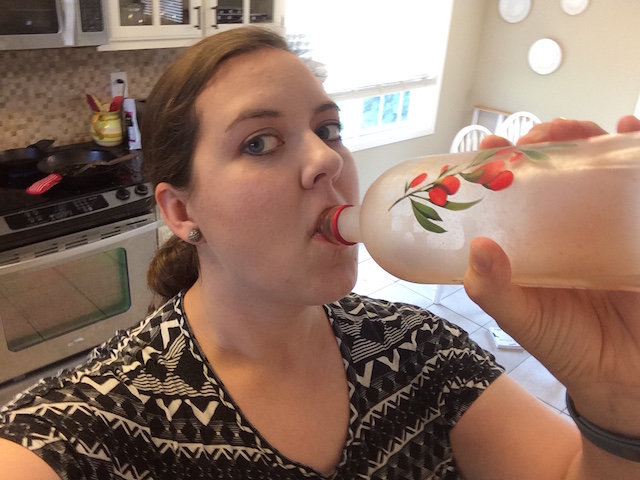 Food aversions – Nothing.  I'm not adverse to fruit right now but I haven't wanted it nearly as much as I usually do so that has been a bit strange.
Sleep – Great
Thoughts – This pregnancy is so different!  With Hudson that was all I thought about – I was so attuned to every change and symptom.  Now I have a toddler who demands lots of attention and I feel very un-pregnant so it's easy to forget that I actually am pregnant at the moment.  It's so strange!  Of course I'm excited, I just don't think about it as much as I did with Hudson.
We've started tossing around baby names.  We've had our girl name picked out for years so that's ready to go but we're having trouble deciding on a boy name.  So far nothing has just jumped out and grabbed us so we're still thinking.  We should find out sometime next month if this baby will be a boy or a girl.
We sat down a few weeks ago and made a list of things we need for baby #2 so we can make sure and be saving in our budget – thankfully there isn't much!  A double stroller, bigger diaper bag, newborn cloth diapers, maybe a new carrier.  Our biggest purchase that's not technically a baby thing but will probably be used more than most baby things will be a king sized bed.  And of course if this baby is a girl then we'll get some girly clothes.  It's nice to not have a crazy, huge, overwhelming list like we did for Hudson!
This time around instead of worrying about a nursery and having all this "stuff", I'm going to work more on practical things like having freezer meals cooked and getting the house cleaned and such.