19 months – time flies when you're having fun!
growth
Well I didn't weigh or measure him this month but we've noticed that his stomach is definitely pooching out of his 18 month pajamas so it's time to go up a size in those.  I remember my mom saying that we used to chunk up for a bit and then shoot up in height and slim back out so I wonder if that's what he's about to do.  His feet have also outgrown some of his size 4 and 5 shoes.
I noticed these little blue shorts are getting too tight which is a shame because they are so adorable with some of his Sunday shirts (and that bowtie!).  I bet we'll be in 24 month clothes by the fall!
teeth
Hudson got his second canine tooth this month (top left), which brings his teeth to a total of 14!  Wow!  His bottom two canines have not started poking through yet – they look they are going to be difficult though.
This month we started brushing Hudson's teeth with toothpaste instead of just water.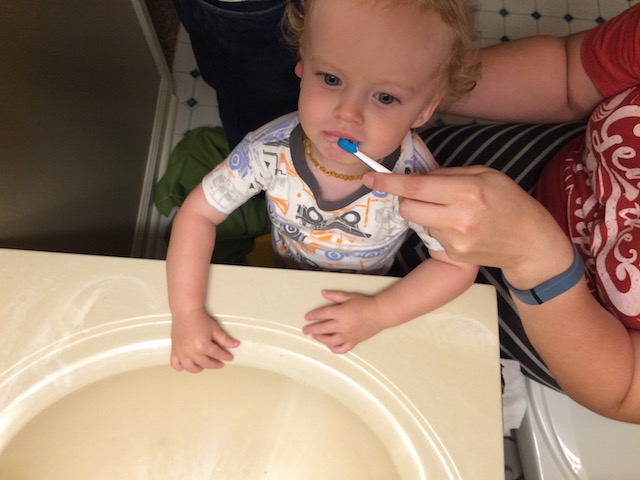 communication
Something new that Hudson has started this month is trying to repeat words back to us.  Now if we say "Hudson say _____" he'll give it a try.  It doesn't usually sound anything like the word but it's a good start!
New signs he started using this month are airplane, train, rabbit, and watermelon.  We really haven't worked on new signs much at all this month so I need to get back to that!
I know he has some new words but the only one I can think of right now is "help".  He won't ask for help yet, but if you say "Hudson, do you need help?" then he'll say "help!".
Probably my favorite thing that he says right now is "yes".  He very dramatically and exaggeratedly nods his head and says an emphatic "yes!" (which sounds more like "ice" or "ites").  It's adorable!  Also, when you ask him a question you can see him thinking for a second whether he should answer yes or no rather than just automatically answering.
He babbles constantly and many times intently says a whole "sentence" of babbles that I can't understand.  I know he's trying to tell me something that's important to him but as or right now it's still gibberish to me!  Ha!
He loves to talk about animals – he does a combination of sign language, sounds, and actions depending on what animal we're talking about.  I think my favorite is when he does a chameleon or lizard and he flicks his tongue in and out.  It's so cute!
food
Still a pretty great eater.  Communication problems make meal times frustrating – he will tell us that he wants to eat or that he wants more, but he won't (or can't) always tell us what exactly he wants.  Sometimes we go through the whole list of food options and he still hasn't picked one so I'm not sure what goes on in his little brain and what food he *thinks* we have that we aren't offering him.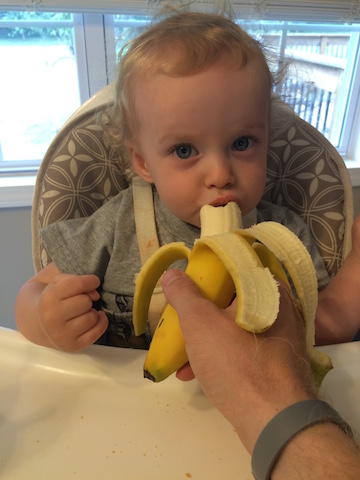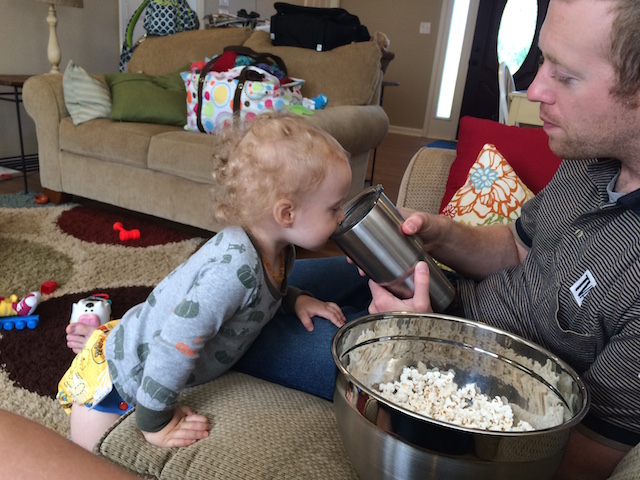 We discovered that he really likes smoothies!  He has hijacked both mine and Michael's smoothies on multiple occasions!
He was actually waving at me in this picture but it looks like he's telling me that this is his smoothie now!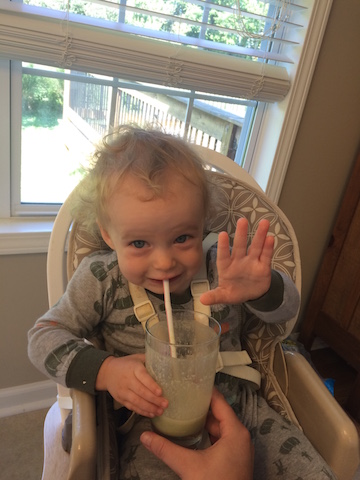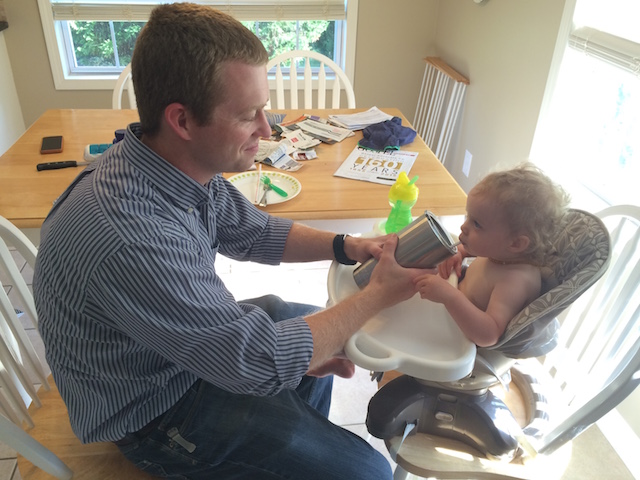 We also discovered that he loves hummus.  The first time I gave it to him he used the bell pepper strips to scoop the hummus out, lick it off, and then get more.  I'm not sure he ever actually ate a bite of pepper.  After that I started giving him just the hummus in a bowl with a spoon – it's so thick that it was really good practice for him to start learning how to use a spoon to scoop (still messy, but much less messy than if he used the spoon to try to eat soup or something!).
The only problem with the hummus is that it gave him some seriously horrible breath (hence the reason why we started using toothpaste this month!).  I mean, it was awful!  I'll make it again since he loved it so much but this time I think I'll leave out the garlic (I think that's what caused the death breath).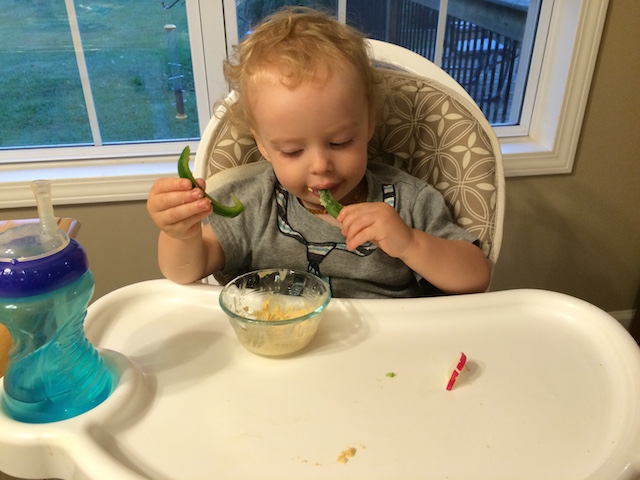 sleep
Meh.  Naps are pretty good as long as I lay/sit next to him the whole time.  He sleeps pretty well through the night too.  It's just the getting him to sleep part that can be so frustrating and time consuming some (many) nights.
Also the bigger he gets the more space he takes up in the bed and he is not a very still sleeper so sharing a bed with him isn't quite as easy breezy as it used to be.  Fun fact: he does not like covers on him at all.  If we pull the covers up over his legs he will kick and kick and kick until he gets them off or we take them off for him.  Since he sleeps in between us that means we can't really pull the covers up over both of us anymore.  I've gotten accustomed to sleeping mostly under just the sheet instead of all the blankets I used to prefer and Michael just uses a separate blanket for his covers.
I tried to get him to attach to a blanket.  He uses me, or whatever shirt I'm wearing, as his "blanket".  His favorite thing to do when he's sleepy or upset is to lay his head on my stomach, but it has to be my bare stomach.  He'll pull my shirt up so that he can get to my tummy and lay on it.  It's sweet but can get a little annoying sometimes!  I thought that if he got attached to a separate blanket that might make bedtimes and tiredness a little bit easier but alas that didn't work.  He packed the blanket around for about two days and then ignored it.
Blankets are better for cleaning than for comfort apparently.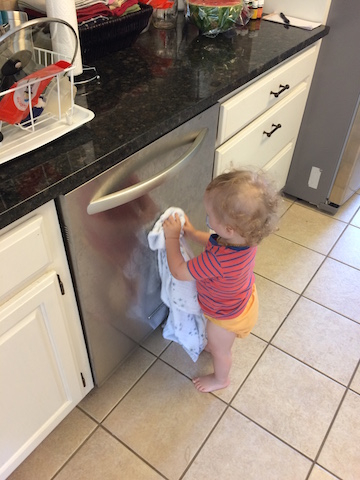 Reading with Daddy and rubbing his sleepy ear.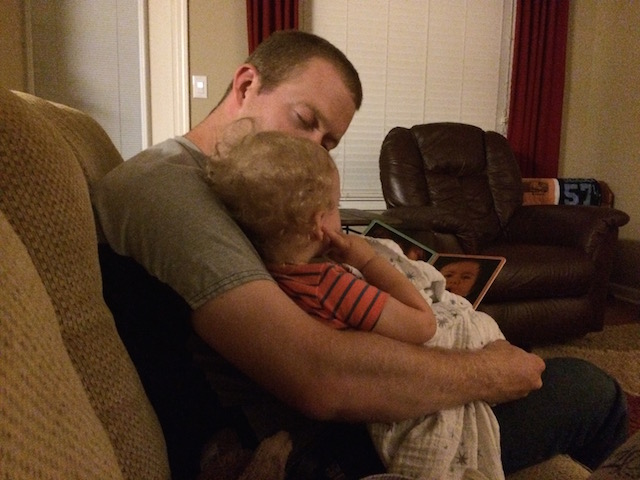 new skills
Hudson loves these wooden puzzles but up until now he has just played with the pieces on their own and hasn't ever actually put the puzzle together.  This month he learned how to match the puzzle pieces to the correct spot and put the puzzle together.  That was so exciting to watch him develop that skill!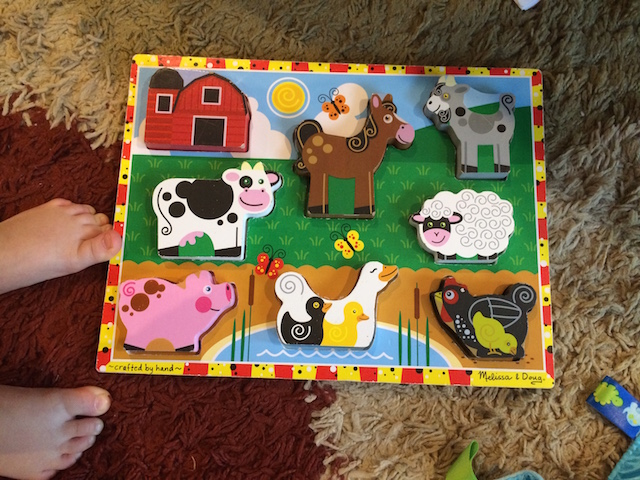 He also has learned how to build with his legos.  He's been playing with the pieces individually for a long time and taking apart the structures we built but he's never put the legos together on his own (that I can recall).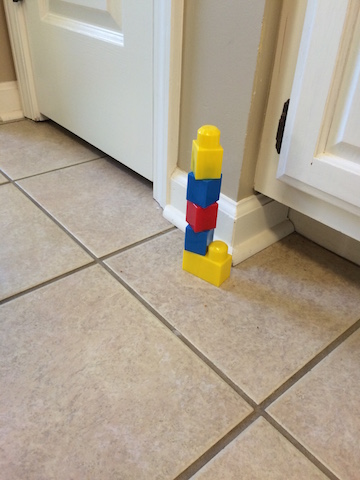 He learned how to get off our bed a few months ago but wouldn't do it voluntarily.  This month he started using that skill more and getting off the bed by himself without being prompted.  He still likes me to get him off most of the time but sometimes he'll do it himself.
Hudson has started "jumping".  It's SO funny!  His feet don't completely leave the floor but he throws his arms up in the air like he's jumping high and comes up on his tip toes.  Precious.
He makes all kinds of cute gestures.  It's obvious (and a bit scary) that he watches up closely and mimics us.  He blows on his food a lot now (even when it's not hot) and he can identify a lot of body parts that we didn't specifically teach him.  He has always been a big kisser but this month he started kissing lots of things besides just us and making the kiss noise when he does.  It is so cute – he kisses the pictures in his book, his toys, and most adorably he kisses my tummy when we tell him to give the baby a kiss.  One day he picked up my hairbrush and started using it like a microphone.  I have no idea where he learned that but it was pretty funny!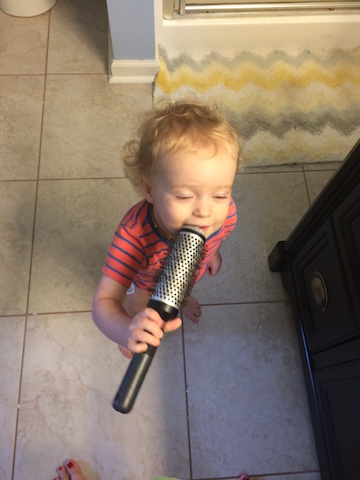 other stuff
Hudson is in to everything!  That's nothing new really, but this month he's developed a not so lovely habit of licking things – walls, shopping carts, people…not exactly things I'd prefer for him to lick.
He also created his first art masterpiece.
On our walls.
It was totally my fault for not supervising him closer while he was coloring in the living room and he had no idea that it was wrong so I couldn't really get mad.  I know to watch him much more carefully from now on though!
Hudson loves to read and to be read to.  It's probably his favorite activity right now and he wants us to read to him all day long.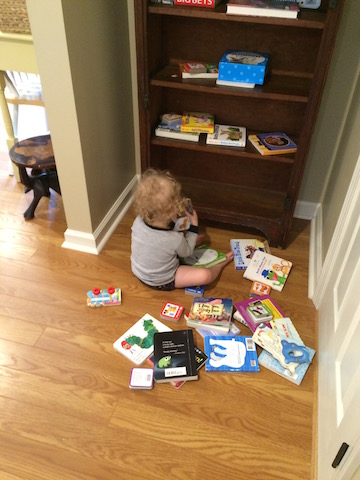 Right now the two activities that keep him the quietest and stillest in church are for him to color or to "read" Michael's Bible.  Michael had a waterproof Bible so the pages are really sturdy and much more suited for a rough toddler to flip through.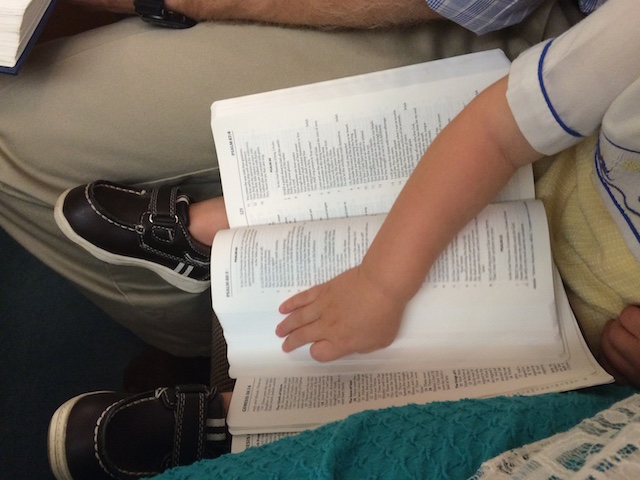 Helping mommy sweep – cleaning with him underfoot and "helping" is certainly an adventure!  For all his mischievousness he really does love to help us do things.  He likes to help me clean, carry bags of groceries and unpack the groceries, load/unload the dishwasher, throw away trash, etc.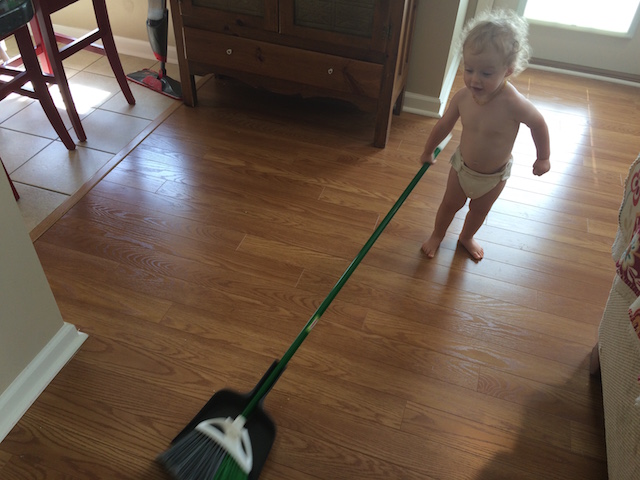 Fixing the table with his drill.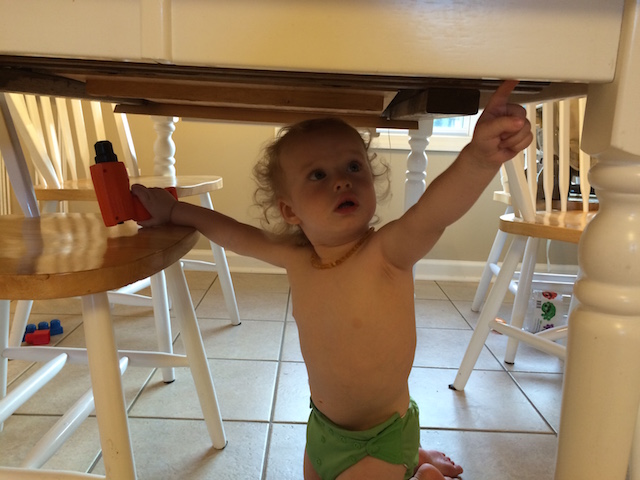 Happy 19 months my sweet boy!