The end of August marked our one year budget-versary.  We celebrated by eating Bruster's ice cream while we did our monthly budget meeting to plan for September (a treat that has become much more rare since we started budgeting!).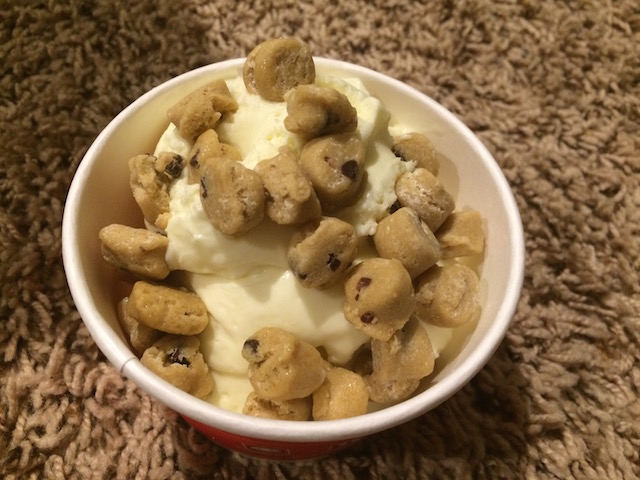 I shared some about our budgeting journey when I did my Money Monday series a few months ago.  You can read the beginning of our budgeting story here.  The nutshell version is this: We did not have a budget for the first five years of our marriage.  In the back of our minds we knew we needed one but we were not big spenders so with two incomes we were more than able to pay our bills and buy the things we wanted without problem.  Fortunately we did not have any debt other than our home mortgage.  After I quit my job to stay home with Hudson we continued spending as we had been…but realized that spending that way on one income was draining our savings and would quickly get us into financial trouble if we didn't do anything about it.  So we started budgeting.
Even though I was the one who had originally wanted a budget, I also was the one who was most resistant when it came time to actually put it into action.  Michael was totally on board and ready to save a bunch of money; I was not thrilled about not being able to buy what I wanted when I wanted to.  I knew it was necessary but I was not happy about it.
So how do I feel a year later?
Well…I still don't love budgeting but it has become a routine thing that I accept and am used to.
Then: I hated the monthly budget meetings.  I didn't want to talk about how much money we had (or didn't have) and try to figure out how to make it fit all the categories we wanted it to.  Fortunately Michael would do a lot of the prep work ahead of time so that I just basically had to look over everything and approve or give my input/suggestions.
Now: I actually look forward to the meetings!  Not because I just love hashing out the budget but because (in a stroke of brilliance) Michael decided we should start having monthly budget parties with a special treat (hence the ice cream) and so I'm all about having a meeting if it means I get a treat!  Plus now that we've been doing it for a year it takes much less time because we have a pretty good idea of how much money goes in each category.
Then: Our lack of money was depressing.  We had depleted a large chunk of our savings right before Hudson was born when we bought my van so we were starting out without much extra money built up.  Thankfully we weren't in the negative dealing with lots of debt (other than our house) that we had to pay off but it was still discouraging.
Now: We have saved a significant amount, more than I ever thought possible being on just one income!  When I look at our savings accomplishments in the past 12 months I am seriously blown away.  We roughly followed Dave Ramsey's plan and suggestions so our main savings goals were to have a $1,000 emergency fund, 3-6 months of living expenses saved up, and then some various other things we were saving for (vacation, new computer, new car, etc.).  It took a while but we got our emergency fund and our back-up-living-expenses completely "filled up" and made good progress on our other smaller savings goals.  Now we can turn that "extra" money toward paying down more on our house.
Then: It was hard to see the big picture.  When we first started saving for certain things we'd put just $50 or $100 or something small-ish in a category.  The first few months I'd look at our tiny vacation fund or tiny computer replacement fund and think that we would never save enough to buy those things.
Now: After a year of budgeting that $50 has turned into $600 or that $100 has turned into $1200.  We're quite a bit closer to a new computer or going on vacation or a new car or whatever.
Then: Getting the hang of entering everything single penny I spent was so hard to remember.  Figuring out what category certain purchases came from was a pain.
Now:  It's…easier.  I am still not great about remembering to enter purchases immediately.  I'm usually the one at the end of the month trying to figure out where that random $5.00 went off to.  Or Michael will see a purchase on our online banking and enter it into our budgeting software before I ever get around to doing it myself.
Figuring out the categories has gotten a lot easier.  We still encounter purchases that we're not exactly sure where they should come from and we frequently update and change the categories to meet our needs.  That's the beauty of our budget though!
Regrets?  About budgeting – none.  What I regret is that we didn't start this sooner.  I look at how much we've saved this year alone, on just one income, and I think about how much more we could have already saved if we'd been budgeting during the five years when we had two incomes.
Other thoughts?  I've learned a lot during this whole process.  I've become more content with what we already have.  I've become less of an impulse shopper (when you have very little "fun money" you become more judicious about how you spend it!).  I have more appreciation and thankfulness for the new things I do buy (a new trash can makes me ridiculously happy!).  I've learned to live without.  I've become more conscious of wants versus needs.  We've become better about selling things we don't use so that we can earn some money back and an added benefit is that it helps declutter our house.  I've gotten better about couponing and shopping sales.
Looking ahead: Like I mentioned before we're working on paying extra on our home mortgage so we can get that paid down faster.  We're still working on savings for some things that we started saving for last year (like a new car) and have started saving for some other expenses we'll have with a new baby joining us soon.  We're also transitioning away from having multiple credit cards and hoping to drop them altogether in the future.
It's been a journey.  A hard one, but a good one.
If you are not already budgeting in some form or fashion, you should be.  You just should.  Do it now instead of waiting.  If you need some help getting started, I gave some tips here.
We use and highly recommend the You Need a Budget software for managing our budget.  It is so helpful!  You can read my post that gives an overview of it here (our referral link is at the bottom with a discount if you decide to purchase).
Here's to another year of budgeting!  I can't wait to look back at the end of August 2016 and see how far we've come after two years!