We've had our hives for three summers but this is the first time we've really gotten to harvest any honey and it has been very exciting!  The first year you have a hive you aren't supposed to rob it of much, if any, honey.  What the bees make the first year you leave in there for them to live off of in the winter then the second year they'll have produced enough for you to get honey for yourself.  However our first year our queen bee died and our hive failed so we had to start over in year #2.  Now finally in year #3 we've gotten some honey!  Yay!
The type of hive we have is called a top bar hive.  They are different from the traditional hives that you're probably used to that look like lots of square boxes stacked on top of each other.  Michael is the total mastermind behind all this beekeeping stuff so you'd have to ask him why he chose top bar because I really have no idea.
He built the hives himself and they look like this.  He even built some little windows into them so we can peek in and check without having to open them up and disturb them.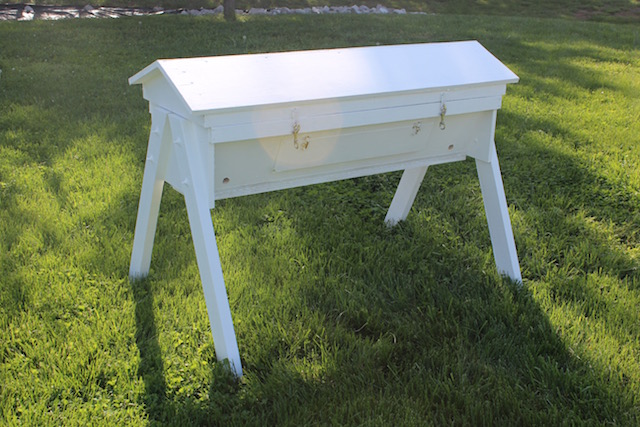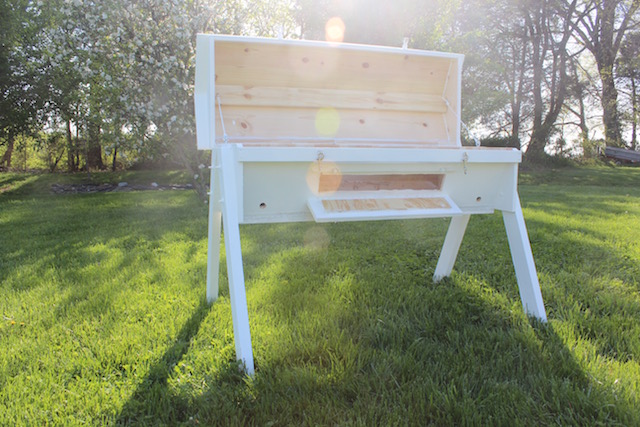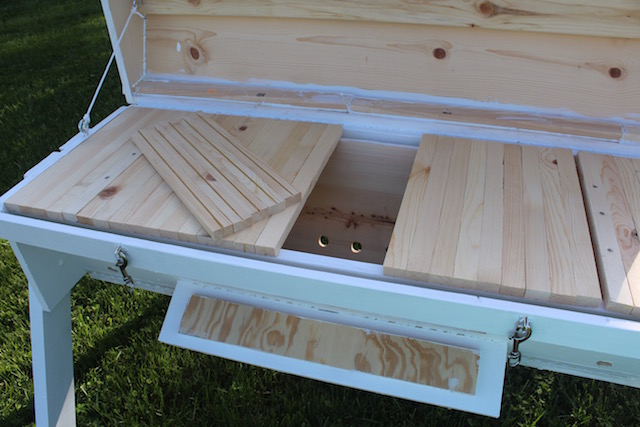 With a top bar have you don't have the frames that other hives have.  You just have a bunch of these bars, basically slats of wood, and the bees build the whole entire frame and comb themselves down from the top of the bar.  When you pull a completed one out it looks like this.  Well actually, this one is almost complete.  You can see at the very bottom there where they built the comb but had not yet filled it with honey or capped it off before we removed it.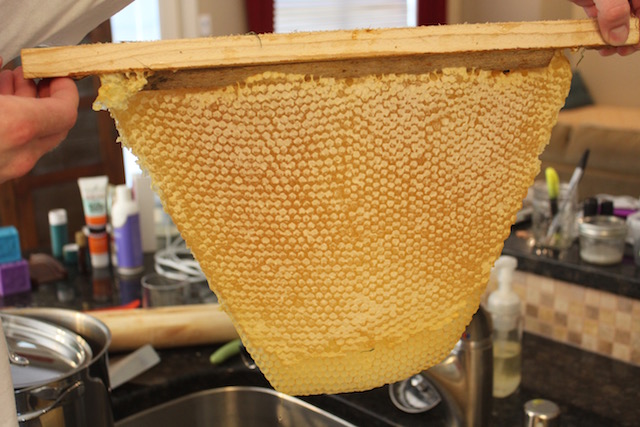 To remove the honey from the comb we break it up into smaller chunks and strain it through a strainer.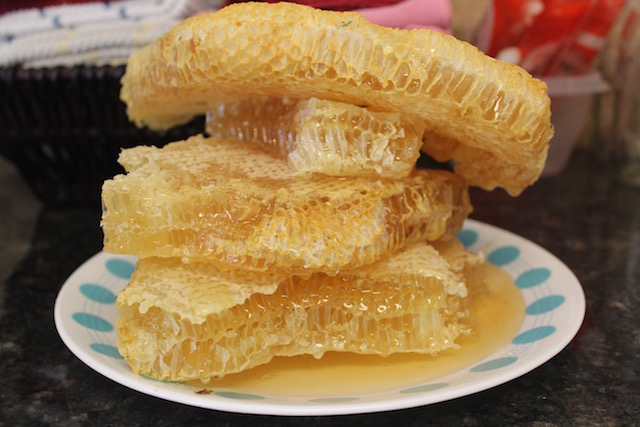 Straining it is not hard at all but it's super slow and time consuming.  Last summer even though we didn't rob our hives we still got a little bit of honey – I think one of the bars was being formed unevenly so Michael had to remove it and we were able to get a small amount of honey from that one section.  It was tedious to hold the strainer over the bowl just to get that little bit out so this year when we knew we'd be doing quite a bit more we weren't sure how to do it without someone having to stand there all day and strain the honey.
Fortunately Michael put his engineering mind to work and built this simple but brilliant stand that holds the strainer on it's own.  All we had to do was occasionally use a spoon to crush up the comb, stir it around, or add more comb.  And keep an eye on the bowls to make sure they didn't overflow of course!  But then the rest of the day we just let it sit and do it's thing.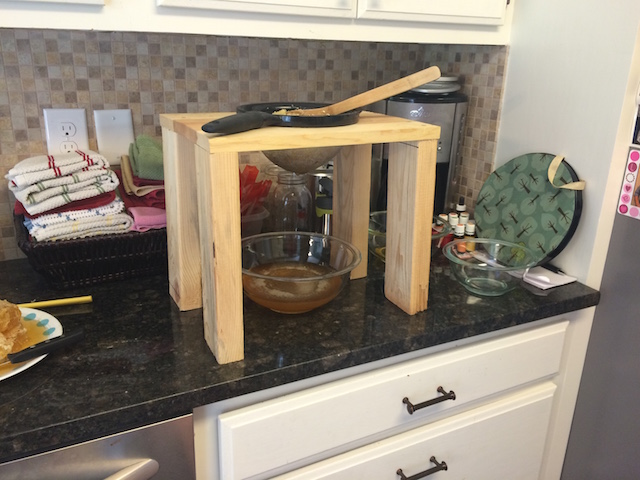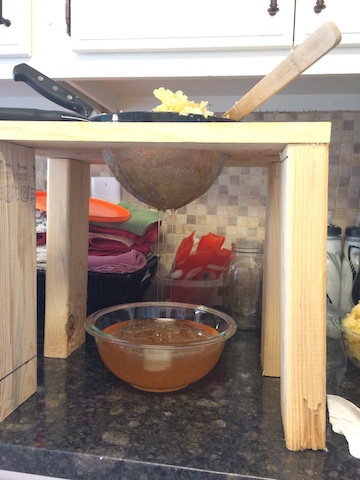 Watching the honey run through the strainer and into the bowl is mesmerizing!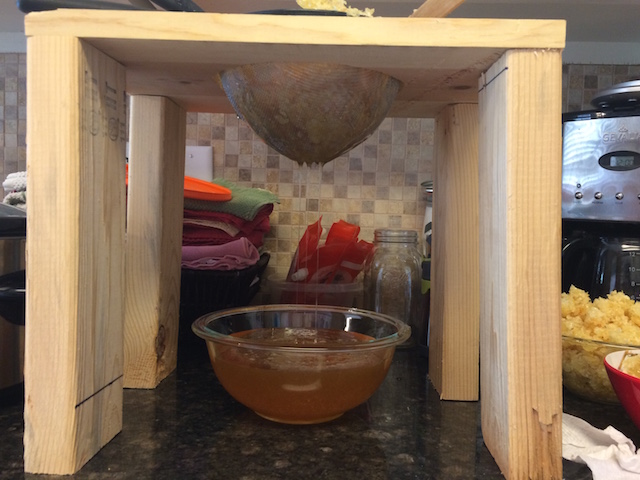 When all was said and done we were left with several bowls of beautiful honey.  I believe we got five quarts out of four bars from the hive.  There are a lot more bars to do, we just haven't had time to keep harvesting!  Hopefully this weekend we can get to it.
In fact, if you harvest early enough in the summer then you can actually get two full rounds in before time to close them up for the winter.  We didn't do that in time this year but maybe next year we can and that'll double the amount of honey we get!
Once you strain the honey there is the beeswax from the comb left.  I didn't get a picture of that but Michael is going to clean it up for me and I'll have that to use for my various DIY projects like making deodorant or lip balm.  I might even dabble with homemade candles.
We also saved out a bit of the comb with honey to give to people who like to chew on that.  That's not my thing (in fact, I don't actually like the taste of honey by itself *gasp*!) but I do think it's very pretty!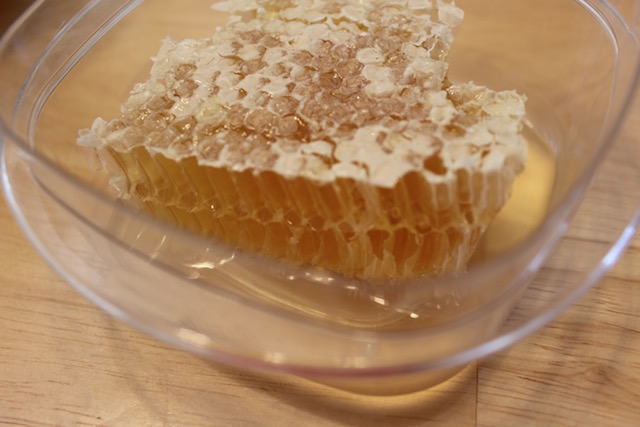 Love the look of the honey all bottle up!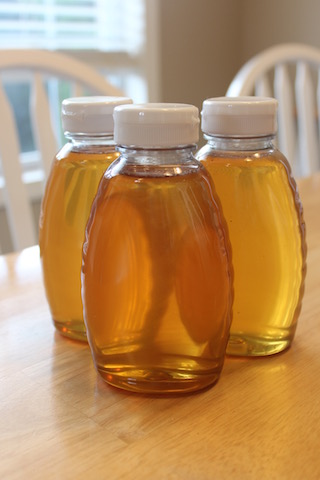 We need to come up with a cute name for our honey and make some labels.  We don't have enough for selling this year but we might someday in the future! (suggestions for a name are welcome :) )