I've been meaning to make this post For.Ev.Er. (like a million other posts floating around in my head) but I needed to get some videos done first and, well, that just hasn't been as easy as I'd hoped.  I *finally* got that done so here we go!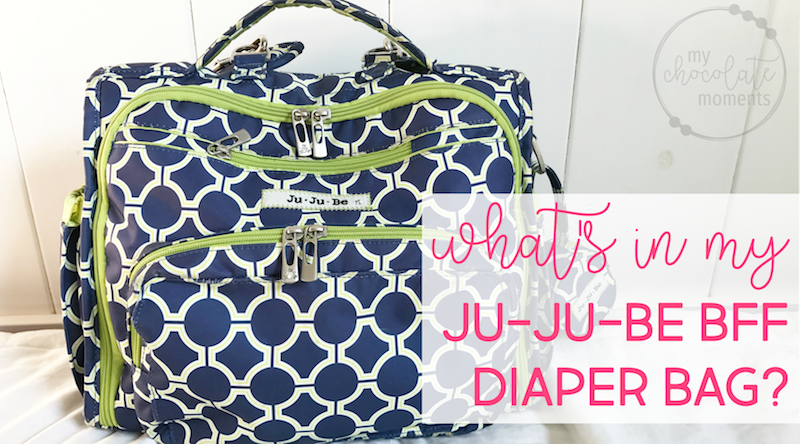 For about the first nine months of Hudson's life I carried a Vera Bradley diaper bag.  It is a fairly large bag (I had it overflowing with stuff but I'm also a chronic overpacker, so there's that…) and I loved it but once Hudson got a little more mobile it was constantly sliding off my shoulder and dumping things all over the place as I tried to wrangle him.
I started looking for an alternative.  I really liked the idea of a backpack diaper bag so that I would have my hands free and not have to worry about it sliding off but I also knew that if I was wearing Hudson on my back I couldn't exactly wear a backpack at the same time so I hoped to find something that could be used as a messenger-type bag as well.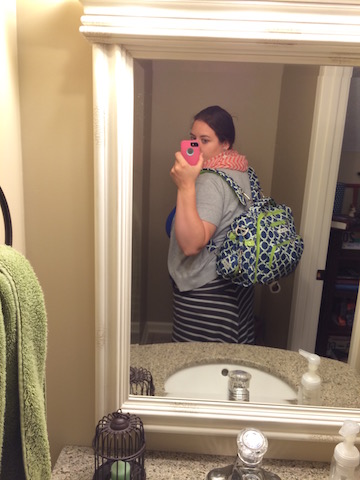 There really aren't too many options for diaper bags that are both a backpack and a messenger bag but I found a few and after lots of "research" (aka watching videos on YouTube) I settled on a Ju-Ju-Be BFF.  It can be a backpack or a messenger bag and has tons of pockets.  It is pricy (although I know that's a very subjective thing) at about $170 brand new but there are certain things that I don't mind paying more for to get good quality or exactly what I'm wanting and a diaper bag is one of those things.  I was also fortunate to find a (barely) used one at a great price so that helped too ;).
The BFF does take some creativity in packing.  Even though I had watched a ton of videos on YouTube and knew other people had fit loads of stuff in there I still struggled a bit when I first got it to get all my stuff to fit.  It definitely had a learning curve!  But once I got everything situated then it was a dream to use because of all the pockets and organization.
(These are all stills from the video below – you'll have to watch for details!)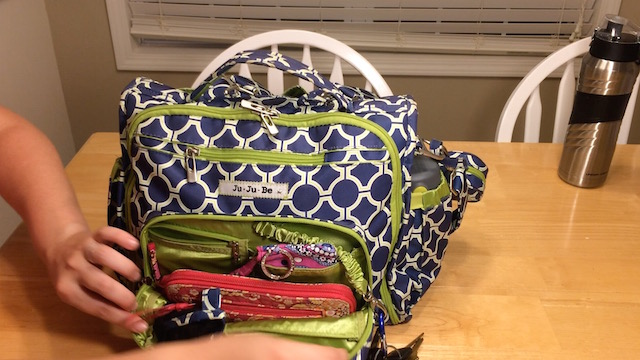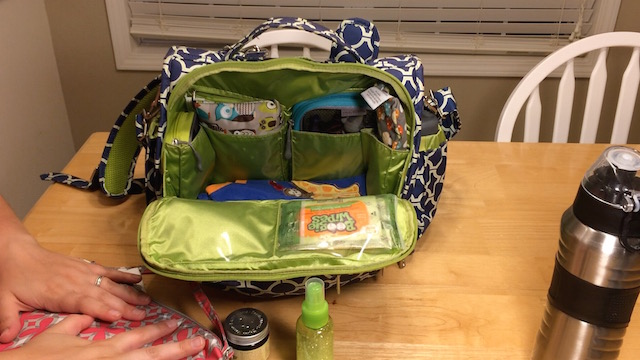 Now that Hudson is 19 months I'm still using and loving the BFF.  We carry much less than we used to so there is some extra room where I can throw in snacks or extra toys or whatever.  I'm not sure if there will be enough extra room to then add the stuff for baby #2 though but we'll see come February!  (I'm guessing I'll have to size up…as much as I pack I doubt I can get enough for two kids in a bag this size.)
As I was researching diaper bags I found all these videos on YouTube where people show how they pack their diaper bags and what all they carry in them.  I found that fascinating!  I got lots of good ideas about how and what to pack but it was also interesting to see all the different things that people pack.  For example, a lot of people pack a very full first aid kit – thermometer, multiple medicines, all kinds of teething things, etc.  That baffles me because even though I'm usually Ms Prepared, a detailed first aid kit is just not something that I carry around with me!
Anyway, I thought I'd share my own packing video in case anyone wanted to see all the features of the BFF and/or what things I pack in my diaper bag.
I also made a video comparing the size of my Vera Bradley bag to the Ju-Ju-Be BFF.  When I was originally researching I couldn't find any videos that compared the two and I didn't know if the BFF would be big enough to hold what I had been carrying in my Vera.  So I made a video in case anyone else is looking for that same information.
What about you?  Are you a big packer or a super light packer?  What do you carry that I don't?  Any other Ju-Ju-Be fans out there?