Soooooo hard to believe that I'm already about halfway through!  This pregnancy is flying by!
How far along – 20 weeks
Doctor updates – We had a doctor's appointment yesterday and the baby looked great!  We found out our little one is a boy…and wow did he make that difficult!  We had our anatomy scan which is a very long ultrasound to check all kinds of things on the baby.  The ultrasound tech did the whole scan and by the end still couldn't tell if the baby was a boy or girl.  She tried a few different things and it just wasn't working.  We were about to have to just give it up and leave without knowing (that would have been a bummer!) and finally right before we called it quits she was able to get a good look.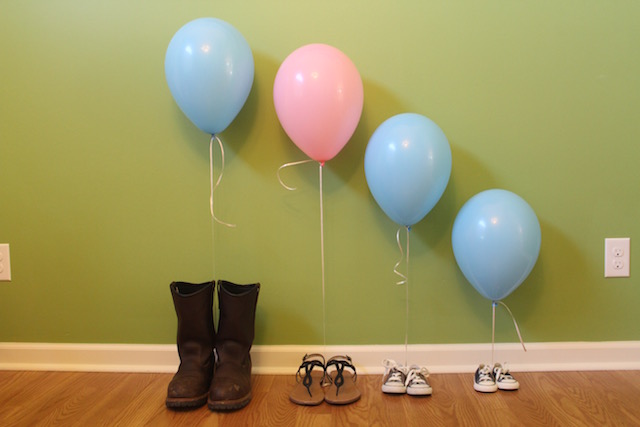 The results of the anatomy scan were good and our doctor is very pleased with how things are progressing.  Baby's heart rate was 160, my blood pressure was good, and the baby is measuring at about 13 oz, which is the 60th percentile.
Symptoms – Honestly most of the time I fell totally like my non-pregnant self.  I've had some pains/pulling/twinges in my belly that are more intense than I remember from my pregnancy with Hudson but they don't happen often and other than that I feel great!
Weight/belly – Still no weight gain!  Well, kind of.  I lost about 5 pounds at the beginning of my pregnancy and have since then gained that back so I'm still at the same weight I started.  At this point with Hudson I had gained 12 pounds so I'm very happy with my lack of weight gain thus far.
My belly is definitely showing now!  I finally took my first belly shot of the pregnancy after our appointment yesterday.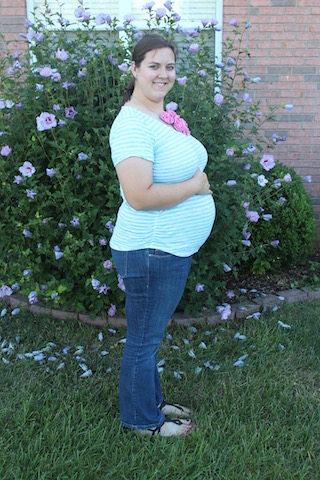 Movement – This is an active little dude!  I started feeling definite movement around 18 or 19 weeks and now I feel it multiple times a day.
Food cravings – Hot chocolate.  Never mind that it's been in the 90's most days, I've been enjoying a nice warm cup of homemade hot chocolate as a daily treat!
Food aversions – None.
Sleep – Great.  Sleeping like normal.
Thoughts – I know I said this already but it's crazy to me how fast this pregnancy is going!  This pregnancy has been so easy and for that I am incredibly thankful.  Finding out yesterday that we're having another little boy was so fun!  I didn't have a preference either way, but it's just nice to know.  As of right now we do not have a boy name picked out but hopefully we'll settle on one soon.