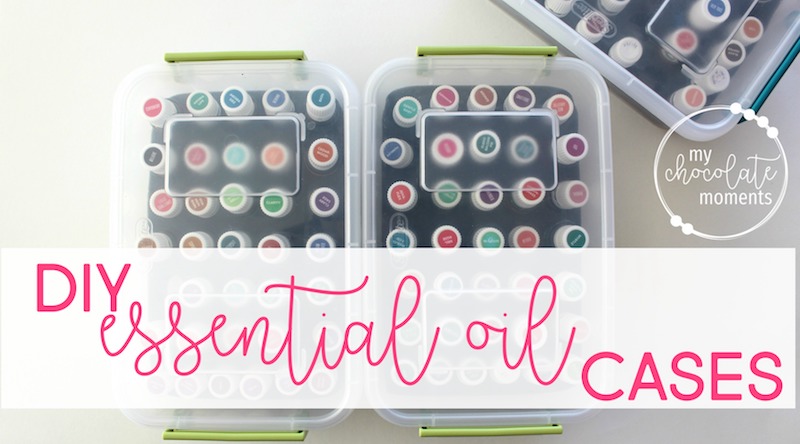 I am so happy to have found a storage solution for my essential oils that is perfect for my needs AND not super-de-duper expensive!
I don't know if you've priced essential oil bags and cases recently but they can be rather spendy – usually around $25+ for a small bag and 30+ for a small case.  Personally I'd rather spend that money on more oils youknowwhatI'msaying?!
I didn't want to commit to something until I new for sure what I needed so for a long time my oils stayed in an tupperware container that I sat down inside of a train case.  They weren't in any order and moved around a lot so it made it hard to locate a particular bottle, even with the labels on.  And it was fine for when they were sitting at home but not particularly good for transporting.
As my oil stash grows I needed a storage solution that would be practical, keep my oils organized and protected, and not cost an arm and a leg.  Thanks to the wonders of the internet I found some info on how to make your own.  Turns out there is a very easy and pretty inexpensive solution!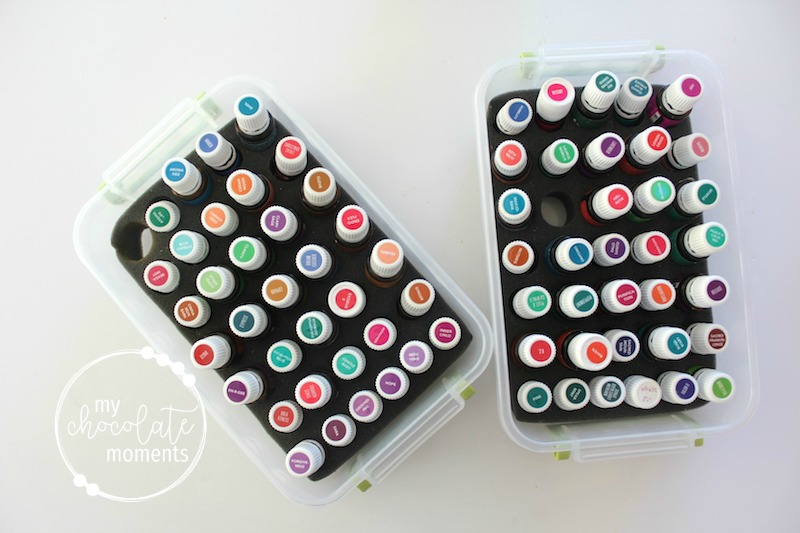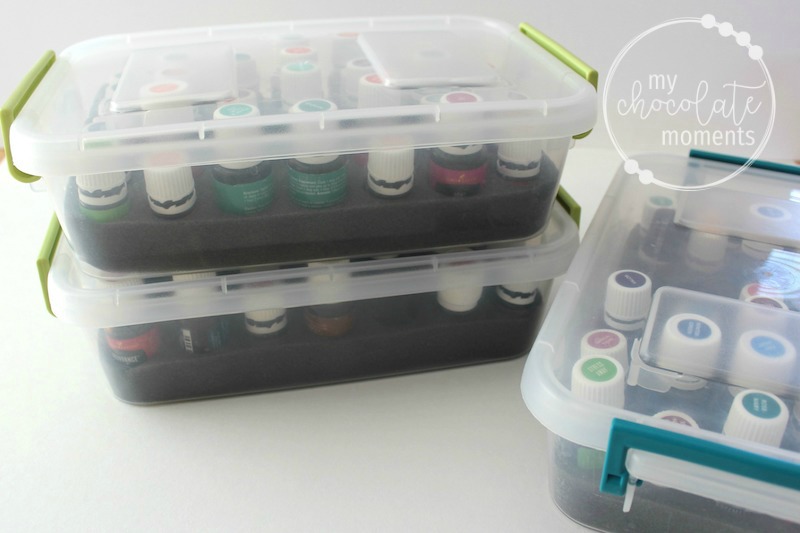 What you need to make a storage box that holds 36 oils:
– This 2.7 quart Sterilite box (dimensions are 11.5″x 7.38″x 3.25″).  I found mine at Walmart for $2.63 each and a friend of mine found hers at Dollar General but I've also linked to the box on Amazon so you can see exactly which one it is.  Here's a picture of the sticker on one of the boxes.
I ordered from a different company that has since been bought out but it looks like this medium foam insert from Oil Life is the same thing that I got.  This particular size is $5 each each plus shipping.  (for reference, the dimensions of the foam that I used are 9.25″ by 6″ in case you want to cut one yourself or look to see what other site might sell a similar product).
That's it!  The foam fits perfectly inside the Sterilite box.  You just pop it in there, load up your oils, and you're good to go!
Total cost for my two cases that hold 72 oils (two boxes, two foams, and shipping) was a little over $20.
I usually look for my oils by the color of their bottle/label but Michael finds it easier to locate them if they are alphabetical so we decided to put them in alphabetical order.  It's not a 100% perfect system but it works well enough.
These foams hold 30 15ml bottles plus 6 5ml bottles (those 6 smaller holes at the bottom of each box).  I have a mix of 15ml and 5ml bottles so as I alphabetized I just put a 5ml in a 15ml spot if that's where it need to fit alphabetically.  It's not as snug of a fit and the 5mls slide around a bit but it's not terrible.
I don't include the 5ml slots at the bottom in my alphabetizing since inevitably there will be a 15ml that needs to be in one of those spots, so I use those to store random 5ml bottles that I don't use as much (or think Michael won't be searching for much) out of alphabetical order.
The oils with regular lids fit perfectly in the box with the lid on.  15 ml bottles with the childproof caps (like PanAway and Raven) only fit in the spots where the lid is slightly taller.  I took PanAway and Raven out of alphabetical order and just stuck them in spots where they would fit with the lid closed.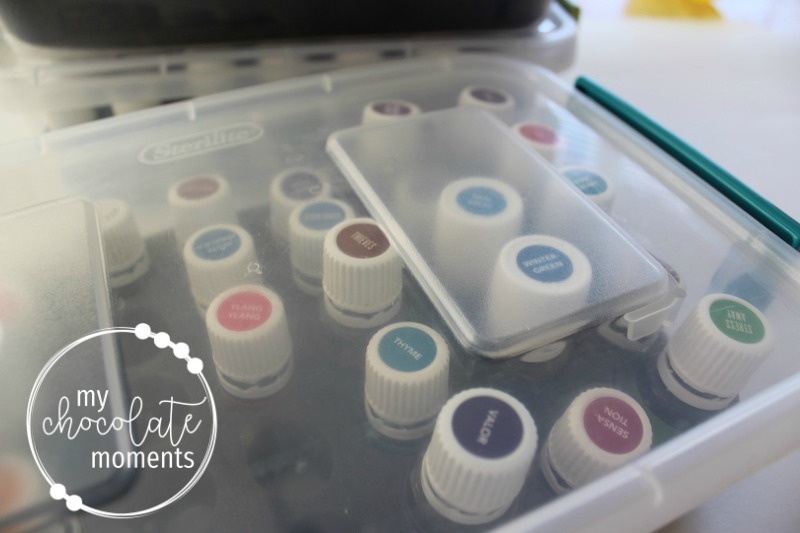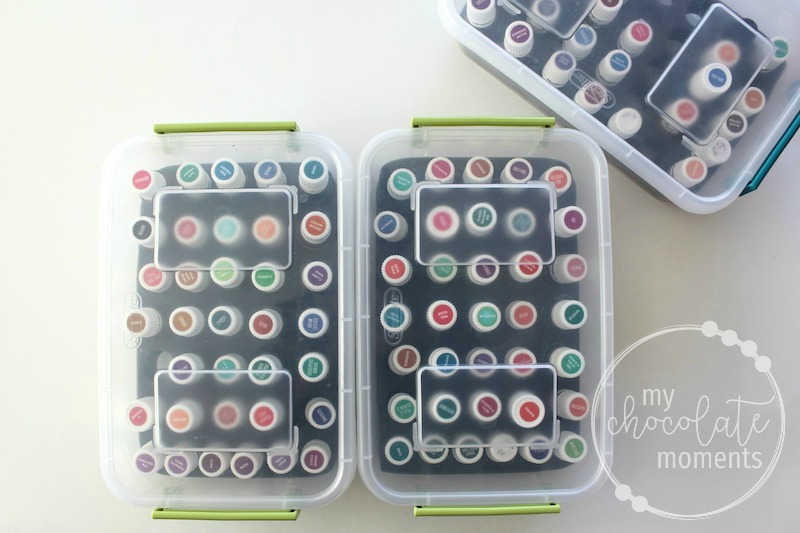 Progessence Plus, Shutran, the roll ons, and 15 ml bottles that have the black roller attachments and lids are too tall to be stored in these boxes with the lid on so I keep those separate or lay them down on their sides when I'm packing up to go somewhere.
If you prefer a larger case you can also make one that holds 63 or more oils.  To make that one you will need:
– A Sterilite 6.2 quart storage box.  I found this size at Walmart for $3.88.
– The large foam insert from Oil Life (this size would be slightly smaller than the container and leave a little space around the edges) or the xl foam insert from Oil Life (this size would be slightly larger and you'd need to cut the foam a bit to fit.
I wasn't totally sure what I wanted so I bought both plastic containers so I could play around with them.  I ultimately decided to go with multiple of the smaller containers.  I found that one large flat container was harder to store and transport than smaller ones.
The smaller sized containers fit nicely stacked into my Thirty One tote bag – I can stack three on top of each other comfortably plus a little extra room at the end for other oily accessories or books.  With the larger box I had to turn it on it's side or use a really big bag to keep it laying flat.  I prefer to keep my oils upright when possible and the smaller size made that more possible.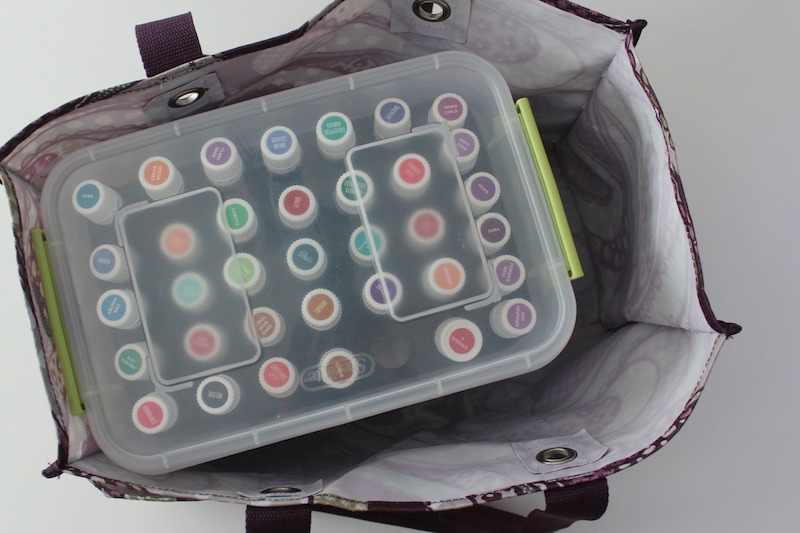 These particular containers are made to stack on each other.  They don't connect to each other but the way the grooves are made they don't slide around or anything when they are stacked.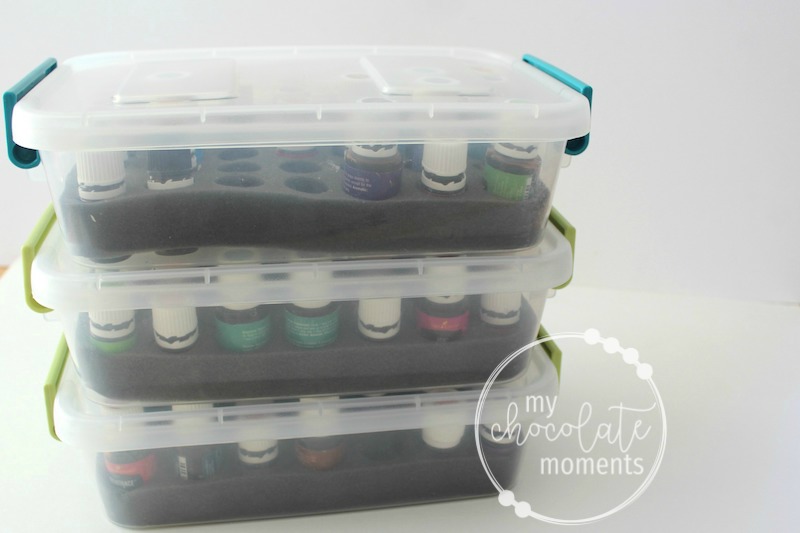 I keep the cases on the counter next to my little station where I have my computer and planner and other things.  I leave the lids off so we can grab the oils quickly whenever we need them, then when I travel or take my oils to a class I pop the oils on and they're ready to go.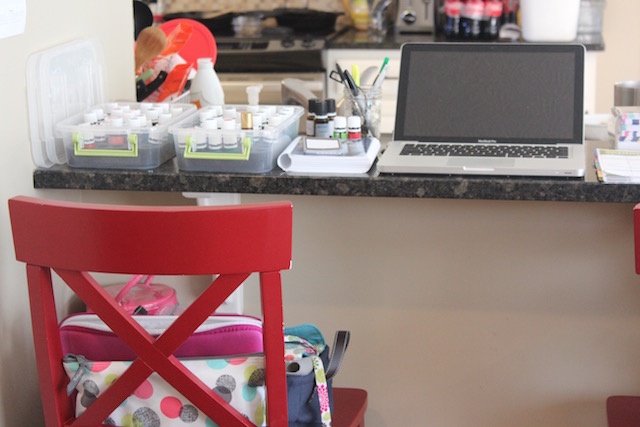 UPDATE: I've been using these cases for a year and a half now and they have held up great through daily use and multiple trips.  I am about to outgrow my third case and because my cases are taking up so much storage space I am about to move them to a large rack on the wall, however, I will continue to use my DIY cases to transport certain oils to classes or when we travel.
How do you store your oils?