20 months!  It's hard to believe that he's out of the teens and into the twenties (month-wise of course…I don't even want to think about the teenage years!!)
growth
Hudson now weighs 27 pounds and is 33 or 34 inches tall (It's not easy to measure a moving target!).
He has outgrown most of his 18 month clothes but his 24 month clothes are way too big so we're kind of at an awkward stage as far as clothes go.

teeth
No new teeth this month.  Those bottom two canines (the only ones we're still waiting on besides his 2/3 year molars and whatever comes a few years after that) have not yet made an appearance.
He loves to brush his teeth!  As soon as we finish putting his pajamas on he starts to sign that he wants to brush.  We set him on the counter while we brush his teeth and he's also decided that he likes washing his hands.  Up until now if I tried to wash his hands he would cry but now when he's brushing his teeth he says "bubbles! bubbles!" and he wants me to put some soap on his hands so he can wash them.  Progress!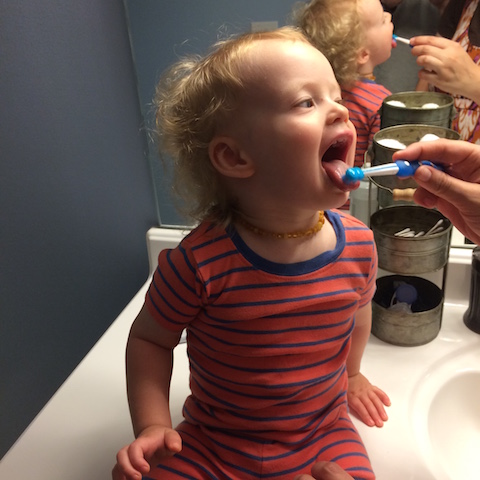 communication
It's hard to keep up with this now that he's communicating so much more.  I know he learned the signs for bean, baby, butterfly, and alligator this month and that he started saying flower, boo boo, star, hot, hop, Parker, and Bubble Guppies.  He also has made up his own sign (we're not sure where he got it) to tell us that he wants to watch his "fish" (Finding Nemo) in the car.  He has lots of animal sounds and imitations too.
He will not say "Hudson".  He'll say mommy and daddy and Parker but when you ask him to say Hudson he just says "Hi!".  It's pretty funny.  He'll try to repeat a lot of things but "Hudson" isn't one of them and neither is the word love.  We'll say "Hudson, can you say love?" and every time he says "Ha!" and laughs.  Silly boy.
food
As always Hudson loves to eat.  He will try most everything and likes a lot of things but he'll also definitely let you know if he doesn't like something or doesn't want any more.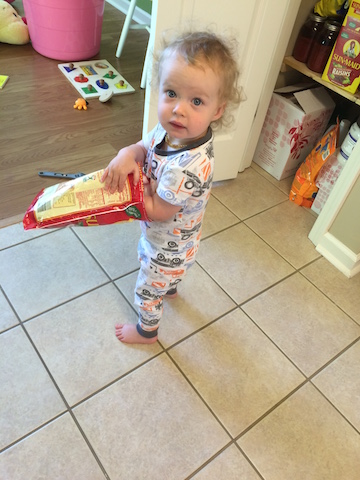 He's getting really good at using his spoon and fork.  This month we started letting him use his spoon to feet himself runnier things like soup and he did surprisingly well.  I was very impressed with his ability to scoop the food and get it to his mouth with minimal mess.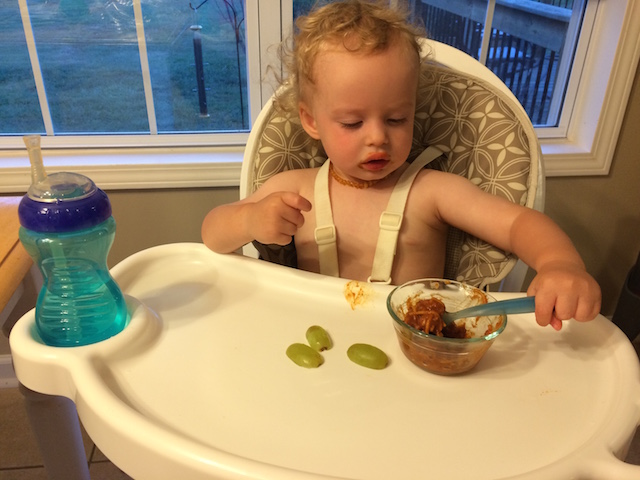 Sometimes if the soup is very liquid-y he prefers to drink it out of the bowl instead of using his spoon.  We've found that using condiment bowls (or ramekins, not sure exactly what they are) is perfect for him and much more manageable than a big bowl.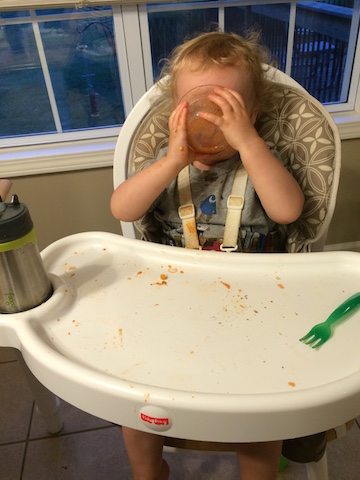 A big new thing this month is that he is finally liking and drinking milk.  We've given it to him a few times in the past and he wasn't interested and it wasn't something that we pushed, but one day I was drinking a glass with breakfast and he wanted to try some so I gave it to him.  He loved it and has started asking for it quite frequently.  I'm not going to lie, milk sippy cups are a lot grosser to clean than water ones!  But I'm glad he likes milk now.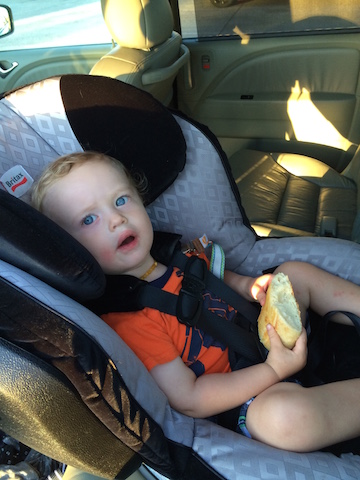 Anything we have or eat or do he wants to do as well.  If I have some sort of dipping sauce then he wants it too!  That can be a bit messy, I'm sure you can imagine.  I try to just give him a tiny dab (like a little bit of queso on a lid at Moe's) to keep the mess to a minimum.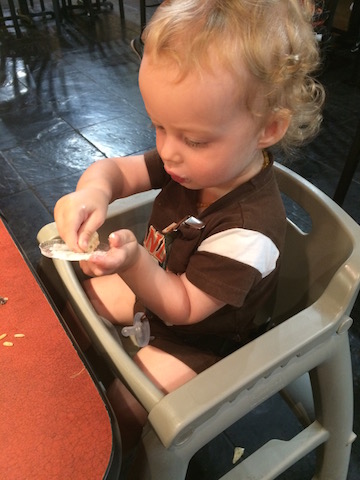 Sleep
Well, nothing new here.  Naps are still pretty ok – sometimes long, sometimes short.  I lay down with him and take a nap myself or sit next to him and work on the computer.  Night time is still frustrating.  Often it takes us a while to get him to sleep and then he'll wake up several times.  He's a total bed hog and a very active sleeper so he kicks us and pushes us out of the bed.
This picture is from one Sunday morning when he took up so much of the bed that both Michael and I ended up getting pushed out.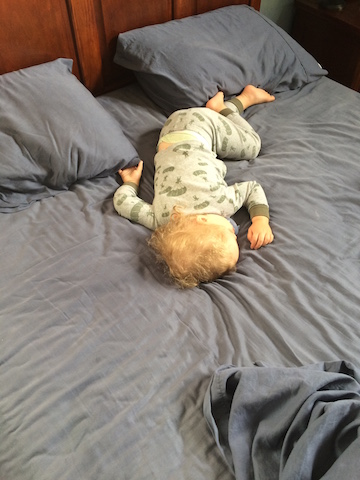 We are getting close to moving him to his own bed.  We got a twin mattress that we're going to set up on the floor for him to sleep on, we just haven't taken the time to get it set up and all that.
new skills
Lots of new skills this month!
He's gotten pretty good at throwing a ball or a rock.  He can throw far!  One day we were at my mom's house and he was standing on the porch throwing rocks and they nearly made it to her sidewalk.
He loves to "tickle" us.  He thinks it's absolutely hilarious!  It's so cute.
Hudson also loves to help us do things.  He'll help unload the groceries and hand them to me or put them on the counter, unload the dishwasher, hand me clothes while I'm folding, or get clothes out of the dryer.  Even though that makes my tasks take much longer I try as much as possible to let him help me because I know it's important for him to learn those skills.
He has started holding up his fingers as you count.  He's got one and five down pretty good – two, three, and four all basically look the same but he's getting there.
He talked on the phone for the first time this month, first to my brother and then to my mom.  He's been on many Facetime conversations but this was his first time to talk on the phone.  Recently he's started pretending everything is a phone (anything remotely rectangular, food, everything) – putting them to his ear and saying "hi".  So when I was talking on the phone for real I put it up to his ear.  At first he just sat there but I started saying "say ____" and he'd say it.  We went through several words with me prompting him like that.
He learned how to go down the stairs this month.  He's been great at going up but not so much going down until recently.  That came in handy when I rolled my ankle and couldn't carry him up or down the stairs for a day!
adventures
Michael had to travel to Huntsville, AL for a few days for work so Hudson and I went with him.  I wasn't sure about a hotel room with a toddler but it went really well.  He enjoyed getting to watch tv shows that we don't have at home (we pretty much only watch shows on Amazon Prime – Daniel Tiger, Curious George, and Bubble Guppies).  The hotel we stayed in had a little walking trail, a duck pond, and a pool so we had lots to do to keep us busy.
The portable high chair we have is the bomb – doubles as a seat and a place to eat!
Like last summer he did not like swimming.  We went two days and at first he would cling tightly to me but after a while he would loosen up a bit.  He never would let me let go of him though.  I'd start out wearing him in the water wrap and then once we'd been in a while I'd take him out and put him in his floaty.  He didn't like it though.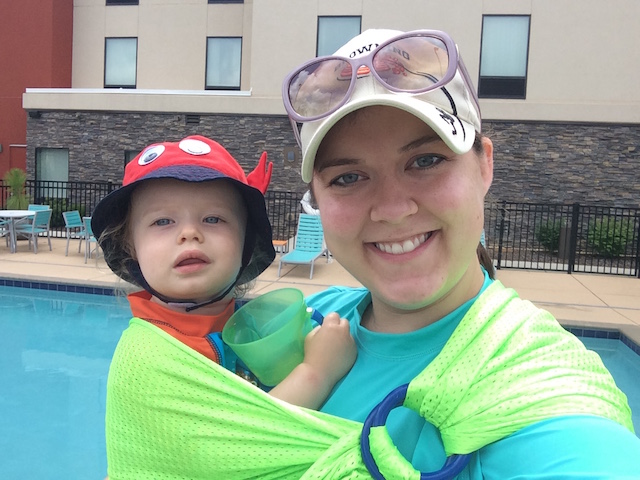 We also tried out a fountain that shoots water out of the ground.  He hated it and much preferred to play on the grass.  This picture shows about how close he was willing to get without me carrying him over there.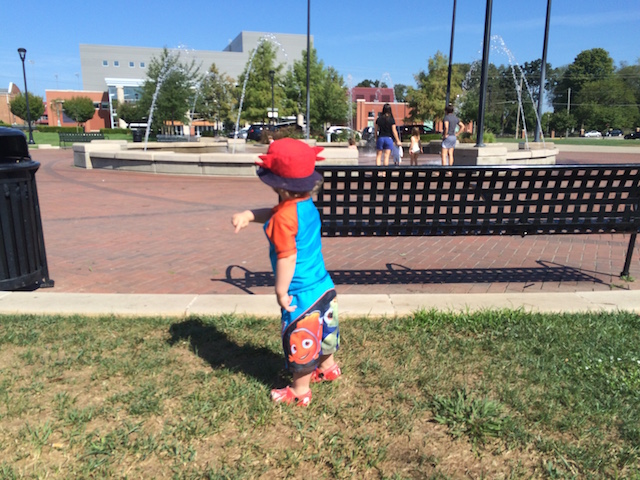 We had several fun park days enjoying the end of summer (actually, I'm looking forward to fall so we can go to the park more…it's just too hot in the summer lots of days!).  Hudson loves playing in the dirt!
I was really impressed with him going down the slide.  In the past he didn't like slides but this time when we went he had a blast sliding!
other stuff
Hudson is pretty fascinated with flushing the toilet right now.  He wants to flush it over and over!  I guess it's good that he's not afraid of the flush so we've been trying to let him help us flush so that he gets familiar with it.  He's started telling me occasionally when he needs a diaper change (not for pee, only when he poops, and not even every time that he does that) so I think we're making steps toward potty training.  That's not something I'm really pushing though.
The car is still kind of a nightmare.  Not every time, but a lot of the time.  Lots and lots of crying.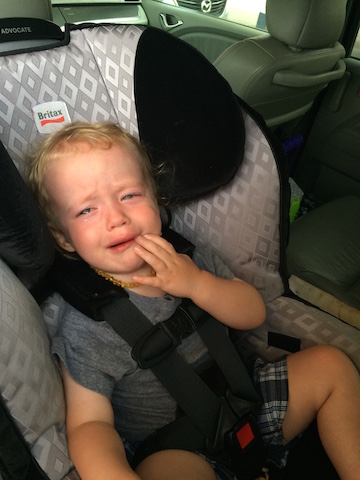 He loves baths except for when you have to rinse his hair.  That part he dislikes but he doesn't scream like he used to, so that's progress I guess!  His hair is getting SO long.  I know it's time to cut it…I just can't bring myself to do it yet!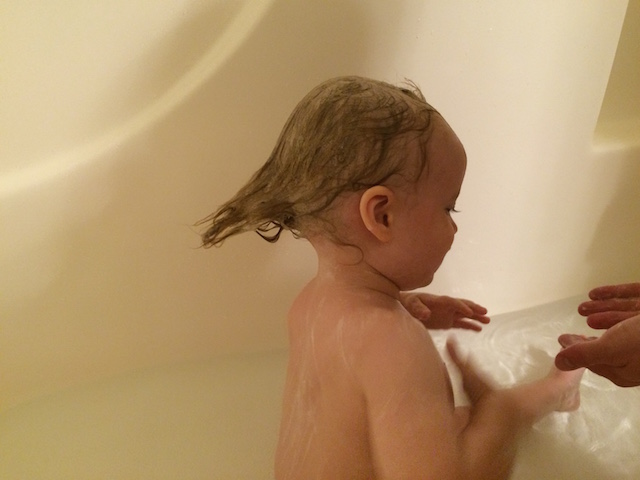 We bought some letter and number magnets at a consignment sale.  He likes to play with them but mostly he just wants to dump them out, put them back, dump them again, and so on.  Which is totally fine, I wasn't expecting him to start spelling words or anything!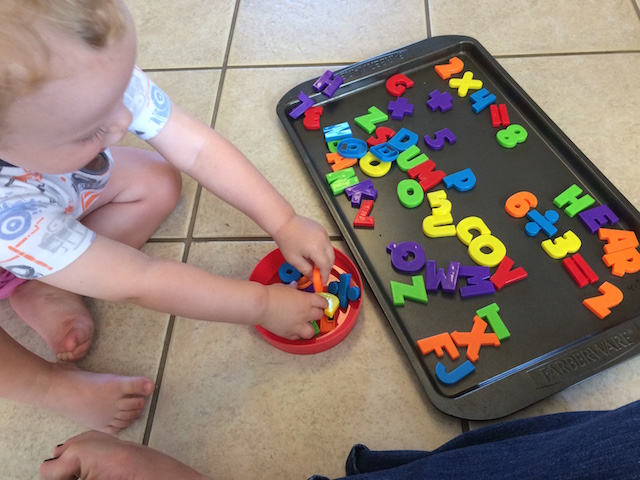 Just some other cute pictures
Showing his TN pride and reading with daddy.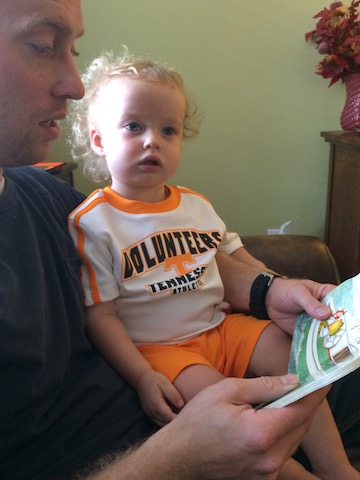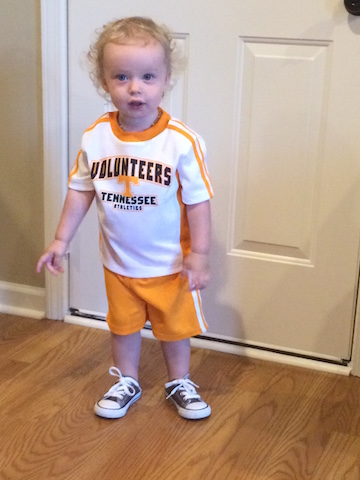 He likes to try to get water out of the fridge.  Thankfully he's not *quite* tall enough to reach it yet but it won't be long!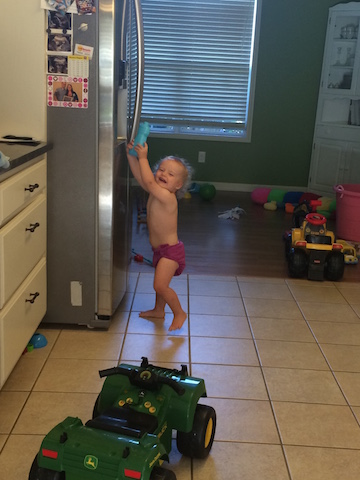 We don't wear nearly as often these days but sometimes you just gotta have some mommy snuggles when she's trying to cook supper and you want to be held, right?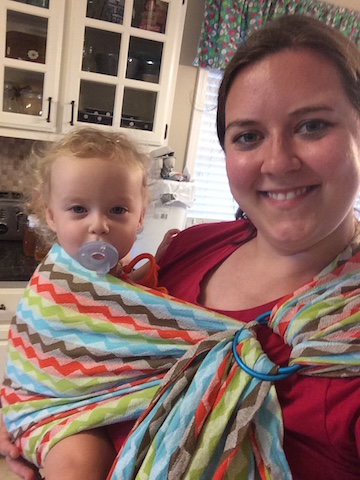 Hudson has such a fun and expressive personality!  He makes us laugh constantly.  He is so dramatic (sometimes in a funny way and sometimes in a frustrating way) and just all around a big ham.  I love this age!  Yes, he can be whiny, clingy, and tearful, but he is also so cuddly, loving, funny, cute, and gives tons of kisses.  It's precious.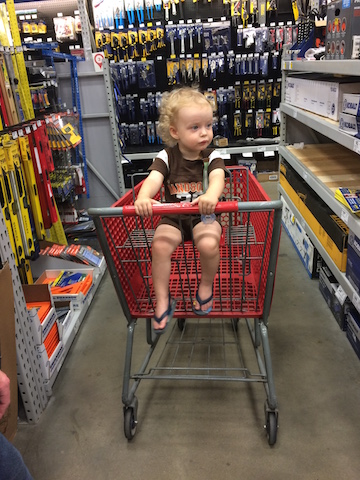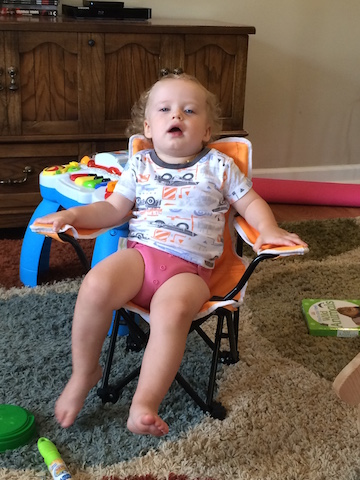 This picture.  I seriously could not stop laughing.  We were trying on some clothes from a friend at church and there were some little underwear in the lot.  My mom put them on Hudson's head and it was hilarious.  He was not mad, in fact he was laughing, but the waistband of the underwear squished his face down into this hysterical position.  I had tears rolling down my face we were laughing so hard!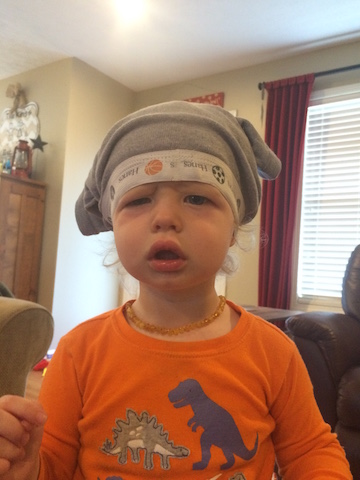 And that's a wrap for month 20!