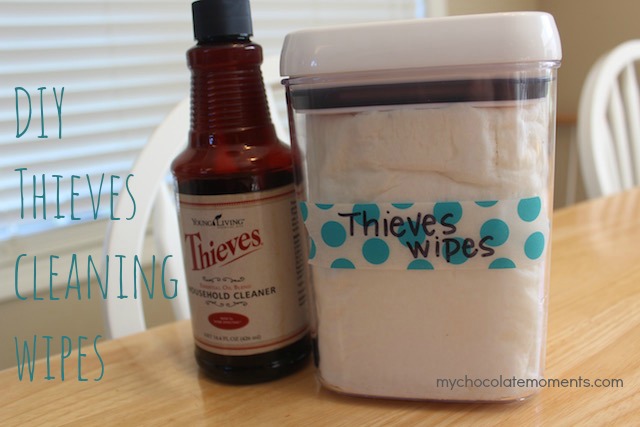 I have been meaning to make some DIY Thieves wipes FOREVER and finally got around to it this week.  I'm already loving my wipes and can't believe it took me so long to get them done!  Well actually I can…it required going to Walmart to get a container and I avoid Walmart as much as possible so that has delayed my project just a bit.
Anyway, Thieves.  I loveeeeeee my Thieves cleaner.  I use it to clean just about everything – smells amazing, natural, no harsh chemicals, love it.  I keep a spray bottle on the kitchen counter so I can grab it anytime, but I'll be honest I do occasionally miss the convenience of cleaning wipes.
Those things are bad news bears though.  When I was teaching I used the wipes to clean my classroom and I'd always wear gloves because I hated my hand touching the wipe since I knew it was full of nasty junk.  They're popular in church nurseries too for wiping down the toys after the babies chew on them but honestly I'm less concerned about the germs and more concerned about the chemicals the wipes are getting on/in my baby!  Yikes!  So having a DIY homemade alternative makes me super happy.
And these couldn't be easier to make.  All you need are some paper towels (I used Viva since they are most like cloth), Thieves household cleaner, water, and a container.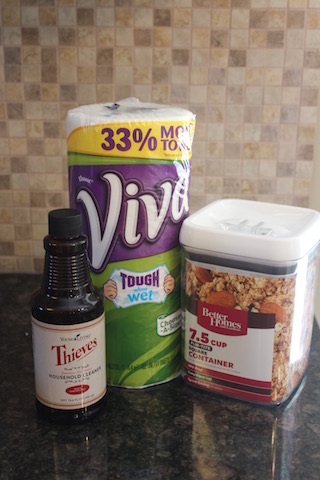 To make the wipes you cut the paper towel roll in half with a knife and set it down inside the container.  Then take 2 cups of water plus one capful (Yes, capful.  The cleaner is very concentrated so you only need a little bit and then you mix it with a lot of water.  One bottle lasts forEVER!) of Thieves household cleaner and pour that over the paper towels.  Easy as pie.
Actually, much easier than pie.
(If you want to watch the actual making of the wipes you can check out my Periscope where I filmed it live as I tried them for the first time.)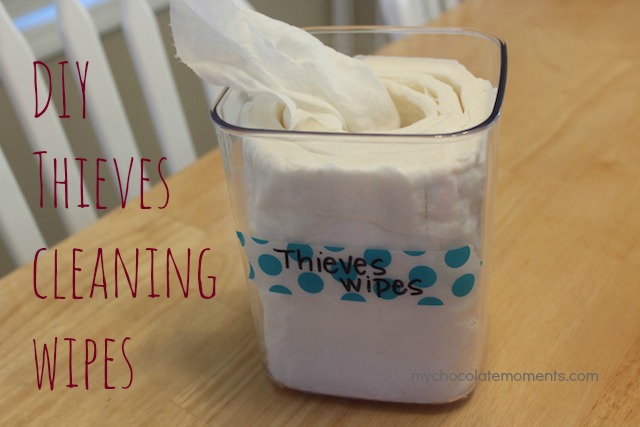 The cardboard tube will lift out easily from the middle of the paper towel roll once it's wet and then you can start pulling the paper towels out from the middle just like with the store bought cleaning wipes.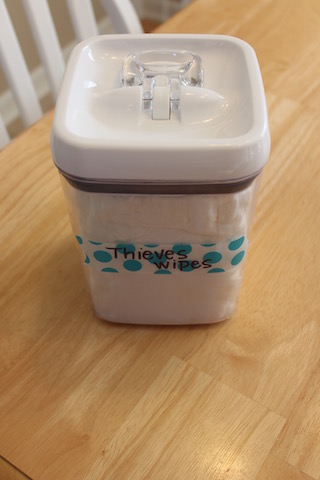 I looked at several containers before settling on this one.  The lid was my favorite part – I can lift up on that lever thingy with one hand and it releases the suction on the lid and comes right off.  The others I looked at required unscrewing the lid or using some other latch that was more difficult and when I'm in the middle of cleaning up a mess I want it to be as easy as possible!
This container was also a perfect fit for 1/2 a roll of Viva paper towels, both in height and in width.  I held it up against my Bounty paper towels though to compare and no way would they have fit, they're too big around.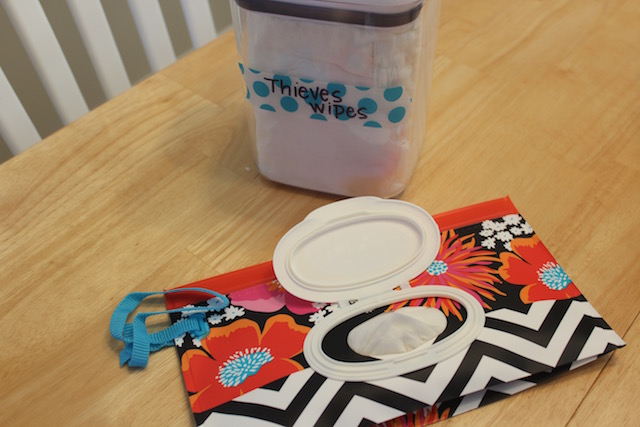 I'm also incredibly excited to use these on the go!  Usually for cleaning off high chairs or tables at restaurants I've used my little bottle of Thieves spray.  I love that stuff but that required finding and using a napkin or baby wipe or something to wipe with once I sprayed.  Having pre-moistened wipes I can just grab and wipe with is going to be so nice!  I tore off several of the paper towel squares and put them in a Huggies Clutch & Clean container (I think that's what it's called)  They're made for holding baby wipes so I think they'll be great for these too.
If you don't have Thieves cleaner…well, you should get some.  It's pretty fabulous.  But if you don't have it and want to make these wipes right now you could try doing water, a few drops of Thieves oil (tea tree, lavender, lemon, and/or orange would be other good options), and a squirt of castile soap.  I haven't tried it but that seems like it would work!
Happy cleaning, friends!
(Not sure what this Thieves stuff or Thieves cleaner is?  I can help you and hook you up.  Check it out here or use the contact form to email me.)