Thanks to the nifty feature on Facebook that shows you your memories from on a particular date from past years I was reminded earlier this week that we bought our house exactly three years ago.  And that makes what I'm about to share even *more* embarrassing!
Even though we've lived in this house for three years we had very little decor hung on the walls – a few things, but not much.  And even worse is that we did not have a single picture of us as a couple, as a family, or of Hudson hanging or displayed anywhere.  All these fantastic pictures we'd gotten of him over the past year and a half and not a one on display!  Shameful.
On Labor Day I decided to finally just get it done and order some pictures while I knew lots of companies were having sales.  Thanks to Groupons and sales and coupon codes I ended up getting 8 canvases ordered (and I think it cost about $150 total; I'm totally new to purchasing canvases but I think that's a pretty good price overall).  I am SO GLAD I finally did it!  They look great!  I ordered from three difference places and I plan to do a comparison/review for you in a separate blog post.
I used a nifty tip I saw on Pinterest where you cut out paper in the size of your pictures and tape that to the wall first so you can determine where you want them.  That worked perfectly!  I was able to easily move them around until I found my preferred placement and then all Michael had to do to hang them was figure out where the nail needed to go for the hanger, put the nail in, tear the paper off, and then hang the picture.  He didn't have to do all the positioning and measuring that we usually go through when we hang pictures so that was nice.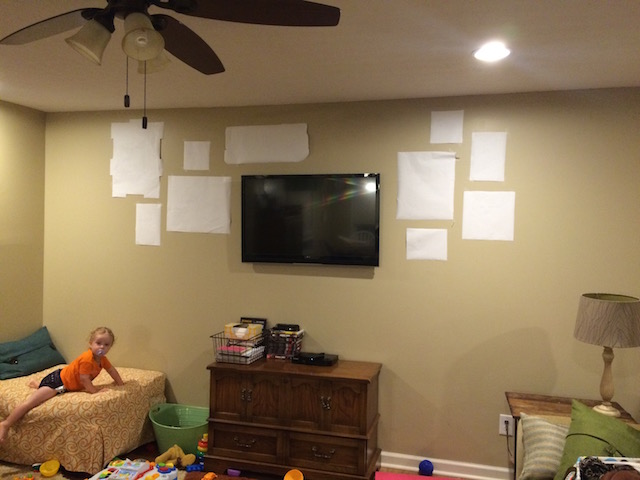 Once we got them hung it seemed like it totally transformed our living room!  It is so fun to actually have pictures on the walls!  Hudson loves them too and points and the ones of Michael and me frequently and says "Mama! Dada!".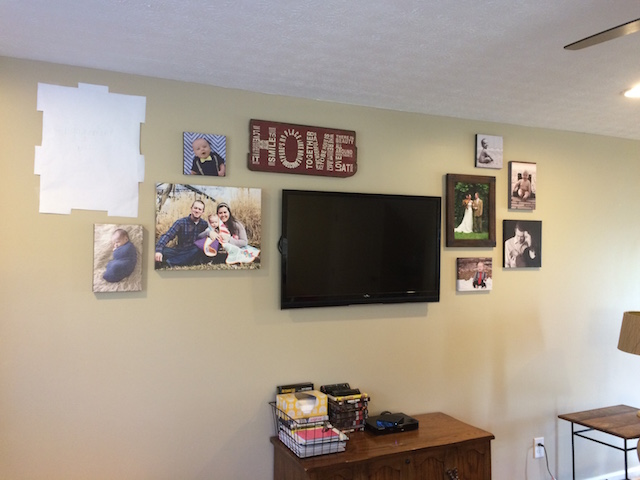 I ended up ordering about one picture per each photo session (newborn, 3, 6, 9, 12, etc.) – it was hard to narrow it down but money and space both said I had too.  And I left plenty of room for us to easily add pictures later on down the road, especially since we'll be getting lots more pictures made when Parker arrives.  I also plan to put a few non-picture things up on the wall like maybe a quote or a letter "K".
The same week that we got the pictures hung we accidentally did two more major things in the living room/foyer area.
You can see in the pictures above that under the tv we had a small wooden chest.  We stored DVDs in the bottom and then used the top to hold the DVD player and a few other items.  It wasn't super functional and was a little smaller for the space that I wanted, but it's what we had so it's what we used.  What I *really* wanted was an Ikea Expedit shelf with lots of storage cubes and baskets.  We don't have an Ikea near us though.
Well lo and behold the exact shelf I wanted popped up on a local garage sale site!  And somehow I commented fast enough that I got first dibs to buy it.  So we did and it's perfect!  I love it!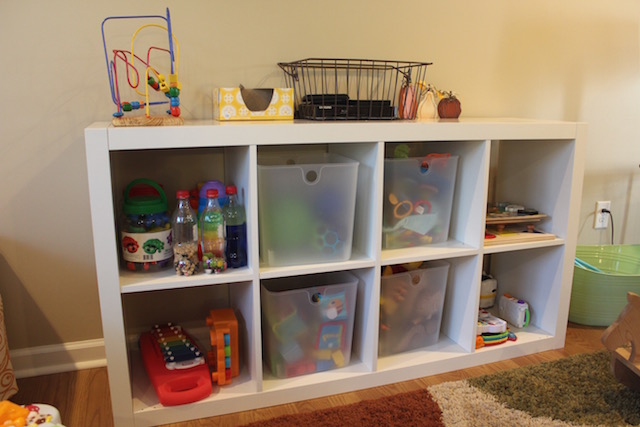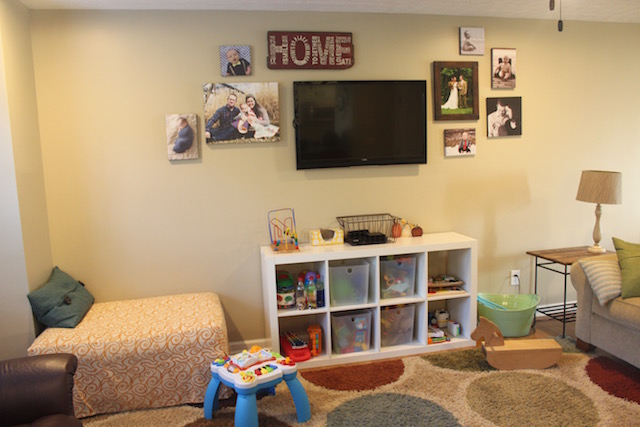 Prior to this shelf Hudson's toys were stored partially in the living room and partially in what used to be the dining room and is now kind of a playroom.  We had only one container in the living room (that green tub you can see to the right of the shelf) so a ton of the toys were crammed in there and then the rest just scattered around.  The ones in the dining room/play room were all dumped into one tub as well.  So basically because of how unorganized it was the toys just stayed all over the floor in the living room, kitchen, and dining room.
Now thanks to this shelf we are able to get all of his toys, with the exception of some of the big ones like his riding toys and tool bench, in one nice, tidy area.  I found these bins at Target that fit the cubes great.  I really prefer the look of all the cubes having bins in them but I'm not sure that will work for some of the larger toys so for now we have the four bins with small, loose toys like balls, blocks, etc. and then four open cubes with larger toys.
(You can kind of see in this picture what it would look like with bins in all the cubes.  I would use all the same color but I was just messing around with some options to see what I wanted and this is the only picture I got.)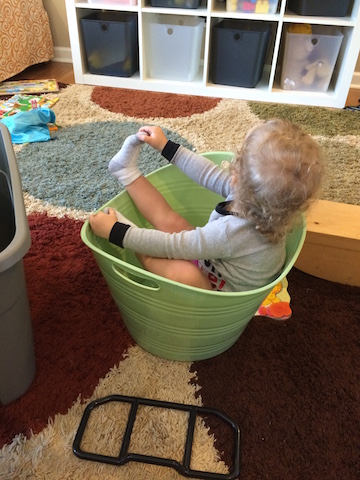 It has been amazing how much neater our whole downstairs is now that we have this!  And it makes cleaning up at the end of the day a breeze!  Not only that but Hudson can see and access his toys easier so he actually plays with them more rather than just dumping them on the floor and then walking on/around them.
Then the last thing we did decor wise is maybe my favorite!  A couple of years ago I found this picture on Pinterest of a shelf over a church pew.  I'd always wanted a built in-type hall closet locker thingy in the entry way but when I saw this picture I knew it was perfect because we already had a church pew.  I asked Michael to make it for me and we picked out the hooks but then life got busy and we had Hudson and Michael didn't have the woodworking tools he needed for it so it didn't get done.
(This was my inspiration picture I found on Pinterest.  The link says it's from this website but I can't find the actual post or page.)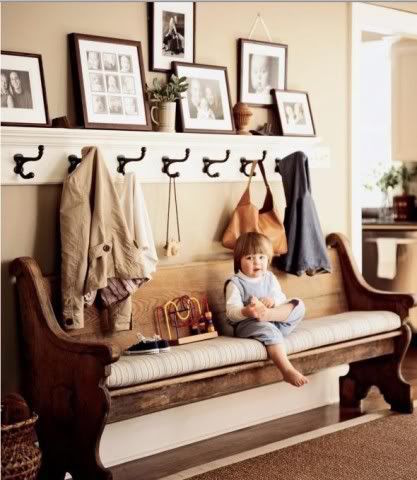 But Michael was able to get it built and hung and it is beautiful!  I love it so much!  The hooks are great and we've been using them to hold our bags and jackets and it's so nice to get everything up off the bench, floor, couch, etc.  We don't have a mantle anywhere in the house so the top of the shelf is perfect to use to decorate the way I would a mantle, plus it's up high enough that Hudson can't reach it.
I can't believe how much this space has been transformed just over the last week!  It makes me so happy!