As promised here is a review of the three different companies where we purchased the canvases for the gallery wall in our living room.  Now just so you know I am NOT a professional photographer or a photography buff of any kind.  I have no idea what a professional canvas should look like and how these stack up against the really expensive ones.  So this is my very unexperienced review and comparison of canvases from three, random, not-super-expensive companies.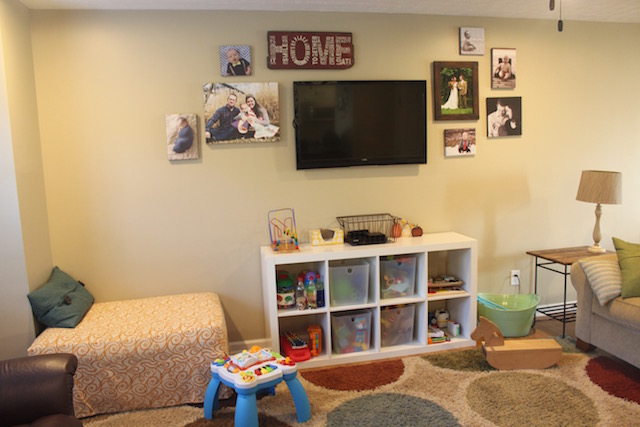 When I got ready to order my canvases I, of course, wanted the most bang for my buck so I ended up ordering from three different sites where I had coupons or found good sales.  I was totally new to ordering canvases or really even any pictures on a large scale (larger than just normal 4×6 prints) so I did some "research" (aka Googling and reading reviews) to try to help me pick companies.  The ones I ultimately chose were: Fabness, Canvas on Demand, and Easy Canvas Prints.
A friend sent me a coupon for canvases from Fabness ($9.99 shipped) so I got two there.  I bought a Groupon for a canvas from Canvas on Demand, and then Easy Canvas Prints was one that I had read about online as being recommended and they were also doing a big sale (80% off I believe) so I bought the rest (5 canvases) there.  I spent a total of about $150 for the 8 canvases.
You can see below which canvas came from which company.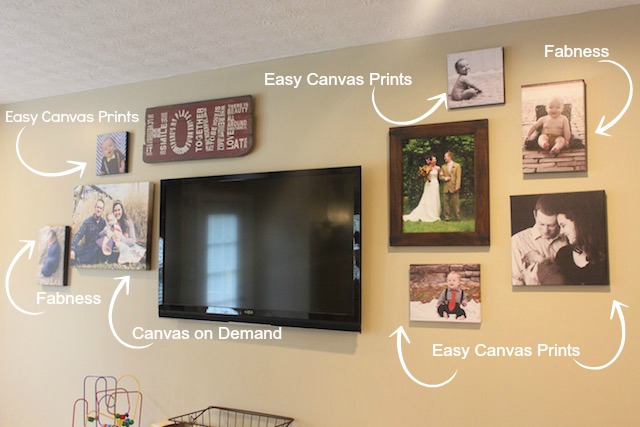 This one in the bathroom is also from Easy Canvas Prints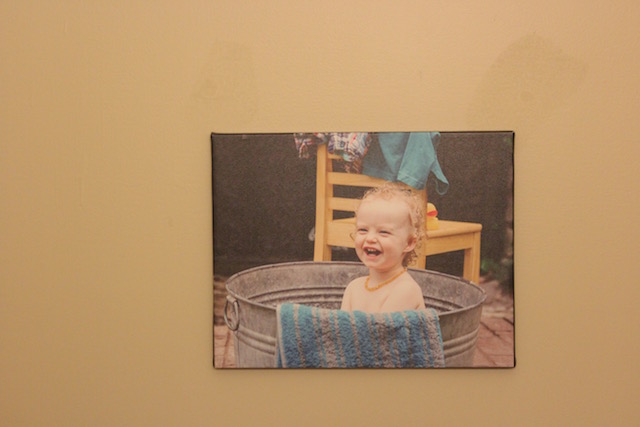 Let's compare:
Quality of pictures
Like I said earlier I am not at all a professional but to me the pictures from all the sites looked great.  They were all clear and looked as good blown up as they did small on my computer screen.
Quality of canvases
Well again I don't really know what I'm looking for but both the Fabness canvases and the Canvas on Demand one felt really sturdy.  The ones from Easy Canvas Prints weren't as firm, if that makes sense.  Like if you push lightly on the middle of the ones from Fabness or Canvas on Demand they have very little give, as if there is something sturdy behind the picture.  If you push on the ones from Easy Canvas Prints they give a little (like a piece of fabric stretched around a frame but without anything hard behind it).
Since these are hung on the wall and aren't really being touched or anything that doesn't seem like it's going to be any issue at all.  So while two of them were sturdier overall I think they will all hold up fine.
Wrap depth
From my limited amount of searching it appears that canvases most commonly come in depths of .75″ and 1.5″.  The Fabness coupon and the Canvas on Demand Groupon were for set sizes of canvases, both with a depth of 1.5″.  With Easy Canvas Prints I had to choose the depth myself.  I originally was going to go with 1.5″ so that all of my canvases would be uniform but it turned out that I could save around $25 if I went with the smaller wrap.  I debated back and forth, wanting to save money but not sure if I wanted my canvases to look different.  I ultimately decided to go for the .75″; had I been planning on a wall of *only* canvases I would have wanted them to be the same but since I was planning on putting them on a wall with our tv, some other framed pictures, and some other non-picture items, all which would have varying depths, I took a risk hoping that the difference wouldn't bother me.
It turns out that (so far) it does not bother me.  In fact, I don't really notice it at all.  I tried to take a picture to show you the difference but it's not very noticeable (which is a good thing).
The 1.5″ wrap definitely makes the canvases look higher quality and more professional than the .75″ wrap so if that's important to you and/or money is not an issue then I'd definitely recommend going with the 1.5″.
Wrap colors
Typically you have two choices for your wrap colors – you can choose to have the picture itself wrap around the sides of the frame or you can choose to have the picture on the front only and then have the sides a different color.  Canvas on Demand had a third option, which was to have like a fade out look on the wrap that sort of matched the colors of the picture.  That option was called "color blur".
I only selected the option where the picture wraps around the edges for one canvas – the picture where Hudson is wearing the suspenders and red tie.  If you look at the previous picture where I talked about the wrap depths you can see the edge of that picture.
The picture wrap around is by far my favorite option but it can be tricky because you can lose some of your picture off the front of the canvas if you do that.  The picture of him in the red tie was the only one where I was able to do the wrap without it cutting off part of him.  And that was from Easy Canvas Prints.
Our Canvas on Demand picture, the family picture with Hudson wrapped in the quilt, was the one that had the option to do the color blur.  I chose that one, as you can see in the picture below, but I think it looks pretty weird.  I am not a fan of that effect at all and I definitely prefer the wrapped picture or the solid color sides.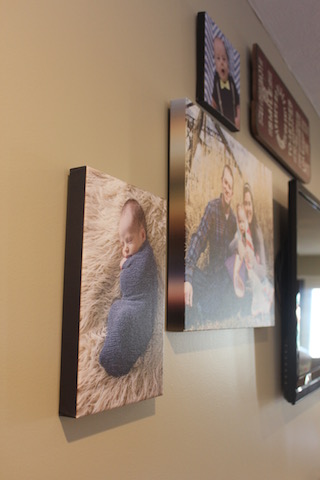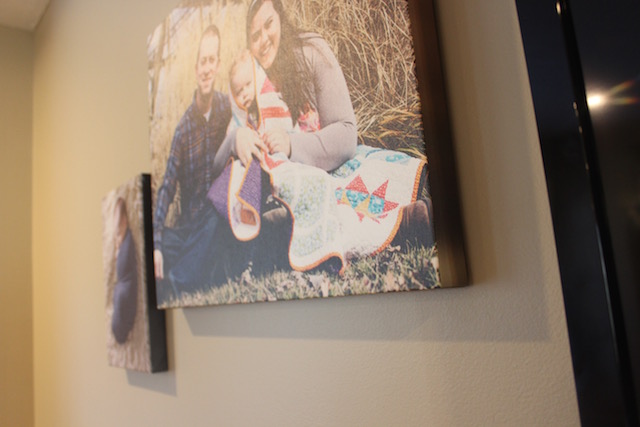 All the rest of our prints (the two from Fabness and the remaining four from Easy Canvas Prints) just have the plain black or dark grey sides.  It's not a wow factor or as nice looking as the picture extending around the edges but it doesn't look bad either.
As with the various wrap depths I was concerned about how it would look having a variety of colors/techniques on the sides.  But also like the wrap depths it turns out it does not bother me.  Again, if I had a canvas-only gallery wall I would want them to be more uniform but since this is an eclectic area anyway it's fine that they don't all match.
Shipping condition
This is the one and only area where I had issues.  I ordered five canvases from Easy Canvas Prints.  They all arrived in one big, flat box but they were packaged in such a way that they were in a double layer with the images facing inward (I wish I had taken a picture to show you but just imagine laying 3 canvases face up then laying 2 more face down on top of them so the image sides were together).  I don't know if it was the heat outside from when they were in transport or if the ink hadn't totally dried before they were packaged, but the canvases were stuck together and when I separated them there was ink transfer, especially around the edges.
I've used some arrows to try to indicate those spots.  They aren't horrible and it wasn't anything that I felt like I needed to complain about or send them back, but it was still very disappointing.  I guess this is an instance where you get what you pay for (since this was the most inexpensive site I found) but really…how hard would it have been for them to slide one measly sheet of packing paper in between the two layers of canvases to make sure that didn't happen?  That was a pretty big bummer.
The two Fabness prints I purchased were shipped in separate boxes (I had placed two separate orders) and the one from Canvas on Demand was the only one I got from there, so I can't say how those two companies' prints would have fared had I gotten multiples in one box.  All of their single-shipped canvases showed up in excellent condition.
Shipping time
The prints from all three companies arrived within a week of each other (they were all ordered on the same day) and it was maybe one to two weeks after I placed the order.  I felt like the ship time was very reasonable and similar for all of them.
Pricing
I mentioned some about pricing at the beginning but it's really hard to compare.  For one, I was ordering different sizes (both side of the print and wrap depth).  With all the coupons I feel like it came out fairly evenly.  I think that Canvas on Demand would definitely have been the most expensive had I not had a Groupon and Easy Canvas Prints was the most inexpensive option but overall they were pretty similar.
Overall thoughts
Fabness and Canvas on Demand were both fantastic.  I was super pleased with the quality and would definitely order from them again.  Easy Canvas Prints was just ok.  Not terrible, but definitely not as high a quality as the other two and like I mentioned the shipping issues with the ink transfer was really disappointing.  However, for a budget canvas they aren't bad.
I hope this is helpful as you navigate ordering pictures for your home!
(I was not compensated for these reviews.  All opinions expressed here are mine.  I paid for these prints myself and none of these three companies even know who I am.)