Here we are at month 21.  It's crazy to me that Hudson is almost two!  And this is the first month where I kind of forgot how old he was (i.e. what month he was in).  I always wondered if I'd count his age in months forever or not and it turns that as he approaches two I find myself thinking about his age in months less and less.
growth
I packed up most of his 18 month clothes and yet the majority of the 24 month stuff is huge on him so I think I'm going to need to get at least some of his fall/winter 18 month clothes, shirts especially, back out for a bit longer.
teeth
One of his bottom canines has come in and the other one I can see riiiiiight under the skin so it shouldn't be much longer.
communication
Lots of new words this month, too many for me to remember, but some of them include oval, honey, keys, and pumpkin.  He will now try to repeat just about any word that you ask him to repeat.  It's not clear or understandable most times but he's definitely trying!
Hearing him say "honey" is one of the cutest words he's learned yet.  I was making my breakfast smoothie one morning and grabbed the honey out of the cabinet.  He said "honey! honey!" and Michael and I were both like "Did he just say honey?"  We asked him again and sure enough he said it.  It was just out of the blue and not one that we use frequently or had been working with him on or anything.
Another big thing from this month is that he has finally started saying his own name!  It is so adorable to hear him say "Hudson" (which actually sounds like Hu-son).  He loves to look at the pictures of himself on our wall and fridge, point, and say his name.
Something I never thought I would have noticed were the different ways to say "no" but this month Hudson has changed the way he says no.  I can't really describe it other than to say that he used to say it one way and now he says it another way.
I *think* he might have said his first 2-word phrase.  There have been a couple of times that I thought he said "help me" instead of just "help".  I'm not certain but if so then that's the first time he's put two words together.
He just talks so much!  It's not understandable most of the time but he will have total "conversations" with us where he goes on and on telling us something.  I'm just not sure what right now ;).  It's adorable though!
We don't use nearly as much sign language as we were a few months ago but we still use quite a bit.  I noticed this month that he made up his own sign to mean "fish".  Also, one evening he was watching Arthur and they had a thing on there where a child was signing and an adult was translating.  Hudson jumped up and immediately started making a ton of gestures with his hands.  He wasn't using any of the signs that he knows but I could tell that he was trying to mimic what the little boy or girl was doing on tv.  It was precious!
food
I wouldn't say he's necessarily getting pickier about what he will eat but he has gotten more difficult as far as figuring out what exactly he wants to eat.  You never know what he's going to eat from what you offer him and it varies from meal to meal.  He also will frequently say that he wants something to eat but then when you list off a bunch of items he'll say no to each one.  So I know in his head he must have a food in mind but he can't quite communicate what he's wanting.
If he is eating something and decides he doesn't want anymore then he needs to get it off his tray immediately.  If you don't take it from him fast enough then he will throw it on the ground which does not make me very happy.
One morning I was washing dishes and I heard him trying to grab at the bread bag on the counter but didn't really pay much attention to it.  The next time I glanced at him I saw he had gotten the bag down, gotten the twisty tie off, and was chowing down with a piece of bread in each hand!  I laughed so much about that!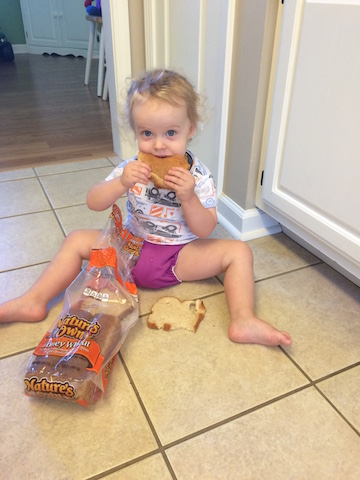 We're working on drinking out of a regular cup.  Hudson doesn't quite have it down but we're practicing!  Michael bought this really small Yeti cup and Hudson has claimed it as his own.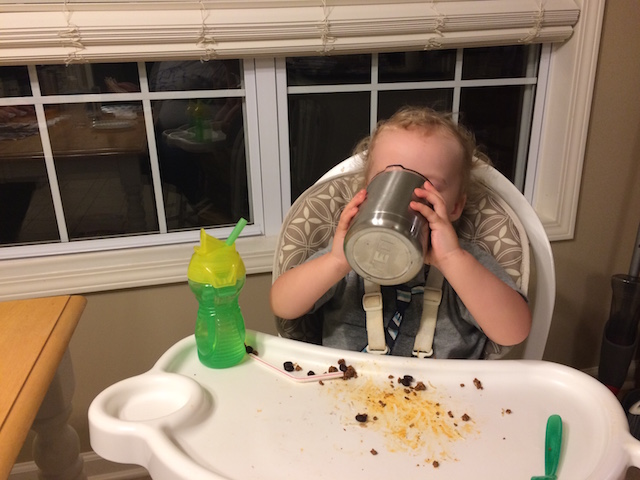 Ningxia Red mustache!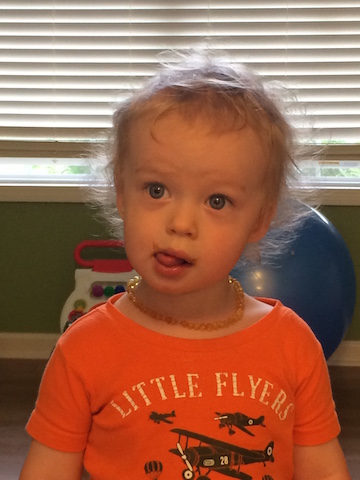 sleep
Same old story.  Good naps most (but not all) days – one nap after lunch that lasts around 2 hours.  Night times are still hit or miss.  Some nights it's fine, others he kicks and squirms and we don't sleep well.
We still haven't gotten around to moving him to his own bed yet but it's on the list to work on very soon!
new stuff
Hudson has learned how to "sniff" – like to pretend his is smelling something.  Up until now he would put an object (like my diffuser necklace or a pretend flower) up to his nose/mouth and say "mmmm!" but not actually sniff it.
He also has, only once that I've seen, climbed up into the bed.  There was something on there that he wanted to he just climbed right up!  I thought that would be his new big thing but other that that one time he hasn't shown any interest in climbing up on the bed.
He can now climb into our kitchen chairs as well and does that a lot – especially to reach things on the table that he shouldn't have!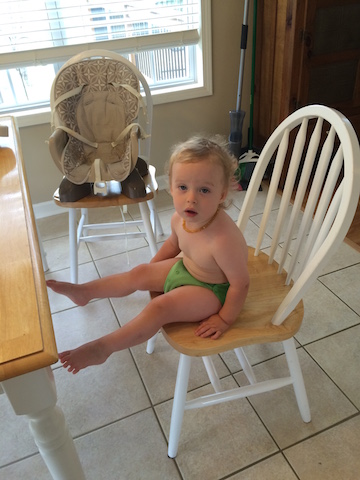 After all this time Hudson has finally latched on to a "lovey".  Of course it couldn't be something normal like a blanket or a stuffed animal.  Nope.  It's one of my shirts.  It's a really soft pajama shirt that has some ruffles on the front of it and he loves it!  He loves to rub the ruffles between his fingers and he drags it around like a blanket.  He doesn't sleep with it but does sometimes hold it while he goes to sleep.  If he gets upset or gets sleepy then he immediately wants to get his paci and "Ruffles" (what Michael and I have started calling the shirt).
Laying on top of Ruffles on the kitchen floor.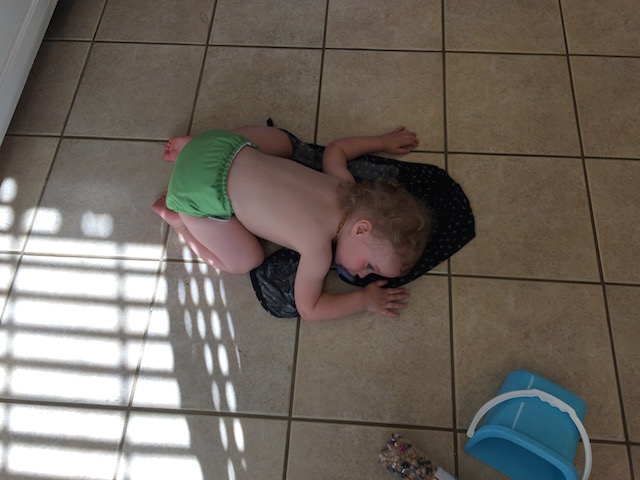 He loves to put Michael's boots on and then Michael will help him "walk" in them around the house.  He has a blast!
adventures
Our fun adventure for this month was going to our church's family retreat.  It was held at our church camp location and was a retreat for anyone from our church to attend.  Hudson had an absolute blast running around and "playing" with the other kids.
Our not-so-fun adventure was that Hudson got Hand, Foot, and Mouth disease this month.  This was his first time to have any sort of real sickness other than just some congestion or a runny nose but thankfully he had a very easy time with it (compared to what I read online and heard from other parents) and it was very short lived.  Within three or four days he was past it other than seeming a bit more tired and clingy than normal.
His first signs actually manifested on his nose and bottom instead of hands, feet, or mouth.  This picture was from day one (or at least, the day that we figured out he had HFM becuase it was the first day he started showing any signs).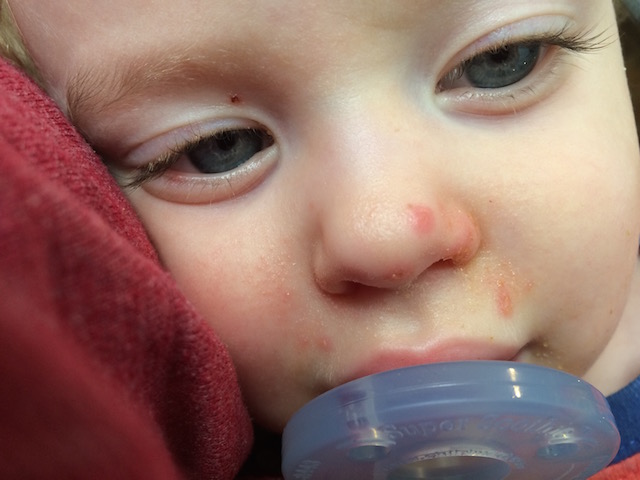 Soaking his feet in a soothing essential oil bath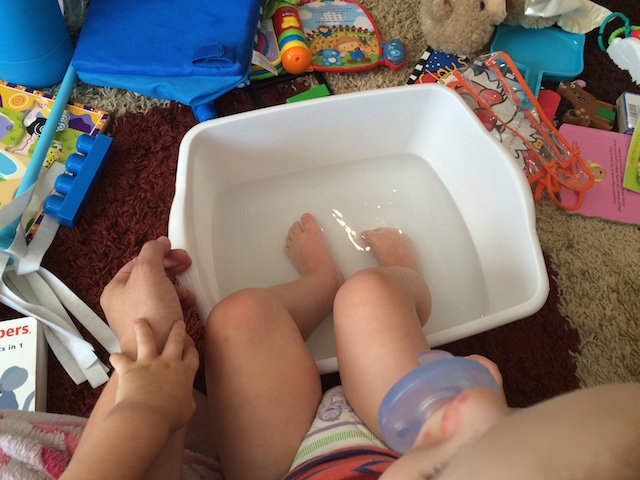 We did lots of oily baths to soothe his little body.  He wasn't particularly a fan of hanging out in the water so we had to turn on a tv show for him to watch to keep him occupied so he'd sit there longer.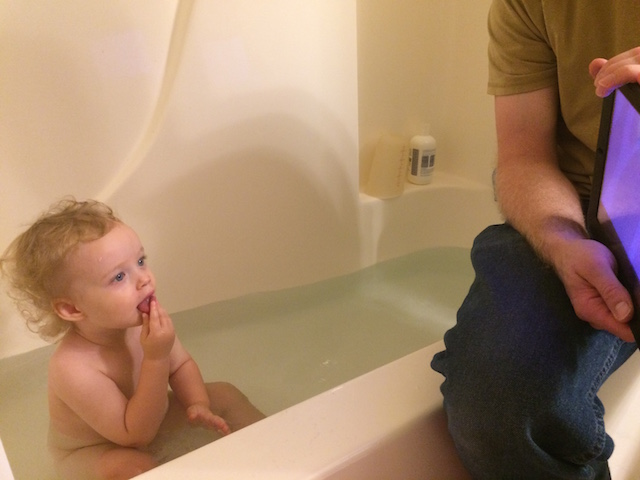 Pitiful sick baby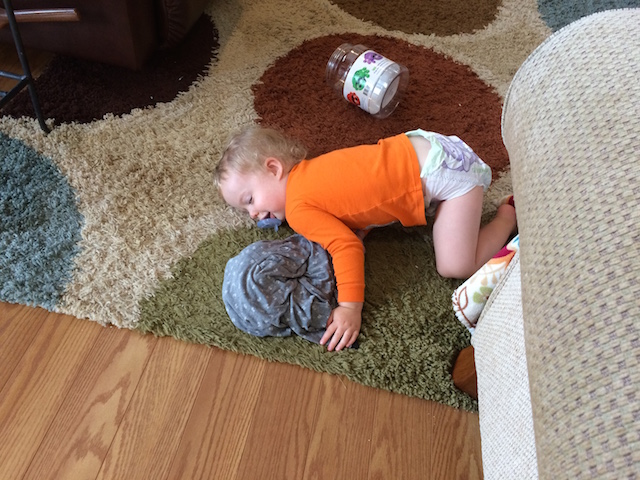 We weren't exactly sure how long he was contagious – some sources said not at all once the sores and blisters appear, others said a week after the sores appeared, others said not until they were gone.  We ended up staying home for a week just to be safe but boy were we stir crazy but the end of that week!  I thought I might scream if I had to watch another Bubble Guppies episode!
But like I said overall the HFM experience was not nearly as bad as I thought it was going to be and for that I am very grateful!
just some other cute pictures
He got a plastic spider ring at the post office but he kept taking it off and throwing it on the floor while we were at Kroger so it didn't last very long!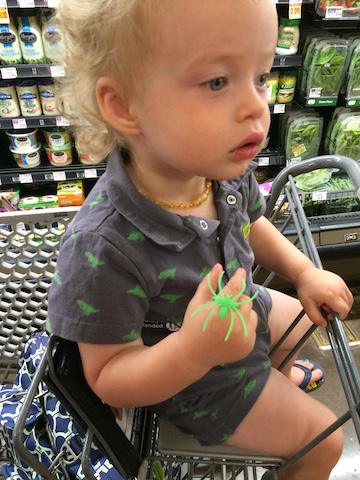 Walking around with a mop inside his shirt for some reason.  He also went through this funny phase for a week or two where if you tried to take his picture he'd put his hands over his eyes.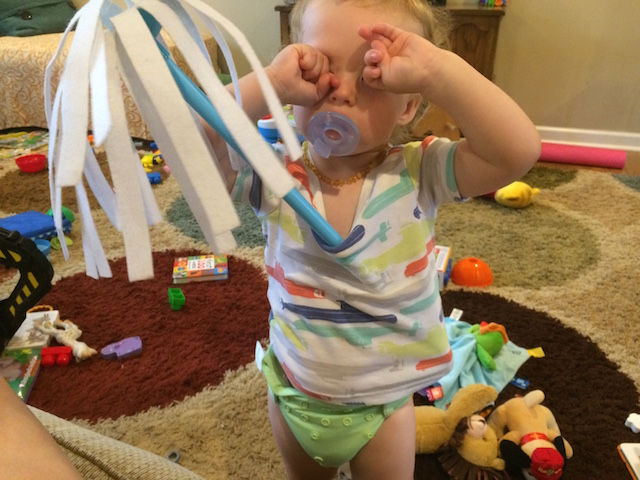 I haven't worn him all that much since I got pregnant because my usual method (back carry in an Ergo) was not comfortable at all.  However, I found a way that is very comfortable so I've been wearing him a bit more lately.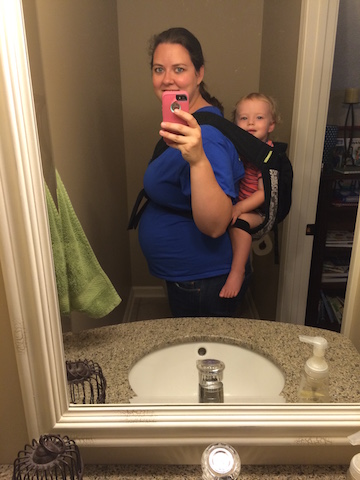 Rocking Michael's socks and a diaper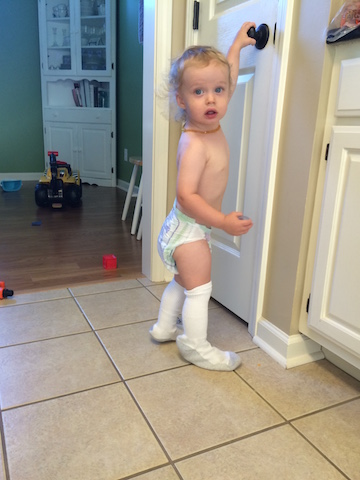 Playing outside with Daddy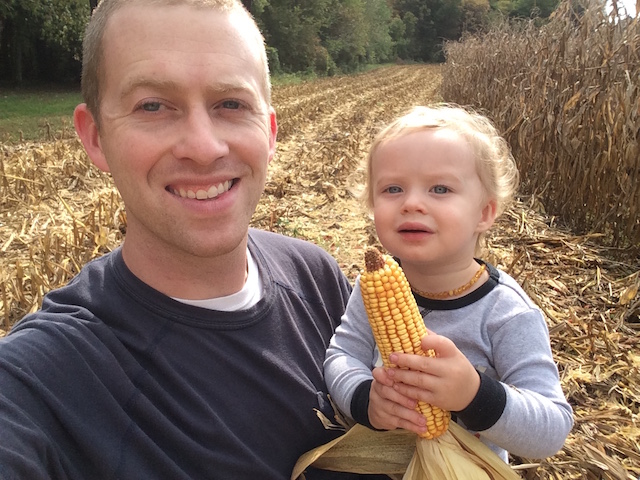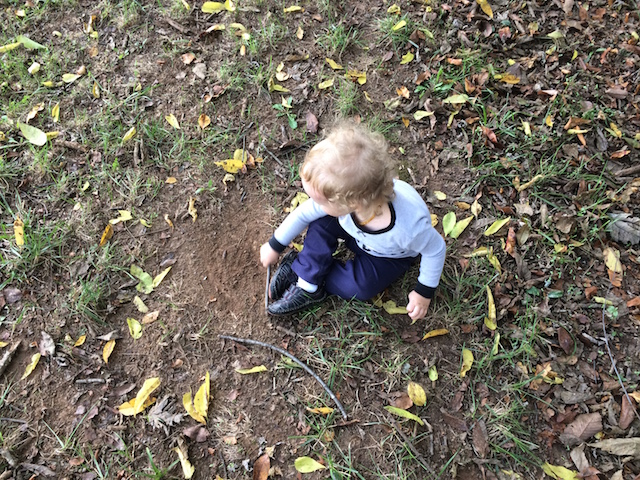 Michael wears his face mask when he sprays the poopy cloth diapers and Hudson thinks it's hilarious!  He likes to wear it too.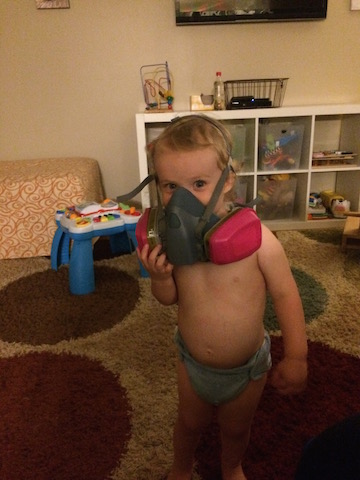 Saying "P.U.!"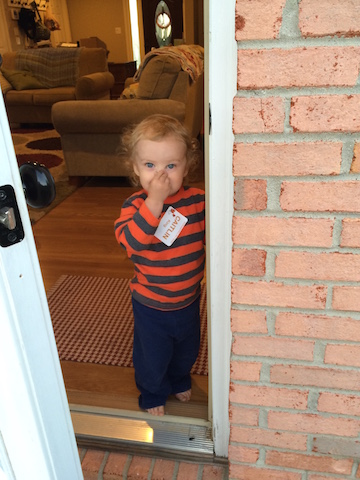 Playing with his favorite toy in the church nursery – the laptop.  He loves to pretend to type on it!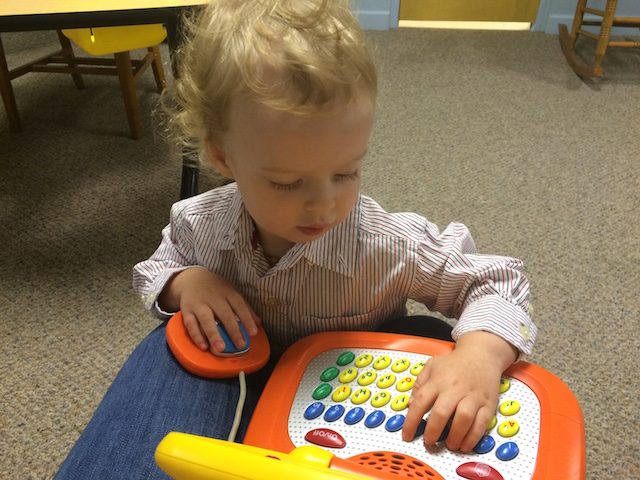 Rocking horse fun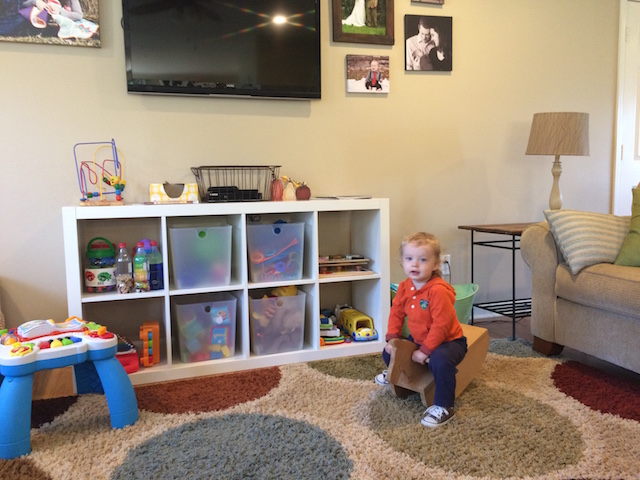 Just hanging out.  I love spending my days with this little guy!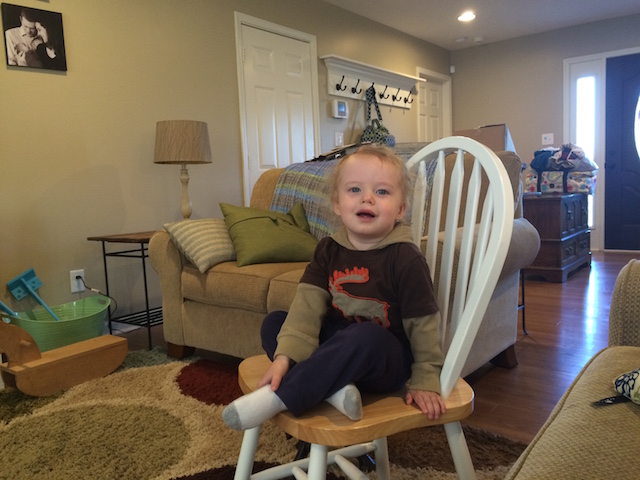 Reading the Hiccupotamus with Daddy.  When you ask him the sound a hippo makes Hudson makes a hiccup sound.  It cracks me up because I know he thinks that because we read this book so much!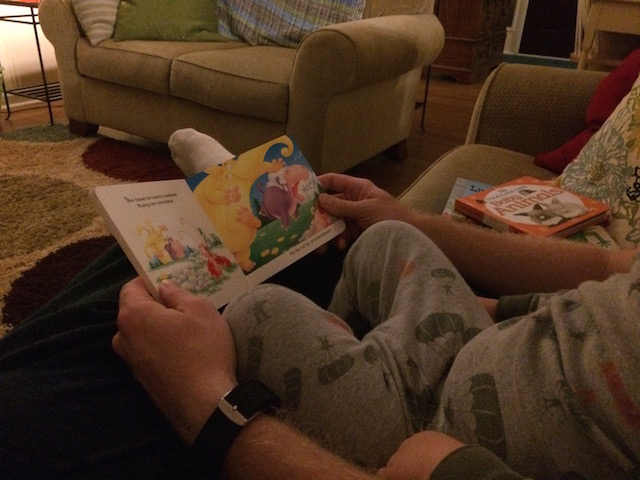 Happy 21 months my precious boy!