Last night I hosted an online Facebook event where we shared a bunch of ideas for Christmas gifts that were either Young Living products or DIY gifts made with Young Living oils.  We covered gift ideas for teachers, kids, friends, coworkers…really everyone!  Plus stocking stuffers, gifts on a budget, and DIYs.
I thought I'd compile all the info from the event into one big huge blog post so that you'd have it all at your fingertips.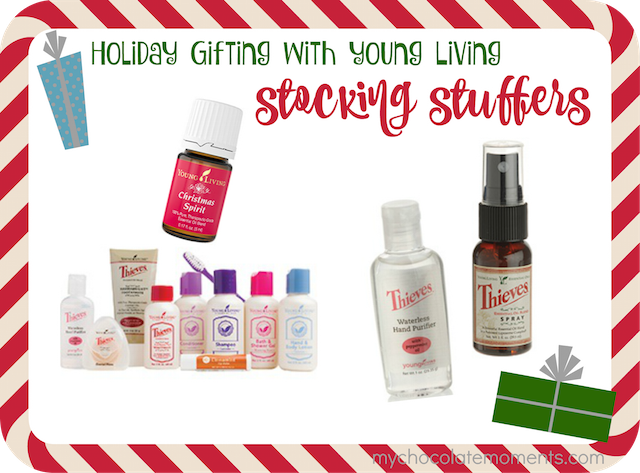 Let's start with some smaller ideas. These items are perfect for stocking stuffers, to give to teachers, or to have on hand for those times when you need a random small gift to exchange.
– Thieves toothpaste, travel size. These come in packs of five – pair them up with a toothbrush for a cute little gift
– Lip balm – The Holiday Catalog has a four pack of lip balm that comes with cinnamint, lavender, grapefruit, and vanillamint (vanillamint is only available during the holidays!).
– Thieves hand purifier
– Thieves spray
– Christmas Spirit essential oil; smells amazing, perfect for the holidays, and is a relatively inexpensive oil ($10.25 for a bottle) – FYI you can only order two per person so grab two now before October is over, then another two in November, and then another two in December!
– Bon Voyage Travel Kit. The Bon Voyage kit has a bunch of small items that you could easily give as individual little gifts (shampoo, conditioner, body wash, lotion, hand purifier, lip balm, mouth wash, toothpaste, floss, and a toothbrush; oh and the bag it comes in too).
– Ningxia Nitro or Ningxia Red packets
(Tip: All these stocking stuffer ideas are also great for promos and incentives if you are a business builder)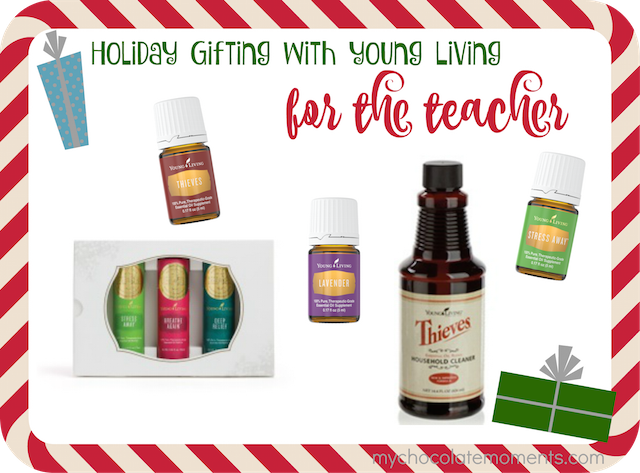 Skip the apple-themed coffee cup and get your child's teacher something they'll really like!
– Thieves cleaner plus an empty spray bottle to mix the cleaner in
– Love the idea of giving Thieves cleaner but gifting a whole bottle is out of your price range?   What about pre-mixing a spray bottle of Thieves cleaner, adding a cute label, and giving that plus some cloths or paper towels to clean with?
– Another cleaning idea (I used to be a teacher…we clean our classrooms a LOT and so donated cleaning supplies are always welcome!) is to make DIY Thieves wipes and give a container of those. You can find my recipe here.
– A diffuser plus a bottle of your favorite oil (Thieves, Stress Away, lavender, etc.) would be a great gift for a teacher to use in their classroom or their home!
– Stress Away roll on – Attach a tag that says something like "For those days when recess just wasn't long enough"
– Breathe Again roll on – Attach a tag that says something like "Winter break: a time for teachers to finally Breathe Again"
– Deep Relief roll on – For this one you could say "What a Deep Relief to have a few days off!"
Tip #1: Buy the Stress Away, Breathe Again, and Deep Relief roll ons in the 3 pack in the Holiday Catalog and save $8!! The roll ons are perfect for so many people so you could knock out quite a few gifts that way.
Tip #2: Make sure to attach some instructions and usage info in case your teacher isn't an oiler (yet) and might not know what to do with their wonderful gift.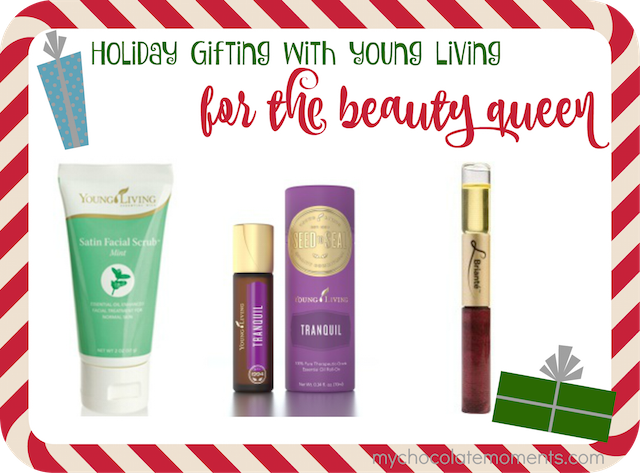 Know anyone in your life who loves pampering and beauty products? Here are some ideas for her!
– Tranquil roll on and a sleep mask…because every beauty queen needs her beauty sleep!
– Satin Mint Face Scrub
– L Briante' lip gloss and perfume
– DIY bath salts
– DIY sugar scrub
Tip: There are TONS of DIY beauty recipes like the bath salts and sugar scrub on Pinterest. I'll also be sharing some DIY ideas later in this post too.
– A glass bottle plus a citrus oil. You can find cute glass bottles all kinds of places like Amazon, Sam's, or Target! Throw in a bottle of lemon, lime, tangerine, or whatever citrus oil you think is the yummiest and you've got a great gift!
– Also, check out the Holiday Catalog for a special YL branded glass water bottle that comes with a bottle of grapefruit oil.
– Cool Azul sports gel. Talk about an amazingly refreshing gel! Perfect for tired muscles after a work out!
– The Holiday Catalog offers some gift sets for the fitness enthusiast: "Fitness Favorites" comes with a gym bag, Cool Azul sports gel, and a Breathe Again roll on; "Power Pack" comes with a gym bag, 3 portable resistance bands, and BLM; and "Golf Gear" comes with a gym bag, 12 golf balls, and a box of Ningxia Nitro.
– Speaking of Nitro…a box of Nitro would be another fantastic gift for the fitness buff in your life!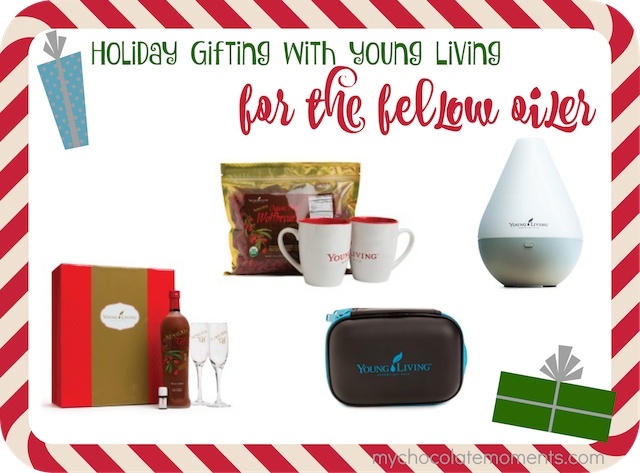 Is someone on your Christmas list already an oil user and lover? They'll be super easy then…just buy them something that you'd want to get! Ha! But just in case you're still stuck here are some ideas:
– A diffuser. Every oiler can always use another diffuser, right? And make sure to buy one from the Holiday Catalog because if you do then you'll get a bottle of Black Spruce oil for FREE with purchase of the diffuser (Dewdrop or Aria).
– An oil case. Every oiler needs a way to store and transport their oils, right? The Holiday Catalog has a 10 oil case and a 30 oil case with the Young Living logo on it. You can also find cute bags on Etsy or make a DIY storage box like I did here:
– Another wonderful gift for a fellow oiler is the Holiday Catalog special Ningxia Red + Red Shot oil (only available in the Holiday Ningxia gift set!) + two champagne flutes. Talk about drinking your Ningxia in style!
– Know a coffee or tea lover? The Wolfberry Tea Gift set is just right for them – now they can enjoy their coffee or tea in a Young Living mug! Not only that but they'll have yummy and nutritious dried wolfberries to snack on too.
– Diffuser jewelry is super popular among the oily crowd! The Holiday Catalog has a diffuser necklace, you can buy them tons of places like Etsy or Sacred Arrow  or you can make them yourself.  Here's my tutorial on how to do that.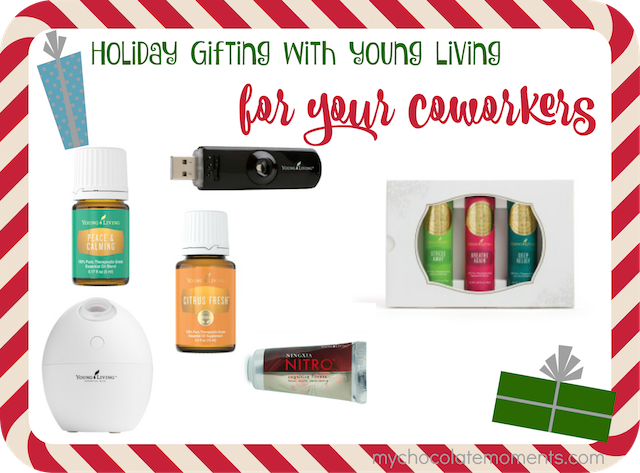 – Banish the cubicle blues! Give your coworker(s) a USB or Orb diffuser and a bottle of essential oil so they can diffuse while at work. Mmmmm imagine how amazing your office would smell!!!
– Remember those roll ons we talked about in the "Gifts for Teacher" section? Those would be perfect for your coworkers too!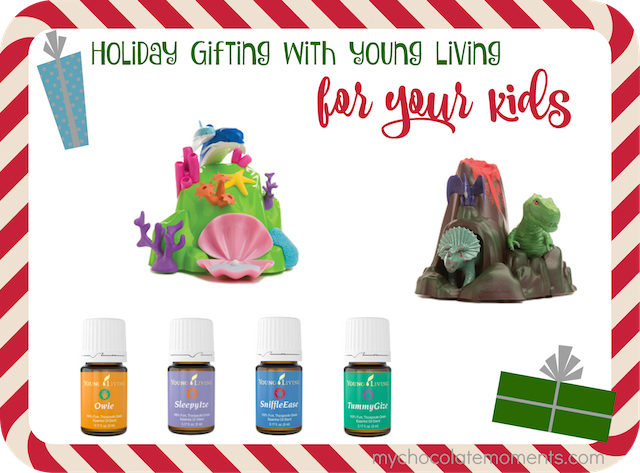 If you're an oiler with kids then it's likely that your kiddos love their oils too! Hudson is not even two yet but he LOVES his oils and likes to pretend to put them on himself. I know several kids of fellow oilers who have asked for their own oils or diffusers so why not? I mean, it's a perfect Christmas gift plus health booster all in one!
– Every child needs a diffuser in their bedroom and now they can even have one that looks cool with a Dino Land or Dolphin Reef diffuser. Make sure you buy the ones from the Holiday Catalog because they are the same price as the regular ones but you get a free bottle of SleepyIze in addition! Yay for free oils!
– Or what about your child's very own set of essential oils? The KidScents oils (SleepyIze, TummyGize, SniffleEase, GeneYus, and Owie) are specially formulated just for kids!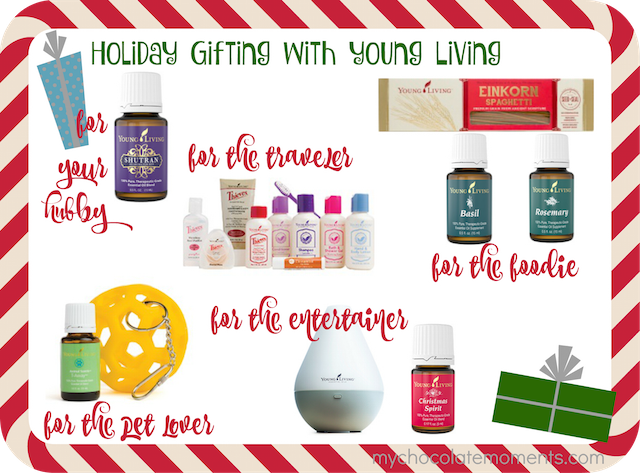 Got other people on your list? Here are a few other gifts you might consider! `
– For your pets (or the pet lover): There is a special in the Holiday Catalog that includes a bottle of T-Away and a squishy ball toy. And did you know YL has a whole line of oils specifically for pets?
– For the traveler: The Bon Voyage kit is perfect – lots of amazing YL personal care products in convenient travel sizes!
– For the foodie: Try out some of the Einkorn flour or spaghetti and a few oils that he/she could cook with (rosemary, oregano, thyme, black pepper, lime, etc.)
– For your hubby: Shutran! A great alternative to cologne! He'd probably also appreciate one of the massage oils.
– For the entertainer: A diffuser with Christmas Spirit would be a great gift so her house can smell amazing during all her Christmas parties!
– For the DIYer: Someone who is in to making their own things would love a gift basket with ingredients like coconut oil, beeswax, shea butter, jojoba oil, sugar, and of course some lovely essential oils. Attach a few recipes to help her get started!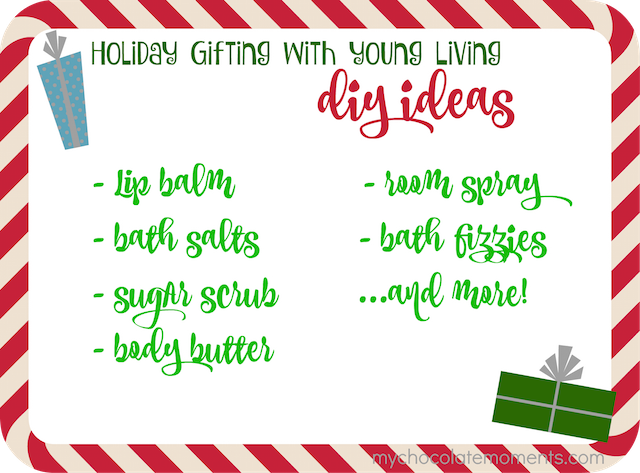 If you're crafty and love to make DIY gifts there are so many options of things you could do that would be perfect for tons of people! Here are some ideas:
– Personal care: lip balm, body butter, lotion bars, sugar scrubs, bath salts, bath bombs, or hand purifier
– Scents for the home: room sprays or sachets
– Oily accessories: diffuser necklaces (check out my "how to" here) or if you're handy with a sewing machine you could make little bags for people to use to carry their oils.
There are TONS of recipes and DIYs on Pinterest so definitely search there. I'll share some recipes here too.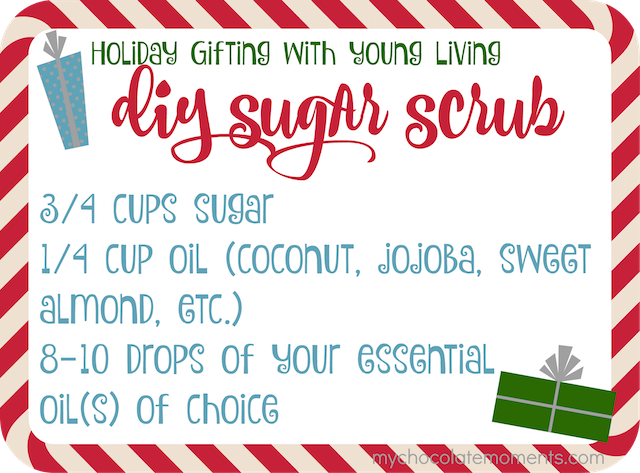 Once you've made a sugar scrub recipe you'll probably laugh to yourself at how easy it is! The base recipe is approximately 3 parts sugar to one part oil (so for example, ¾ cup sugar and ¼ cup coconut oil). Add in 8 or so drops of your essential oil(s) of choice, depending on how strong the oil(s) smell.
There are tons of fun combinations you could do!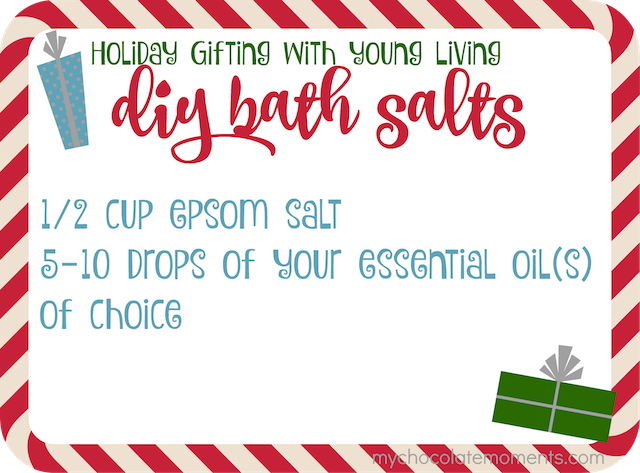 If it's possible to get even simpler than a sugar scrub I think this might be it! To make bath salts use ½ cup of Epsom salts mixed with 5-10 drops of your essential oil(s) of choice, depending how strong the oils smell.
Soothing, relaxing oils like lavender, Stress Away, White Angelica, Joy, and Peace & Calming are perfect for bath salts!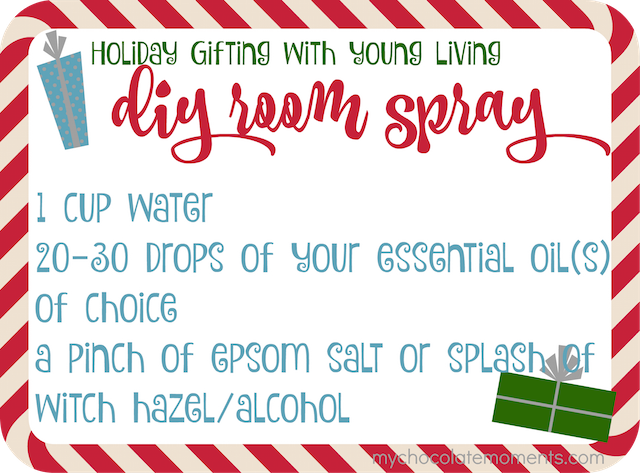 Another easy one (everyone likes easy, right?) – mix one cup water with 20-30 drops of essential oil(s) of your choice and add either a pinch of Epsom salt or a splash of witch hazel or alcohol (these things help the oil disperse through the water rather than floating on top of the water). Put it in a spray bottle and you have a nice, easy DIY room spray!
Get creative with the names of your scent combinations and turn them in to Christmas-y sayings. Some ideas might be:
– Silent Night (lavender and cedarwood or whatever other sleepy oils you prefer; spray on your pillow at night)
– Joy to the World (Joy)
– Candy Cane (Peppermint)
– Christmas Tree (Evergreen Essence or one of the other tree oils like Idaho Balsam Fir, Idaho Blue Spruce, White Fir, Black Spruce, etc.)
– Peace on Earth (Peace & Calming)
– Christmas Spirit (Christmas Spirit)
– Holiday Wishes (Harmony, Hope, Gathering, Valor, White Angelica, etc.)
– Spiced Cider (a combination of cinnamon bark, nutmeg, clove, orange, etc.)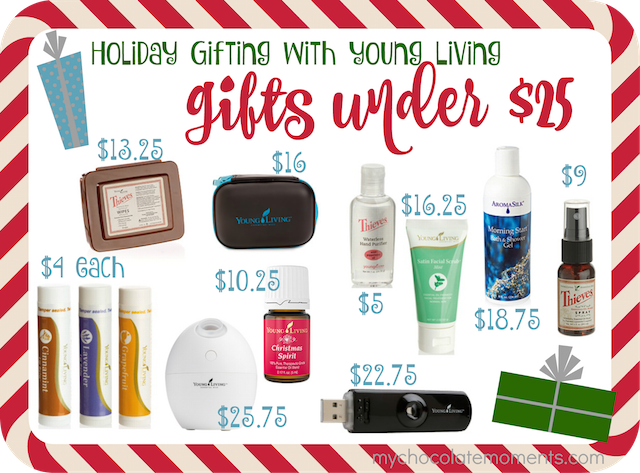 There are a ton of gifts under $25 to give if you're gifting on a budget. Any of the ones listed in the Stocking Stuffer Idea post would be under $25 as are any of the DIY suggestions. Here is a list though to get you started. I also recommend you flip through your product guide and look for yourself because this is by no means a comprehensive list!
– Christmas Spirit essential oil ($10.25)
– Stress Away roll on (under $25 if purchased in Holiday Catalog 3 pack)
– Deep Relief roll on (under $25 if purchased in Holiday Catalog 3 pack)
– Breathe Again roll on (under $25 if purchased in Holiday Catalog 3 pack)
– Thieves household cleaner ($22)
– Thieves wipes ($13.25)
– Thieves hand purifier ($5 each, cheaper if purchased in a pack of 3)
– Thieves spray ($9 each, cheaper if purchased in a pack of 3)
– Mint Satin Facial Scrub ($16.25)
– Lip balm ($4 each, various scents)
– Morning Start Bath & Shower gel ($18.75)
– Genesis Hand and Body Lotion ($20.50)
– Young Living glass water bottle with grapefruit ($19.75, Holiday Catalog)
– 10 oil case ($16)
– Orb diffuser ($25.75…not *quite* under $25 but close enough, right?)
– USB diffuser ($22.75)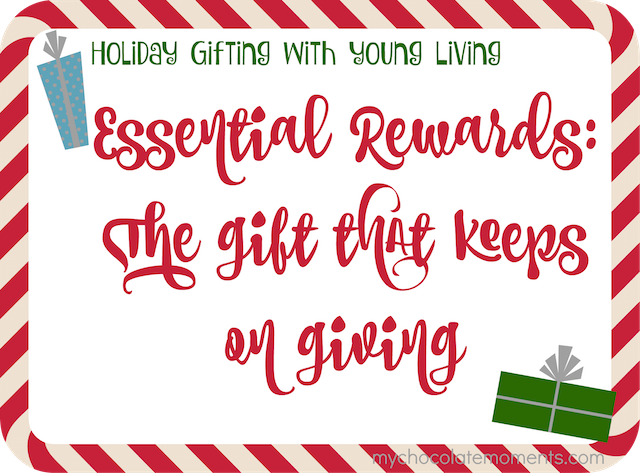 Don't forget that if you're a Young Living wholesale member (and you are, right?) you definitely should join ER before you start ordering all these oily Christmas presents!
Why? Because Essential Rewards is like a gift for yourself! When you order via ER you earn points back (10% back starting out, then 15% and 20% back as you are on the program longer) that you can then redeem for FREE Young Living products! You also get cheaper shipping and the ability to earn the monthly promos (some of the promos each month can be earned by anyone who orders but some can only be earned on Essential Rewards orders so if you're not on ER you'd be missing out!).

Also make sure to check out the monthly promo that Young Living is offering and see about getting some freebies with your order!  Right now (October) you can earn free Thieves, clove, extra ER points, and a diffuser depending on how much you order.  We don't know the November promo yet but I'm sure whatever it is will be great!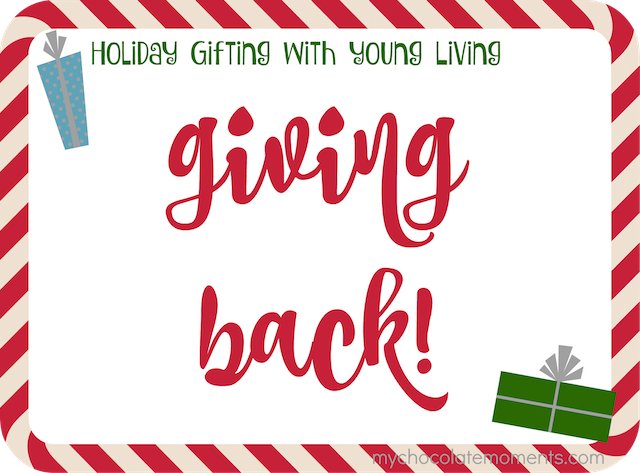 Please consider sharing the love and giving back this holiday season as well.  You might have noticed when you check out on Young Living's site that there is a section to donate to the Young Living Foundation.  I'm just starting to learn about the Young Living Foundation myself but have been impressed with what I've learned so far and what all they are going.  I encourage you to go check them out on Facebook so you can learn for yourself!  YL covers 100% of all overhead and administrative costs of the Young Living Foundation – this means that 100% of all donations go directly to their projects and partnerships.  Fantastic!
And for those of you Amazon shoppers, did you know that you can select a charity and Amazon will donate a portion of your purchase (0.5% so $.50 for every $100 purchased) to your chosen charity at no extra cost to you? And did you know that The Young Living Foundation is one of the available charities?  Yep. Simply go through http://smile.amazon.com/ and search for Young Living Foundation (the location is Waterloo, MI) and select it as your chosen charity. Easy peasy!
Happy gifting!