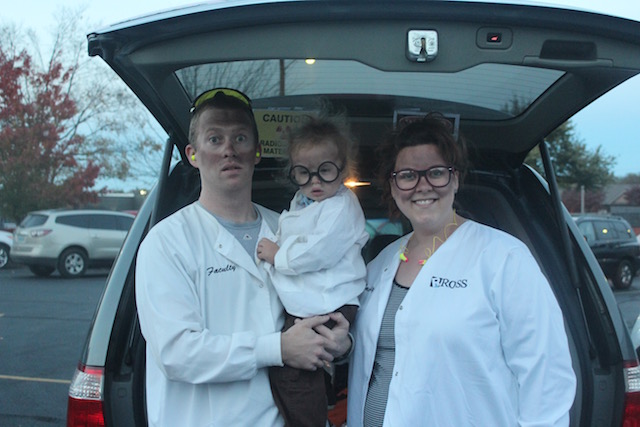 I absolutely loved our Halloween costumes this year!  I think family/themed costumes are so fun so as long as Hudson will let me get away with it I'm going to do them ;).
We knew that Hudson just HAD to be a mad scientist this Halloween so we could take advantage of his already super crazy hair.  It was the perfect costume, you know?  Plus it was super easy to a costume for both him and us.
I mean…how adorable is this??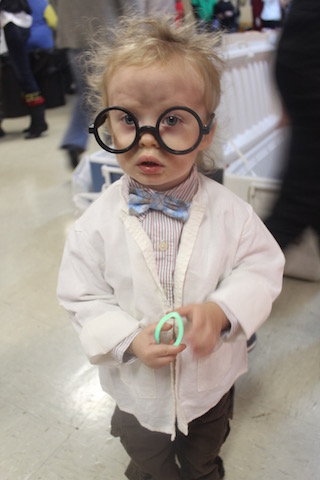 We actually got to get dressed up twice – once for our church's Trunk or Treat event and then again for Trick or Treating on Halloween.
For Hudson's costume we put him in just some khakis, his Converse tennis shoes, a collared shirt, and a bow tie (with mismatched patterns of course, as any legit mad scientist wouldn't have time to match).  His lab coat was actually a doctor coat that my grandmother made for my brother when he was little.  My mom still had it in the attic and it was perfect for his outfit!  Plus it kept us from having to buy a toddler sized one.
His glasses were some Harry Potter-ish glasses that we bought for his newborn pictures.  Amazingly he left them on most of the night and didn't seem bothered by them like I expected.  I teased and hair sprayed his hair a bit to make it stand up even more than normal and then used some eyeshadow around the outline of his glasses to look like something blew up in his face.
I thought he might get upset about the makeup but he didn't care at all.  He looked a little startled when he first looked at himself in the mirror but other than that he didn't seem to notice.
For Michael and myself we just dressed normally and then borrowed lab coats from a friend who works in the medical profession.  I teased and sprayed my hair and used bobby pins and clips to make it stand out everywhere.  We did the grayish makeup on our faces too and I wore some "geek" glasses I had.  We also wore ear plugs.  Very simple and all things we owned or could borrow!
A friend took this at Trunk or Treat and I love it so much!  It's just hilarious!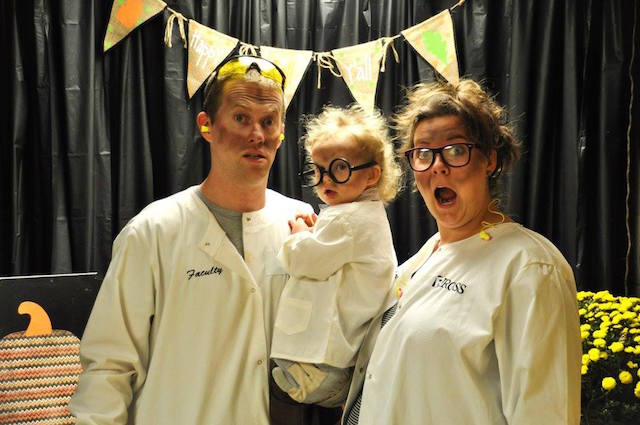 Our costumes must have paid off because we won "funniest" costume.  Hudson liked our trophy!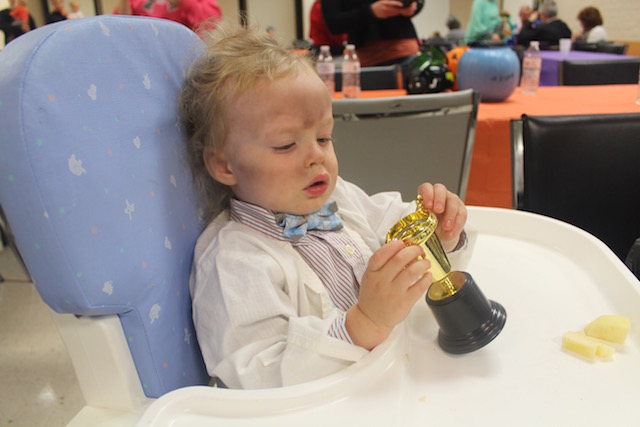 I didn't get a good picture of our trunk but we mostly just hung up a bunch of biohazard/radioactive/caution-type signs in the trunk.  Our show stopper were these ghost bubbles that Michael made.  I think he found the how-to online, but basically you use dry ice and bubble solution to make these cool bubbles that look all ghostly and release the gas when the pop.  It was very neat!
Here's a similar demonstration on YouTube:

Hudson loved handing out candy to the kids who came around to our trunk and would keep putting piece after piece in their bag if they stood there long enough!  He was quite the generous candy giver!  Ha!  He did not like going around to the other vehicles and getting candy though.  I tried to take him to the other cars but it made him cry so we gave up.
We had some other games too but he didn't do so hot with them – hard to explain to a toddler that they only get to toss a ball or go "fishing" X many times before they have to give someone else a turn!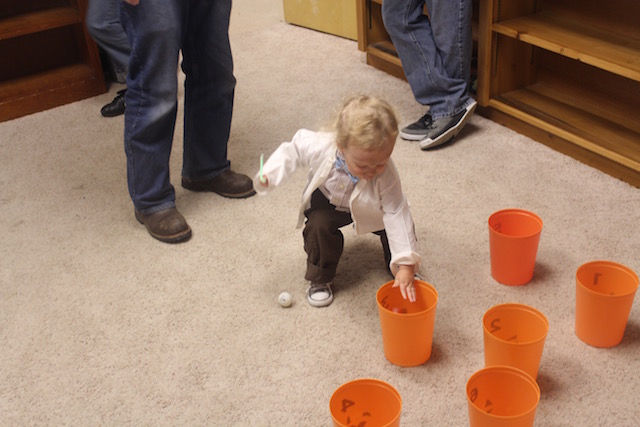 One of our friends brought their dog and y'all know how Hudson feels about animals…lol!  Totally giving her the side eye in this picture!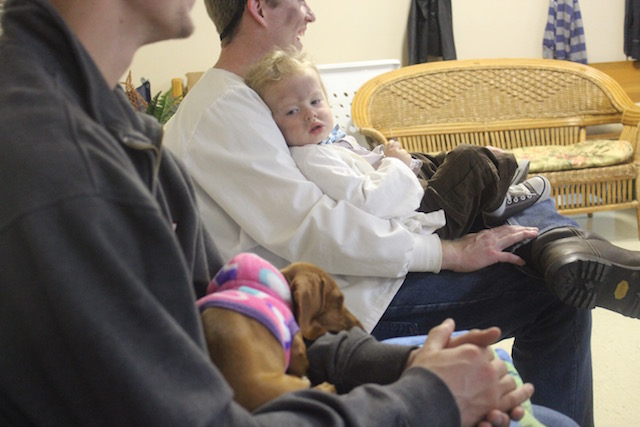 The next night, Halloween, we got dressed up again to hand out candy to trick or treaters.  We knew Hudson couldn't care less about going around to the houses so other than taking him by to show off his costume to the neighbors on either side of us we just stayed home and handed out candy to whomever came by.
The weather wasn't too cold so we set up in the front yard so we could watch all the activity (not that there was tons…we live in a pretty secluded neighborhood so we don't get a lot of trick or treaters).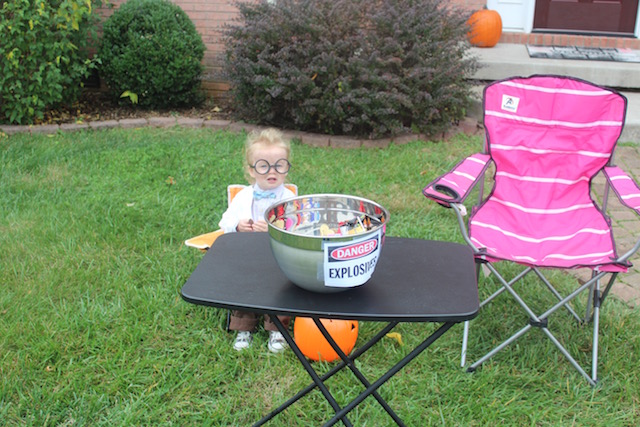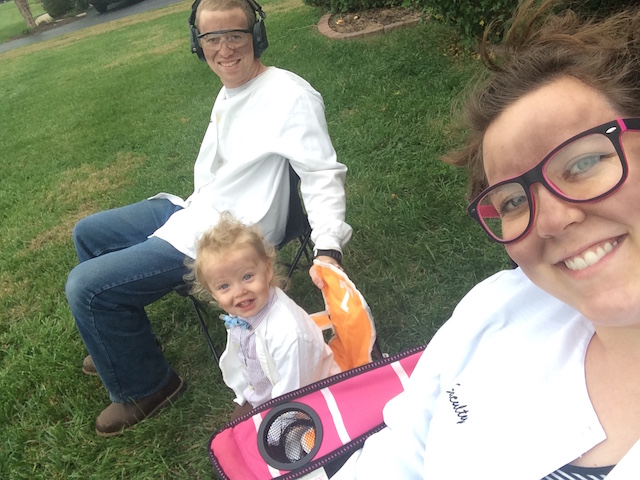 Hudson had fun handing candy out to our trick or treaters and then just running around in the yard and playing or trying to pick up our pumpkins.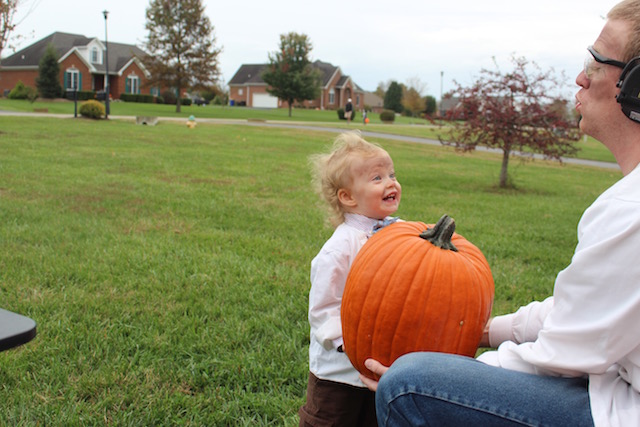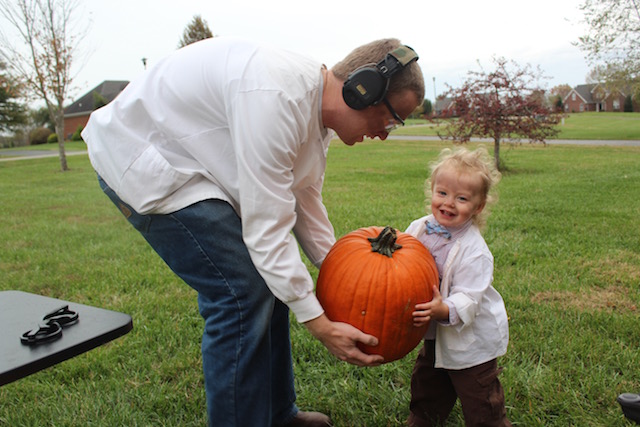 It started raining and got cold and we ran out of candy so we packed it up, went to Chuy's for some supper (still fully in costume lol!), and then came home to watch the Vols stomp the Cats.
It was a great Halloween!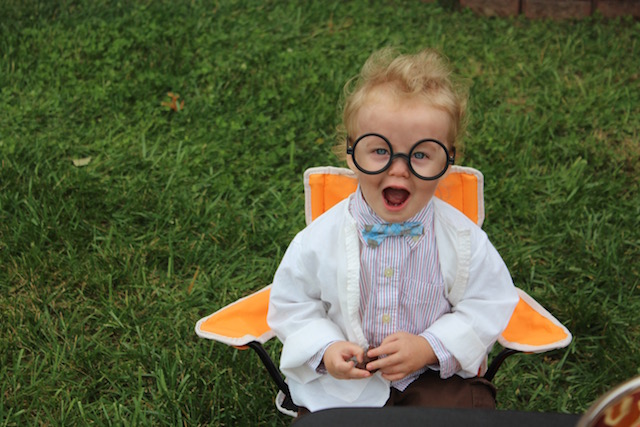 What were you and/or your kiddos for Halloween?  I'm already brainstorming for next year…I'll have to find something perfect for an almost 3 year old and his 9 month old baby brother.  Oh my!