How far along – 30 weeks.  How am I in the third trimester already??
Doctor updates – My last appointment was about a week and a half ago and everything looked great.  Parker's heart rate was good (I don't remember the exact numbers but in the 150-160 range) and he was quite active kicking the monitor while the nurse tried to listen.  My blood pressure was also good, 110/60 I believe.  I've mentioned before that I have no idea what those numbers actually mean but my doctor is all like "oh that's REALLY good" so I'm like…oh good, thanks ;).  Ha!  I've always had good blood pressure so I'm not sure what the fuss is about but I think it's because some women have high blood pressure issues in pregnancy and that can be really dangerous.  So I guess that's why they check it every time and are very pleased when it's good.
Symptoms – Some back pain, especially if I've been on my feet all day or cleaning the house, but it has lessened from what it was after I fell a few weeks ago.
We went to Chattanooga for a week and did lots of walking (and eating not-very-healthily) and I had some swelling in my feet and ankles by the end of the day each day.  However, other than occasional swelling like that it hasn't been a big issue yet.
I have lots more pains in my belly than I did when I was pregnant with Hudson – usually when turning over, laying down, going on long walks, that kind of thing.  It's nothing super painful or severe, just kind of bothersome.…
Weight/belly – I'm avoiding the scale at the moment ;) but my belly is definitely big!  Hudson and I have been going on walks every day for the last week or so and thankfully my back, feet, and knees haven't been hurting so I hope to continue that as long as the weather is good enough for us to be outside.  I definitely feel better when I get a little exercise each day!
Apologies for the not-so-great picture.  I usually try to get a good one with the big camera when I'm dressed in "real" clothes, but with it getting dark nearly before Michael gets home from work to take the picture we just haven't gotten it done so it was a random bathroom selfie in my workout clothes or else I'd never get this post written ;).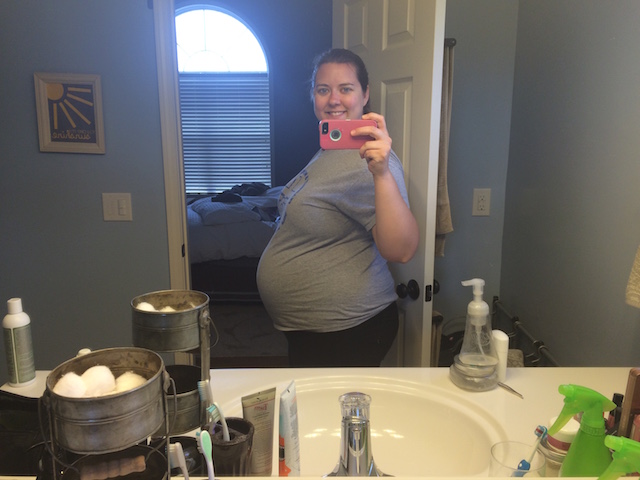 Movement – Lots!  And I can see my stomach move quite a bit.  I remember being able to feel Hudson's kicks from the outside of course, but I don't specifically remember being able to see all the kicks and rolls and movements.  But this time around I can definitely see my belly jump and wiggle.  Kind of weird.
Food cravings – Not really anything right now.  I've been wanting sweets a lot more than I had for the majority of this pregnancy so I'm trying to have some self control and not eat tons of them.  That's hard with the holidays coming up!
Food aversions – None.
Sleep –Sleeping definitely requires several pillows now, especially one under my belly to prop it up and it's annoying to have to rearrange everything when I wake up in the night to go to the bathroom or turn to the other side.  More often than not I wake up feeling a bit stiff in the mornings.  I slept great with my last pregnancy up until the very last few weeks so it's been a bummer to already not be sleeping that well with this one.
Thoughts – We're less than 3 months away from meeting this little guy!  So crazy!  It's time to get myself into gear and start really thinking about what baby things we need to get, working on having freezer meals made and ready to go, rereading my birthing materials from my childbirth classes with Hudson, registering at the hospital – lots to do!