We didn't do a huge vacation this year but we did get to go on a little one and it was super fun!  Michael had a four day work training in Chattanooga, TN so we went down a few days early and turned it into a mini vacation.
Some friends of ours recently moved to Chattanooga and they have two kids just a little bit older than Hudson so we enjoyed getting to spend some time with them and the kids enjoyed getting to play together.
Our "big" adventure while we were there was going to the Aquarium.  Hudson LOVE fish…loves to watch Finding Nemo and Bubble Guppies, loves to read books about fish, look at pictures of them, talk about them, etc. so I was so SO excited to take him to see tons and tons of fish!  I had been looking forward to this for months!
Of course, I know how he is with animals…loves to talk about them, totally terrified of them in real life…so I was not sure how he'd like seeing actual fish.  As I suspected he was not a bit thrilled for the first few minutes but the longer we were there the more he warmed up to most of the fish (as long as they weren't super huge).
This picture was the very first tank we saw…he was clinging for dear life and did not like the fish at all!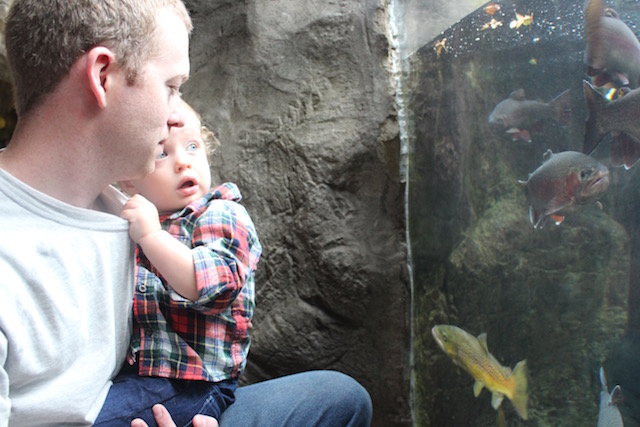 It didn't take too long for him to get over it though!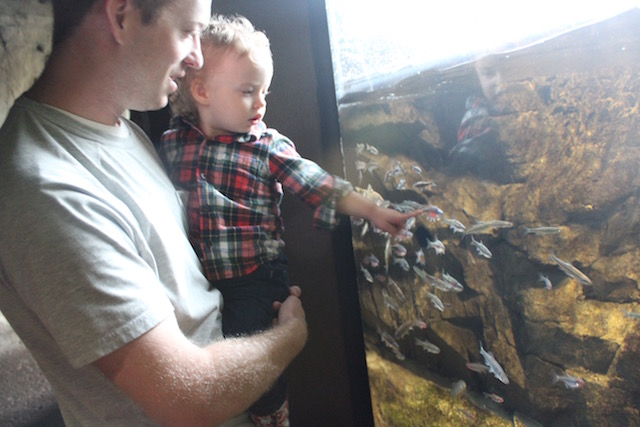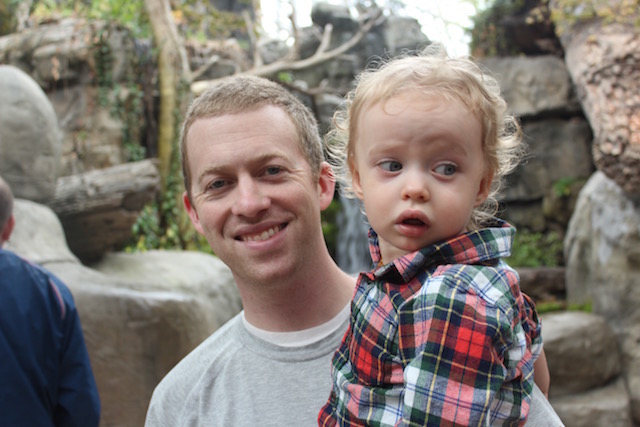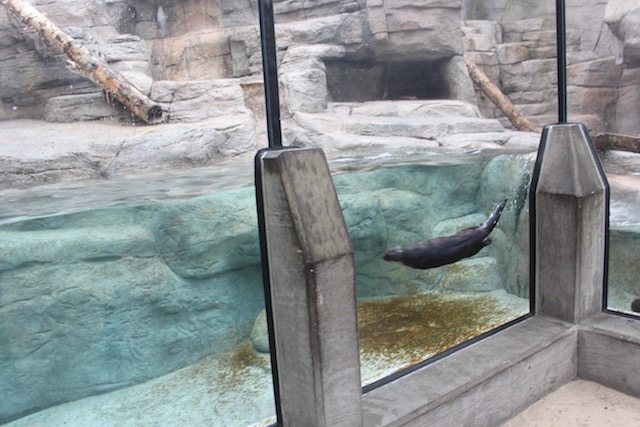 I was surprised to see that Hudson seemed to really liked the turtles and alligators/crocodiles more than the fish!  That's what he talked about more than anything.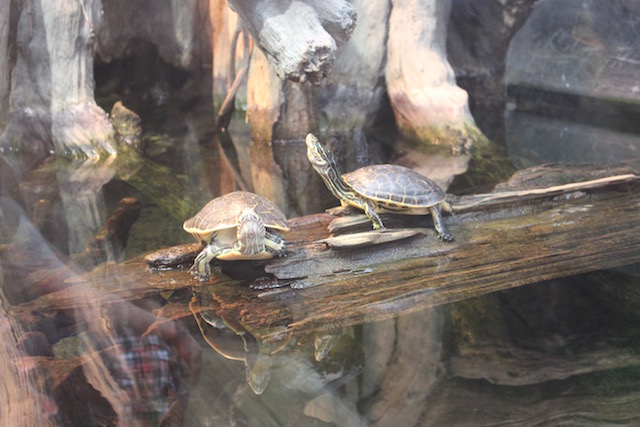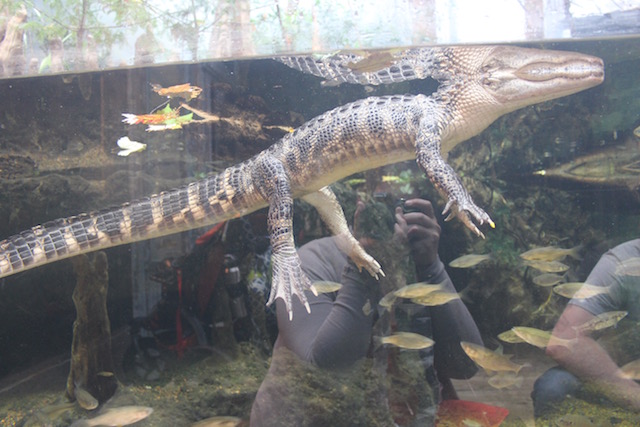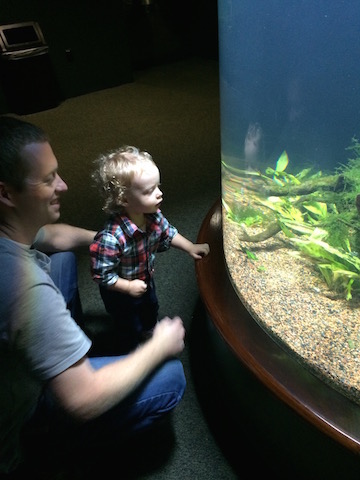 The butterfly garden was a hit!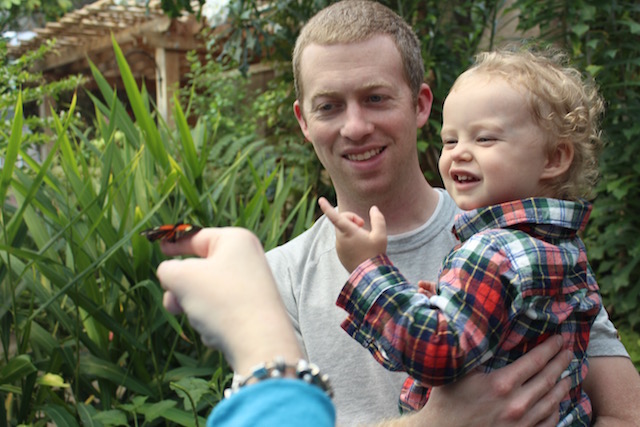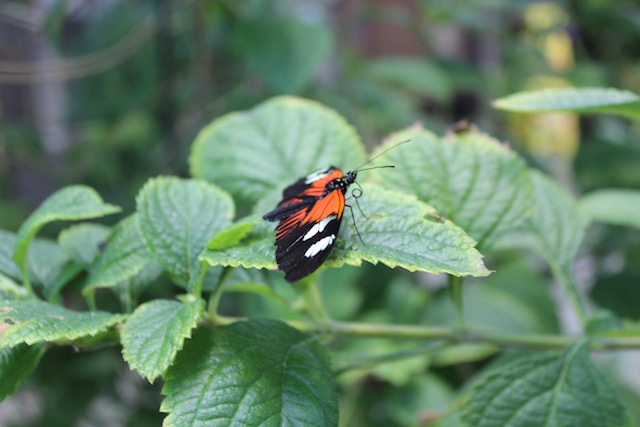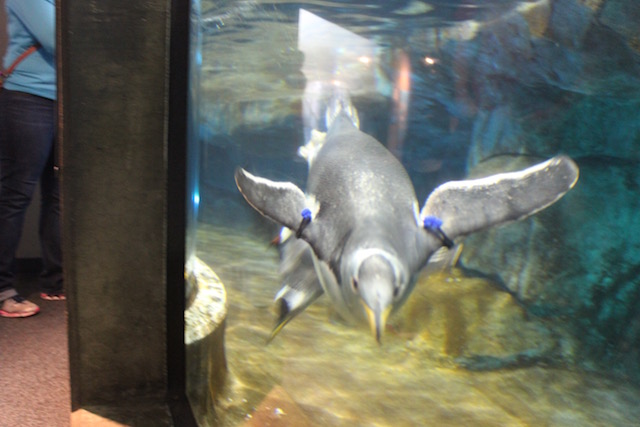 It's hard enough to get good pictures in a dark aquarium but to get a good picture of a not-very-still toddler in an aquarium?  Forget it.  At least, not with my unfancy camera and very little camera skills.
But I did get one pretty good one – I just love seeing the wonder on his face.
This is one of those blurry ones I was referring to but I had to post it anyway…check him out kissing the glass!  Hilarious!  It's no wonder he came down with a nasty cold just a couple of days later though…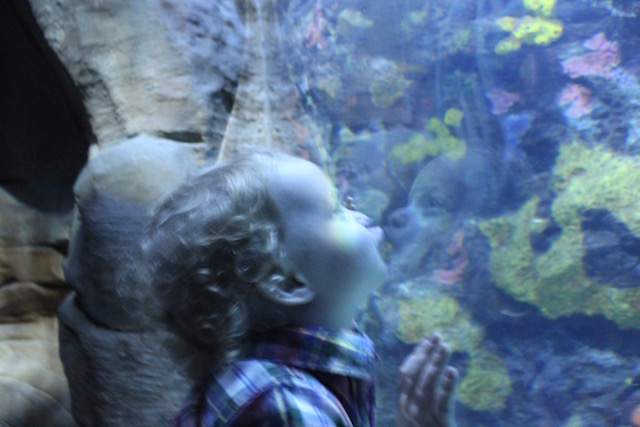 I think the jellyfish are my favorites.  I love watching them – they are so beautiful and fascinating!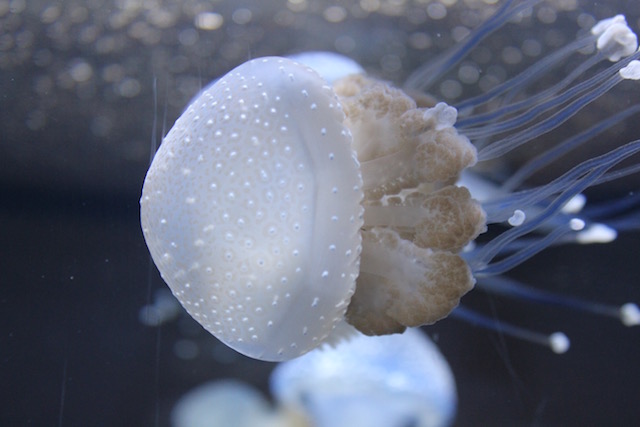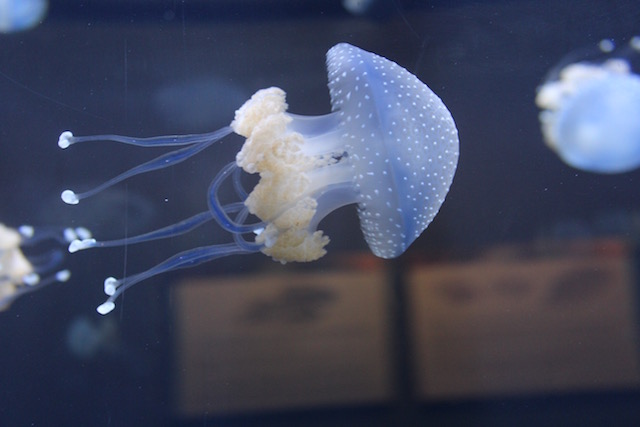 I *thought* my camera battery was fully charged before we left for our trip but apparently I was wrong and it died after the Aquarium.  Since I hadn't packed my charger (what was I thinking??) I had to use my iphone for the rest of the trip to take pictures.  Bummer.
Chattanooga has a small zoo that we went to one day.  Hudson HATED it.  He was scared of almost all the animals.  This is actually the only decent picture I got of him that day because he was clinging to me most of the time (plus Michael was at work and it's hard for me to take pictures while also trying to wrangle Hudson).
When I took this picture he was watching the big tortoises walk around and it was probably the happiest he'd been all day…at least until one of the tortoises walked a little too close to where we were standing and Hudson got scared again.  Sigh.  Silly boy!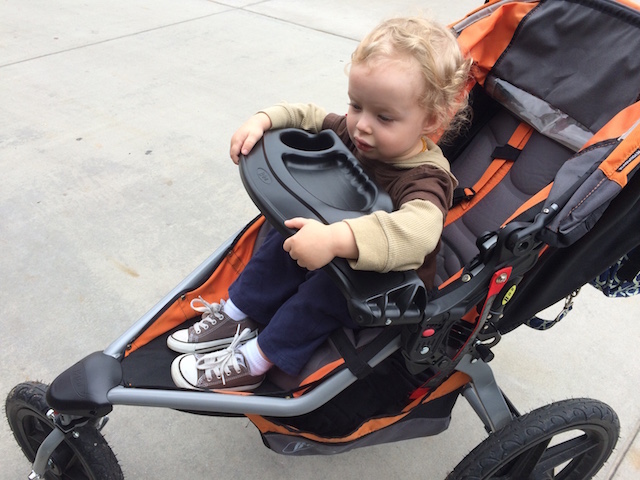 We discovered what I think is my new favorite place in Chattanooga – the Creative Discovery Museum.  It is a museum that is geared toward children and it's amazing.  It had tons of fun, kid-friendly exhibits (no way could we have gotten through it all in one day)!
Hudson was not a fan at first, especially since we started at the dinosaur exhibit where you can play in a sand pit and "dig" for bones.  He did not enjoy the sand on his feet!  But the longer we were there the more he warmed up and started playing.
There was one cool section that is specifically for little kids, babies up to about age four.  We spent quite a long time in there playing.  There was a car, a construction area, a train table, a kitchen/house section, a garden, a slide…all kinds of fun, toddler friendly things to do.  I think Hudson would have stayed in there all day!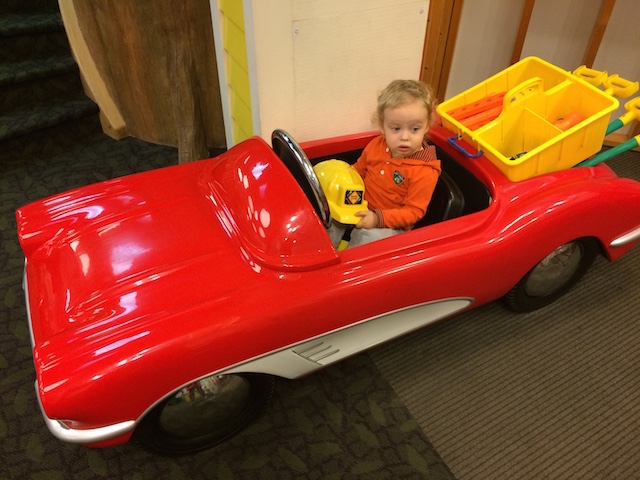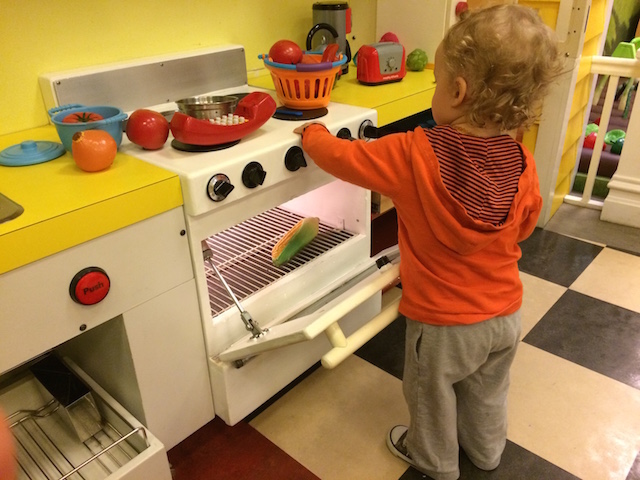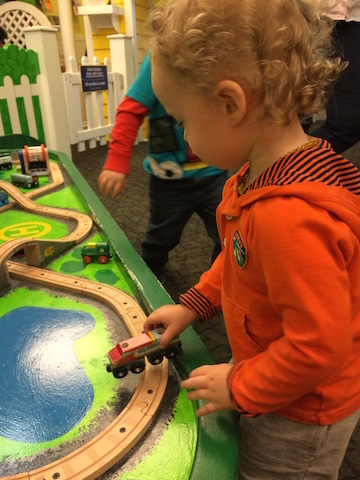 The top floor of the museum has rotating exhibits that I guess change out every few weeks or months.  The one that was there while we visited was a nutrition exhibit that had all kinds of play food, fruit "trees", a farmer's market, a kitchen, and more.  Hudson really enjoyed that area too!
The whole museum was amazing – they had parts where kids could do crafts, activities that had to do with building and engineering, a library area where you could sit and read, a water play area, and I am sure a ton more because we didn't make it through the whole thing.  I highly recommend it!
Outside they had another favorite of Hudson's…a big tank of bubbles.  He loves bubbles!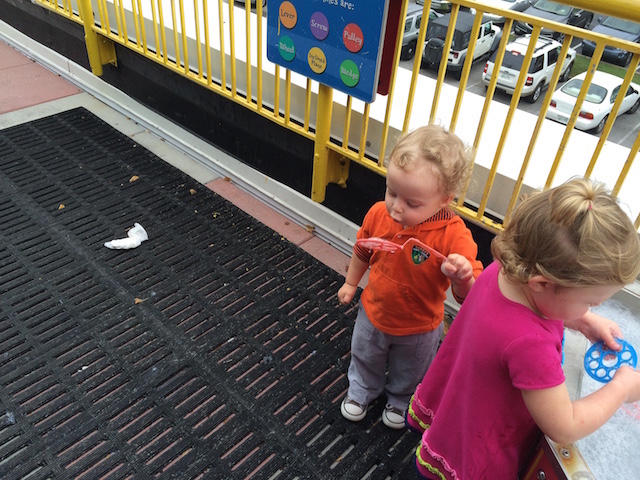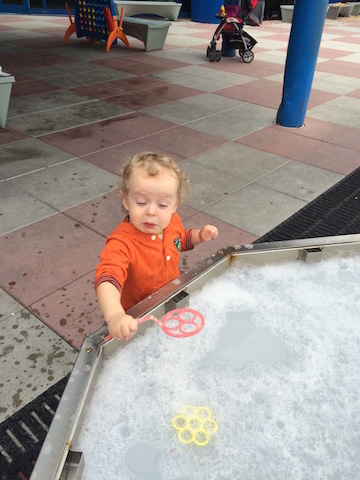 It was a pretty short and sweet visit but it was still super fun!