Wow I am SO late getting this one done!  I think we're nearly halfway through his 23rd month already.  Oops.  But for the sake of my own record keeping I'm going to go back and do his 22 month update now.
growth
I haven't measured or weighed him in months (#momfail) but he's fitting better into his 24 month clothes (at least in pants, he still wears quite a few 18 month shirts) so he's definitely growing.  I'll do my best to measure him for his 23 month update but if not at least we'll get a measurement at the doctor in January!  Ha!
teeth
They're all in!  Well, he still has several molars to get over the next few years but all of the teeth that he should get within the first two years are here.  Hopefully we'll get a break between now and when his "2 year" molars (which can come anywhere between 2 – 3.5 years from what I've read) come in.
communication
I could not even begin to list all the words he's started saying.  The last couple of months have brought a huge amount of new vocabulary.  A few words that I wrote down this month include
happy
baby (he used to just sign baby, now he says it and signs it)
water (again, another one he used to only sign), which sounds like "wateee"
sorry
potty (he's not interested in going potty quite yet but he likes to talk about it)
fork
paci
outside
He has also started saying quite a few two-word phrases like "all gone", "right here" (as he points vigorously to where he wants you to set his food or to sit down), "aww man", "oh me", "need help", etc.
This month he started calling me Mommy instead of Mama.  We've always referred to ourselves as mommy and daddy but for a long time he could only say mama.  Now he calls me mommy and believe me…I hear that a bazillion times a day ;).  So sweet though!
I know some people express concern about using sign language with babies and say that it'll make them late talkers.  I can't speak for all children but for us 1) sign language was a huge help for communication before Hudson could talk and 2) he is talking up a storm now!  He uses less sign language than he used to but he still uses it some, often in conjunction with the spoken words.
food
He's still a good eater but definitely opinionated about what he wants to eat.
We are pretty strict about what he eats and try to keep it pretty healthy so he's had very little sweets and junk so far.  However, this month he experienced his first taste of coke!  It was a total accident…Michael had a Sonic cup sitting out on the table, apparently a little too close to the edge, and while we weren't looking somehow Hudson got it off without spilling it and was just standing there sipping on the straw.  Of course it's definitely not my preference that he drink coke but it was pretty hilarious that he got it, the little sneak!
Enjoying some oatmeal at Panera.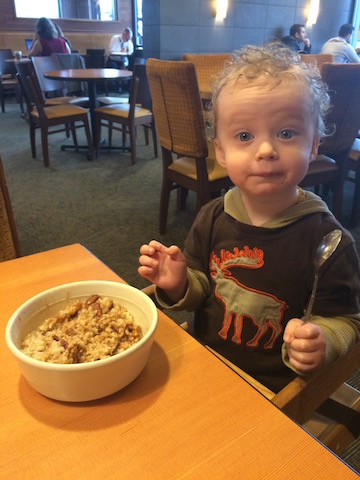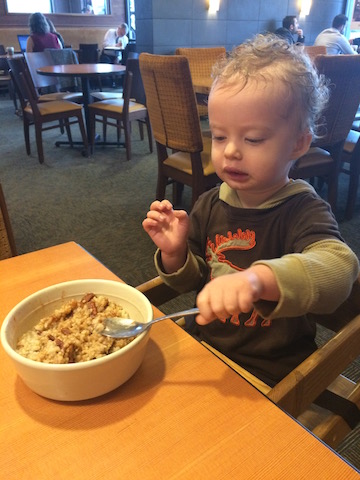 new stuff
We all got colds this month and Hudson started mimicking how we blow our noses.  He would go to the tissue box, get out a tissue, hold it up to his nose, "blow", and then take his tissue to the trash can.  It was pretty cute until he started doing it over and over again and wasting a bunch of tissues!  Ha!
He has started to show just a little bit of interest in the potty.  Like I said earlier he knows the word potty, points to the bathroom door, announces to everyone if he knows we are going potty (oh how I love having my business announced – ha!), etc.  He loves to help us flush the toilet and close the lid and he's definitely not afraid of the toilet as of right now.  He has not actually shown an interest in he himself using the potty but I'm not at all rushing it!  There was one day that he was kind of tugging on his diaper and I asked him if he needed to use the bathroom; he said "yes" so we went and sat on the toilet.  He didn't go but he didn't cry either (we've sat him on the toilet before his bath a few times and he didn't like it.
We're not planning to formally potty train any time soon since he's not even two yet but I think it is a good sign that he's showing a little bit of interest and understanding.  I think we're going to get some potty training things (like a seat to go on the big toilet and a small potty chair) for him for Christmas just to let him start getting used to the idea.
adventures
Well our BIG adventure this month was Hudson's first haircut!  I was dreading it big time because I loved his sweet little curls plus I knew that cutting them off was going to make him look so much older.  But he did great during the actual haircut – sat in the chair by himself watching Bubble Guppies and basically didn't even notice that anything was going on around him.  He didn't want to wear the cape but other than that he did wonderful.  I did pretty well myself and didn't shed a single tear.  I did save his curls in a baggie though!
Before
I was right, he looks so much older now!  But, he looks a lot better too.  I mean, even before the haircut I could easily admit that it was a mullet and needed to be cut but looking back?  Whew…it had gotten a bit crazy there ;).  And he didn't lose all of his curls either, it's still fairly wavy, especially right after a bath.  Plus it's a lot less knotted and snarled all the time; it just looks and feels healthier.
Before Halloween we went to a local pumpkin patch with some of our playgroup friends.  It was pretty picked over but Hudson had a blast running around and looking at all the pumpkins!
They had a corn pit area for the little ones and we spent a long time there.  Hudson wasn't too sure about it at first and stayed right at the edge, not really wanting to touch the corn, but after a bit he got comfortable and had a good time scooping and pouring.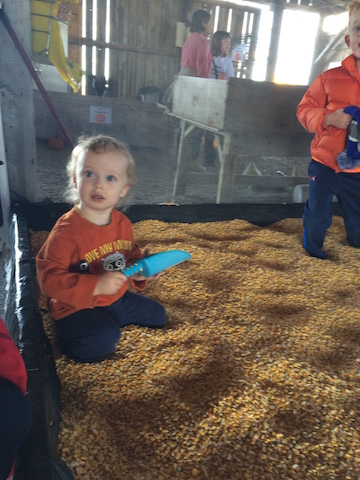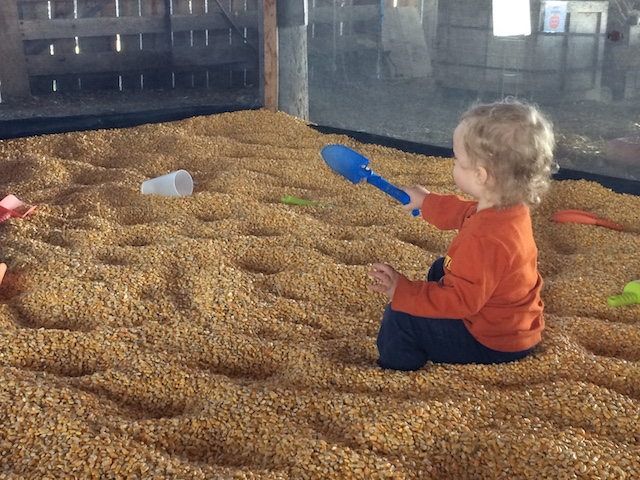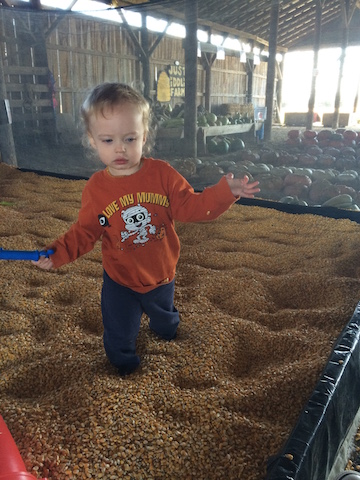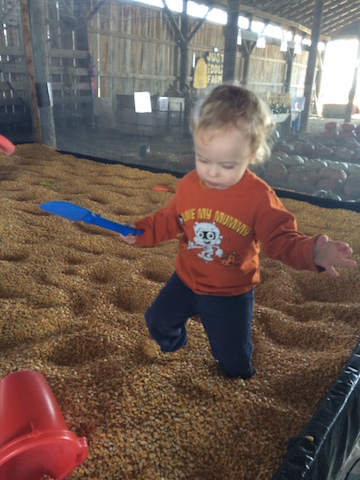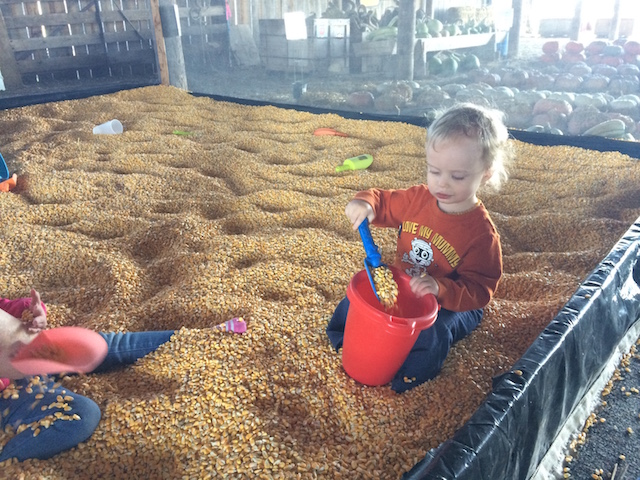 The day before Halloween we went to our church's trunk or treat and then on Halloween night we handed out candy at our house.  You can see a full recap and all about our mad scientist costumes in this post but I'll share a few pictures here too.
In addition to going to Chattanooga for a week we also went to Nashville for a couple of days while Michael had a training.  One day while Michael was at work Hudson and I went and played with some friends of ours who have twin boys just a few months younger than Hudson.  The other day we went to Opry Mills mall and hung out there.  They have a pretty nice play place at Opry Mills that's appropriate for toddlers so we spent a good long time in there.
At first he was really hesitant and stayed right with me but after we'd been there 15 minutes or so and he'd watched the other kids play he finally ventured off and started climbing on one of the objects then later moved to another one.  I was so proud of him for getting out there and playing since he's usually pretty timid about that kind of stuff!
Other stuff
This sweet boy LOVES to be read to most but sometimes he'll sit and look at books on his own and it's just adorable.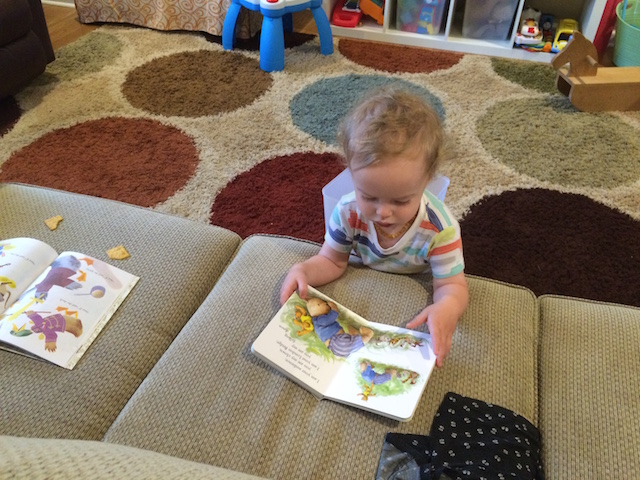 He's so good about "helping" me clean and do chores around the house.  I was wiping down our fridge and he decided to grab an oven mitt and give me a hand (literally).  Precious.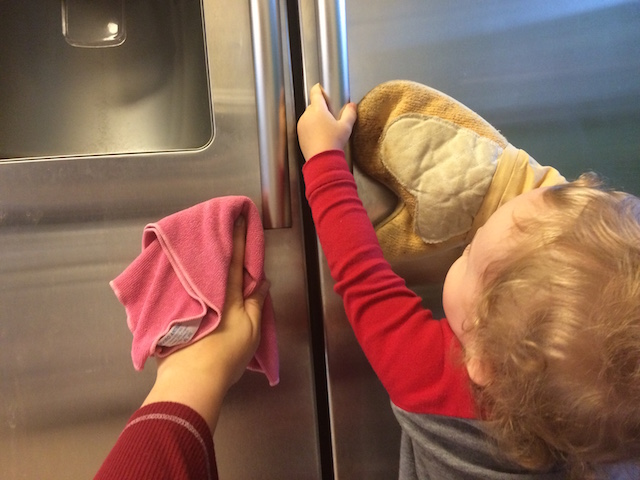 We got this Bible quiet book for his first birthday but he hasn't really been old enough to actually "play" with it (other than wanting to throw the pieces everywhere) until very recently.  Now he loves it!  It's got all kinds of neat, interactive pages.  It keeps him occupied for a pretty good amount of time during church.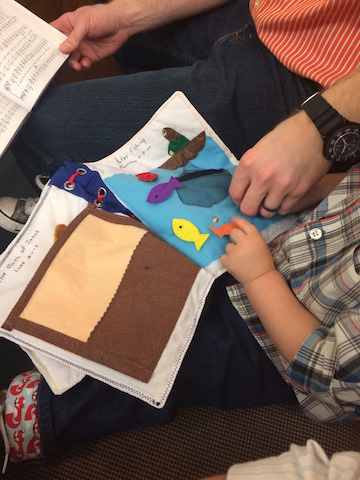 Always gotta have ruffles!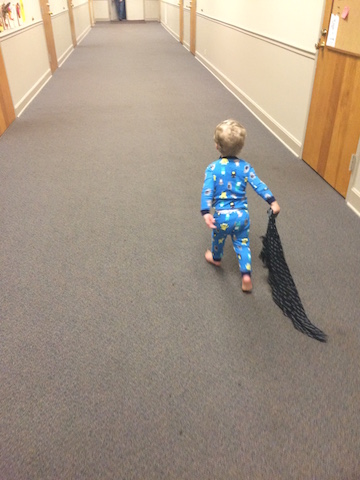 He went with me for a couple of hours to do a last minute vendor event and I was amazed at how well he did!  He sat in the stroller for a long time just playing with his stickers then eventually I had to put him on my back to keep him contained but he did great.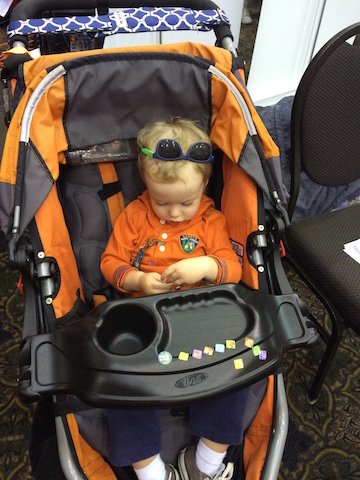 Trying hard to pick up the heavy box of orange!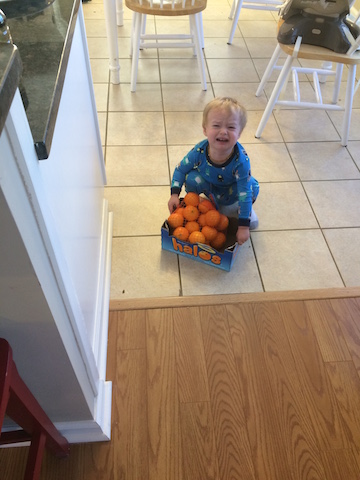 A sleeping child is just one of the most peaceful, beautiful sights in the world (and NOT just because that means I get a break…although that's part of it lol!).  So precious.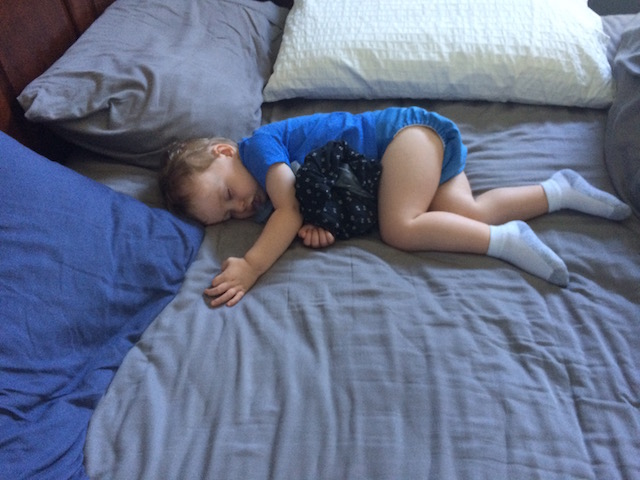 I'll be back with another update in just a few weeks…the last one before he turns TWO!  *sniff*