Ummm…what?  23 months old?  My baby is going to TWO in just one short month?
Pardon me while I go cry.
It's crazy how fast time is flying!
growth
I finally remembered to weigh and measure him!  He's 28.2 pounds and 34.5 inches.  I would guess he's on a growth spurt too – he's eating us out of house and home and he's getting a bit pudgy (a pretty sure sign that he's going to grow a few inches soon).  In fact, he's already grown quite a bit recently – I noticed last week that several of the 24 month pants that were plenty long on him just a few weeks ago are now too short.
communication
So.Many.Words.  He talks all the time and is constantly picking up new words and phrases.  I try to write them down the best I can but it gets hard to keep up.  Some from this month include:
– Tigey (Daniel Tiger's stuffed tiger toy)
– elbow (which sounds like helbow)
– amen (cracks me up because we say A-men but he pronounces it Ah-men; he will sign and say amen after we pray at the table or someone prays at church)
– phone
– fork
– paci
– feet
– moon
– mail
– high five
– bug
– cool
– high chair
– sorry
– outside
– hair
– ear
– Ho Ho (for Santa)
I mentioned in one of the past monthly updates that he had attached to a shirt of mine that Michael and I started calling "Ruffles" because it has some ruffles on the front and that's Hudson's favorite part of the shirt.  This month Hudson started saying Ruffles too but when he says it is sounds like "Fuffle" and it's pretty much the most adorable thing he says!  I love it!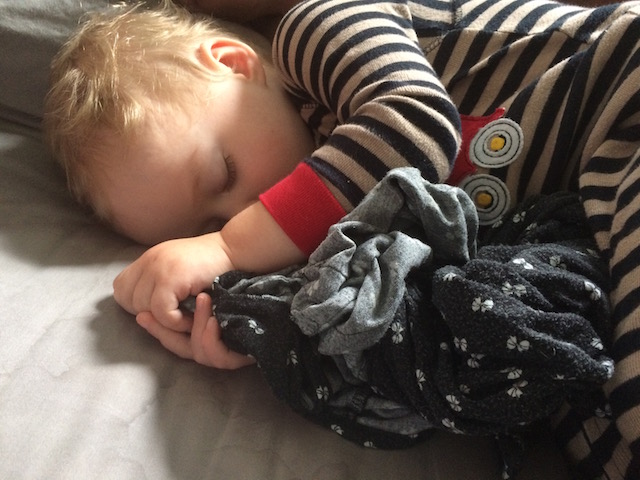 His favorite word, I'd say, it probably "no".  Or more accurately "NONONONO!"  He's definitely exercising his ability to let us know when he does not want to do something or is not pleased!
Hudson has really gotten interested in singing lately.  There are several songs, mostly from the nursery class at church, that he wants us to sing a lot and he'll sing or do the motions with us.  His current favorites are "This Little Light of Mine", "The BIBLE", the choo choo song (not sure it has a name, just one I sing in the nursery about trains), and the car song (another little song we sing in the nursery about driving to church).
Recently he told us what I would consider his first "story".  We had been at my mom's and a stray cat wandered up on her porch and hung out there for about a day.  Y'all know from previous posts that Hudson is terrified of pretty much all animals and that is definitely still true.  He cried and shrieked if he saw the cat and was all upset about it; but it's like he's both fascinated and terrified because he just kept talking about it and wanting to look out the window and check on it.  So he talked and talked and talked about it.  At one point I was trying to feed him a snack and he said:
"cat" – "eat" – "watee" (how he says water; he also signed "drink" at the same time) – signed "sleep" – "outside" – "all gone" – "bye!"
Basically he summed up the experience…there was a cat outside on the porch that ate some cat food, drank some water, slept on the chair, and now it's gone!
That happened over a week ago and he's STILL talking about it.  Multiple times a day he says "Mamie? Riley? cat?"…he wants to know where Mamie (what he calls my mom), his uncle Riley, and the cat are and what they're doing.
food
Like I said before, this child is eating like nobody's business.  I mean, he out-eats me some meals (and I'm pregnant!).  Forget creating a college fund…we need to start a food fund to get us through the teenage years – ha!
We went out to Mellow Mushroom for Michael's birthday and Hudson just ate and ate and ate.  I'd guess he ate about 4 normal sized pieces of pizza.
One night we had breakfast for dinner and he ate two biscuits (one with gravy, one with honey), 2 fried eggs, 3 pieces of bacon, and milk.
We've been making okra a lot recently and Michael and I hardly get to eat any of it ourselves because Hudson eats it all.  Here's a picture of the okra tops left over from what he ate…yes, just him.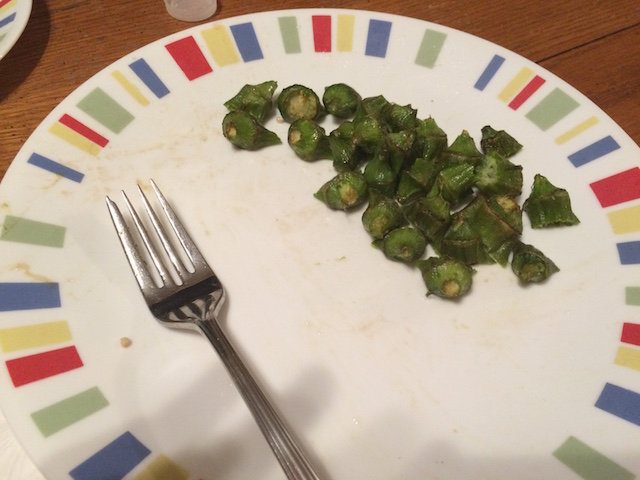 Chowing down on some chili.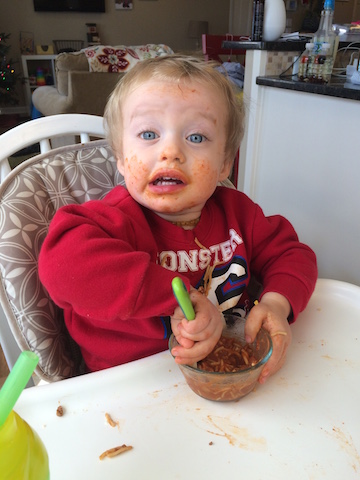 It's still hit or miss – some meals we won't eat much at all or I'll give him a bunch of options and he refuses to eat any of them, but for the most part he eats good and he eats lots!  One meal recently Michael was trying to get him to eat his food and so he started making rocket sounds and having Hudson "fly" his food into his mouth.  Now Hudson wants to do that a lot at meals and will say "fly! fly!".
He's also a super slow eater.  Many meals last an hour or so because he's just so poky (and he eats so much!).
new stuff
So many new things that he does this month!
He has started praying for his food.  For a long time he would hold our hands and bow his head and then sign amen after the prayer but recently if he's in his high chair and we haven't gotten all the food on the table yet and just don't seem to be going fast enough for him then he'll bow his head, fold his hands, and do his own prayer.
He likes to have his boo boos kissed and kiss other people's.  Or sometimes he'll just kiss his own boo boos.  Tops in efficiency ;).
He does this funny thing where he makes a fist, holds it in front of his mouth, and clears his throat.  Then he holds out his fist to us and we have to clear our throats too.  Hilarious.
Sometimes he'll put his hand on his chin or his face and tilt his head to the side a bit like he's thinking.
He's learned how to peel stickers off – how to bend the paper a bit to get one side of the sticker to pop up so he can grab it.
I am constantly amazed by how quickly he picks things up.  He'll see someone do something one time and he'll start mimicking them right away.  It definitely makes you mindful of how you act and also about the things you allow your child to watch/see/experience because one exposure, good or bad, can make a big impact!
My brother was telling a story at the dinner table and he tapped the side of his hand on the table for emphasis…Hudson started doing his hand the same way too and has continued to do that several times since then.  Michael will do something like drum his fingers on the table and Hudson will immediately copy him.  My dad was doing "magic" with him and making a piece of peppermint candy disappear and just a few minutes later I saw Hudson putting the candy in his hand, blowing on his hands, and then holding the candy above his head and dropping it behind his back to make it disappear.
Very impressionable!
adventures
Like I mentioned before we stayed with my mom for a couple of days while Michael was out of town on a business trip.  Hudson had a blast playing at this fantastic park right down the road from her house!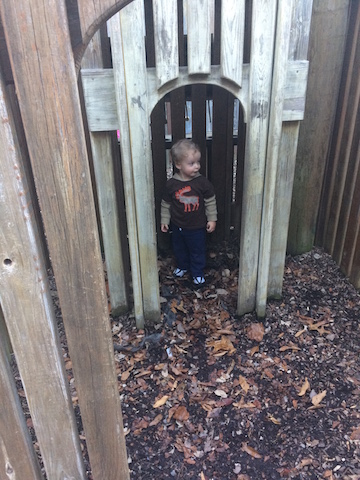 We had two Thanksgiving's this year – lunch with my mom's family and dinner with Michael's family.  I thought Hudson would love eating all that food but he was really so distracted by all the activity and his cousins that he didn't eat that much.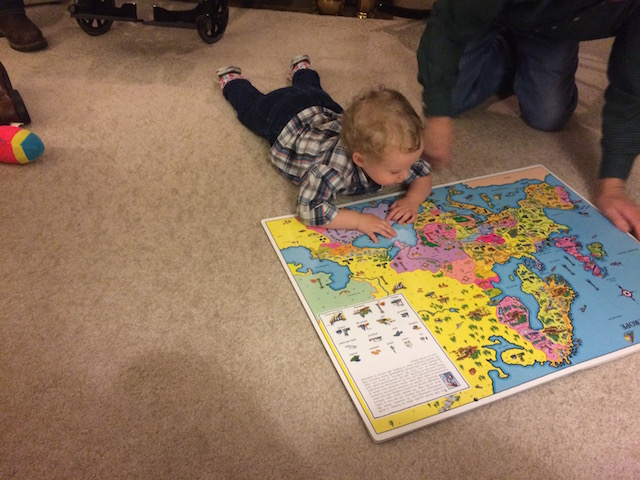 We took Hudson to see Santa but as I expected he was NOT a fan at all.  Michael had to hold him the whole time and Hudson wanted nothing to do with Santa.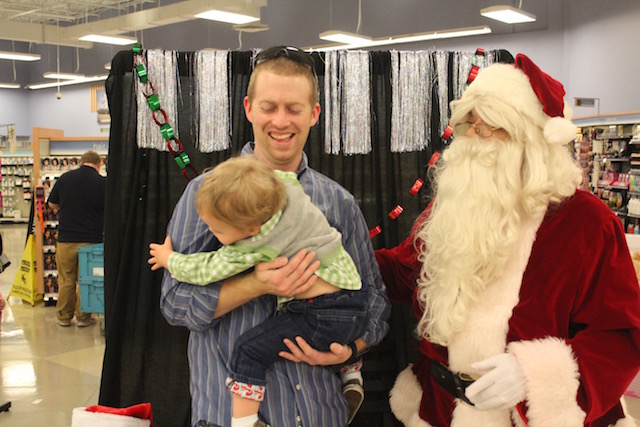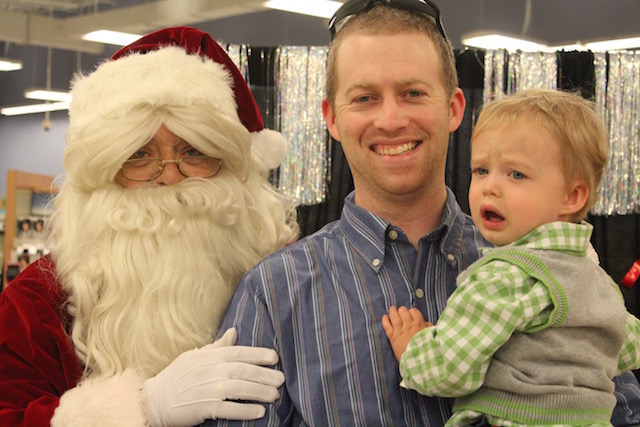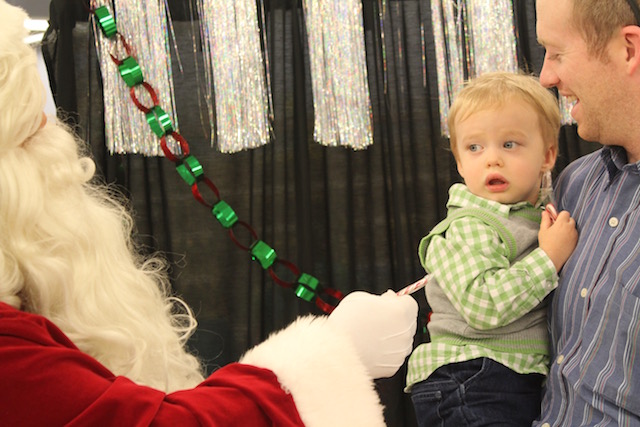 The only time he showed any interest at all was when Santa gave him a candy cane.  When we got in the car after the pictures he was clutching that candy cane so I just let him hold on to it, figuring he wouldn't be able to get it out of the wrapper.
Well I was wrong.  He got it out of the wrapper and happily crunched along on it!  He's never had candy before so I'm sure he loved it!  His face was a mess afterward.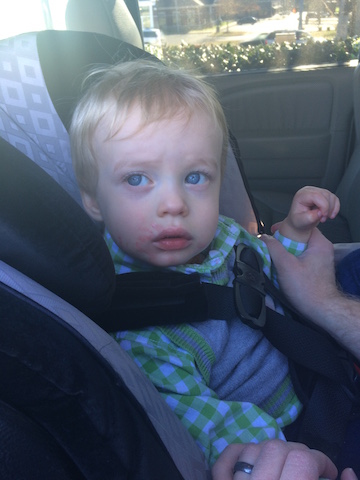 I was concerned about how he would do with the Christmas tree but he has done surprisingly well!  The first few days were a bit of a struggle and he broke three ornaments in those three days (one I think he thought was food because not only was it broken but also soggy).  I thought all the ornaments I'd put down low were not breakable but obviously I was mistaken ;).  After a couple of days what I started doing was I picked out a couple of ornaments and told him that those were his to play with, touch, move, whatever but he had to leave the rest of them alone.  That combined with the newness of the tree wearing off has made it no big deal to have the tree up the rest of the time.  He hasn't bothered it much at all since then.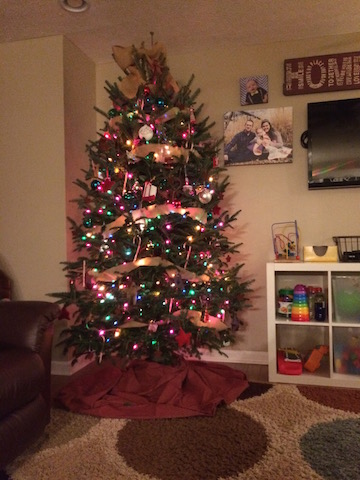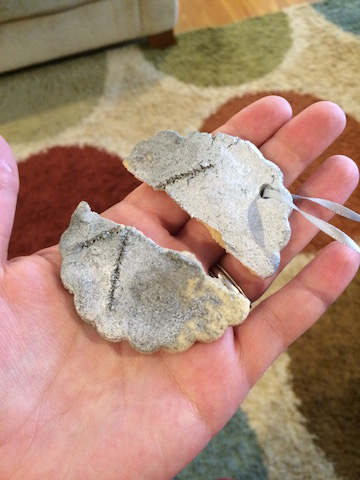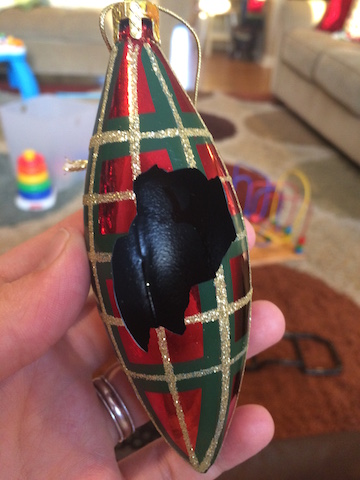 We had the first of several Christmas celebrations last weekend with my dad's side of the family.  Hudson enjoyed opening up presents and getting new toys!
One other "adventure", if you want to call it that, has been church recently.  December is Michael's month to be in the sound booth, which means that he is not sitting with us in service for the whole month and Hudson has been giving me a run for my money!  He's usually pretty good in church but I've had to take him out more in this last month then I bet I have in the last year!  When Michael is with us we can tag team and usually keep him pretty distracted but when it's just me it wears off quicker I guess.  Plus being 8 months pregnant makes it so much harder for me to lean over and pick up the things he drops, hold him when he wants to sit in my lap, and just wrangle him in general.
Apologies to our preachers because I'm pretty sure I haven't heard a word of a sermon this month and I've been counting down the Sunday's until January.  And huge props to the single parents, preachers wives, parents of multiples, etc. who do this every week!
other stuff
We've been going out on walks just about every day that the weather permits (which this unseasonably warm weather has allowed for lots of walks) and Hudson likes to help me get my shoes on before we go out.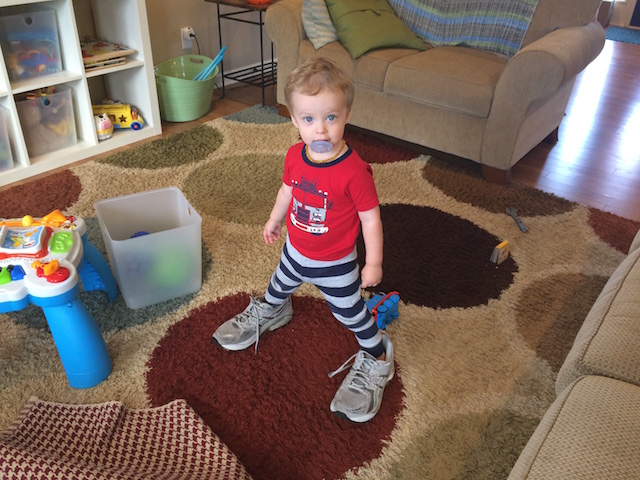 Reading with daddy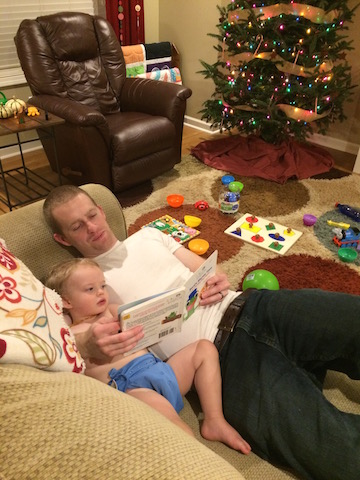 The Gaineses stayed with us one night and Hudson had so much fun playing with Josiah and Levi!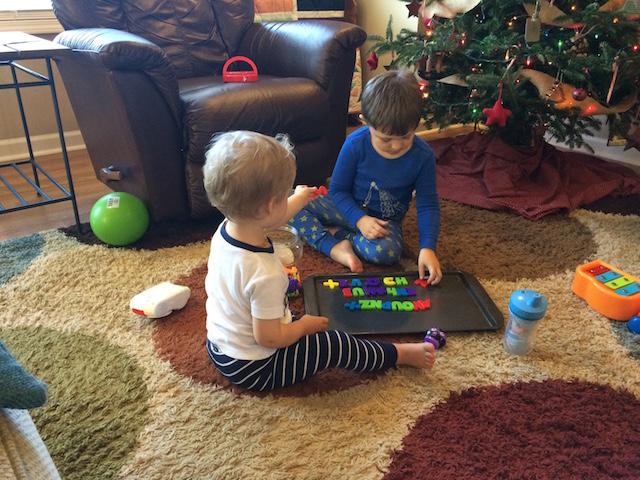 Christmas dinner at church.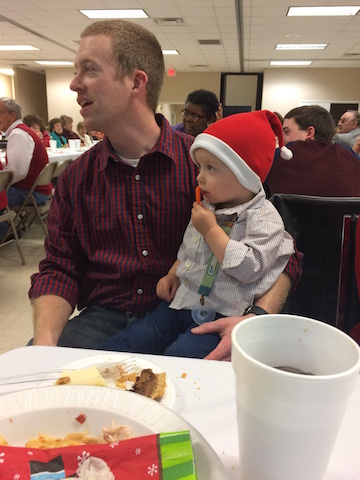 We've had a lot of those ladybug beetles things in our house recently and Hudson loves them.  He likes to watch them, blow on them, pick them up and carry them around, talk about them, and throw them in the trash.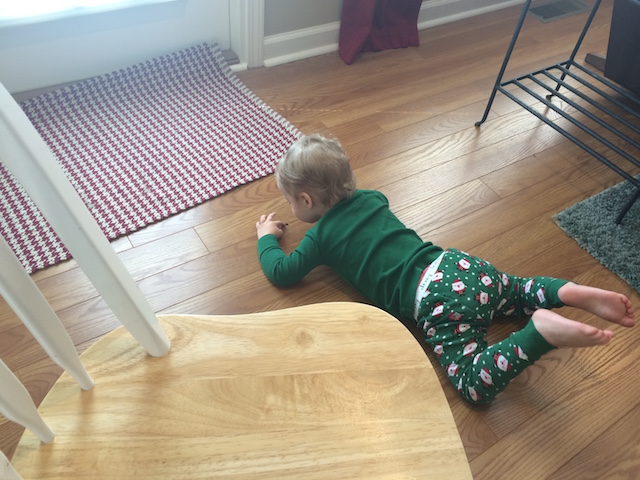 Sliding at the park.  I was so shocked that as soon as we got to the park Hudson climbed up the steps on his own and then slid down the slide on his own!  He's much more brave than he used to be.  He even went down the big twisty slide while we were there.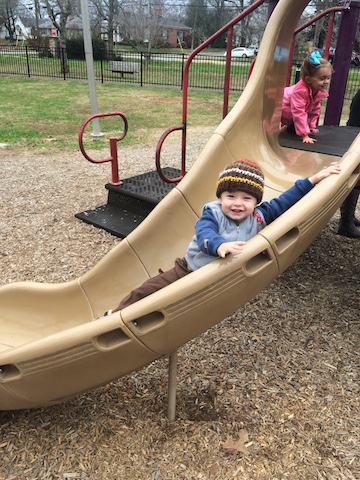 He loves to flip through the song books and Bible when we're at church.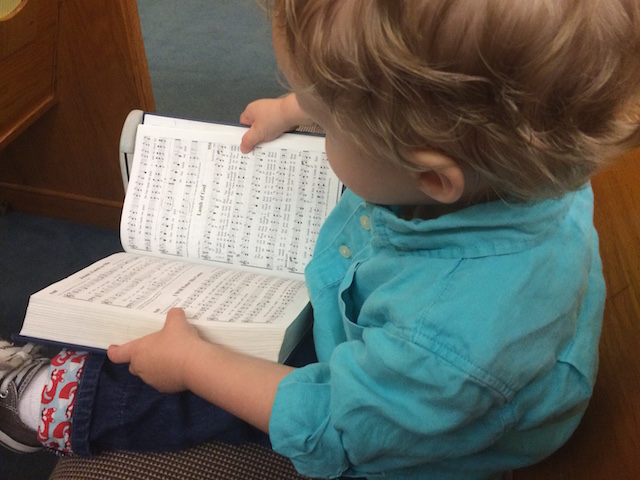 Helping me mail some packages at the post office.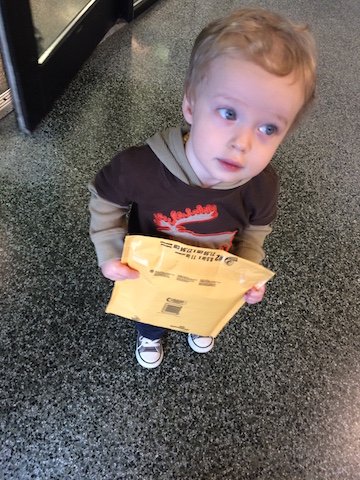 I found this window clings at Target for $1 and bought them for Hudson to play with on the back door.  They weren't as reusable as I thought there were going to be so they didn't last very long but he had fun with them for a little while!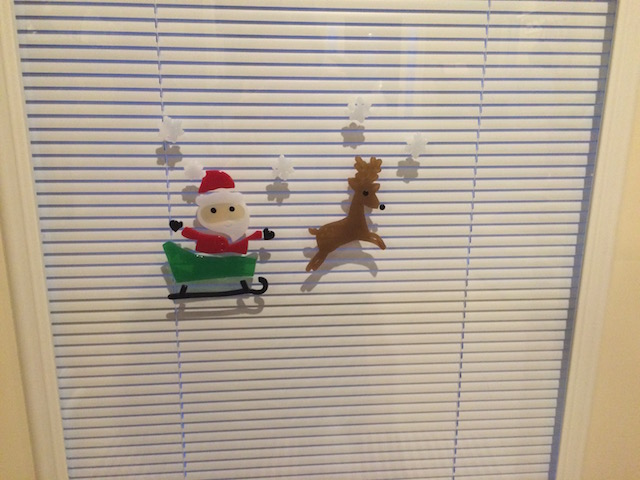 He loves helping me unload the dishwasher every morning.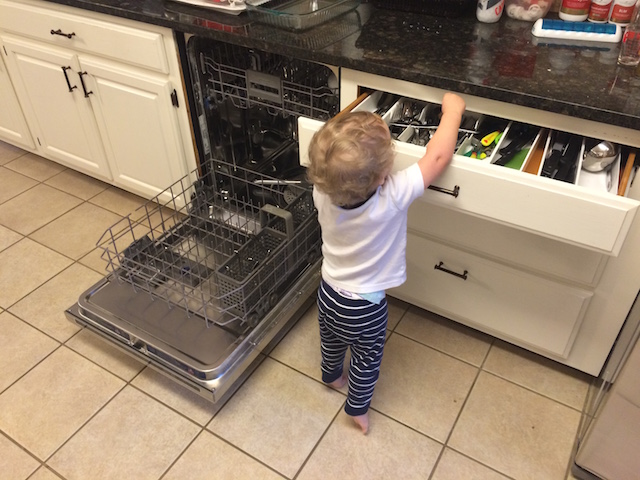 Boxes make good tunnels!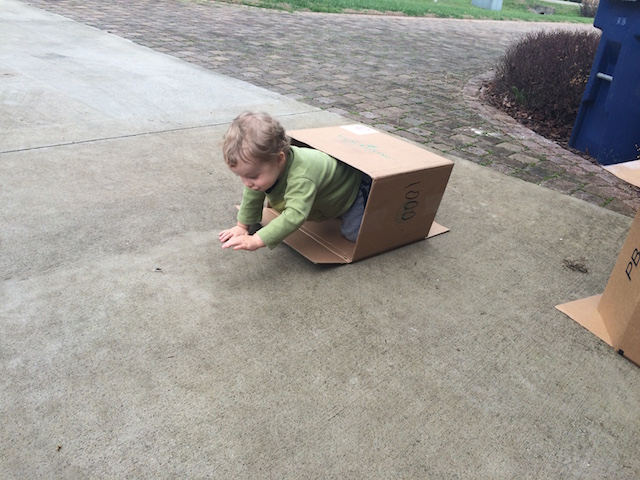 For some reason he refused to eat his chicken and dumplings with a normal spoon and would only eat using this tiny plastic fork from a tea set that was mine when I was little.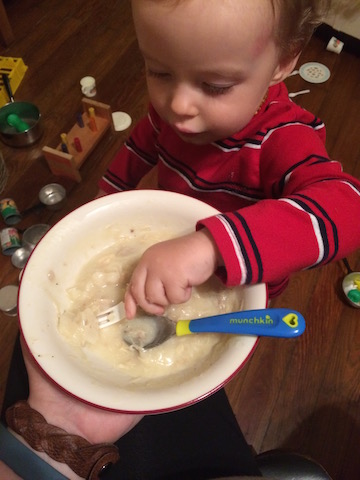 Ready to do some Christmas shopping with mommy!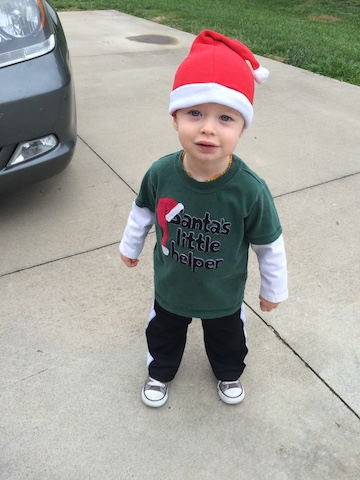 I didn't think he was big enough to operate the pop gun but sure enough he was!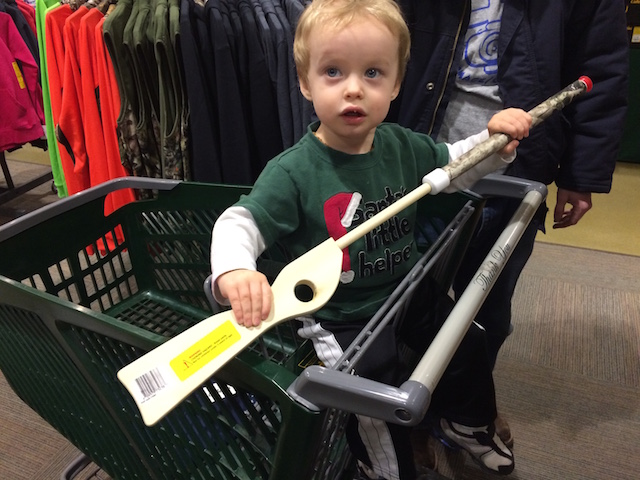 He has a ton of books he loves but right now one of his favorites is this truck/vehicle book.

Playing with magnets he got as a Christmas present.  Our fridge is stainless so magnets don't stick but we discovered that they will stick to the dishwasher.  I was very glad to find a place for him to play with magnets because he really enjoys them!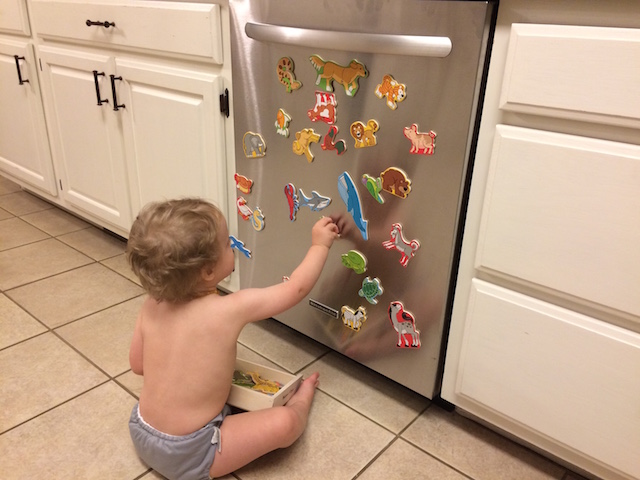 Next year I will be budgeting to get family pictures done prior to Christmas so that we have a good picture to put on our Christmas card!  His 18 month pictures were his last professional pictures and he's changed a lot since then (especially with his hair cut) so I didn't have a good, current picture to use for the card.  I tried taking some out in the yard but I am no photographer so they weren't anything fancy.  He did look awfully cute in his shirt and vest though!  Here are some of my attempts ;).