How far along – 36 weeks (37 tomorrow, actually).  Less than a month from my due date!!!
Doctor updates – I had a check up last week at 35 weeks and everything was fine.  Good blood pressure, Parker's heart rate was good.  The last two appointments I was measuring about two weeks ahead (according to the tape measure thing they use on your belly) but last week my doctor didn't say either way so I don't know if that has changed or not.  He doesn't think I'm anywhere close to delivery yet so we skipped a 36 week appointment and I'll go back in a few days for a 37 week appointment…and then after that it'll be weekly until The Big Day!
Symptoms – Honestly, for being this far along I feel great.  In fact, I'm having a hard time coming to terms with the fact that delivery could be in the very near future because I just don't feel uncomfortable or have that "totally ready to be done being pregnant" feeling or anything like that.
Really my only symptom I've been having recently is with my feet swelling.  It happened a lot over the holidays – a combination of eating tons of junk food, not drinking enough water, and traveling (for some reason sitting in a car really seems to aggravate the swelling).  It's better now that we've been home and I'm eating (somewhat) healthier and drinking more water, but it's still there some by the end of the day.
Weight/belly – I try not to look at the scale but I think I've gained about 30 pounds so far.  So unless I gain a crazy amount right at the end (please, no!) then I should at least end this pregnancy with a bit less weight gain then I did with Hudson (I gained 50 pounds with him).  Of course I never lost the weight I gained with Hudson so I'll be ending this pregnancy with the weight gain from two full pregnancies but that's a different story for a different day and I'm determined to get working on that once I've recovered. 

People have started looking at me funny and asking questions about how much longer I have (in a manner or tone that makes it obvious they think it should be any day now).  Looking at this picture though I don't really blame them – I'm getting pretty big!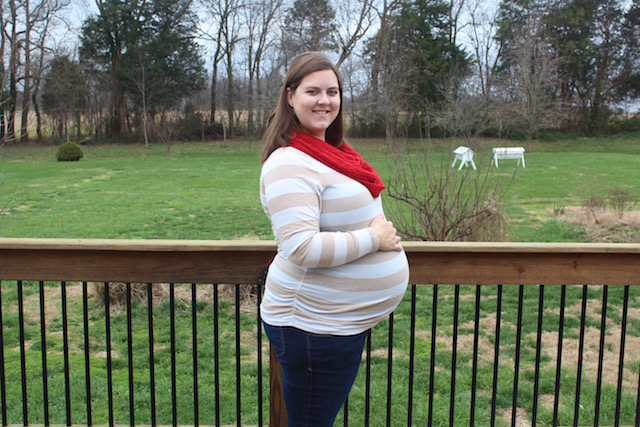 Movement – All the time.  He's a very active little guy!  My belly rolls and jumps constantly, especially when I sit down or lay down.
Food cravings – Nothing specific.
Food aversions – None.
Sleep –I have to sleep with a couple of pillows and have to get up to go to the bathroom several times during the night but aside from those interruptions I've been sleeping pretty well.
Thoughts – I alternate between denial that Parker is coming (and coming SOON) and totally freaking out that there is so little time and so much to do.  This week I did a huge freezer meal cooking session to get a bunch of meals ready to have after he's born.  Next week I'm planning to get the house really clean, more so than just my normal weekly surface cleaning.
I also need to get my hospital bags packed (and a few things purchased for that) and read back over our Bradley Birthing information from the classes we took with Hudson.  There are lots of little things I'd like to get done but those are the big ones that I really need to get going on.  Yikes!
Just for fun here's a comparison of me at 36 weeks with Hudson vs 36 weeks with Parker