Yesterday we celebrated Hudson's 2nd birthday with an Under the Sea themed party.  His birthday isn't until this coming Saturday and ideally I would have done it then but that was getting too close to my due date for comfort (and even for yesterday's party I was keeping my fingers crossed that we'd get to have it before Parker made his appearance…so far, so good – no signs of arrival yet!) so we went ahead and did it a week in advance.
For the last several months Hudson has absolutely loved fish – books about fish, shows with fish in them, talking about fish, the aquarium.  He loves them.  His favorite tv show is Bubble Guppies and his favorite movie (well actually, the only movie he's ever seen) is Finding Nemo.  So we decided to do an Under the Sea party and incorporate all those things.  Hudson was pretty excited about that and talked about his "fish party" for days and days leading up to it.
Being so very pregnant I wanted to keep things pretty simple and easy.  We did a small party with a few easy decorations and some snacks.  At his age he doesn't know anyway and would much rather play with balloons than anything else so it was perfect!
Thanks to Pinterest I was able to have some super cute stuff without having to think of it myself ;).  You can see my Pinterest inspiration board here.
(Pardon the picture quality…I was trying to snap a few quickly before the party started and they weren't as great as I'd like.)
We used green streamers for seaweed, blue balloons for bubbles, and I cut some fish out of colorful paper.  I think it turned out adorable!
Here's a fun tip: if you have an air compressor, use it to blow up balloons.  That's what Michael did and I can't believe we've never thought of this before!  It took no time at all to blow up a ton of balloons.  Another tip: buy your balloons at Hobby Lobby.  The ones we got last year for his first birthday party stayed blown up and stuck to our wall for over a month.  I know!  So crazy.  Super good balloons.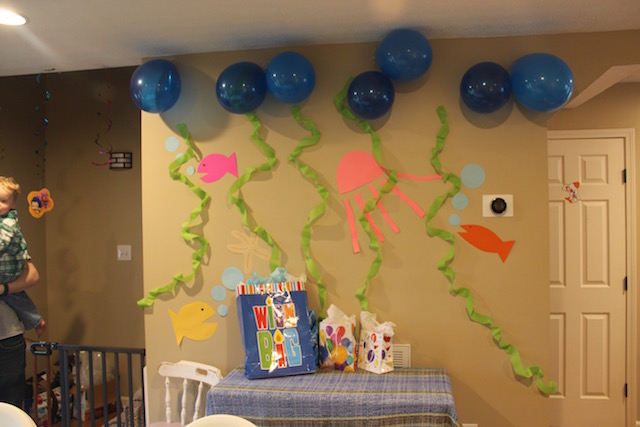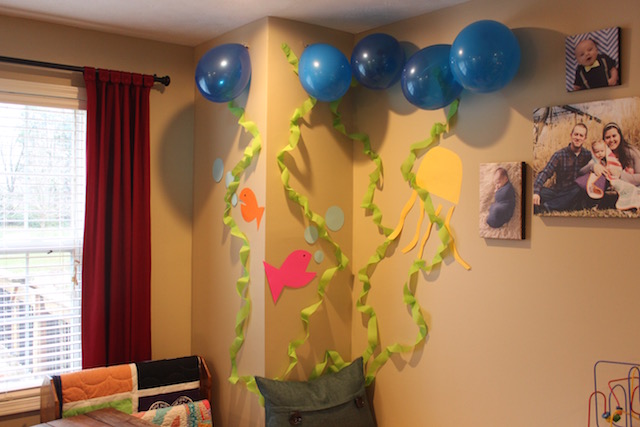 I was planning to make a "happy birthday" banner but while we were out shopping for the party we went to Party City and passed a section of Bubble Guppies decorations.  Hudson went absolutely nuts over them so I decided to get the Bubble Guppies birthday banner and some other Bubble Guppies hanging decorations.  That was the best $10 or so that I spent…saved me a ton of time trying to make all that stuff myself and of course he loved that it had his favorite characters on it!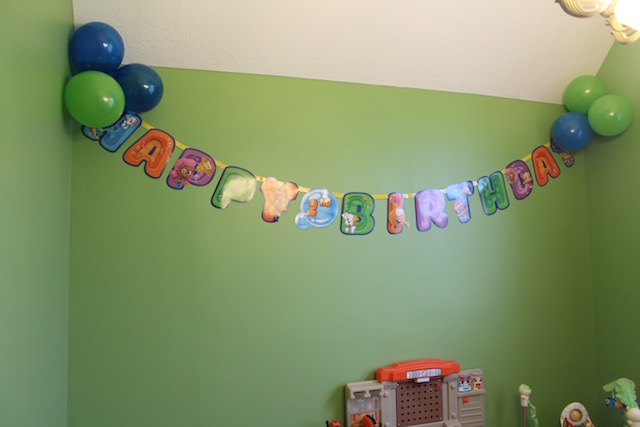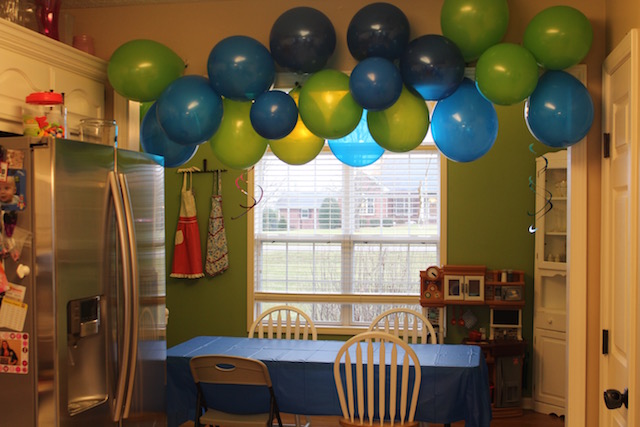 I printed off some Bubble Guppies fish (found those here) and taped them to our basketball goal for some "fishketball".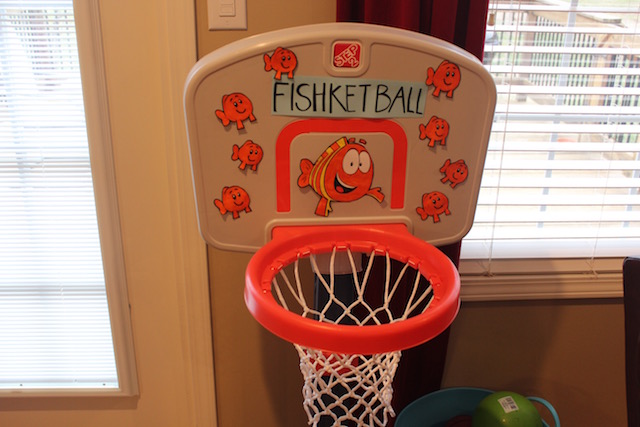 We also printed off Bubble Puppy and taped him to the bathroom door…for no other reason than because Hudson loves Bubble Puppy :).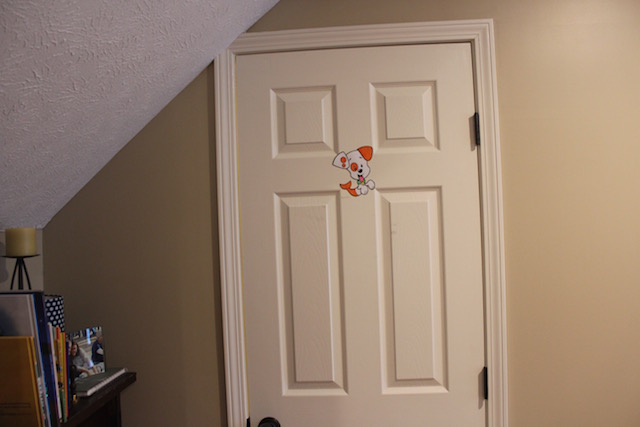 I wanted to do something cute on the coat rack/mantle/shelf but ran out of ideas and time so I just stuck Hudson's big Nemo fish up there and also this battery powered aquarium we have that lights up and fish scroll across the screen.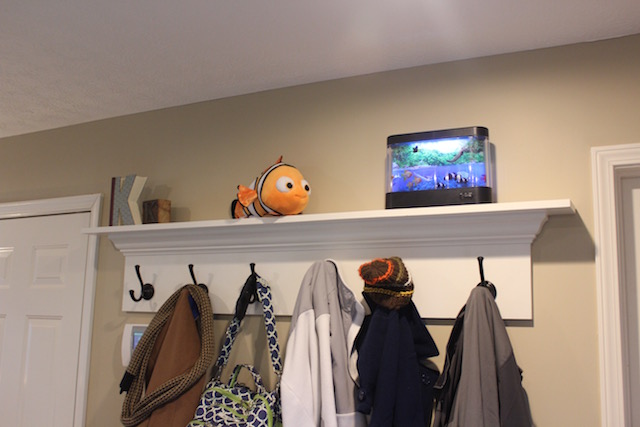 We had a variety of fish/sea themed snacks.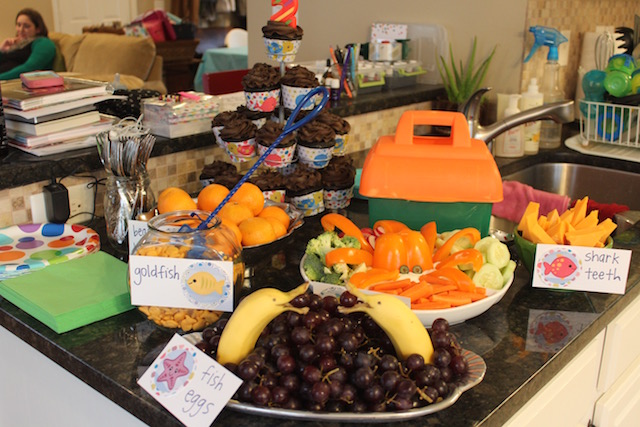 I skipped doing a decorated birthday cake and instead stuck to just cupcakes – chocolate cake with chocolate icing.  While I enjoy (to an extent) making cakes, it's definitely stressful and I knew that it just wasn't worth it right now.  Cupcakes are insanely easy to decorate compared to cake, much less time consuming, and just as yummy.  I found some free printable cupcake wrappers here and those jazzed up the plain cupcakes.  I also got to use a cupcake stand I bought years ago and had never even opened!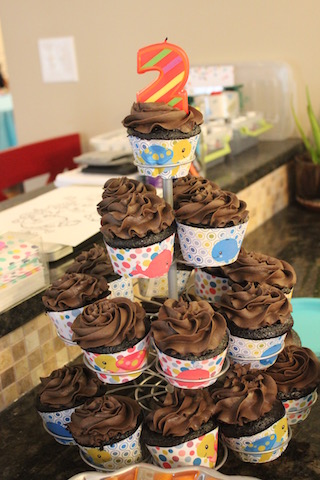 Bananas turned into dolphins and some grapes.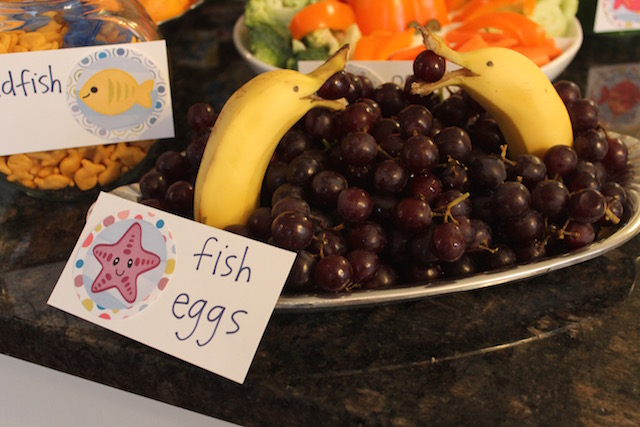 Cutie or Halo (can't remember which ones we got) orange "beach balls"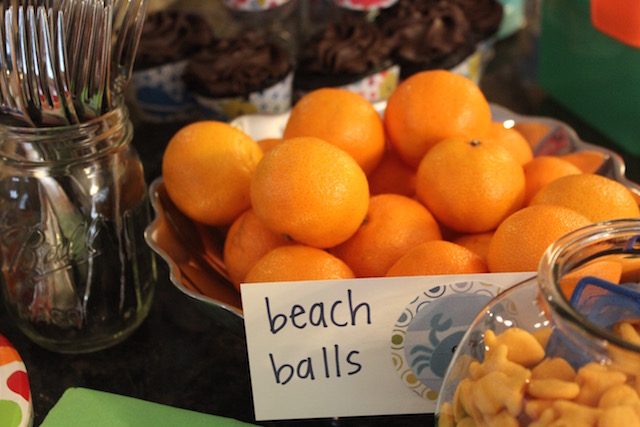 Goldfish crackers in a (clean and unused) fishbowl served with a (clean and unused) fish net.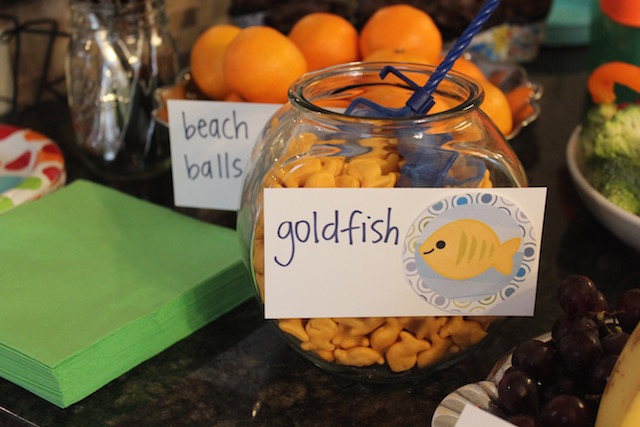 Veggies and dip with a bell pepper octopus on top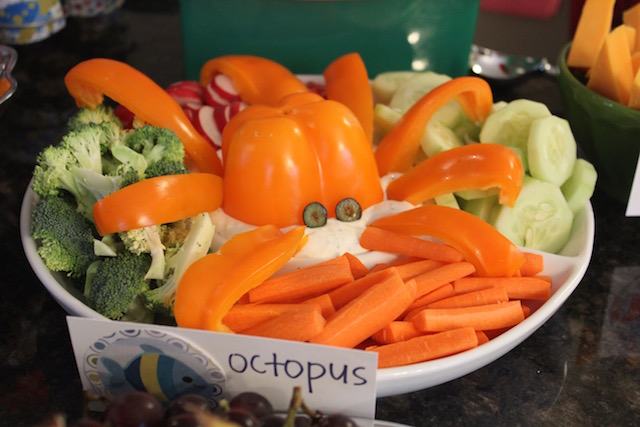 Cheese cut into triangles for "shark teeth"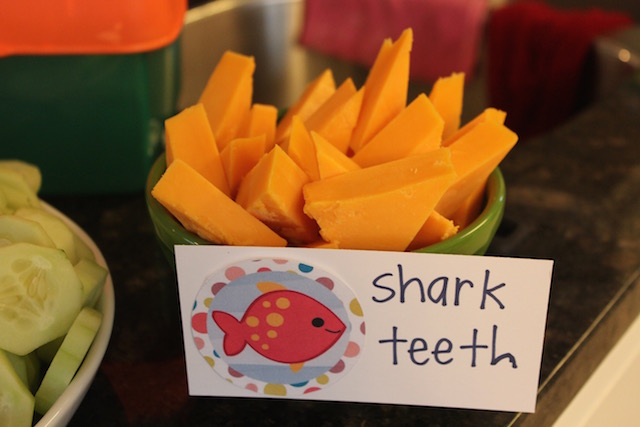 The circle fish that I cut out and added to the labels came from the same place as the cupcake wrappers.
I forgot to take a picture of the party favors but I just did a little bag with a bottle of bubbles, a snack pack of goldfish crackers, and these light-up squishy balls that I bought at Party City that looked kind of like sea urchins.
Hudson very rarely gets sweets so he thoroughly enjoyed eating his birthday cupcake!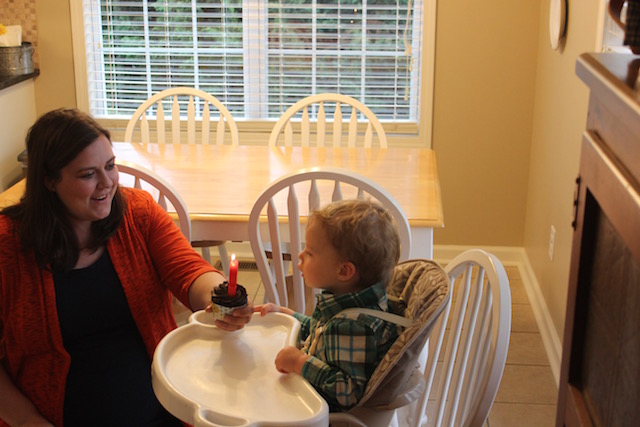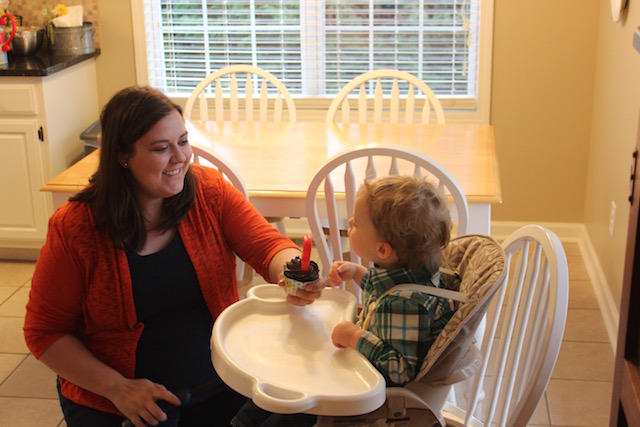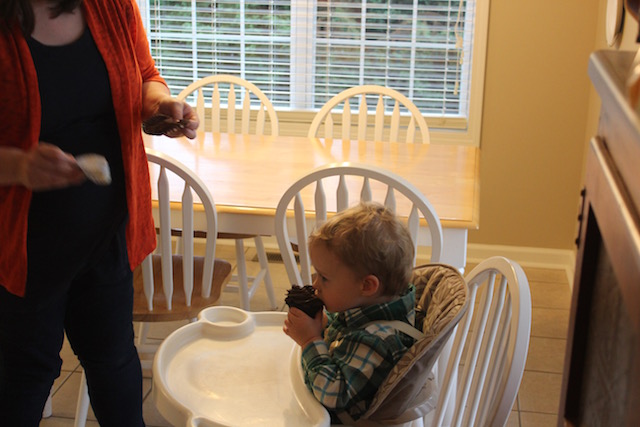 All in all it was a super fun party!  I had just about zero stress and was pleased that we were able to do a cute, themed party without a bunch of work (although I have to say that Michael, my mom, and my brother did a ton of the decorating and food prep…without them it would have been very stressful and lots of work so I'm incredibly thankful for their help).  And of course Hudson had a blast and that's the main thing.
Happy (almost) birthday, my sweet boy!