And just like that my baby turned two!  What a crazy, amazing, FAST two years it has been.
growth
We had Hudson's 2 year check up earlier this month (got it done a few weeks early since his birthday was so close to my due date).  He weighed just shy of 29 pounds and was 35 inches tall.  He hated every second of his appointment and screamed through the weighing, the measuring, the stethoscope, etc. (at least she had no problem looking down his throat…)
He's wearing 24 month and 2T clothes currently, although some 24 month pants are already too short.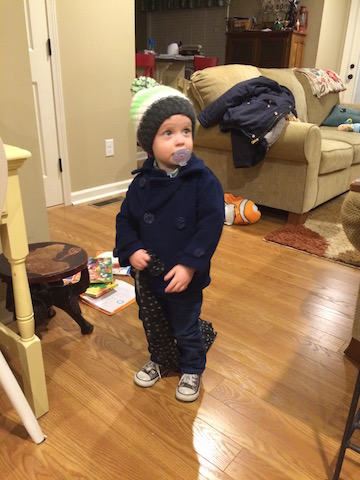 communication
There is no way for me to keep up, especially because he will now repeat just about any word you say.  Some new ones that I did get written down this month were football, thank you, bed, soccer ball, Nonny and Gil (the names of his favorite Bubble Guppies characters), cupcake, goldfish, and (my favorite for sure) "I love you".
He's been adding more phrases (like "thank you" and "I love you") and starting to talk in little sentences such as "see snow outside" "working car" (Daddy was working on the car), "eat goldfish", and "Bed, Daddy, Yay Daddy!" (he says this multiple times at night when we're going to bed talking about our new bed that Michael built).
food
I should probably drop this category because there really isn't anything new at this point.  One thing that was new this month (which I know will seem so crazy to most people) is that Hudson had his first chocolate chip cookie on his 2nd birthday.  I've mentioned it before that we are pretty strict about not letting him eat junk (there is seriously no reason in my mind for a one year old to eat much, if any, junk food…I'm not being judgmental if you chose to feed your child that but we personally don't see any reason for him to eat stuff like that, he'll get plenty of sweets later in life I'm sure!) and so he's had very few sweet treats in his life, but I made chocolate chip cookies on his birthday and let him have some.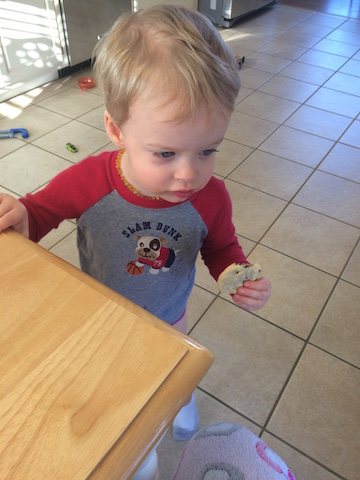 sleep
I was looking back at Hudson's one year update the other day and I had talked about how hard it was to go to sleep.  Well here we are a year later and it's still not very easy! His newest "thing" is that he kind of moan-sings himself to sleep.  Just this monotone moaning sound that he does over and over…it gets annoying quickly!  We had been having such issues getting him to fall asleep at night (it was taking 1-3 hours every night) that we decided to try changing up his wake and nap times to see if that helped so for the last week or so I've been getting him up around 7-7:30 (instead of letting him sleep to 8:30 or later) and we've been napping earlier and I make sure he doesn't sleep past 2-2:30.  I think this has helped.  We're still not having a super quick and easy bedtime but most nights he has been asleep in under an hour so that's progress!  Fingers crossed this keeps up.
We took the crib down from his room and moved it into ours for Parker.  In it's place we put a twin mattress on the floor.  We haven't actually used it yet but it's there for when we're ready to try Hudson in his own bed.  Michael built us a king sized bed (we were in a queen) this month and that has been very nice.  Hudson still takes up the majority of the bed (how DOES he do that?) but it's not nearly as cramped as it was.
new stuff
Hudson mimics us a lot – this month I noticed him trying to do thumbs up or thumbs down when we do that.  He's also started wiggling his eyebrows and it's hilarious!
He got a ton of new toys for Christmas and it has been fun to watch him play.  I'm not sure how to describe it but he's moved from just playing with his toys however to using them in the way they were supposed to be used, especially playing pretend.  For example, he got a play kitchen for Christmas and he acts like he's cooking, eating, washing his hands in the sink, etc. rather than just scattering the fake food around (although he does do that quite a bit too) like he would have in the past.
We got him a potty chair for Christmas and he likes to sit on it sometimes but he hasn't actually sat on it to go to the bathroom.  We aren't pushing it at this point and are just letting him get used to the idea of using the potty.  He definitely knows what it is and what you do with it, and he's sometimes tells us after he's pooped in his diaper, but so far he hasn't let us know before he did anything and he still wakes up wet after naps and in the morning so I think he's not quite ready to potty train for real yet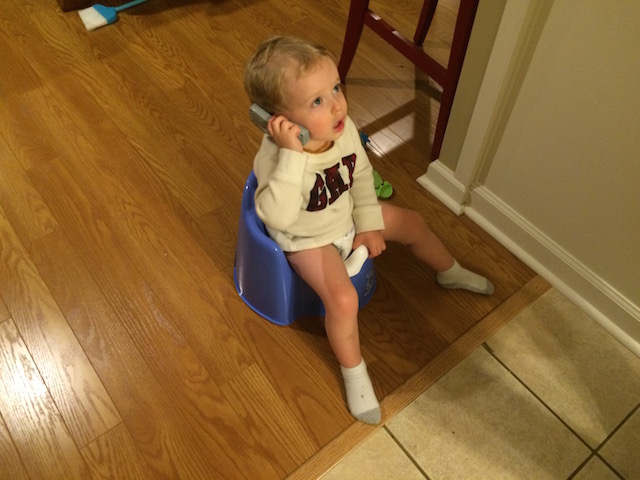 He learned how to open the doors in the house so we had to get those door handle cover things that make it where he can't twist the knob.  Just when you think you're done childproofing they find something new to get in to!
adventures
So many great adventures this month!
We celebrated Christmas this month with lots of family, food, travel, and new toys.  Here are a few (ok, a lot) of pictures from our Christmas festivities.
Playing with plastic food
Playing cars at his new Sesame Street table – just his size!
Ball goal!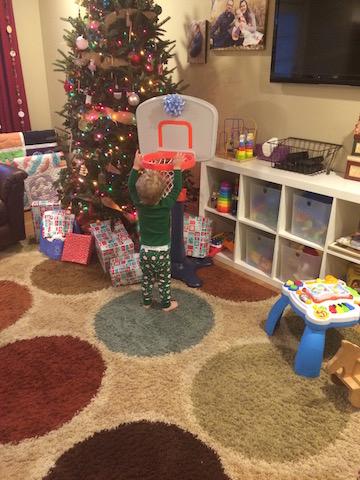 Christmas morning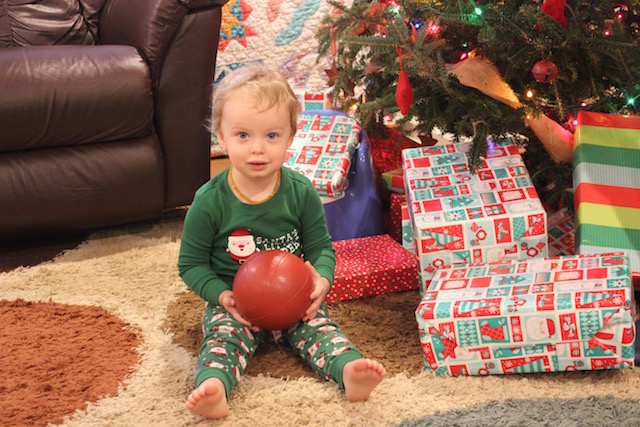 Checking out his laptop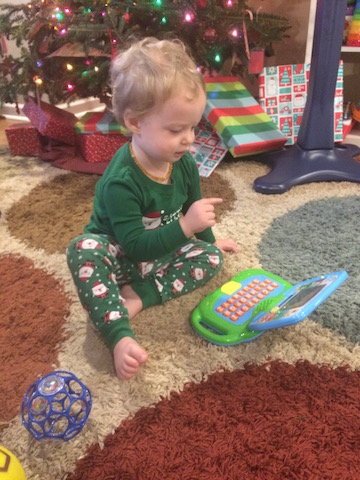 I found these goggles at Goodwill and he has worn them a ton – cracks me up!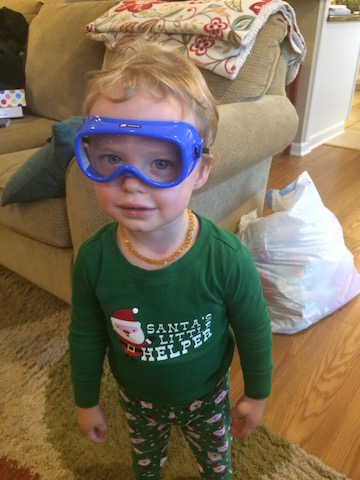 Our pitiful attempt at a Christmas morning family picture…this is the best we got!  Ha!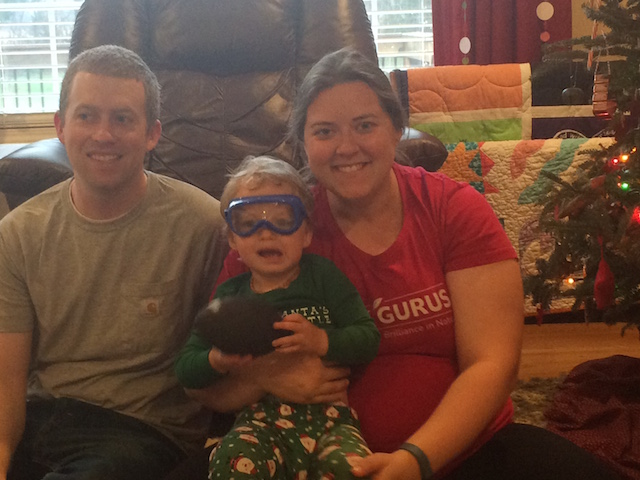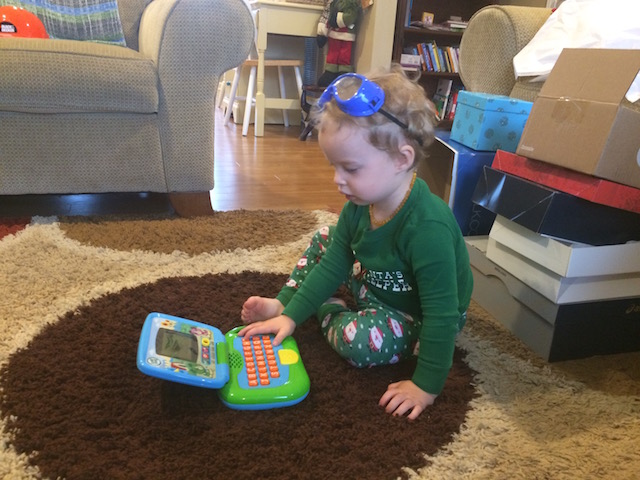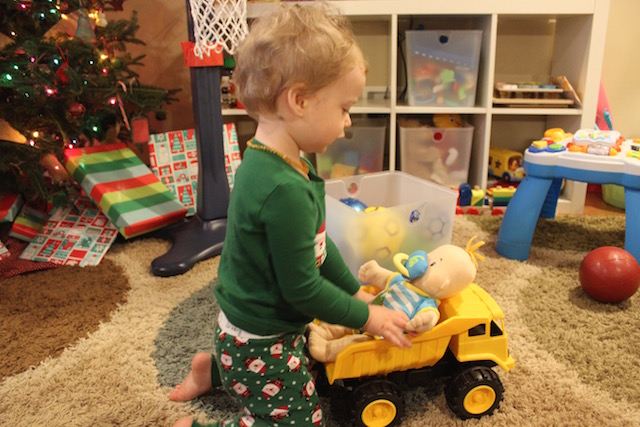 Sweet naptime snuggles on Christmas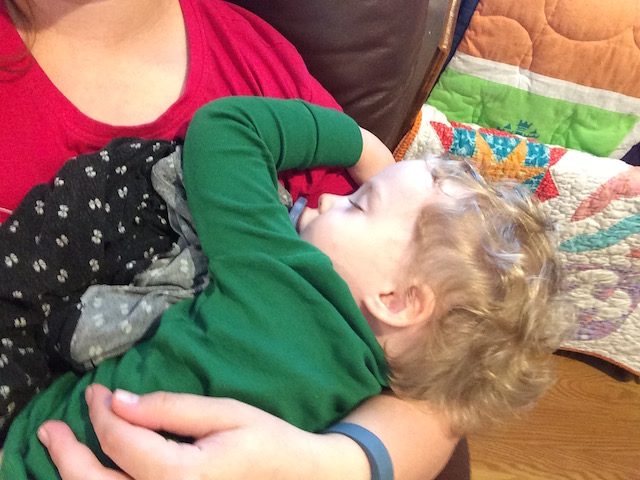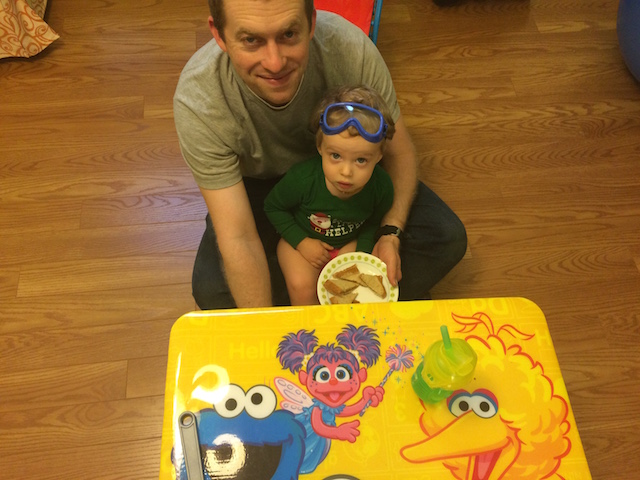 family picture Christmas night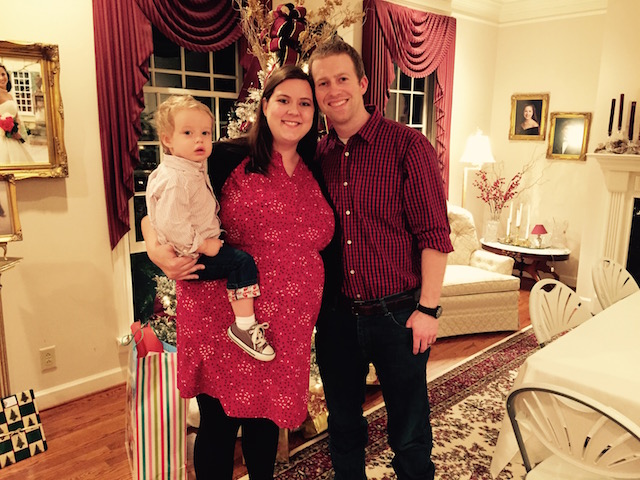 We also celebrated Hudson's second birthday with an "Under the Sea" birthday party (you can read about that here)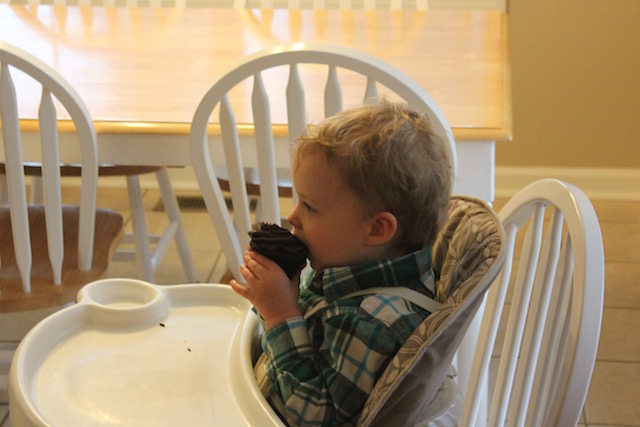 One big change this month was that we moved Hudson from the nursery class at church to the toddler class.  At our church the nursery class typically runs from birth (really whenever the parents decide to start bringing their child there for class which is usually at least 3 months old) to around two.  Then they move up to the toddler class (2 and 3 year olds).  I was nervous about it because he has literally been in the nursery class since birth – I used to go in there to breastfeed him when he was teeny tiny and then once he was about 3 months old I started setting him in the seat to "participate" in class with the other kids.  It has been so incredibly cool to watch him go from a baby who could barely sit up in the seat to an almost two year old who knows the songs and loves to sing along.
I wasn't sure how the transition was going to go but he did great!  Granted, this was just last Sunday so we'll see how he does going forward, but his first time at least was good.  He went in and sat right down.  He seemed more reserved than usual but they had snacks set out (goldfish and teddy grahams, which he almost never has) so I think that lured him in ;).  They said he participated in class and he didn't cry so that's good!
His last class in the nursery
comparison between the first time he sat in the seats in the nursery class and the last – such a change!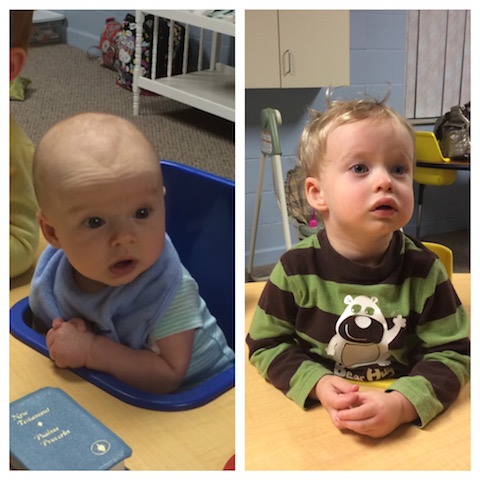 first time in the toddler class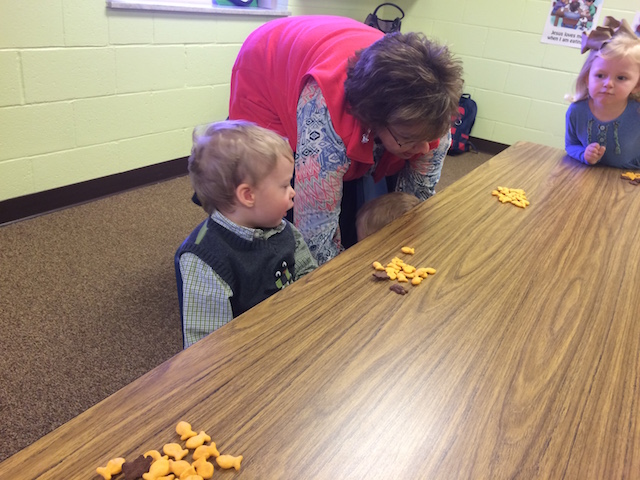 his teacher took a picture of him doing his playdoh activity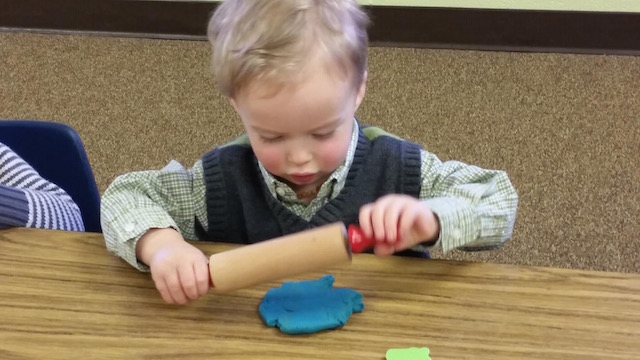 Then our most recent adventure has been Snowmaggedon2016.  We got our first snow of the winter on Wednesday, January 20 but then Friday, January 22 we got hit with a big snowstorm.  We had about a quarter inch of ice and then another 12 inches (or more, haven't heard final totals) of snow.  That's by far the most I've ever seen in my life!
Hudson really liked looking at it out the window and talking about it, but he wasn't a huge fan of actually playing in it.  On Wednesday we took him out and he cried and cried if we tried to set him down.  He finally just stood at the edge of the garage and would stomp his foot in the snow but wouldn't take more than one step.  Then after our huge snow Friday we took him out twice Saturday.  He did better – he liked kicking it and throwing it and even helping to knock snow off the car but he never would actually walk in it.  He fell down twice on the ice but didn't get upset or cry at all, which surprised me!
Watching the birds and looking at the snow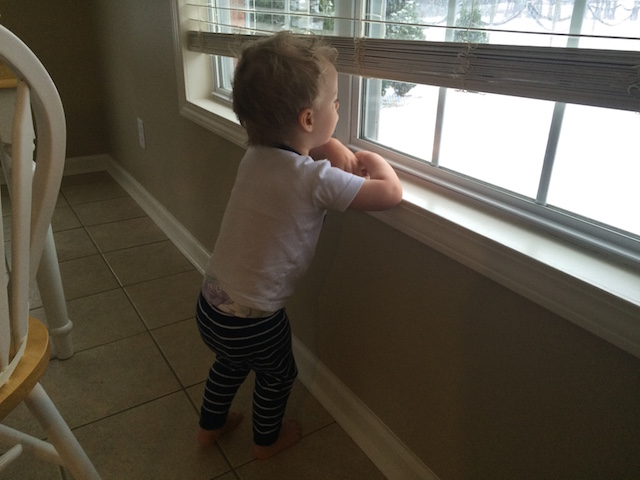 Ready to go outside!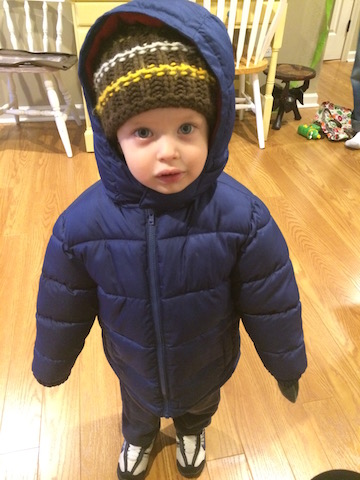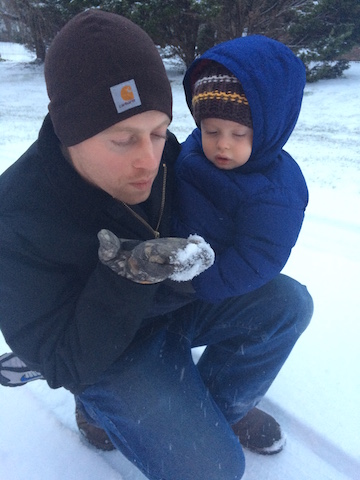 This is as close as he wanted to get! (this was Wednesday, just an inch or two)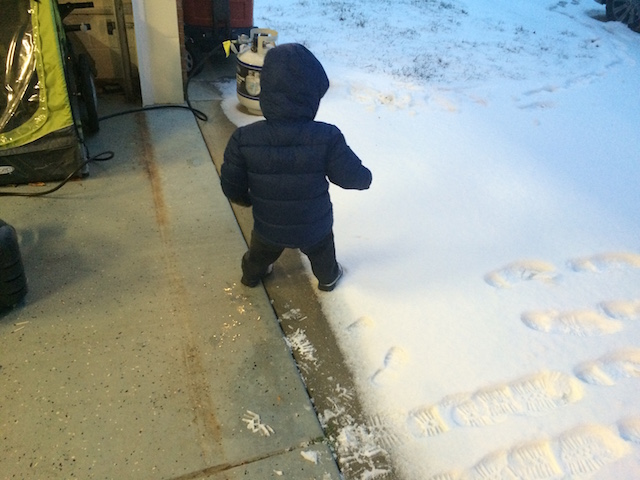 Watching Daddy clear the 12 inches on Saturday with the snowblower – Hudson really liked watching this!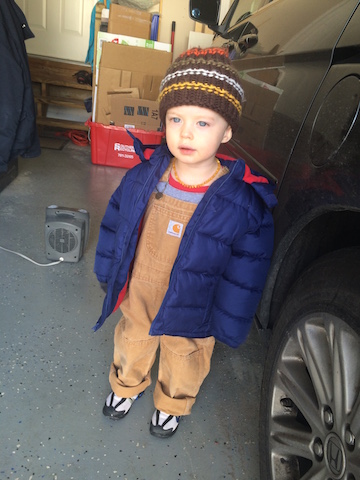 Not quite as scared once Michael had cleared the snow off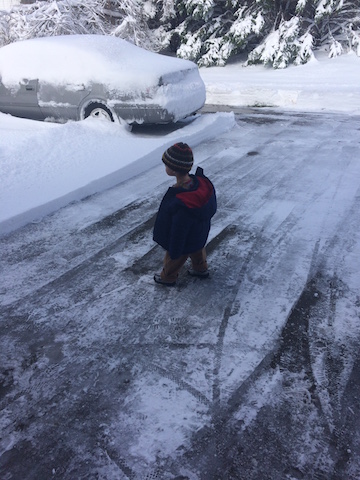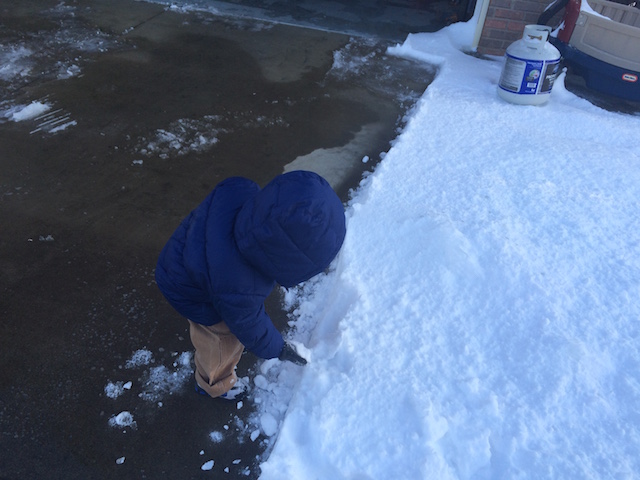 Helping Daddy shovel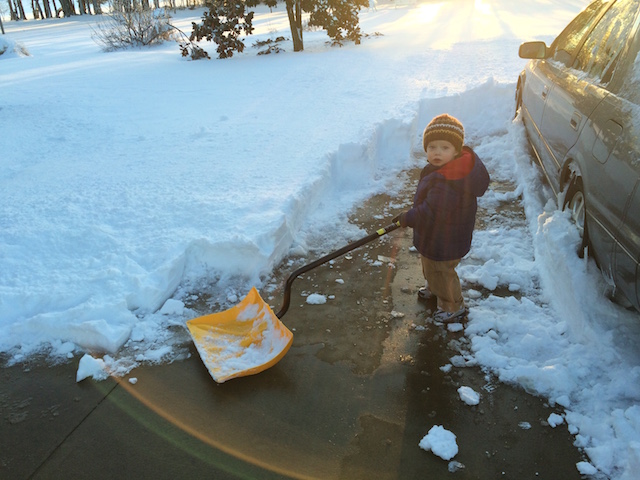 other stuff
My mom came to help clean the house to get ready for Parker.  Hudson of course had to help – Mom was wiping the walls down with her Swiffer and Hudson went and got his little mop to do the same.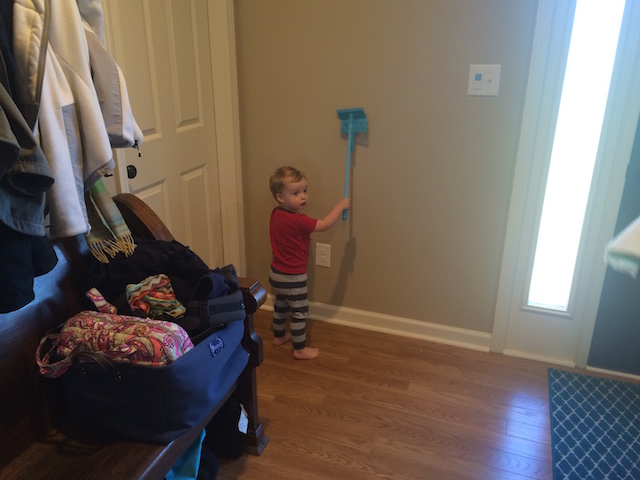 "Drilling" the wall like Daddy to help build shelves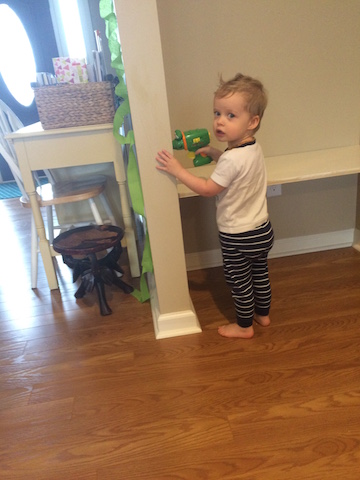 Michael was leaned up against the counter typing up an email and Hudson grabbed his "phone" (a calculator) and mimicked him.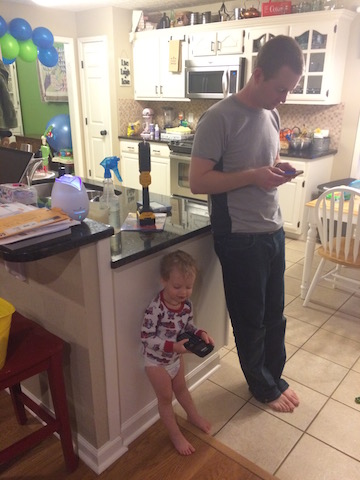 He put on the oven mitts and tried to open the door (thankfully he is not strong enough to get it open!)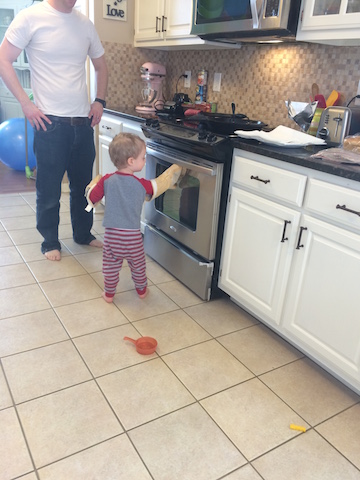 Sweet sleepy naptime snuggles on his birthday.  Two years old and independent but still loves to snuggle with Mommy :).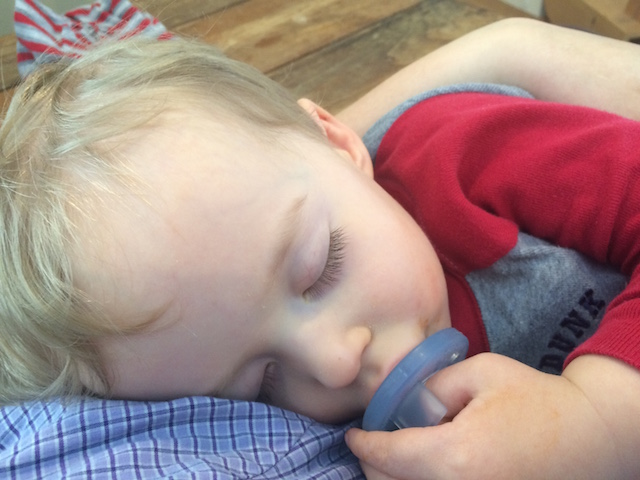 Happy birthday my sweet, precious boy!  Mommy and Daddy love you so much!
Some throwback pictures:
Just born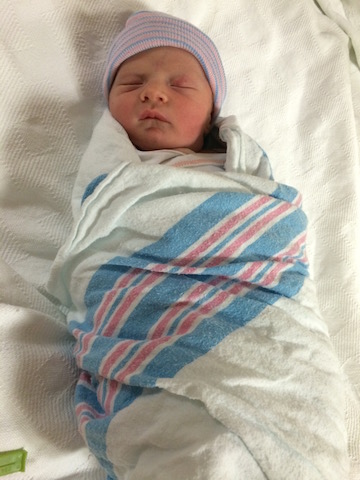 one year old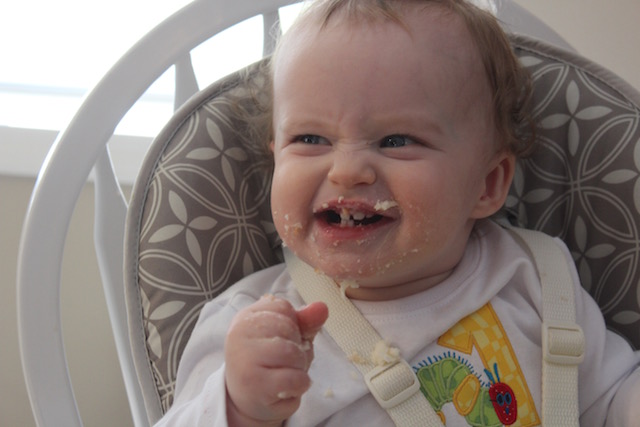 two years old