How far along – 40 weeks!  Today is my due date!  I know due dates are just estimates and it could still be a while but it's still exciting.  I guess we can say now that we will definitely be having a February baby!
Doctor updates – I went Friday but there isn't really any news.  I've been opting out of all my cervical checks other than the one I had about a month ago so I have no idea how much (it at all) I'm dilated/effaced.  My doctor is awesome, very laid back and supportive of natural methods (which is why I picked him) so he's totally cool with the fact that I'm planning to just let nature run it's course and continue on being pregnant until my body says it's time.  He said that if I'm still pregnant by this Friday's appointment he would like for me to get an ultrasound to check on Parker and my amniotic fluid levels but other than that he's good for me to keep on keeping on.  He was actually telling us that when he did his medical training they never induced someone before 42 weeks unless there was a severe medical reason – that has definitely changed a lot in the past few years!  I certainly hope I don't have to go all the way to 42 weeks though!
Labor symptoms – Contractions for the last week but not regular or strong, really barely even enough to make me take note.  They're mainly in the evenings and stop when I rest.  Other than that, nothing!  I've still been able to sleep great other than having to get up to go to the bathroom two or so times.  I'm feeling really good as long as I don't overdo things.  On days where I've been cleaning or on my feet a lot I'm so sore and achy by the end of the day but as long as I'm resting a lot then I feel fine.
Labor thoughts – Last weekend I thought I'd be going into labor any second.  Now that a whole week has past and nothing has happened I'm going about my business not really thinking about it.  I am nervous about labor itself since I had such a horrible experience last time, but I've been trying to tell myself that it's going to be totally different this time around.  I'm praying for a much quicker and easier labor and delivery!
Prepared feelings – Last week I was DONE physically.  I didn't feel good and just wanted Parker to come out.  That feeling has passed and I feel pretty good.  I'm definitely sore and uncomfortable and awkward but it's not horrible.
My mom came again this week and we spent a few hours cleaning our bedroom and bathroom so now our whole downstairs has been spring cleaned (other than pulling everything from each drawer) and our upstairs has been lightly cleaned.  Since our house is nice and clean now I'm mostly just trying to keep it picked up and tidy and the laundry caught up.  I had all kinds of projects on my wishful to-do list that I've been able to knock out since I keep staying pregnant!  This past week I got Hudson's baby book caught up, filled out what I could in advance for Parker's baby book, sewed some cloth napkins, and I'm currently working on a quilt for Parker.
I went Wednesday morning to my favorite fabric store and bought all the fabric, cut the squares out that afternoon, and that evening pieced the top together (it was the easiest and fastest quilt I've done so far!).  Since then I've been working on quilting it during Hudson's naps and after he goes to bed at night.  I'm over halfway done so depending on how much longer Parker decides to stay in I just might get it done!  I never thought that would happen!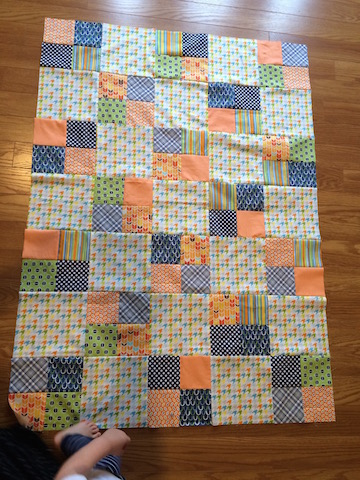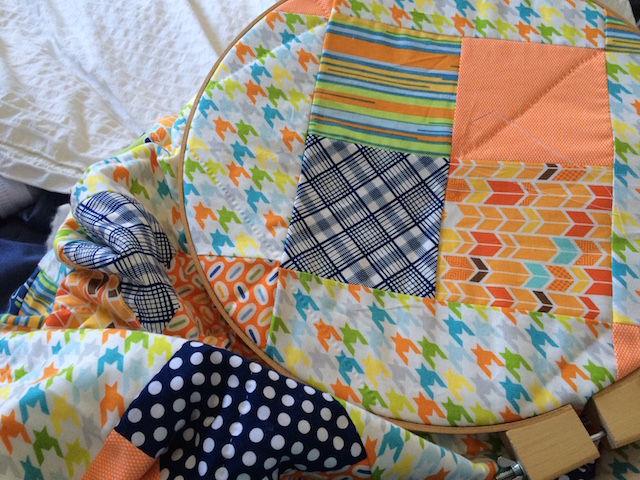 The double stroller we bought arrived this week too.  I had picked out a Bumbleride Indie Twin as my double stroller of choice and it's a rather expensive stroller (of course…I always tend to have such expensive taste and definitely not on purpose!).  I watched Craigslist and some other bargain places for weeks with no luck before it finally dawned to me to try ebay.  We found several for really good prices so we ordered one!  Contrary to this picture Hudson really liked it and has wanted to go "ride" a lot.  If the weather stays warmish then we'll probably take it out for some walks this week.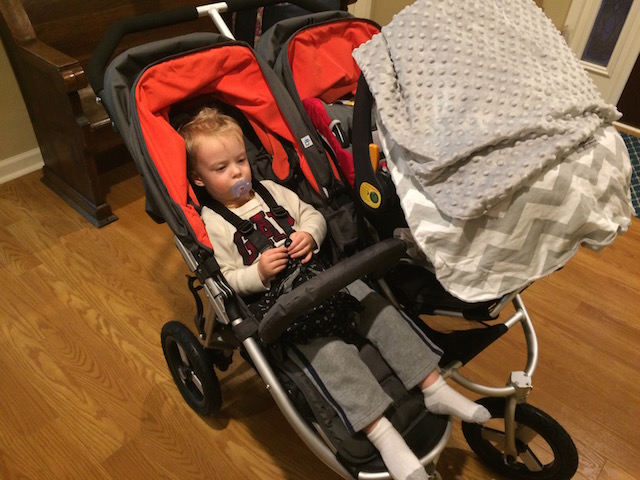 Mentally I'm not sure I'll ever be *totally* ready but now that I've gotten so many things done that I wanted to get accomplished I'm feeling more settled.  Last week if I had contractions I would hope that it wasn't the real deal because I wasn't ready.  Now I think I'll be ready and accepting whenever it decides to happen.  I'm still not in a rush or anything though!
Other thoughts – Just hanging out waiting!  I'd love to get Parker's quilt done because then I will have truly finished everything on my to-do list and I'm obviously fine if that doesn't happen but that's my project to work on as I wait.  We are supposed to have some bad weather this week (possible tornados on Tuesday and snow this weekend) so I hope to avoid that!