I have to tell you, Michael is a rock star.  If he decides he wants to learn something or do something then by golly he will.  When he mentioned a few months ago that he wanted to build us a new bed I was like…okayyyyyy.  I mean, he's done some minor woodworking before, but a bed?  That's a pretty big project.  I knew he could if he wanted to but I wasn't sure that he was serious.
He was.
We had decided that we wanted to get a king sized mattress and of course would need a new bed since our old one was a queen.  Instead of buying a bed frame, Michael made ours.  He researched and looked up plans and we picked out a design.  It took him several nights working hard out in the garage and then voila…we had a bed!  And it's GORGEOUS!  I love it!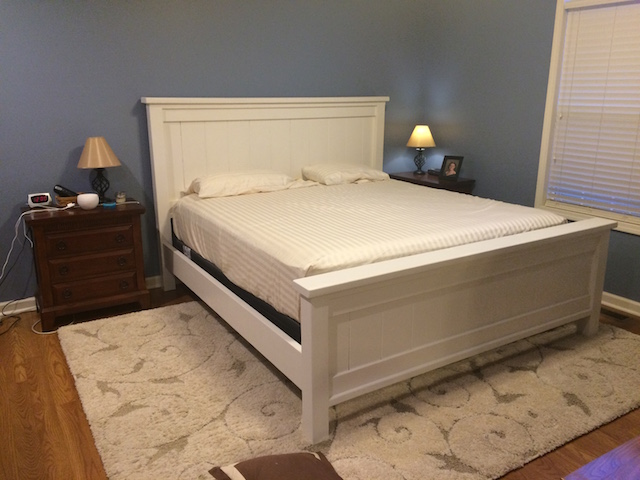 We didn't center it on the rug and instead pushed it over to one side because Parker's crib is now attached to my side (I don't have a current picture, but we turned his crib into a cosleeper so it's attached to the side of the bed next to me so I can access him easily but he has his own space too).
For comparison, here is our old bed right before we made the switch.  Isn't the new one a million times prettier?  Plus it is SO NICE to have a king now and much more room.  I still need to get a new comforter or duvet – right now we're using our old queen one and it's obviously not big enough but that'll be a project for another time.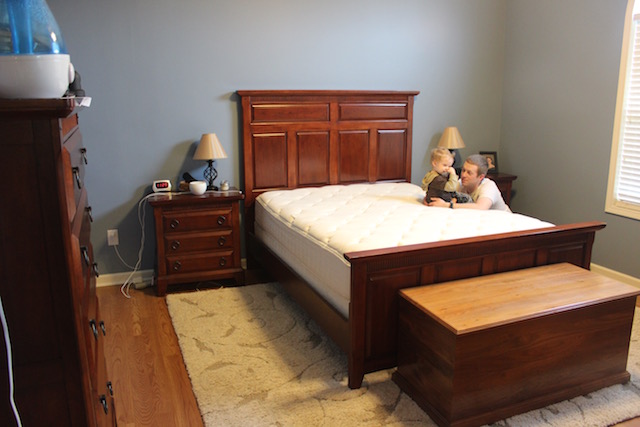 The other big home update we've done recently is that we added some built in-type shelves in our living room.  We had this nook by the bathroom and my mom had a bookshelf that fit there perfectly.  It was actually a shelf from the one room schoolhouse that my Mema (my mom's mom) attended so it's got a cool history and it's very rustic and old, which I like.  However, as Hudson has gotten older I started to get nervous that he would pull it over on himself and as we acquired more and more books (par for the course when you're a former librarian…) we were running out of space on the shelf.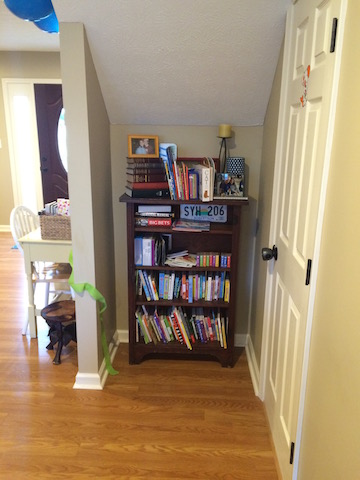 I started thinking that building some shelves right into the wall in that nook area would be perfect.  Michael had done some similar ones in our bathroom a few years ago so I figured it wouldn't be too hard for him to do some more.  And of course, he did a fantastic job!
…with a little help from his carpenter assistant, of course!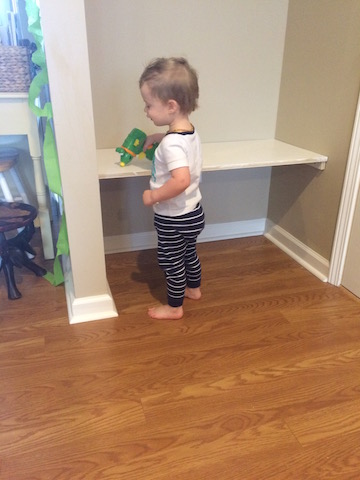 Completed shelves!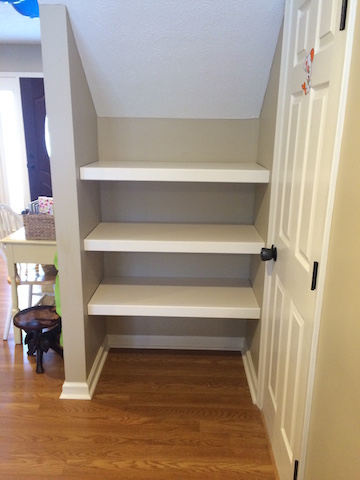 We gained so much space by filling in that whole area with shelves.  I was able to bring down all the other books we had upstairs in Hudson's room and fit them on there too.  The shelves are really deep – I'm thinking 15″ or maybe 18″?  Something like that.
Hudson is able to reach the bottom shelf easily so we put all his books that he's allowed to get out and read unsupervised there (aka board books that aren't easily torn up).  He can only reach the very edge of the middle shelf but not the books that are pushed to the back so we put his books that have paper pages there (he is not very gentle with them so books like that have to be read/looked at with an adult).  I think Michael has plans for the top to put some of our internet router equipment stuff up there but for now I just decorated it with some of the knick knacks I had on the old shelf.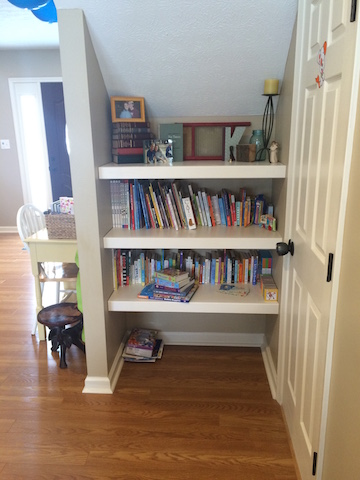 I found two bin/basket things at Target that fit great under the shelf.  One holds some overflow books and I anticipate that in the future when Parker is mobile/pulling up but not yet able to reach the bottom shelf we will put books in there that he can get out on his own.  The other one holds stuffed animals.  I loved that they were large, didn't scream "toys!" like so many of the plastic bins I found, and were on sale.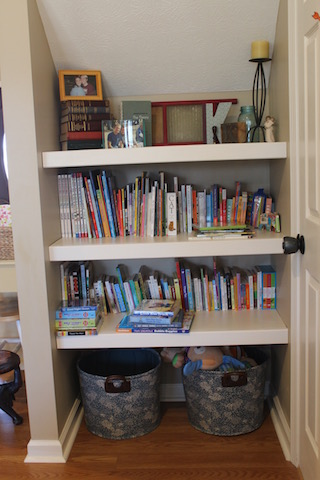 Here's a before and after to compare – I'm blown away by the difference!  The shelves just look perfect there…as if it was meant to be!
I'm going to take a wild guess that our home improvement projects are going to take a bit of a hiatus with a new baby arriving soon but I'm so pleased with what all we've done recently around the house – new bed and shelves, plus our gallery wall, toy storage, and entry way shelf.