Oh I am so behind on blogging and updates and all that jazz!  Adjusting to life with a toddler and newborn has been smoother than I expected but I'm still working on getting back in the swing of things.  And finding time to use my laptop is nearly impossible.  I'll get caught up eventually.
Right?!
Anyway, here's Hudson's 2 year, 1 month update (quite a bit late).
Obviously the big new thing this month is that Hudson is a big brother!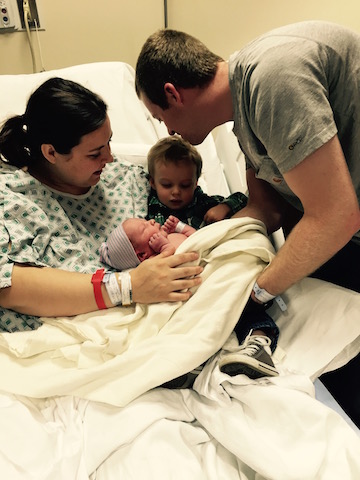 He is adjusting really well, much better than I expected!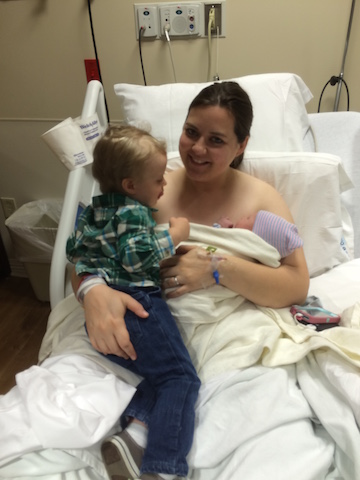 While I was in the hospital Hudson spent his first nights away from me.  My mom came and stayed with him at our house so he was in a familiar environment but I was still worried because he'd never been away from me at night and really not all that much during the day too.  However, he did great.  Mom said he talked about us and the new baby but he didn't cry for us or anything.  I was so proud!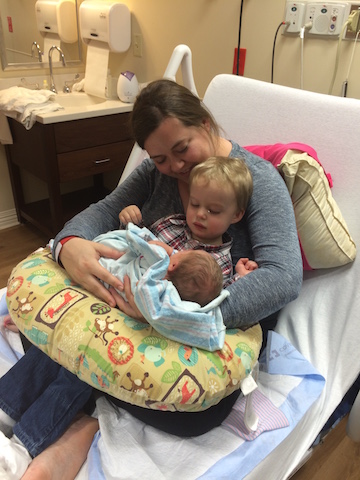 When we first came home from the hospital he didn't really pay much attention to Parker.  Michael and my mom were both there to give Hudson lots of attention himself so he was pretty occupied.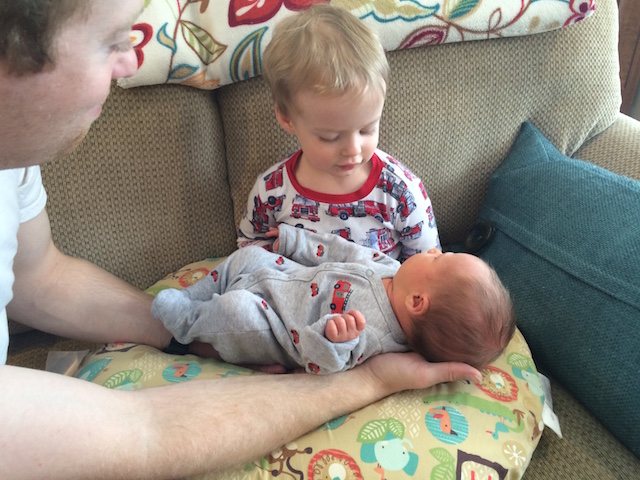 Since then he has gotten quite a bit more interested in Parker.  He gives him kisses, wants to put his paci in (sometimes…other times he wants to keep Parker's paci for himself), helps me throw his diapers away, likes to turn the music on when Parker is in the bouncy seat or swing, will bring me a burp cloth if I need one, etc.
For the first few weeks Hudson only called Parker "baby".  He wouldn't say Parker's name unless prompted.  I think he was confused because we'd talked about Parker being in my belly for so long that he didn't understand that the baby was Parker.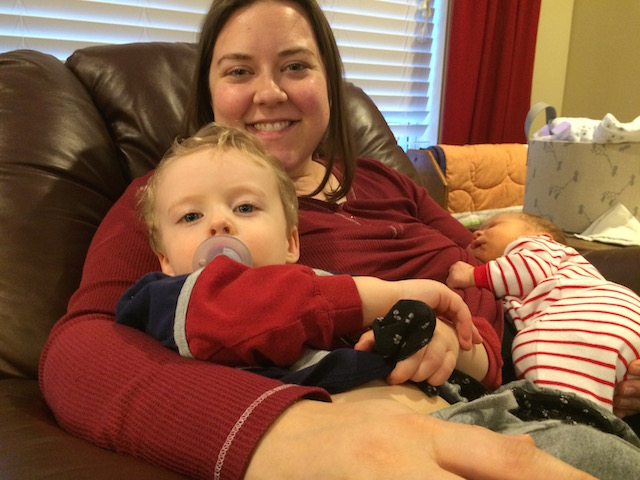 I was afraid Hudson would be jealous of Parker or disturbed when he cried but so far he hasn't had an issues.  I also wondered how he would react to me breastfeeding – even though Hudson nursed until he was 16 months I didn't figure he would remember that and I wasn't sure what he would think about it.  He hasn't seemed confused about it at all so that's been good.  In fact, if Parker starts to cry Hudson tells me that I need to give him some milk.  He knows better than many adults what a baby needs!
Now on to some other, non-baby related things….
skills and stuff
Hudson has started counting and identifying colors this month.  He knows when there are two of something (i.e. he'll pick up two pacis or two balls and tell you that there are two) and he will repeat after us as we count.  Two and five are his favorite numbers right now.  Other than identifying two things he hasn't started counting independently.  As far as colors go, he likes to call most everything green or blue but will say the other colors if prompted.  Green is definitely his favorite!
He has a Leapfrog Laptop that is one of the few electronic toys that I like.  It helps a lot with letters and animals.  He can identify a few of the letters but I'm not certain that he actually knows that letter…I think it's more that he knows where that letter is located on the keyboard, if that makes sense.
I found it interesting that the month that I've had the least amount of time to work with him (not that we really do any formal skills, we just usually talk about things while we read books, do puzzles, etc.) because of having a new baby is the month that he shows that he knows several new things.
We've been working on manners too.  He is really good at saying thank you.  He says please if prompted.  We started working on yes ma'am, no ma'am, yes sir, no sir but I think it's a little confusing since he doesn't know the difference between girls and boys (and sir and ma'am).
things he's interested in
He's really into calling everything "tiny" – tiny fishies, tiny beans, tiny baby, tiny bug, etc.  All women in pictures/books are mommies and all men are daddies.  If it's a small picture they are tiny mommies or tiny daddies.  He's so funny!
He loves to talk about nests and birds right now.  He also wants to sing All.The.Time.  I love to sing but the 10th time in the row I've sung the alligator song or the bicycle song or whatever else he's requesting that day I start to get a little bit tired of it.
Bicycles (or as he says it "bisicycles") are a big thing too.  Michael has been biking some days after work and pulling Hudson in the bike trailer and he thinks it's just the grandest thing ever…to talk about at least.  Once he actually gets in the trailer he doesn't care for it too much, but he loves to talk about the bicycle and Daddy going fast and drinking out of a water bottle.
He talks SO much!  It's absolutely adorable, although it does exhaust me sometimes.  I know what goes around comes around though and I was a big talker as a child (and an adult…) so it's no surprise my kiddo is too!
new stuff
This is actually something from right before he turned two that I forgot to mention in his 2 year update, but a big new development is that Hudson no longer watches tv in the car!  This is HUGE!  The iphone that we used for his videos kept messing up and when it would quit playing Hudson would throw a huge fit.  After a couple of times I'd had enough of that so I told him no more phone, took it down, and we haven't had it since.
He has done great!  He sits and looks out the window and he talks to us a lot more in the car now too.  We sing a lot.  I am just thrilled because we really try to limit screen time at such a young age and I hated that he watched so much tv in the car but it was really the best solution we found for all the screaming.  It's so nice to not have to use that anymore!
He got the downstairs baby gate open twice on his own and I was worried that he'd be escaping up the stairs all the time but he hasn't bothered it a bit since then.
Hudson also seems to have hit the stage where everything is "mine!".  This had never been an issue before but one of my friends and her little girl came over to visit after Parker was born.  Hudson has played with her many times before but all of the sudden he started being really possessive of his stuff and saying "Mine!".  I'm wondering if it had to do with all the upheaval of adding a baby to the family or if it's just his age.  It started while she was there and has continued.  Even if something isn't his (like our phones) he'll try to grab it and say "mine!".
growth
I meant to measure him but never got around to it.  I feel like he's gotten HUGE and I'm not sure if he went on a growth spurt or it's just because now I'm comparing him to a newborn.  Maybe a combination of both.  He did definitely outgrow all of his shoes sometime after Parker was born and all of the sudden nothing fit.
food
Hudson is still a good eater but we have gotten to where we have to negotiate with him a little (eat three bites of _____ and then get ______).  That usually works pretty well to get him to eat everything we give him and not just his favorites.  Current favorite foods are avocados, butter (he'd eat just straight butter if we let him; as it is he'll pick the butter off his toast, eat that, and then eat the toast dry after. Eww), blueberries, pretzels, and goldfish (a treat he gets at church in Sunday school and occasionally at home but he talks about them all the time!).
(Trying to cook like Daddy)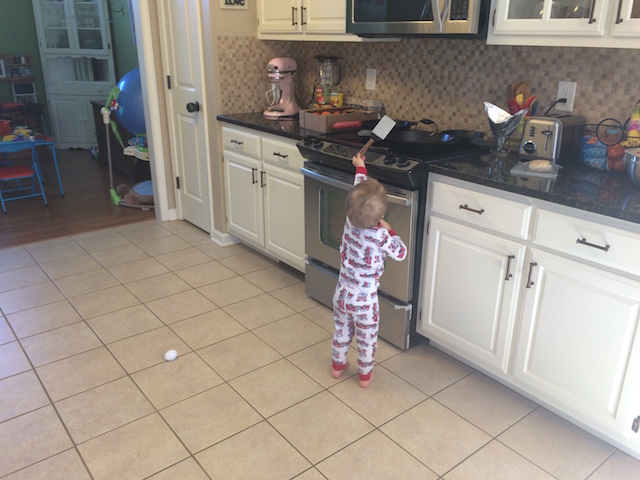 sleep
I was rocking him to sleep for naps up until Parker was born (literally…I rocked him to sleep while in labor and then delivered Parker less than two hours later! Ha!) but now I can't maneuver that anymore so I lay down with both of them and after 15 minutes or so of flopping around he falls asleep.  Bedtime isn't so easy.  Pre-Parker I put him to bed most nights and laid with him until he fell asleep.  Now Michael does because it takes so long (around an hour most nights) and Parker usually needs me at some point during that.  Hudson is still in our bed – so glad we got that king bed!
(Snuggling and rocking while I was in labor)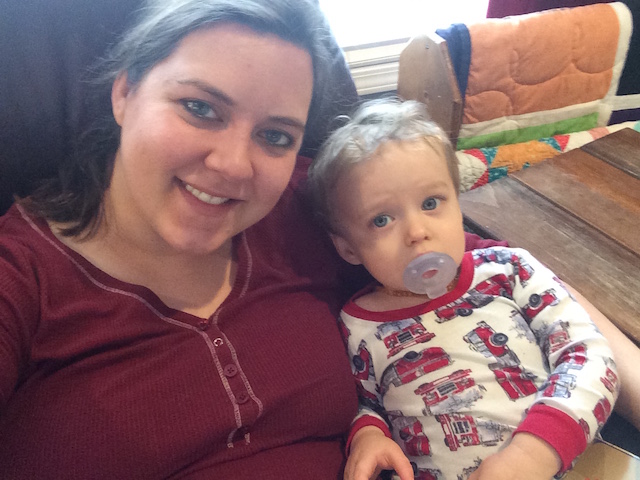 (What nap time looks like these days)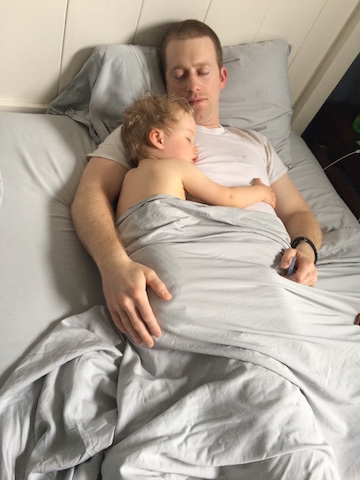 potty training
We still haven't started but I can tell Hudson is becoming more and more aware. He'll tell us "pee pee poo poo!" sometimes, especially after he has pooped.  He likes to talk about going to the bathroom a lot, when other people go, when Parker needs a diaper, when he pretends to change his baby doll's diaper, etc.
picture dump from this month!
Helping Michael wash the van on a semi-warm day after our big snow.  He got soaked but had a blast!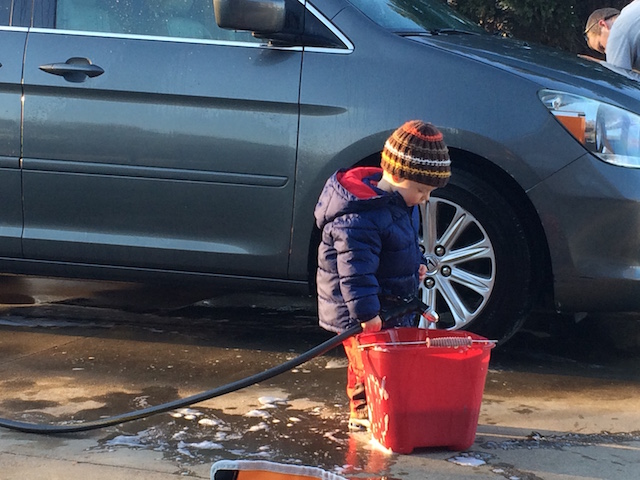 Trying out our new double stroller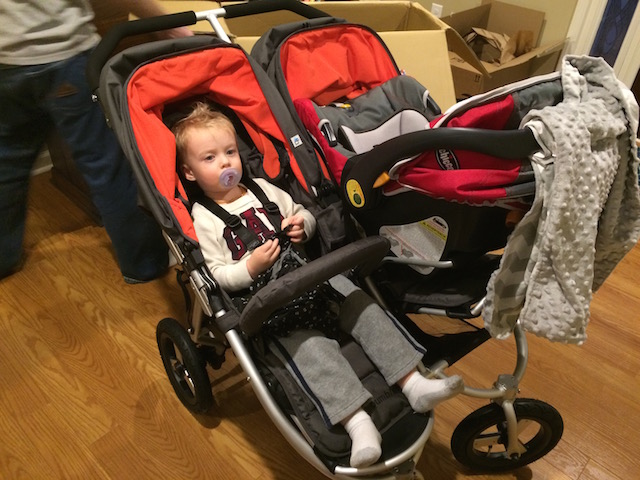 He put on one of Michael's sock hats, which was of course way too big, and I thought it made him look like a hipster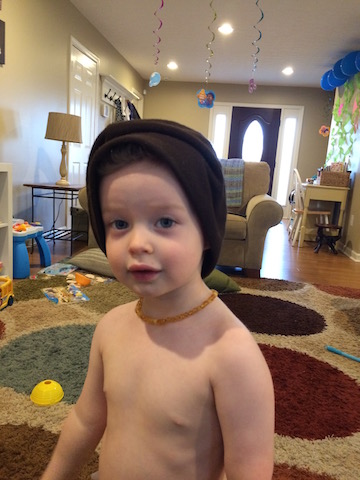 Sometimes he puts fuffles (his security blanket that is actually one of my old sleep shirts) on his head and pretends he's "Ho Ho" with a beard.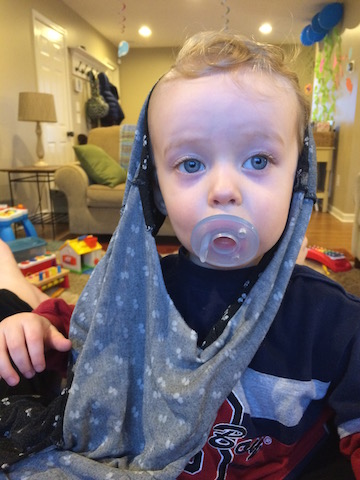 Putting one of his baby dolls in the swing – he was so sweet to share fuffle with the baby too
He loves to build!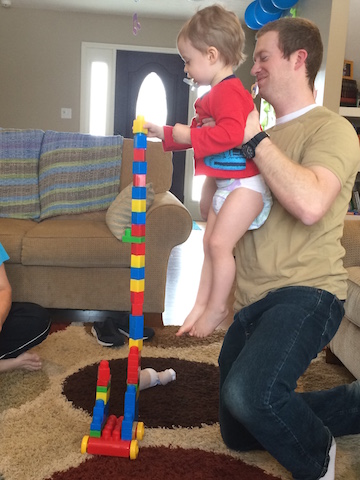 He loves playdoh too!  That keeps him entertained for hours!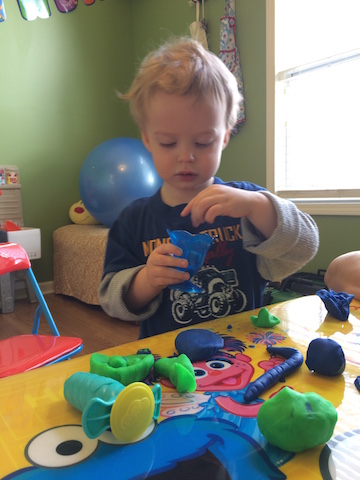 He likes to sit in one of Parker's baby seats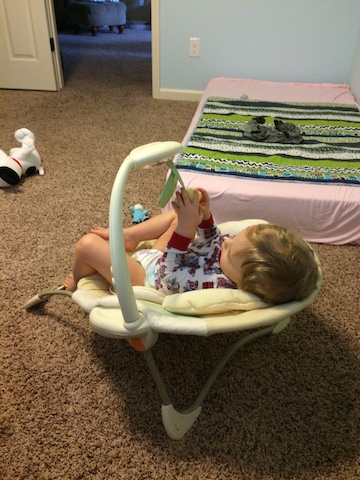 Michael and Hudson got me roses for Valentine's day.  So sweet!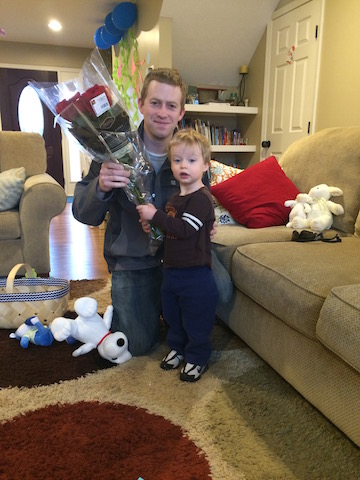 Reading my Valentine's card to me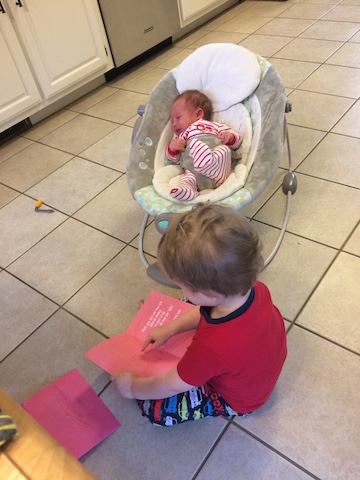 Taking good care of his baby – all swaddled up in fuffle.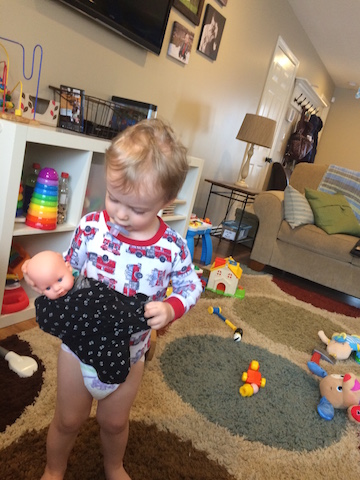 Love my three boys so much!

He likes it when his pants have pockets.  Doesn't he look so big!?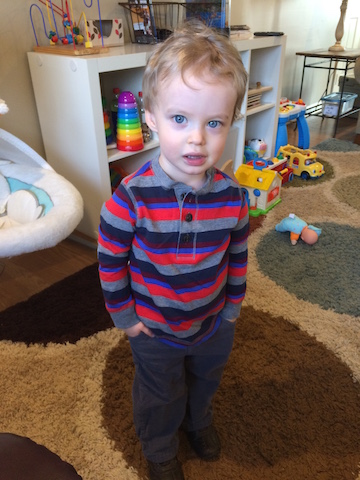 Going out for our first stroll post-Parker!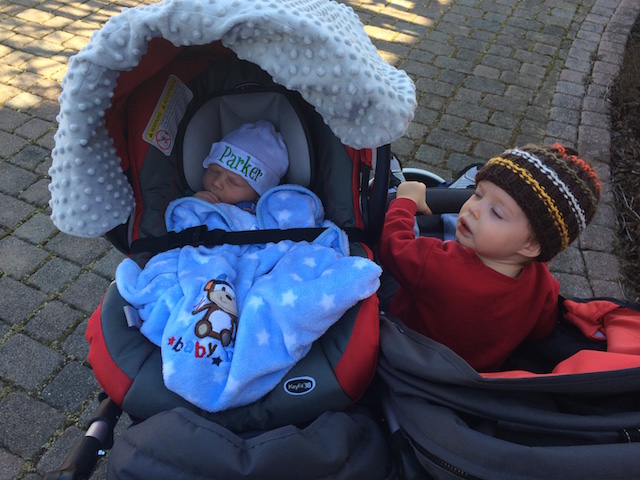 Helping Parker talk on the "phone" (aka a calculator)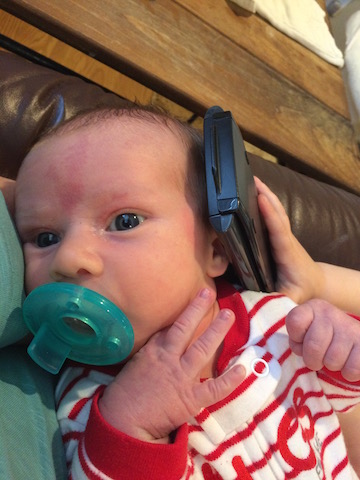 Hudson found a branch from our magnolia tree and gave it to me, so of course I had to display it!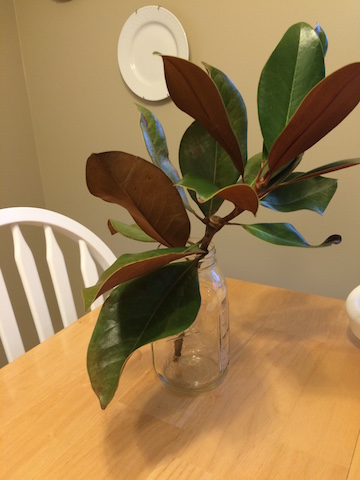 What a month!  It's been hard but fun and amazing to see my baby grow up and become a big brother. Having Parker really made me realize how big Hudson has gotten.  He'll always be my baby but he's such a fun toddler that I'm not *too* sad that he's growing up.