Welllllll I'm already behind!  Ha!  Parker is nearly two months old now and I'm just now getting around to doing his one month update.  I wanted to do a detailed post about his first week since everything is so new and exciting and busy…I haven't gotten that done yet so I'm going to go ahead with his one month post and then maybe at some point I'll be able to go back and do the first week one.  We'll see.  It is SO hard to find time to sit down with my computer and get anything done right now as we adjust to life with two kiddos.
Anyway, here's a big photo dump from Parker's first month.
Parker's very first picture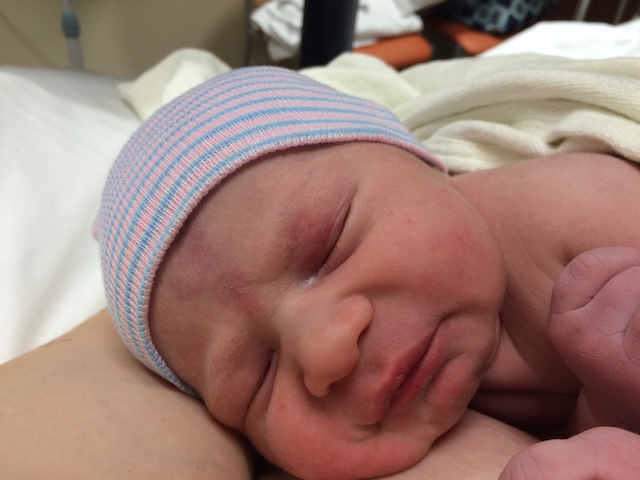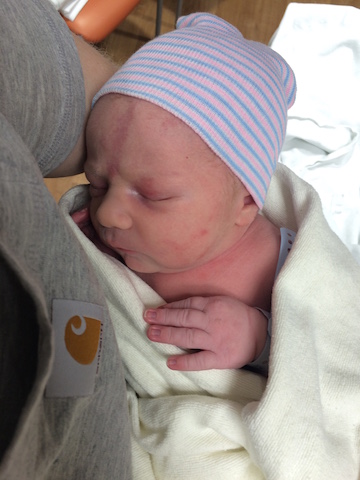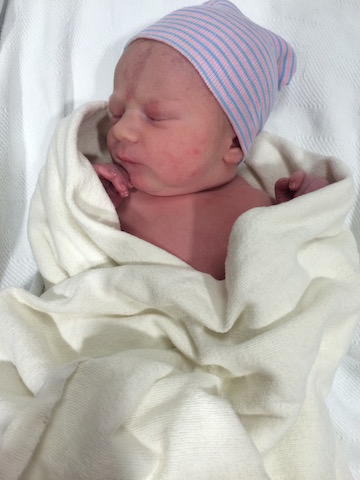 Hudson meeting Parker for the first time.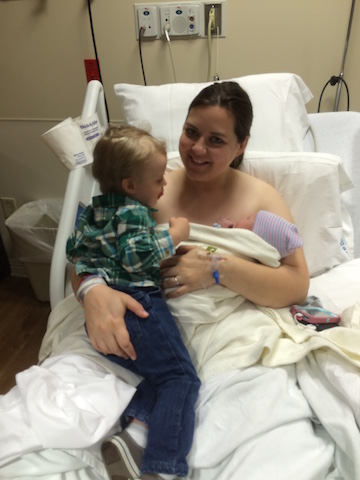 First picture as a family of four!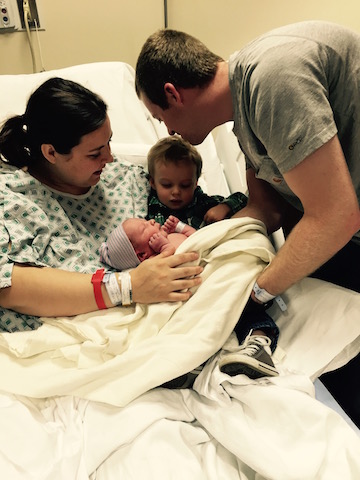 Snuggles with Daddy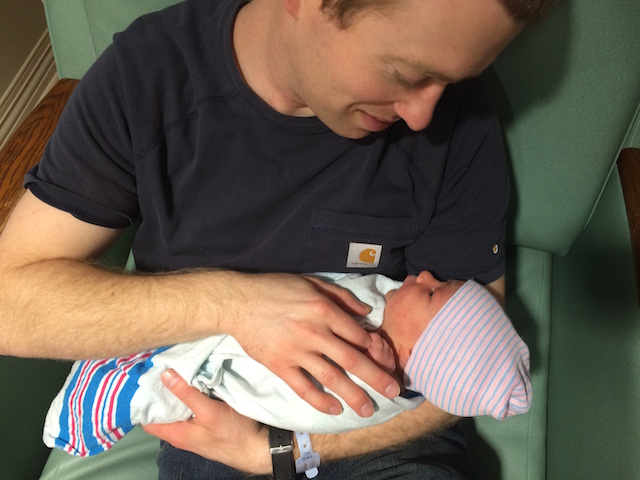 Cute personalized outfit for hospital pictures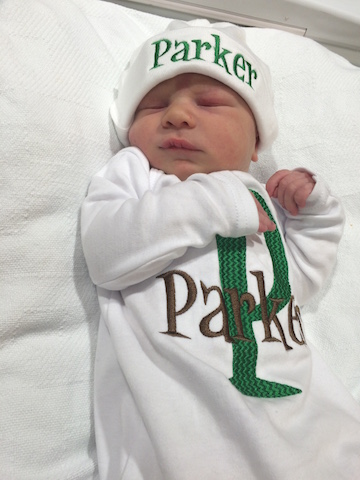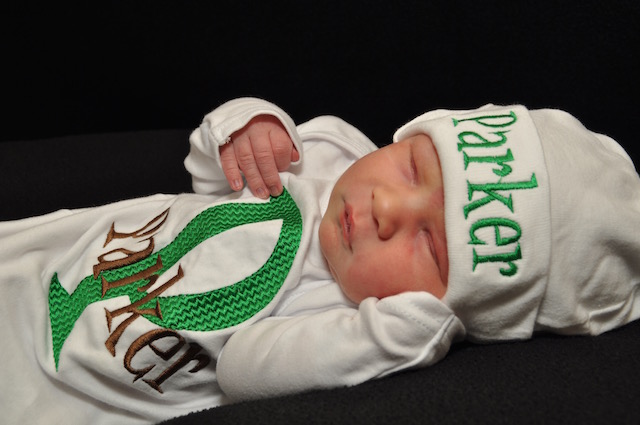 One day old, hanging out in the hospital room with Mommy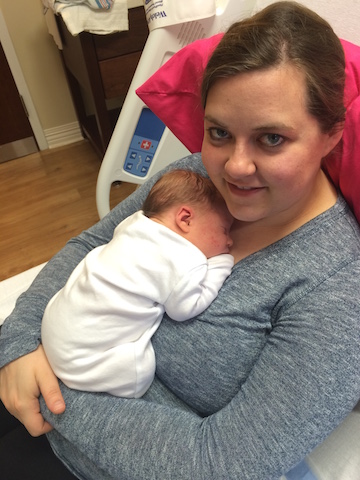 Look at that sweet face!!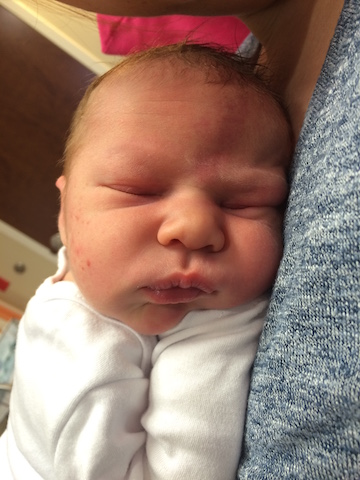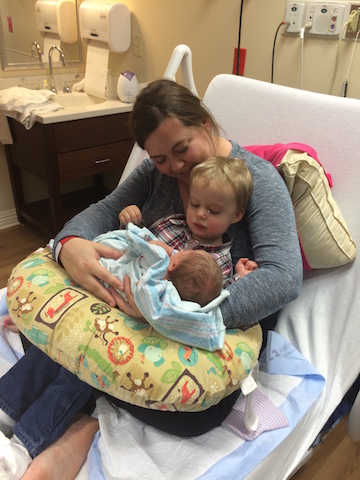 Heading home!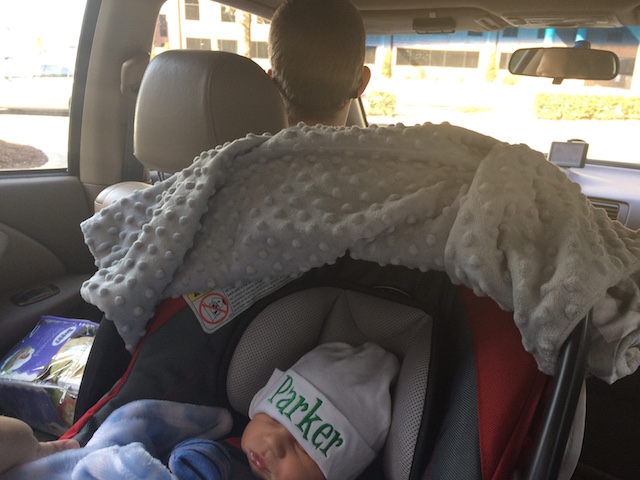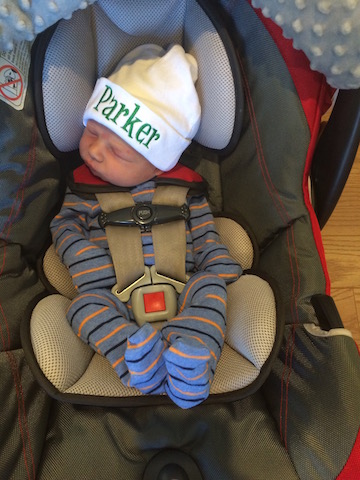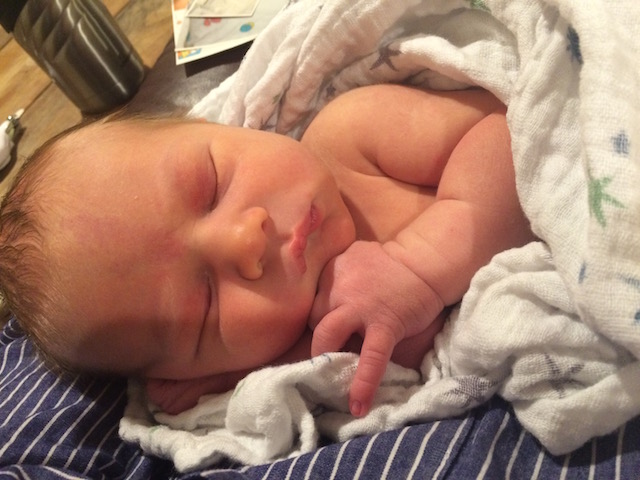 Both of our boys snoozing.  We turned Parker's crib into a cosleeper that is attached to our bed…however, he doesn't sleep in it much, mostly he sleeps in the bed next to me. Speaking of sleep (because this is one of the most commonly asked questions) Parker is a pretty decent sleeper for a newborn.  He wakes up every 2-3 hours in the night to eat but then goes right back to sleep.  Thankfully he's not wide awake during the night.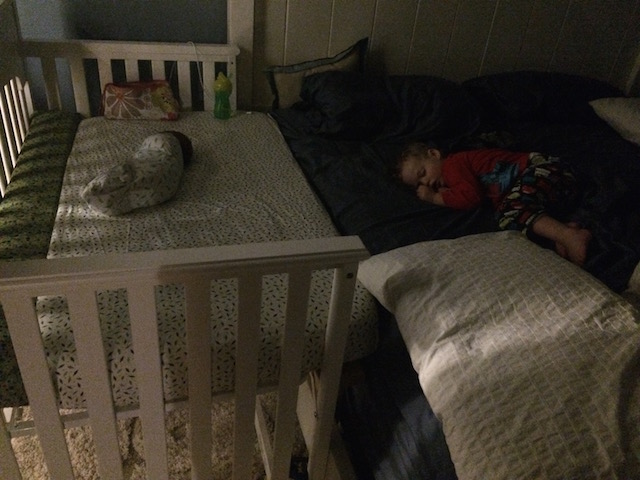 All three of my boys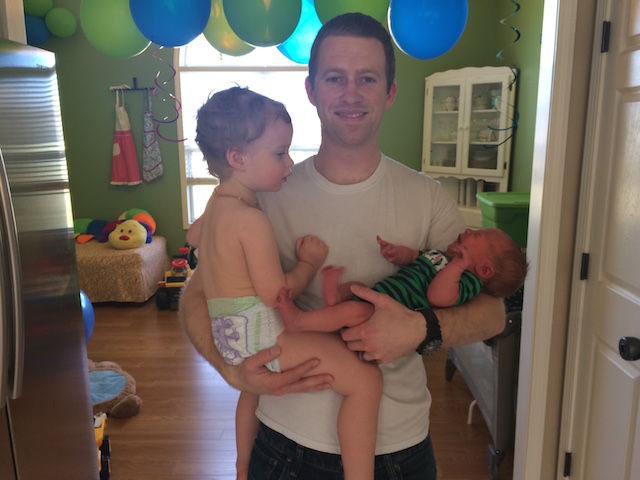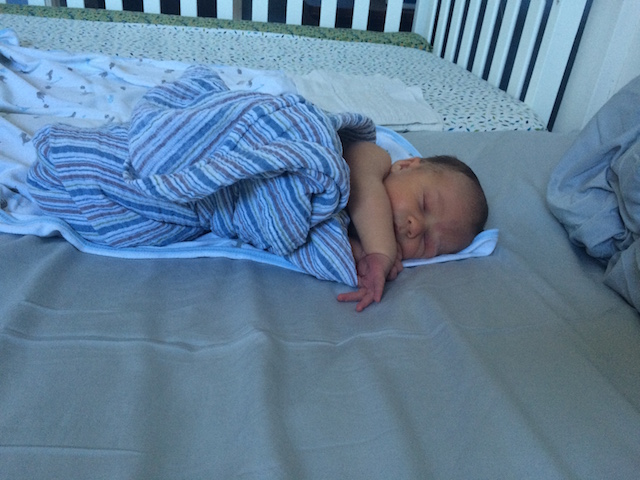 Waiting at his 4 day old well baby check up.  Everything looked good – he was a tiny bit jaundiced but not anything that our pediatrician was concerned about.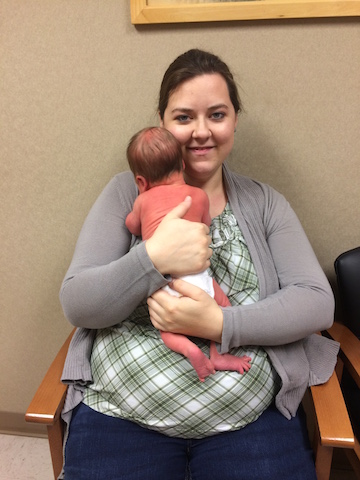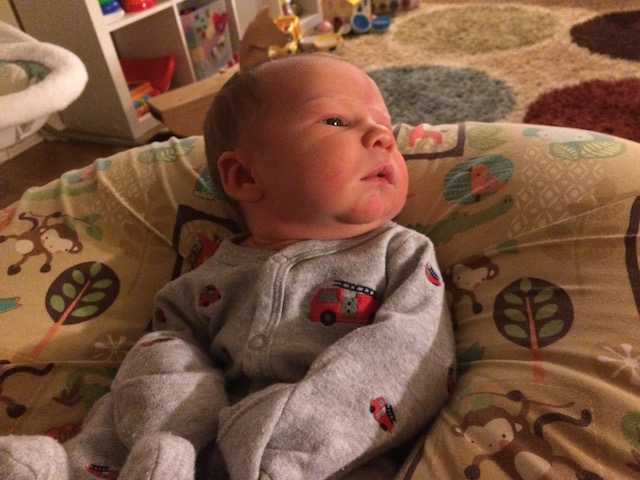 My arms are pretty full but I love holding both of my boys!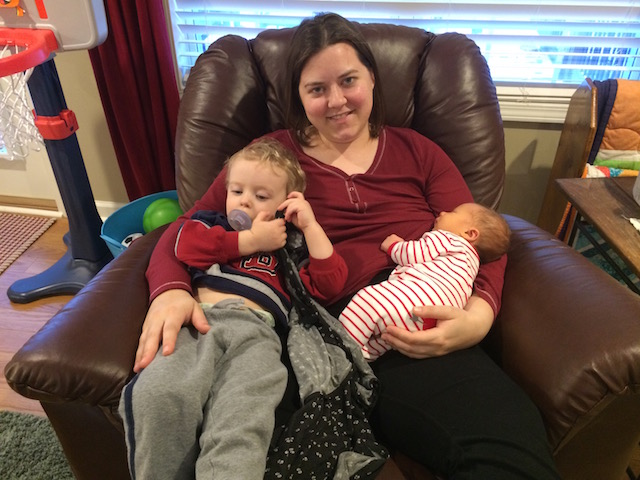 Ready for Valentine's Day with this cute heart-themed sleeper.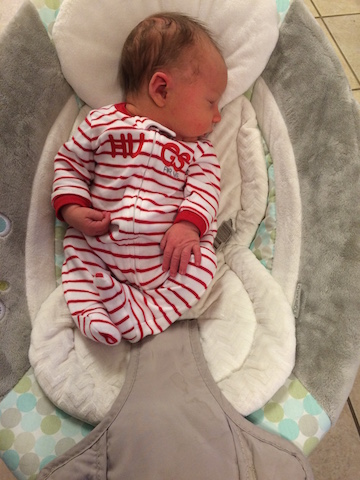 This expression cracks me up!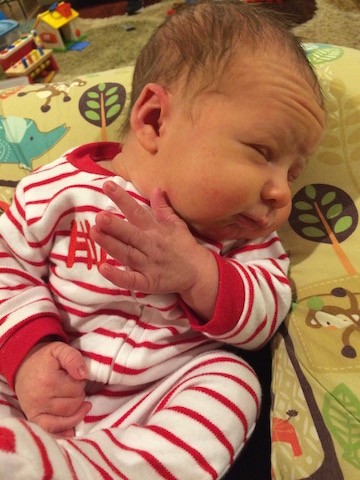 Using my ring sling to wear Parker for the first time.  That made rocking Hudson for nap time so much easier!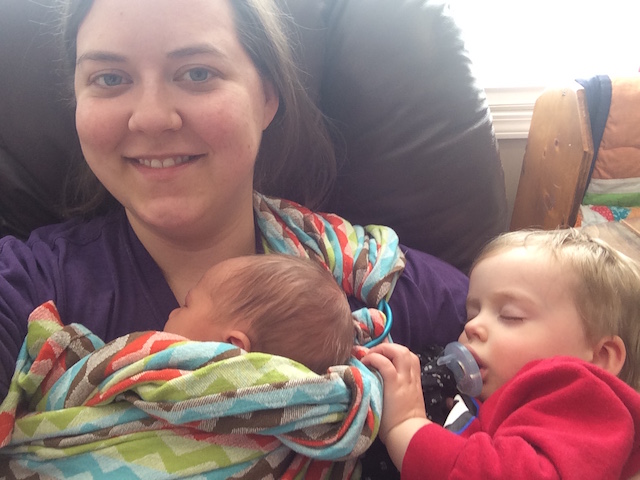 Michael wearing Parker so that I could shower.  For several days (maybe even a couple of weeks?) Parker would cry the whole time when I went to shower at night unless Michael wore him.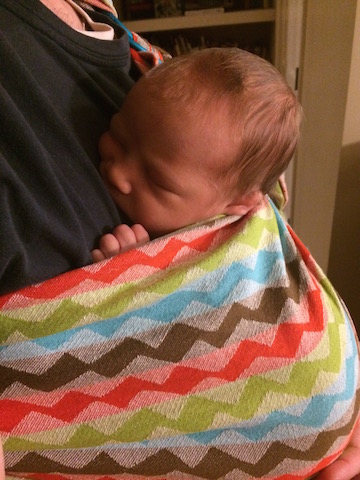 Sweet brothers!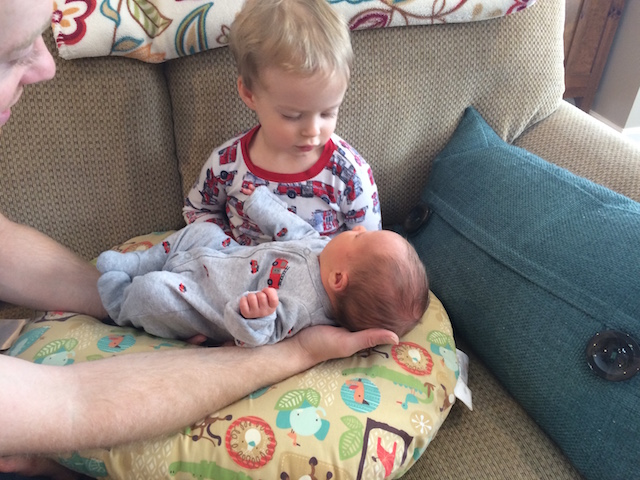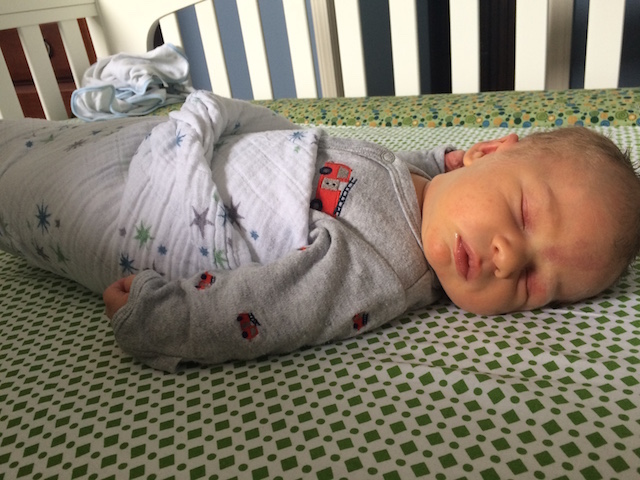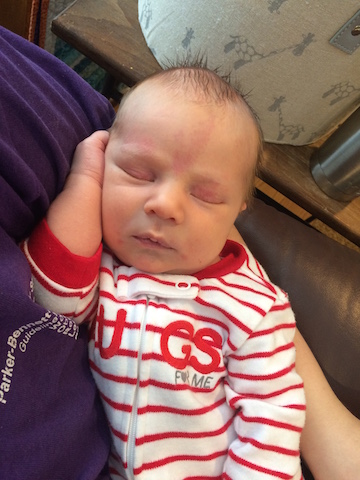 First time wearing his cloth diapers.  They're so big compared to the disposables he'd been wearing!  I didn't start Hudson in cloth until he was two and a half months old so cloth diapering a newborn is a new experience!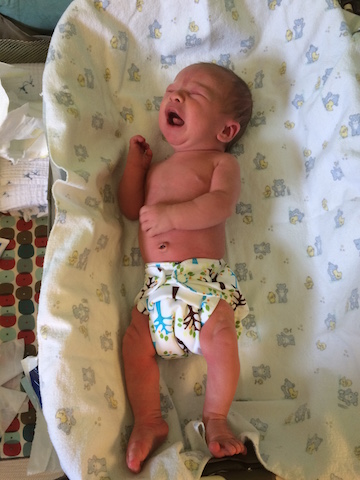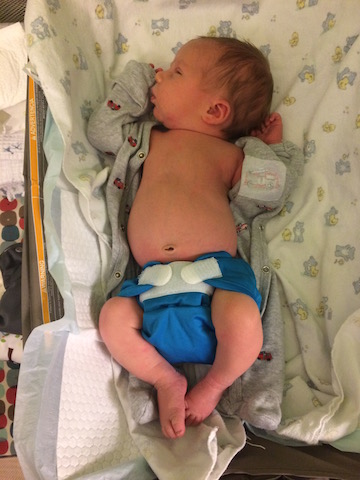 Hanging out in the Rock 'n Play in the bathroom while Hudson got a bath.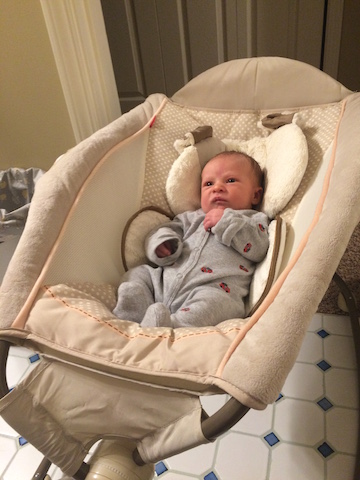 Afternoon nap time all piled up in the bed.  I love moments like these!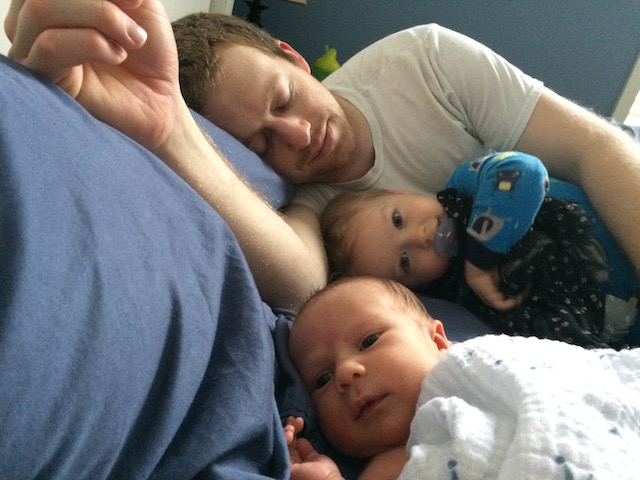 First paci at 2 weeks old.  He's not really very good about holding it in but it helps for a few minutes.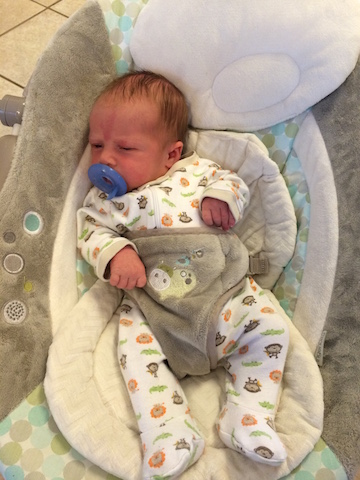 Hudson loves to help put Parker's paci in.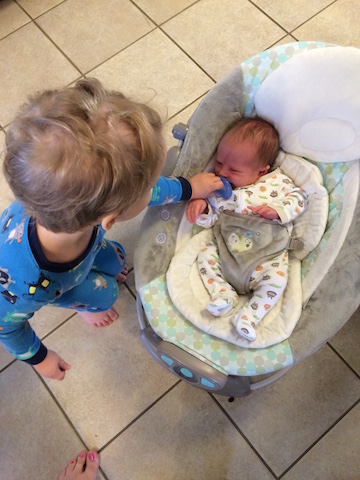 Our first outing with both boys.   It's so strange to look back and see two carseats in the van now!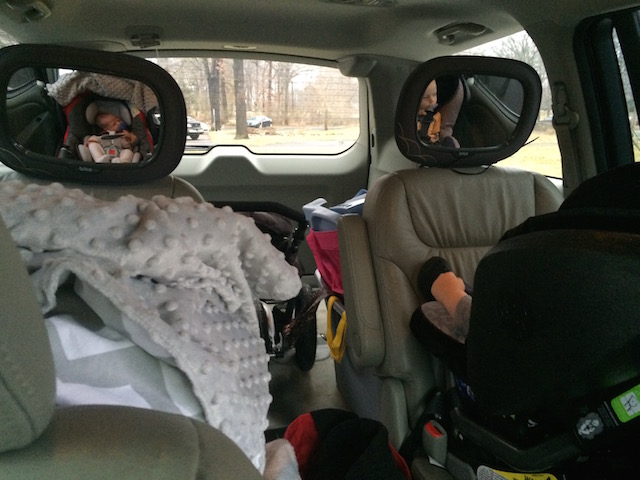 Parker's 2 week check up.  He'd had gotten back up to his birth weight plus some!  (9 lb 1 oz at his check up, 8 lb 11 oz at birth)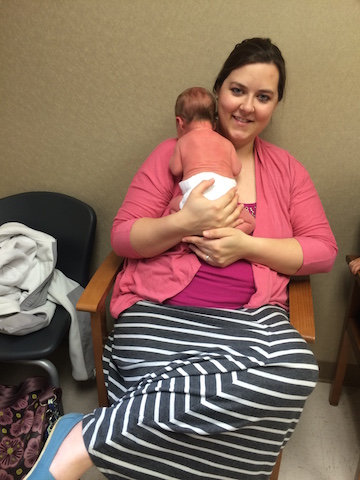 We had some warmish weather and I was feeling good so we went out for a walk a few times.  I love our double stroller!  It's so easy to push, even with both boys in it!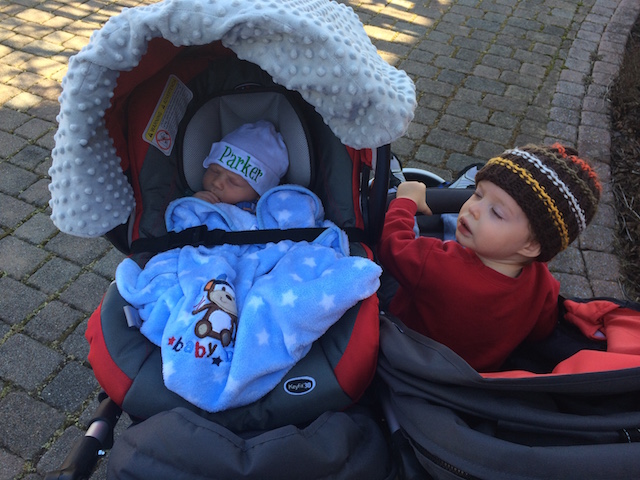 When Parker was two weeks old Michael went back to work (I am SO thankful that he was able to take two weeks off to be home with us!).  While he was home I had been rocking Hudson to sleep for nap while holding both boys, then when Hudson was asleep Michael would come get him and lay him down.  With Michael gone I couldn't do that anymore so we've switched to where we all go lay down together in the bed at nap.  Hudson rolls around for a bit then falls asleep.  Parker usually nurses or sleeps and I nap with them once they're both asleep.  I almost never napped when Hudson was a newborn but this time around I'm trying to get as much sleep as I can so I take advantage of nap time!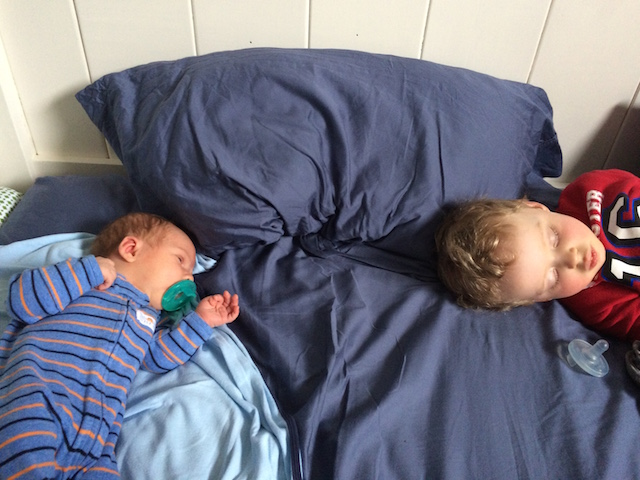 Tried out my Lillebaby carrier…that thing is amazing!  Once I started using it I haven't used a single other one of my carriers.  I'll do a whole post another day about it but for now I'll just say that we use it multiple times a day every day and it rocks.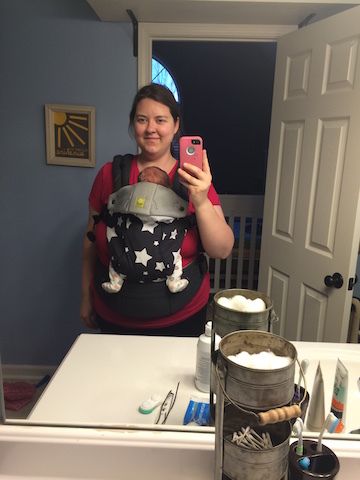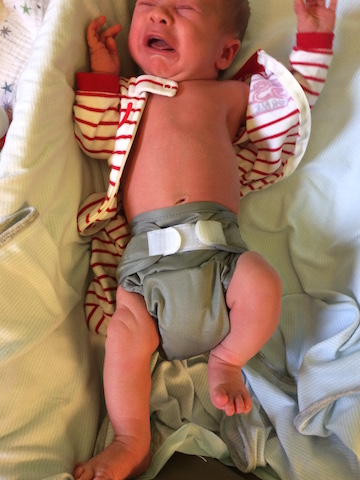 Parker's umbilical cord took a long time to heal so he was three weeks old before he finally got his first bath (aside from the bath he got in the hospital).  He didn't cry much at all!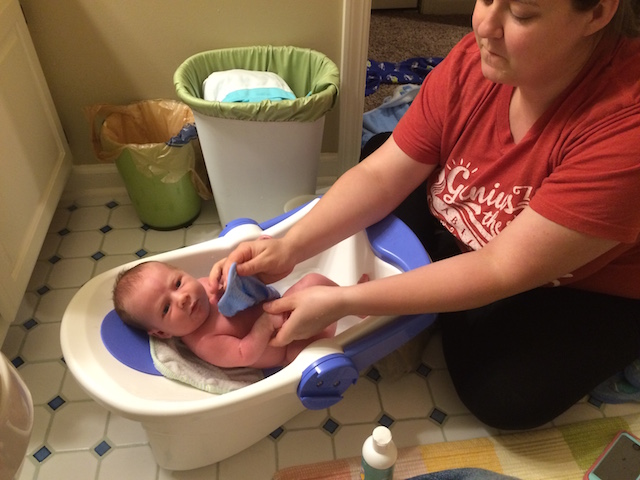 Hudson helping Parker talk on the "phone" (a calculator)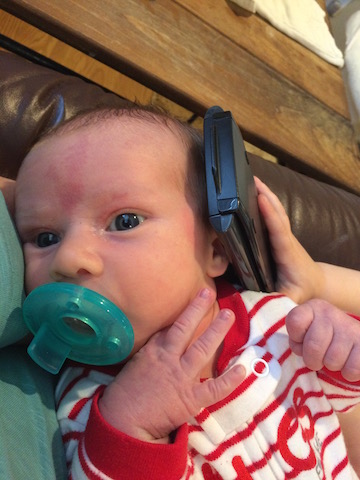 I love this picture of them both in their fleece sleepers.  Hudson almost never wears footie jammies but for some reason wanted them on this particular day.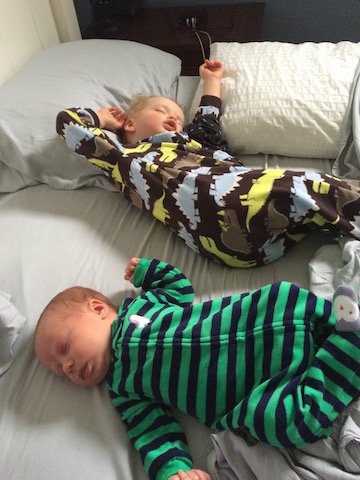 He found his thumb for all of about a minute and that's the one and only time he's sucked on it.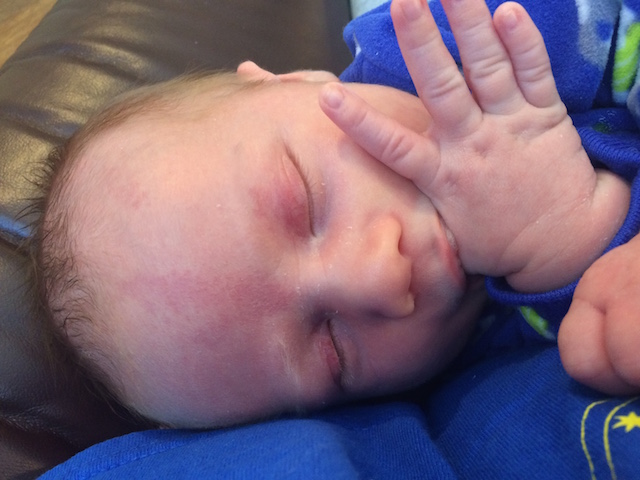 I don't have a picture but the day he turned one month old he rolled over!  What!?  I know!  Twice he rolled from his front to his back.  He hasn't done it since then so maybe it was a fluke.
We took him to church for the first time when he was three weeks old but I don't have a picture of that.  I also don't have a picture of him taking his first bottle.  Right at a month old we gave him a bottle – I was giving him a probiotic to try to help with some gas issues and it's way easier to mix it with milk and give it that way so I pumped a little to use for that.  It was only a tiny bit, maybe 1/2 an ounce, but he did well with the bottle for the little time he used it.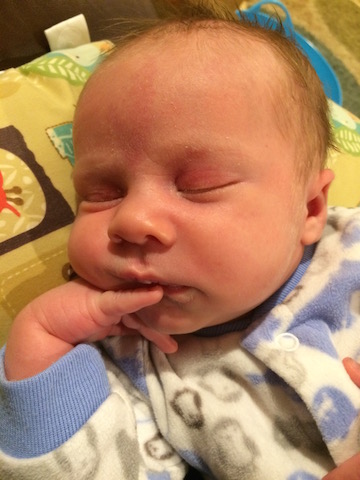 So how are we doing?  This seems to be a very common question!  We're all doing really well!  I have had SUCH an easier recovery this time than I did less time.  I felt much better physically – less soreness, quicker to heal.  I also am not quite as emotional as last time.  Those first few days/weeks I definitely had some of the big emotional sad and happy moments that come as your hormones regulate but it's not as intense as after Hudson.  The hardest part for me has been accepting the fact that Hudson is so big and grown up compared to Parker and dealing with not being able to give either child 100% (and the guilt that comes along with it).   It's amazing how much love your heart has room for though!
So much has been different this time around!  We've actually cooked quite a few meals ourselves and Michael even did some projects he'd been wanting to get done.  Parker is a pretty chill baby so that helps.
My mom came to stay with Hudson while we were in the hospital then stayed a few days after.  We were having such an easy time managing things that she went on home for the days that Michael was here with us and then came back after he went back to work to give me a hand.
Breastfeeding is going TONS better this time!  That has been wonderful and is a big part of the reason why we're not nearly as frazzled.  The first three weeks were painful as he we both learned – cracked, bleeding nipples, vasospasms, and pain when he latched.  But thankfully by the third week the pain was gone.  He's a great eater, much faster than Hudson was, and I seem to have plenty of milk.  I was worried since we'd had so many issues last time but that doesn't seem to be the case this time.
Hudson is good with Parker.  The first several days home he basically ignored him (he had his Daddy and Mamie there with him so he was pretty happy just to play with them and soak up their attention).  Once they were both gone during the day then he started to notice Parker more.  He does not seem to be jealous so far.  I try to make sure to give Hudson lots of attention and read or sing with him while I'm nursing and I think that helps.
This first month flew by!  Time, slow down!