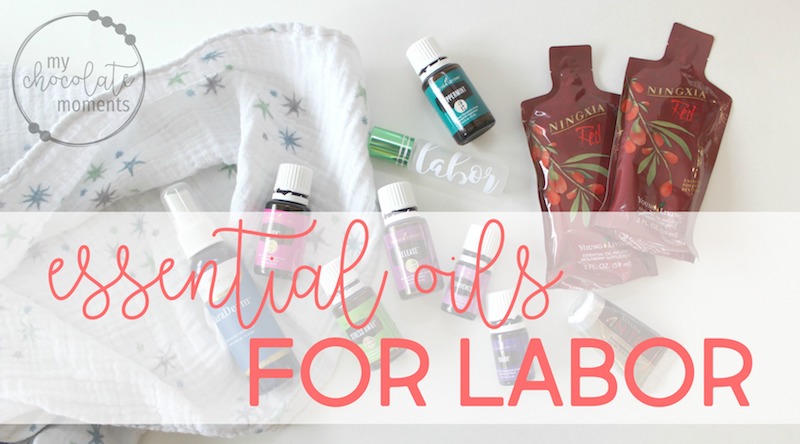 I've had several requests asking about what oils I used during my pregnancy, labor, delivery, and recovery so I wrote it all up and hope it's helpful!
When I began using oils two years ago I was at the very end of my first pregnancy – I got my starter kit just a week before I gave birth and was still learning so I didn't use them much at all during my labor and only dabbled during recovery since I didn't know what to do with them.  This time around oils are now a huge part of my life and I was excited to get to experience an oily pregnancy and birth!
---
Disclaimer: I am not a medical professional.  I am not telling you what you should or shouldn't do.  This is not intended to diagnose or prescribe anything.  I am just sharing what I personally chose to do during my childbirth based on the research that I'd done and what I felt comfortable with.  Please research for yourself and discuss with your doctor, midwife, etc. if needed.
Also, this post may contain affiliate links.  If you purchase a product through an affiliate link I make a small commission at no cost to you.  This helps keep my blog running so thanks for your support!
---
I am not going to go through what all I used during my whole pregnancy because mostly I just continued oiling as I had pre-pregnancy but I will share a few things I did toward the very end to help prepare.
While pregnant:
While in labor:
My two main goals in using my oils in labor were to support my body as it did its job to bring a baby into the world and to help me stay calm and grounded as I labored.
If you read my birth story you know that my labor was very short.  I really didn't have much time at all to use anything because it went so fast!  But I did use some.
In the early morning hours once I realized I was in real labor I used some emotional oils on myself (Stress Away, Valor, White Angelica, and Gentle Baby mostly) to try to help me stay relaxed and calm.
I own a Zyto scanner (a machine that scans your body and helps you know what oils your body needs at that time) so I scanned myself and 4 oils came up: marjoram, jasmine, tea tree, and melissa. I don't have melissa or jasmine but I do have Forgiveness and Hope (Forgiveness has both, Hope has melissa) so I mixed marjoram, tea tree, Forgiveness, and Hope together with a carrier and rubbed it on.
I'd read that spearmint is good for supporting the body during labor plus I like the smell so I rubbed that on my wrists.
As my contractions picked up I rubbed the "Labor Blend" I'd mixed up (6 drops copaiba, 4 drops fennel, 2 drops peppermint, 6 drops ylang ylang, 3 drops clary sage mixed in carrier oil in a 10 ml roller bottle) on my inner ankles (the vitaflex points for your uterus are located on your inner ankles), low back, and low abdomen.  This blend was intended to help support my body and help it do what it needed to do to progress toward delivery.
I had an empty bottle of Valor that still definitely had the Valor smell so I carried that with me as we drove to the hospital so I could continue to breathe it in on the way.
A cool story about Ningxia Red: I have heard several midwives say that they can see a difference in the placentas of their moms who drink Ningxia Red versus those who don't; they say that the NR drinking moms have healthier placentas.  Well right after I delivered my placenta I heard one of the nurses (who I'm sure had no idea I'd been drinking Ningxia) comment "Wow that's a really pretty placenta!"  I thought that was an interesting coincidence given what I'd heard from the midwives.  (P.S. I'm not sure I'd ever call a placenta "pretty" but whatevs…)
While recovering:
Young Living's Claraderm Spray is wonderfully soothing for the skin so I used that on my perineal area each time I used the bathroom for two weeks or so after delivery.
I continued rolling my Labor Blend on my ankles, abdomen, and back as I still had plenty left since I didn't use it much during labor and I figured surely the hormonal support would be beneficial during recovery
I continued drinking the third trimester tea because I had quite a bit left and assumed that if it helped my uterus get ready for birth it could help my uterus recover from birth.
I diffused the majority of the two days we were in the hospital (in my recovery room…I intended to diffuse in my L&D room but just didn't have time before he was born) – things like Thieves or Purification to clean the room, or Joy, Gentle Baby, or Valor for the emotional support. Our nurses were very oil friendly! Most of them already use oils themselves or had experienced them and everyone commented on how great our room smelled.
I used several products on my nipples in the first two or three weeks, including Rose Ointment, Animal Scents Ointment, and Claraderm Spray (all three of those are Young Living products) as well as Earth Mama Angel Baby nipple butter .  The EMAB nipple butter ended up being my favorite.
Joy, Valor, and Stress Away are my go-to trio to help with the extra emotions that sometimes come after having a baby.  I typically put Joy over my heart, Stress Away on my neck, and Valor on my forearms.
I drank a packet of Ningxia Red every couple of hours for the first few days.  Birth results in quite a bit of blood loss so I figured my body could use the extra nutrients!
Ningxia Nitro hasn't been something I've needed daily but I have drank it more often than usual on those days when I'm extra tired and need a little boost of energy.
Some things that I had prepared to use that I didn't end up needing included:
I hope this helps as you prepare for your oily birth!  Blessings to you and your new baby!
If you are not a Young Living member and want to learn how to purchase these oils and products, check out my page here that tells all about how to order.  I'd love to help you get started!