Back to back updates but at least now I'm caught up ;).
growth
It feels like Hudson grew huge in the last two months since Parker has been born but in reality he's only gained one pound since his two year check up.  He weighs 30 pounds now and is 35 and 1/4 inches tall (to the best of our measuring ability with an ever-moving toddler).
I knew some of his shoes were getting a little small right before Parker was born, and then in the weeks following when Michael and my mom were getting him dressed they said that the rest of his shoes were too small.  And just like that he was completely out of shoes!  We found a pair of Crocs and a pair of nicer Sunday shoes in his closet that had been hand me downs from others and for a week or two he had to wear one of those two pairs everywhere.
I finally was able to get out and do some shopping.  At one of the stores they offered to measure his foot for me and at first I said no because I thought I knew what size he needed but then I changed my mind and said why not…I'm so glad I did because he needed a size 8 shoe and I thought he only needed a 7.  We'd been cramming his poor feet into 6s and 6.5s.  I felt horrible!
He now has several pairs of properly fitting shoes and we're good for the next few months (hopefully).  He was so proud of these tennis shoes he got and I think they make him look so big!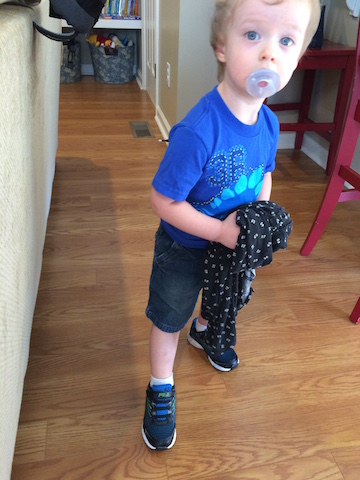 Our weather here can't make up its mind but some days it has been warmer so we got out his tub of 24 month and 2T spring/summer clothes.  He has completely outgrown his 24 month clothes and some of his 2T clothes so I need to get out the 3T stuff, see what we have to work with, and then do some summer clothes shopping.
communication
Hudson talks from the time he wakes up to the time he goes to bed and often even while he's sleeping.  He comes by it honestly though!  His vocabulary and ability to talk in sentences, tell stories, and communicate what he means grows by leaps and bounds.  It's so fun to watch!
This actually started last month and I forgot to mention it in his last update, but he is really into praying right now.  It's absolutely adorable.  Often while he's playing with his little kitchen he'll sit down at his Elmo table, bow his head, fold his hands, and pray.  For a while we were having to pray multiple times at each meal.  And if we don't list all of our family members then he prompts us until we've prayed for them all.  So precious.
He has started saying "Hold sho" (Hold you) when he wants to be picked up, which is so sweet.  I love the way he mispronounces things, like the way he calls brussels sprouts "pussel brouts".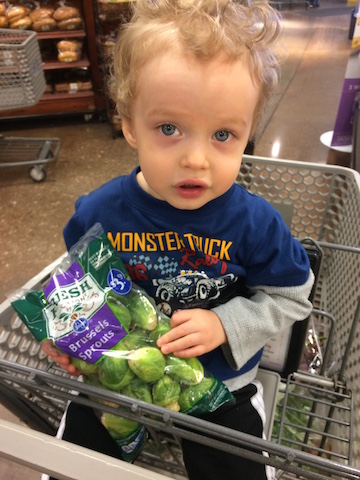 I've been making green smoothies a lot in the afternoons for us to have as a snack.  He loves them and calls them "moosies".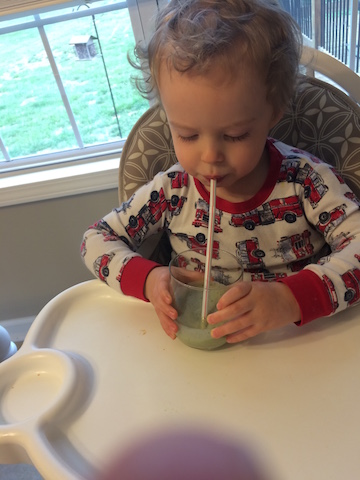 I've started exercising a little, doing exercise videos in our living room.  The first one I did was a yoga dvd and now Hudson calls all exercise videos "yogas".  He likes to workout with me and jump around as I do jumping jacks or mimic the yoga poses.  One day he even got two of his sensory bottles and pretended they were weights.
Here he is doing up dog/cobra.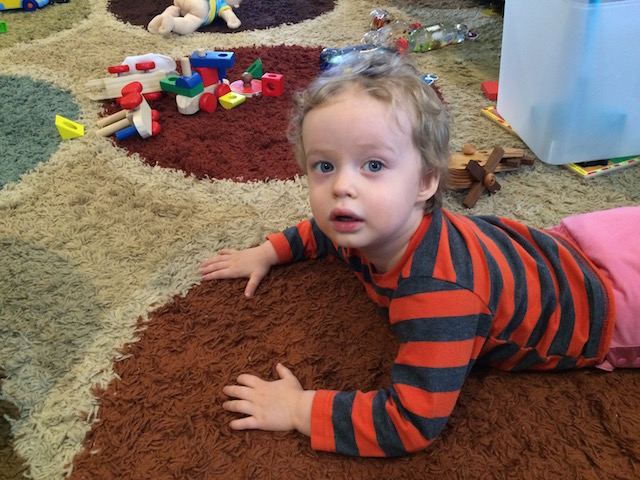 He has certain phrases that he says a lot.  He has a made up sound for milk (he doesn't sign milk and he doesn't say it, it's just a funny sound he makes with his mouth and we have no idea where he got that) so when he sees Parker nursing each time he'll make his milk sound and then say "So yummy!".  He says "tiss!" (kiss) and runs up and gives Parker kisses.  He's also started saying "sweet" after he gives him a kiss…I guess because we would always say "oh that's so sweet!" when he loves on Parker.
If he loses his paci he walks around saying "paci go?" on repeat constantly until I help him find it.  He talks about thing being "messy" a lot.
new stuff
Hudson is very much into colors and counting right now.  He knows a lot of color words but doesn't usually identify them correctly.  He'll point to an object and declare a color but it's not always right.  Green seems to be the one he choses the most.
I knew he could identify when there are two of something and he will repeat his numbers after us as we count, but I didn't realize he could count on his own until the other day when he was walking up our steps and he said (with no prompting from me) "four, five, six, seven, eight, nine, ten, eleven….fourteen!".  I was so impressed!  He doesn't always get them in the correct order though.
When he is using the bathroom (in his diaper) he'll tell his "bye" because he wants us to leave the room and give him some privacy I suppose.  He'll also tell us bye if he wants to get in to something he knows he shouldn't and he wants us not to see.  It's pretty funny.
Michael taught him how to make a triangle with his fingers and he really likes that.  He also gives us thumbs up a lot and it's cute.
Anytime he is pretending to read, type on his calculator, or type on his laptop he says "P-2-P".  We don't have a clue where that came from or what it means but apparently that's his pretend way of reading/writing. (We joke that P2P is probably the answer to some previously unsolvable equation and he's actually a genius and we don't know it yet – ha!)
Hudson loves to sing and is very specific in his requests of what he wants us to sing, but for the first time this month he started singing along with us.  Not just one or two words here or there like he had been doing but singing the majority of the song.  So far the only one he sings consistently is Twinkle, Twinkle Little Star.  It's so precious – definitely the sweetest version of Twinkle, Twinkle that I've ever heard!
We have two baby dolls that Hudson plays with occasionally but what he does most often is he just cradles his arms (without actually holding anything) and pretends he is holding a baby.  He tells us that he's nursing his baby (he makes his "milk" sound) and then he'll lean over and give his "baby" a kiss.  The most hilarious thing though is that he does this mostly at meals and then he'll keep one arm clutched to his chest/stomach and eat with the other hand…as if he's holding a baby in one arm and eating with the other.  He's definitely seen us do that a lot since Parker has been born!
adventures
Even before Parker was born supper time was a struggle – Hudson wanted to be held the whole time we were fixing supper so one of us would have to wrangle him while the other cooked.  Once Parker was born it got even worse because now we had to take care of Parker on top of that.  I'd seen a friend post a picture of her kids in a learning tower and thought it was brilliant.  We looked at buying one but then found some plans to make our own so Michael built us one for much cheaper than you can buy them.  It's adjustable so it can grow with Hudson.
It has made a HUGE difference!  Supper prep time is no longer a struggle at all.  Hudson hops up in his tower and plays along side us as we work.  He usually gets some of the play food from his little kitchen and pretends to cook.  Or he'll have a snack or just stand there and watch.  It's also helpful for him to wash his hands because now he can reach the sink without us having to try to hold him and get his hands washed all at once.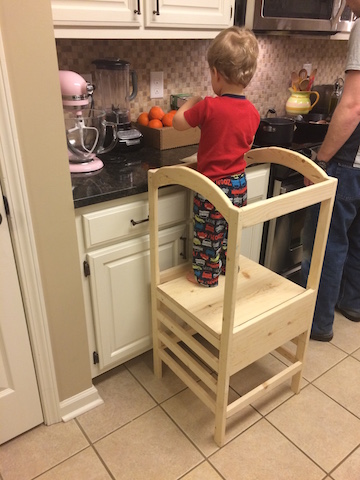 He likes helping me clean so when we use the tower I'm able to spray the counters and then he wipes them.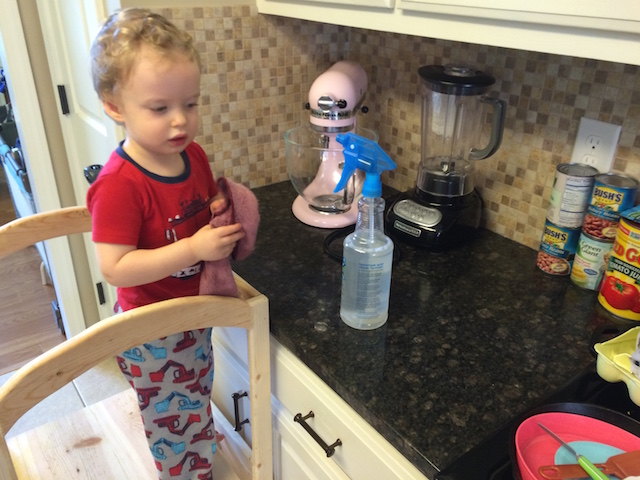 We really hadn't been out all that much since Parker has been born but the last two weeks or so we've started getting back out more.  We've been to the park a couple of times and one of the parks we went to had these horses you can ride on a little merry go round thing.  In the past when we've visited Hudson didn't want to have anything to do with them but this time he got on and rode for a long time.  He wanted to ride each color horse so we switched several times and he just rode and rode.  I was so proud of him!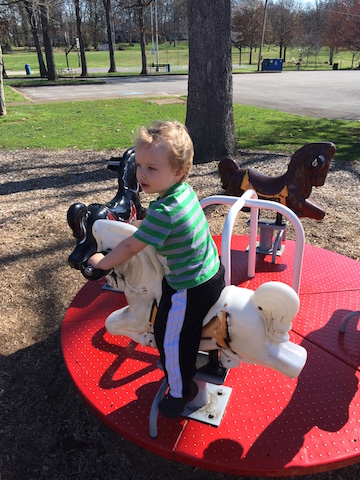 Some other random pictures from this month:
For a couple of days he kept bringing his Elmo chairs from the playroom and setting them up in various places.  I'm not really sure what he was doing or who he intended to sit in the second chair but it was pretty funny…looked like he was getting us all set up for a family meeting!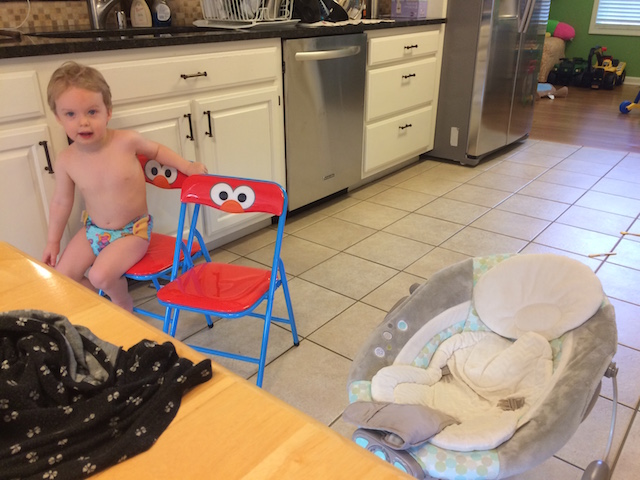 Big boy ready for church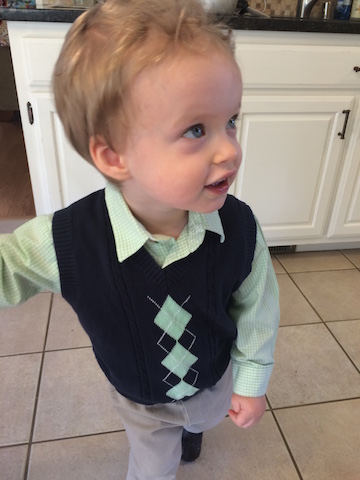 Another Sunday morning picture – church outfit complete with ball cap!  Ha!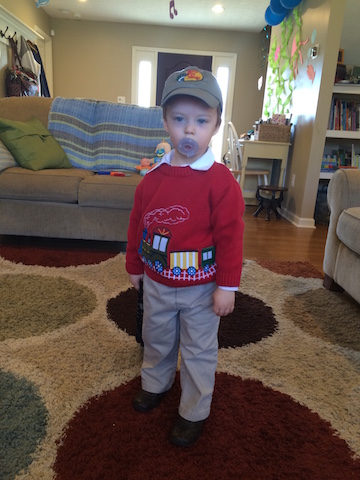 Wearing a hat just like Daddy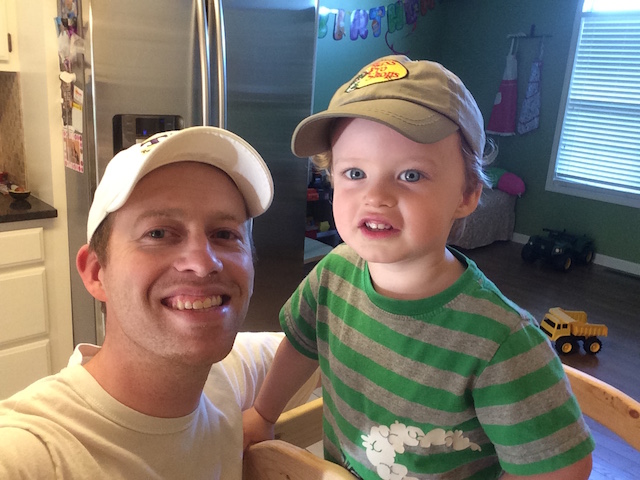 Checking out strider bikes (little bitty bikes with no pedals to help kids learn balance).  Hudson is obsessed with "bicicycles" right now so he had a blast at the bike shop.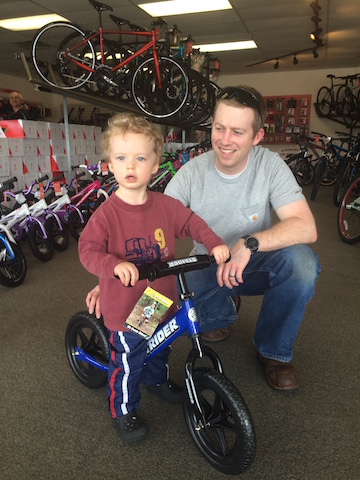 Oh this precious face!  Is there anything sweeter than a peaceful, sleeping child?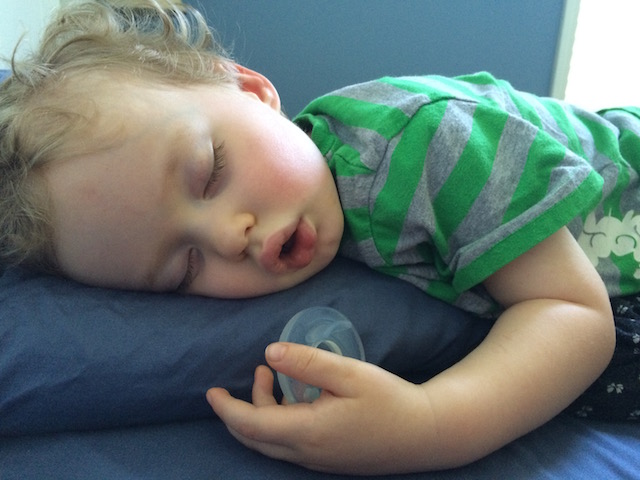 Playing puzzles and he wanted Parker to play too so he set several of the puzzle pieces on top of Parker.  Hudson is such a good big brother!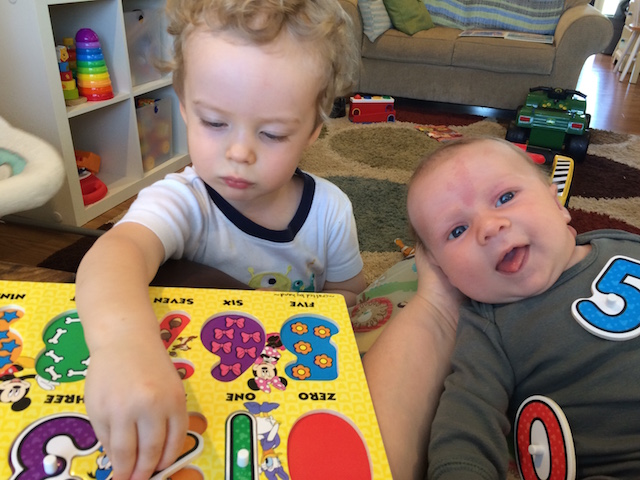 Sweet brothers ready for church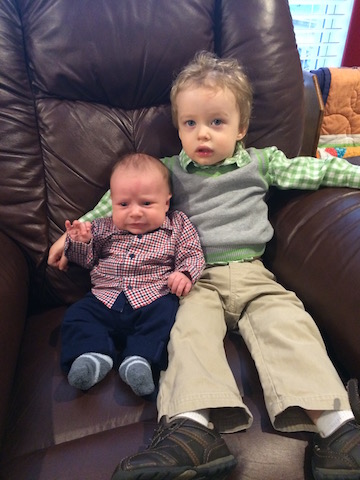 This picture cracks me up – Parker looks like a little old man here
Super crazy bed head!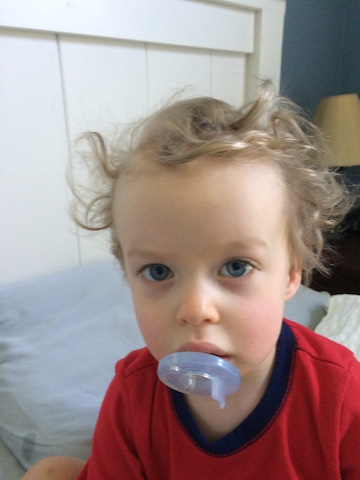 Love this sweet boy to pieces!