Wow these two months have FLOWN!  Crazy!  Here's an update on the newest member of our household :).
growth
At his two month check up Parker weighed 13 pounds, 7 ounces and was 23 inches long.  That's almost a five pound weight gain since his birth!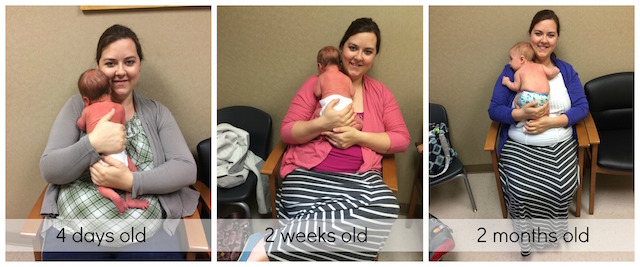 His newborn diapers are already on the largest rise setting and he even wore his first one size diaper.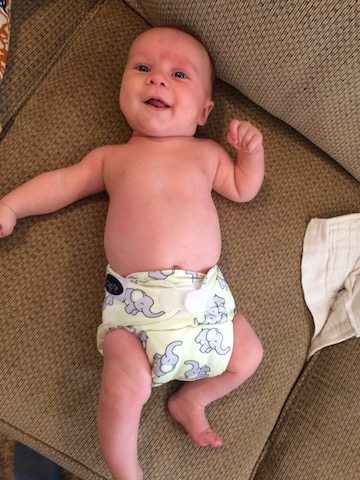 eating
Parker eats about every two hours or so during the day.  Sometimes more, sometimes less.  At night it's more like every 3 or 4 hours.  He's a very quick eater and only eats from one side at a time.
He and Hudson are night and day different in most ways but apparently Parker got the same spit-up gene that Hudson has.  He spits up all the time!  We're used to it since that's how Hudson was but it's still messy!  In fact, I think he might be more messy.  Hudson would only burp if you sat him up and kind of held his chin so I was able to hold a burp cloth under his face to catch the inevitable spit up that came with each feeding.  Parker burps better being held up to your shoulder so even though I have the burp cloth draped over my shoulder I can't control it as easily so he usually rubs his face or hands in it before I'm able to get it cleaned up.  Quite the mess!
sleeping
He is a really good sleeper (and I am SO thankful!).  He usually falls asleep around 9 or 10 and we put him in the swing in the living room.  He sleeps there until we get ready to go to bed (usually around midnight).  I change his diaper and feed him again and we go to bed.  Then he typically wakes up once during the night around 2 or 3 to eat and then when we wake up for the day around 6 or 7.  Sometimes he wakes more than that but most of the time it's just that one time between when we go to sleep and when we get up.
He has had a lot of gas issues this month that have caused some sleep issues.  Just like Hudson, Parker has gas problems in the mornings.  A lot of mornings starting around 5 or 6 he starts to fuss and cry out and have gas.  Hopefully we'll get this resolved soon!
Parker is not on a schedule as far as napping goes.  He almost always takes a nap when we all lay down for Hudson's nap time but for the rest of the day he takes little naps randomly.  It's hard for him to get a good, long one in because Hudson is constantly waking him up either with loud noises or wanting to give him kisses or just messing with him.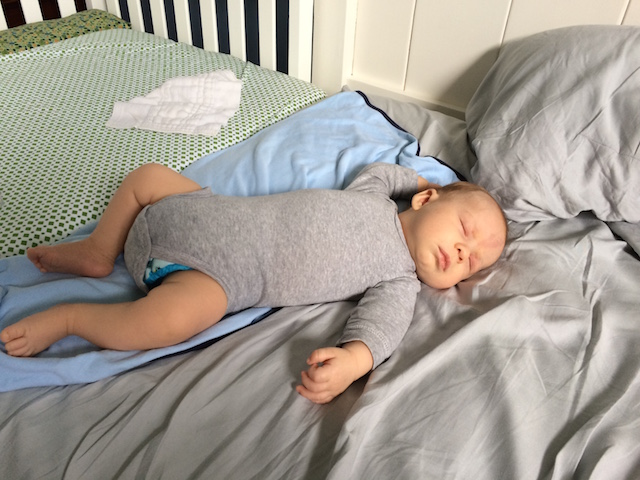 new accomplishments
Parker started smiling this month in reaction to us (not just in his sleep).  So sweet!
adventures
Starting his patriotism off right we took Parker with us to the Kentucky caucus right after he turned a month old.  He snoozed the whole time.
Our church's ladies retreat was this month as well so Parker and I went for the day on Saturday while Hudson stayed with Michael.  He did great – slept, ate, and was totally chill.  When Hudson was a month old we went to ladies retreat and I remember that it was a huge ordeal for me to get us there.  With Parker it seemed so very easy…relaxing actually to only have one rather than both kiddos!
We've done a couple of playdates, he got adjusted at the chiropractor, and he went with me to teach an oils class.  We also went home (about an hour away) to visit our families for Easter.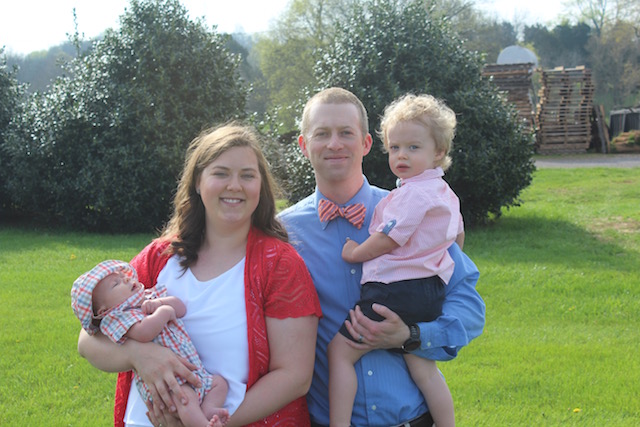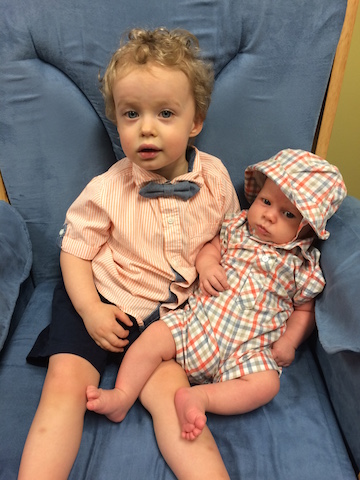 His first egg hunt.  Hudson and Daddy helped him get one egg.

some pictures from the month
Smiling in his sleep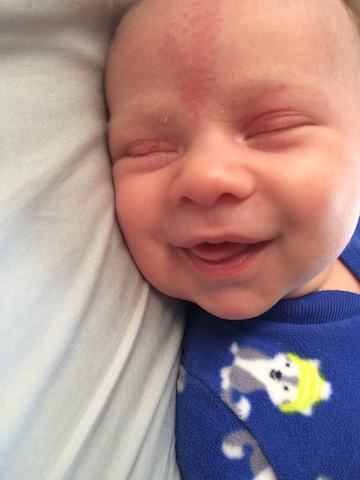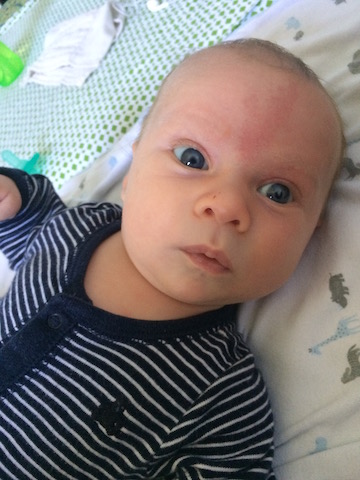 Hudson wanted Parker to play puzzles with him!  I have a feeling these two are going to be good buddies.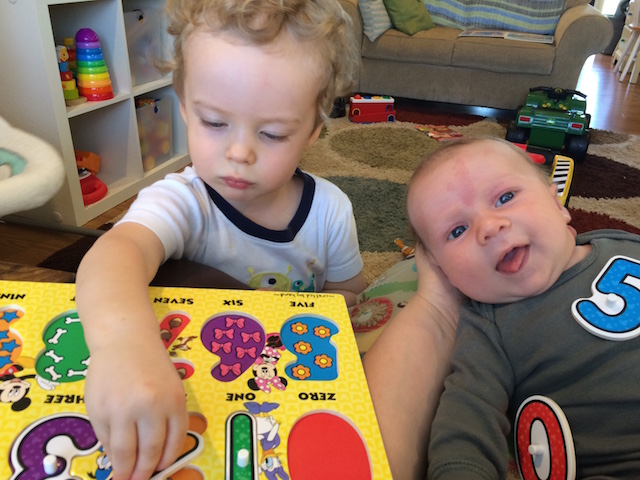 Love this cute diaper a friend of mine gave us!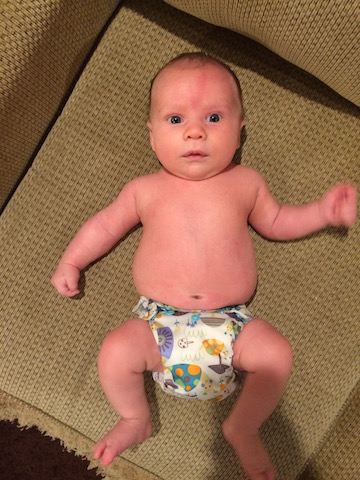 Precious boys ready for church.  Parker was not interested in taking pictures.  It's hard to tell because it's tucked up under his chin(s) but he has a tiny bow tie on.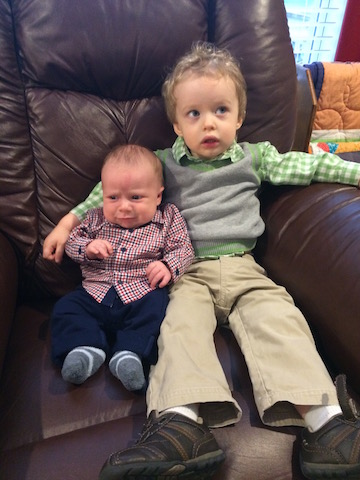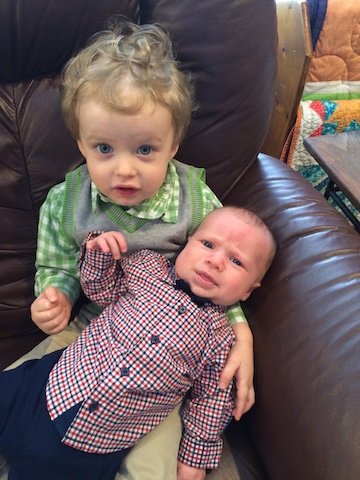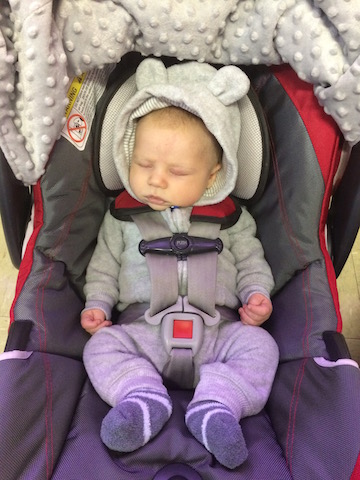 Hudson was sharing his Fuffle (his lovie blanket) with Parker.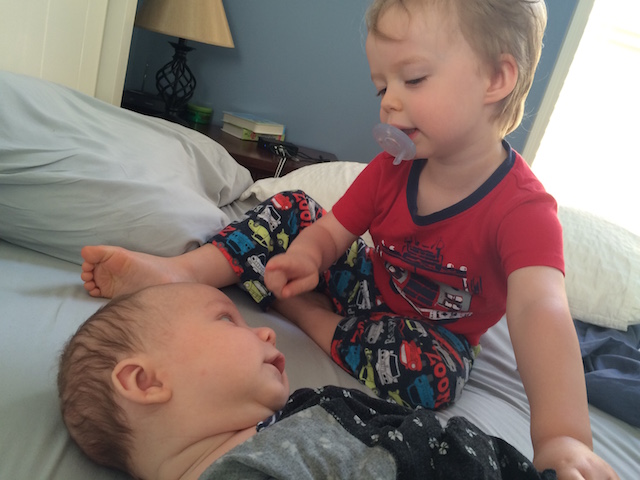 After a bath.  Look at those chins!  I love my chunky monkey!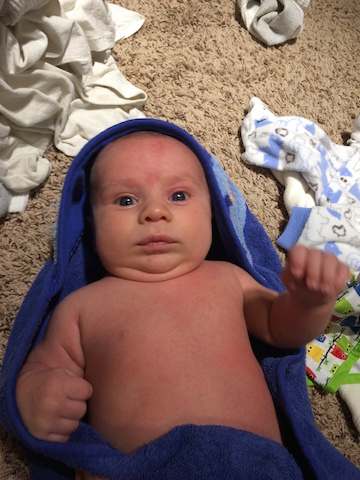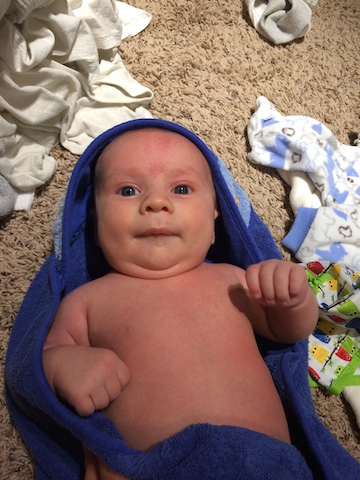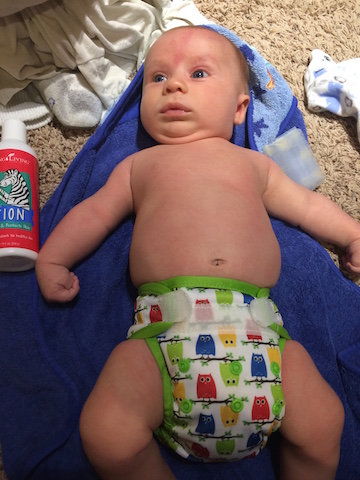 Adorable!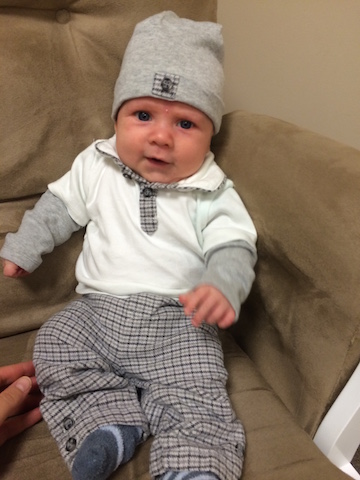 Oh how I love being their Mommy.

Hopefully I'll be able to keep up with his monthly pictures the way I did with Hudson.  It's hard with the second child – everything goes faster and you forget a lot more stuff!