We didn't start cloth diapering Hudson until he was almost three months old and was able to go straight into one size diapers.  With Parker though I wanted to use cloth much earlier on so I needed some newborn diapers to get us through until he was big enough for our one size diapers.
---
This post may contain affiliate links.  If you purchase a product through an affiliate link I make a small commission at no cost to you.  This helps keep my blog running so thanks for your support!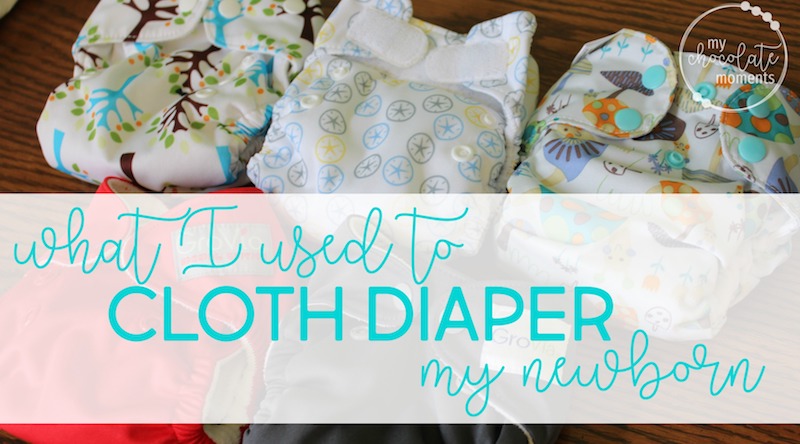 I figured we wouldn't use them for a super long time so I didn't want to spend a ton on our newborn diaper stash.  My original plan was to use flour sack towels (also called FSTs – large squares of fabric that are similar to flat cloth diapers, you can find them in the kitchen section of stores like Walmart and they usually cost just $1 each) with diaper covers.  I didn't want to buy a bunch and then realize I was too overwhelmed to use the cloth diapers right at first so I started with 10 FSTs, a handful of newborn size diaper covers, and two newborn all in ones (AIOs).
Once Parker was here I realized that 12 diaper changes was not nearly enough since newborns go through so many diapers a day plus the FSTs were bulkier and not as absorbent as I expected so I bought a couple more AIOs, a few more covers, and quite a few prefolds.
I ended up with 5 AIOs, 6 covers, 15 prefolds, and 10 FSTs – so a total of 30 diaper changes which was the perfect amount to wash every other day.  I'd love to not have to wash every other day but it's manageable.  If you want to wash less often then I'd recommend planning on 15 per day (30 if you want to wash every two days, 45 for three, and so on).
Here's a run down of what we have, what I liked, and what I didn't.

All in ones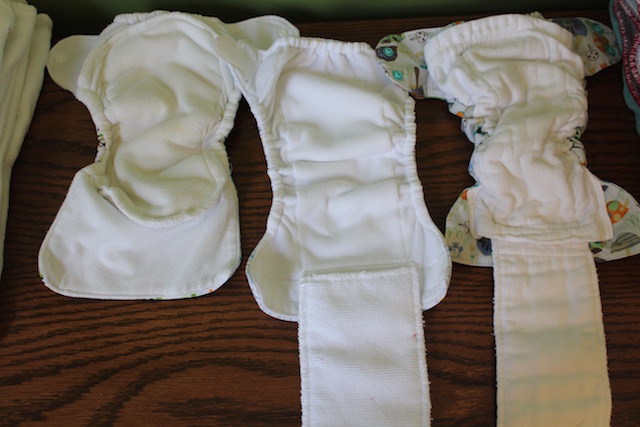 Insides (from Left to Right): Thirsties size one, Thirsties newborn, Blueberry newborn
Inside of one of the Grovia newborns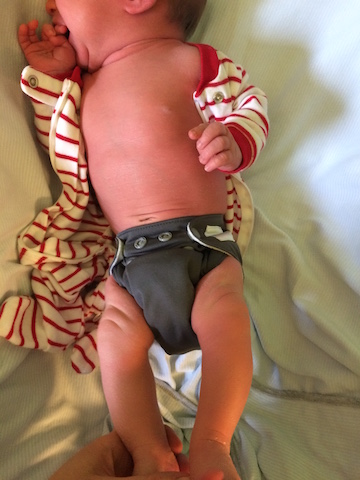 Here's the Grovia on Parker at about three weeks old (roughly 9 pounds).  It's so trim!  Hardly any bigger than a disposable diaper.  It uses hemp, cotton, and microfleece inside so it's very absorbent and soft.  These were my favorites and I'd have loved to have a full stash of them but that would have been very costly and they were the first ones he grew out of (at about 2 months/13 pounds)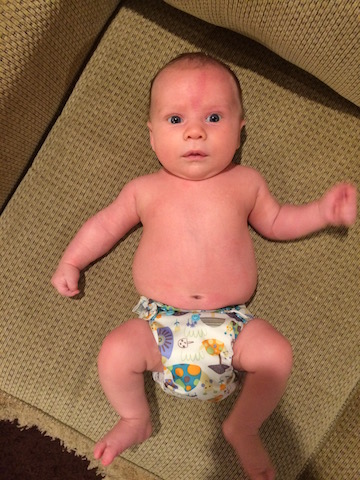 Blueberry newborn at a month old, not sure of how much he weighed.  This one lasted until about two months as well.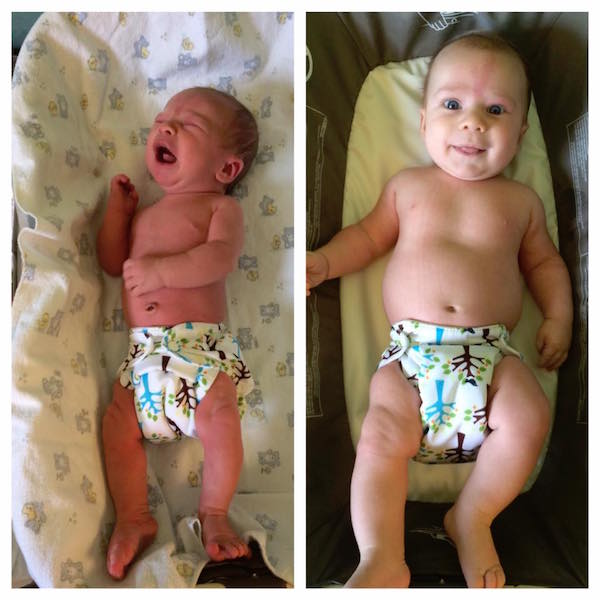 The Thirsties size one is no longer available but I had to share this comparison picture anyway.  On the left is Parker's first time wearing it (actually his first time wearing a cloth diaper at all) – 2 weeks, 9 pounds.  On the right is him wearing it at 2.5 months, 15 pounds.  It's the only AIO that still fits him (but that's because it's not a newborn size).

Covers
– Top row: Sweet Pea newborn (great budget diaper, one of the cheapest covers and also my favorite)
– Bottom row: Rumparooz newborn (also a great budget diaper, I was not a fan at first but like them now)
The Sweet Pea covers were fairly trim, they quit fitting around 2 months/13 pounds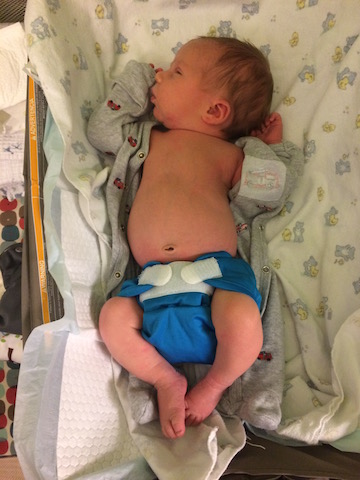 I was not a fan of the Rumparooz covers at all when we first started using them.  You can see how huge they are in picture above.  They were so big and went almost all the way to his knees. (this was at 2 weeks/9 pounds)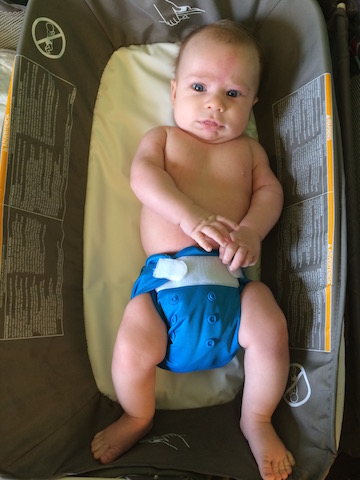 However, now that he has grown some more I really like them.  They're not nearly as bulky.  These are the last of his newborn diapers that still fit him at 2.5 months/15 pounds but I noticed last night that they were starting to get a bit small so I don't think they'll last much longer.

Inserts
Even though he has outgrown his newborn covers the prefolds are still working pretty well for us in our one size covers (Flip covers).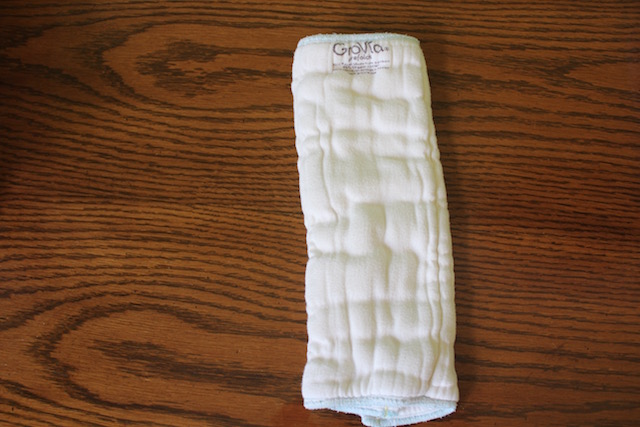 I just pad fold my prefolds (basically a trifold) and lay them in the cover.  That works well for us, especially since he's not mobile yet, but there are tons of other folds you can do too.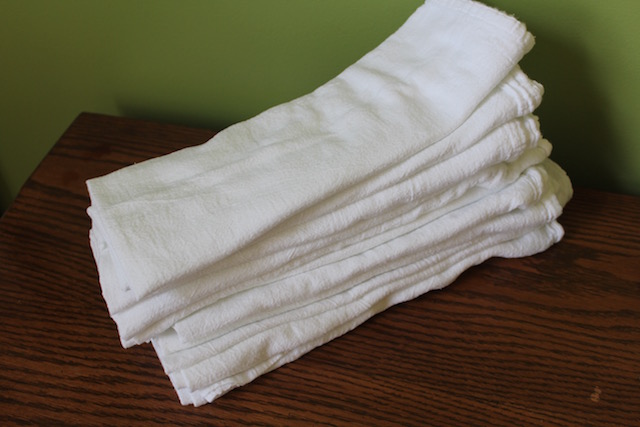 Here's our stack of flour sack towels.  These are the ones that I reach for last, when everything else is dirty.  They're not as absorbent as prefolds plus you have to fold them (which is not a big deal, it takes a whole 10 seconds longer, maybe).  I just love the convenience of prefolds best.
I've shown how I like to fold my FSTs in the pictures below: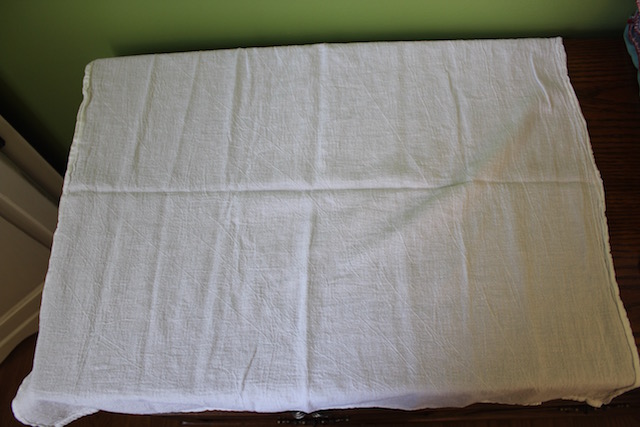 It starts as a huge square of fabric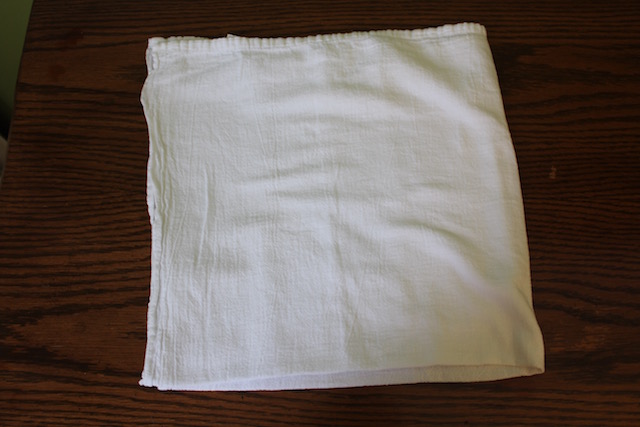 I fold it in half and in half again, so it's a smaller square.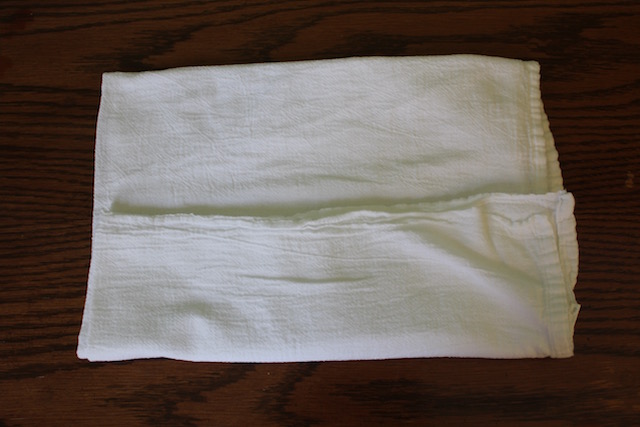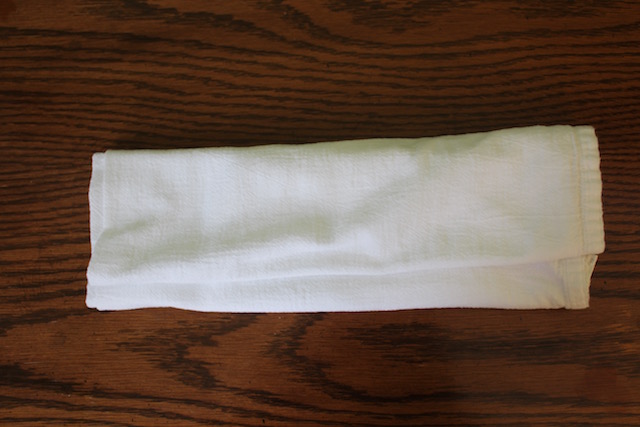 Now that Parker is bigger I do a pad fold – taking that smaller square, folding it in thirds like a prefold, and laying it in the cover.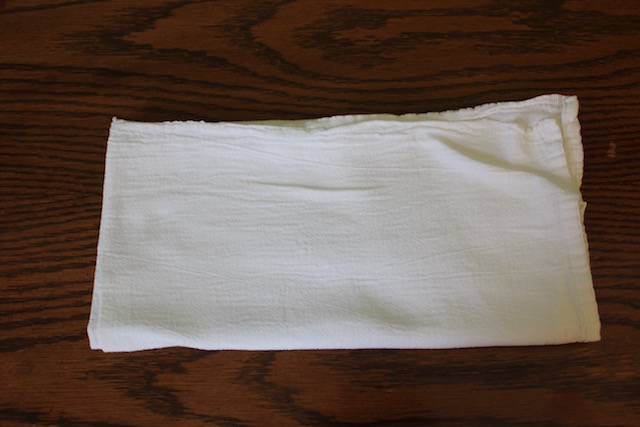 When he was teeny tiny though I preferred the bikini twist – folding that smaller square just in half instead of thirds, and then twisting it around once.  You can see it in the pictures below.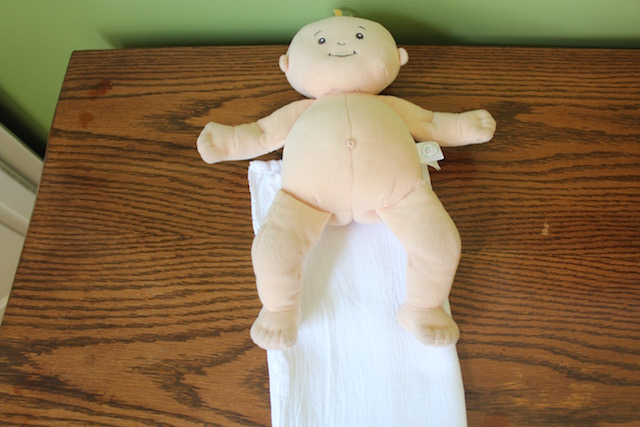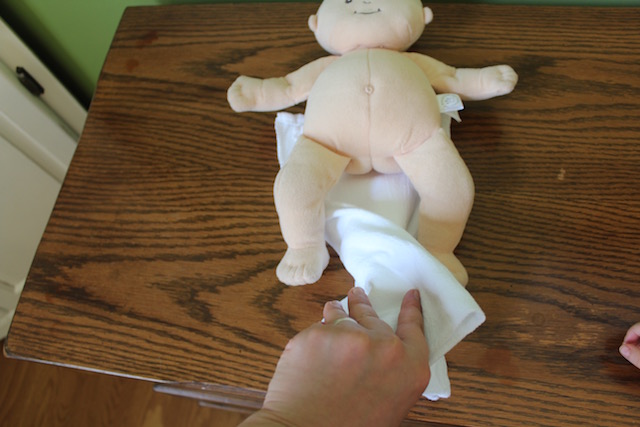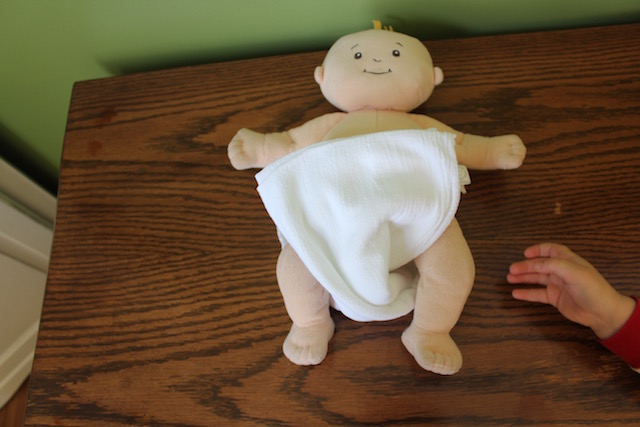 I also made a quick video showing how to pad fold and bikini twist fold a flour sack towel
Several of these diapers were gifts or some that I earned free with promo codes when I ordered other things, but my total newborn stash was less than $150 (I think around $130).  That lasted us two months and some items we are still using.  I'm not totally sure how much disposables would have cost if we'd used them instead of cloth but from the rough estimating I did I think we at least broke even if not saved money plus we'll be able to use these for future kids down the road and then sell them and recoup some of the money.  So totally worth it in my opinion!
I buy almost all of my cloth diapers and diapering supplies from Kelly's Closet so that's who I've linked to for most of the diaper descriptions.  They are always running a promo where if you spend X dollars you get a free diaper.  I've gotten several free diapers that way (some of the newborn AIOs I listed here as well as some one size diapers I used with Hudson).  You can also earn Diaper Dollars (1 point for each dollar spent usually) that you can redeem for giftcards once you have enough built up.  Plus they have a Facebook group for all your cloth diapering needs, they have great customer service, they offer affiliate links for bloggers (which I have), and I like supporting small businesses.
And there's the overview!  Hope it was helpful!