I didn't keep great notes this month so this might be a shorter post, but here's what Hudson has been up to for the last month.
growth
I hoped Hudson would still fit in his 24 month/2T stuff from last summer but that is not the case and he's mostly in 3T things now.  He's also already outgrown some of the shoes that just started fitting his feet right around when Parker was born (so about 3 months ago).
It's no surprise though because this child eats like none I've ever seen before!  A few nights ago he ate a 16oz steak by himself.  One night we fixed breakfast for dinner and he ate three eggs, three pieces of bacon, two biscuits, and a banana.  It's unreal.
Here he is drinking a "moosie" (smoothie)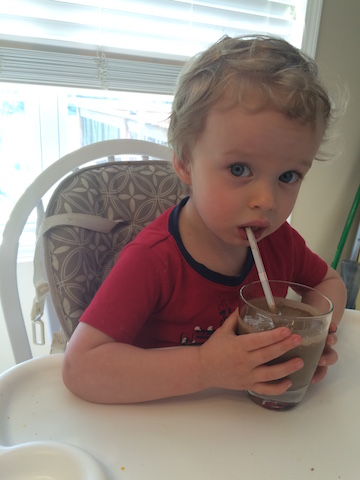 We got his hair cut not long before Parker was born but he desperately needed another cut already and this time we went a little bit shorter.  It makes him look so big!
new stuff
Hudson has started singing a lot more this month.  Instead of just wanting to be sung too he now sings along.  It's adorable!
Some funny things he says recently:
– He asks "Daddy go?" multiple times a day and so I'll tell him that Daddy is at work and he'll say "yeah!  hammer!".  Michael doesn't use a hammer at work but somehow Hudson got that in his head. (I'm sure it's because Michael does lots of work around the house that does involve a hammer)
– When he wakes up in the morning or from a nap he says "all done sleeping!" and tries to get out of the bed.  A lot of times we'll wake up and then spend a few minutes in bed before getting up but once he announces "all done sleeping" then he wants to get down immediately and doesn't want to stay in the bed at all.
– He used to just say "yummy" but now says "yummy tummy!" or "yummy e tummy!" (yummy in my tummy)
– He's constantly talking about things hurting or itching, no matter how big or small, he says "ow!  boo boo!  hurting!" and wants you to give it a "tiss" (kiss).  He usually says "diaper hurting!  clean diaper!" after he has pooped.
– Everything is "14 minutes".  No idea where he got that but if you ask him about how long something is or how big or how much it weighs he says "14 minutes".
He is so incredibly expressive with his face while he's talking or telling a story.  He definitely got that from me!  He's hilarious to listen to, I try to take videos when he isn't paying attention so I can always remember his sweet little voice telling stories.
pictures
Sweet boys in their coordinating Easter outfits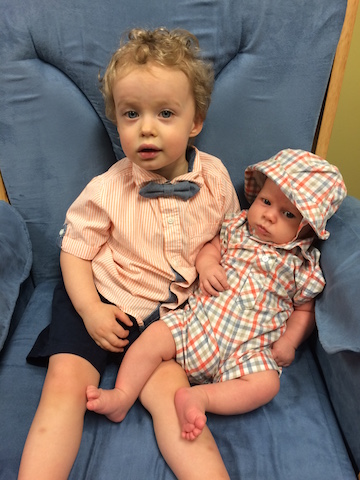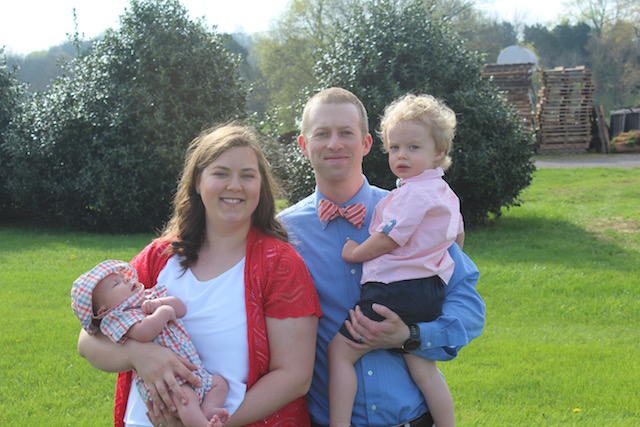 Easter egg hunt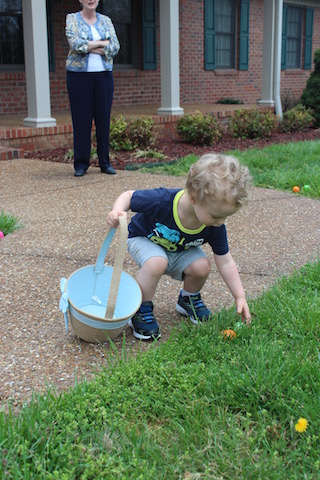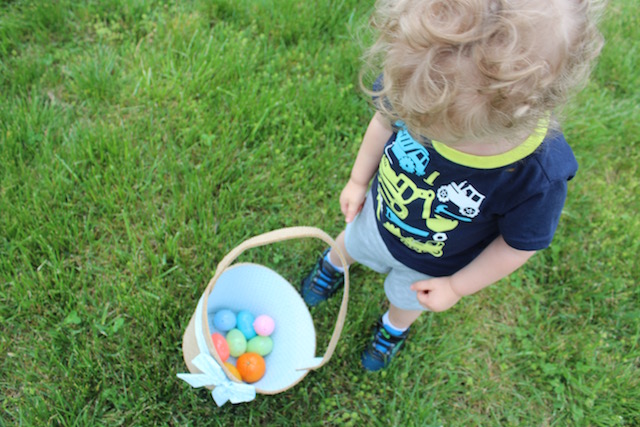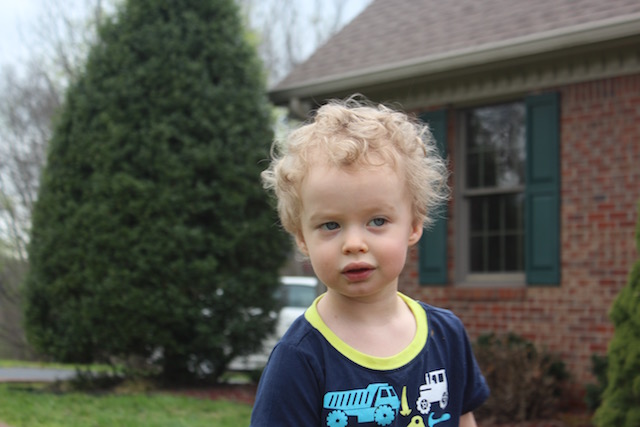 Hudson asked to hold Parker and although he looks unhappy in this picture he was very proud of himself.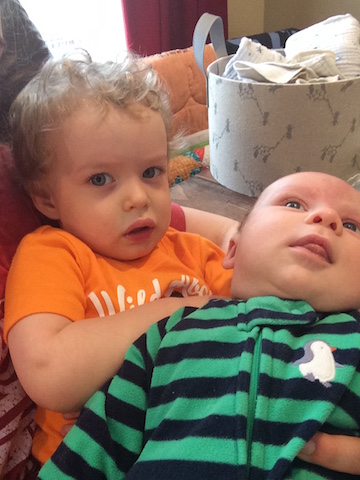 Pretending to breastfeed his baby doll.  I know some people think that it's weird when little boys pretend to breastfeed but I think it's sweet – that's how he sees Parker eat and so to him that's how babies eat.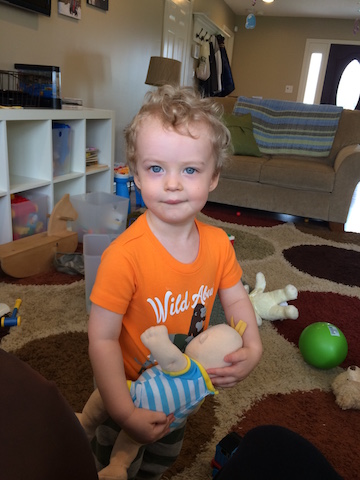 Sharing his "fuffle" with Parker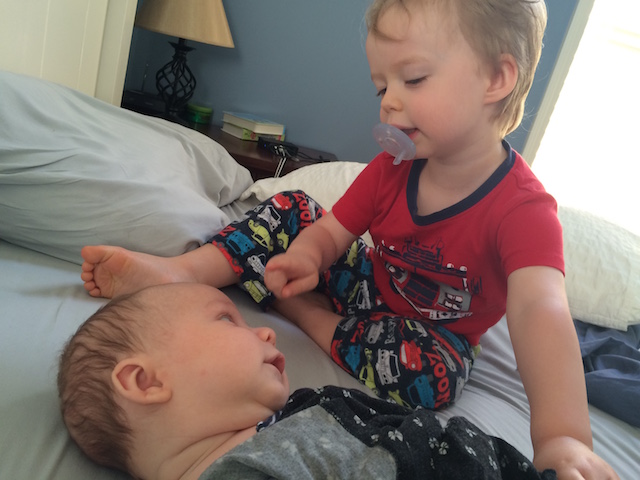 I (perhaps with poor judgement) bought him a cheap little recorder for Easter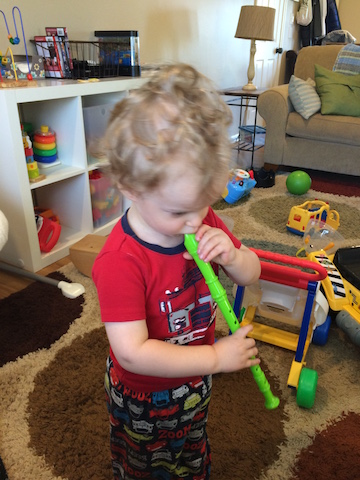 We also got him a Boogie Board for Easter.  It's kind of like a high tech Magna Doodle.  He loves it, however, we've had issues with it working so we haven't been thrilled with it.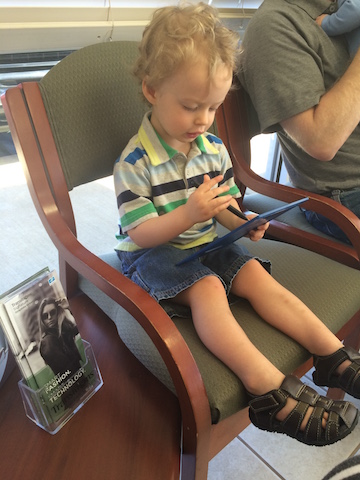 Sidewalk chalk with Daddy (how many nerdy references can you spot?)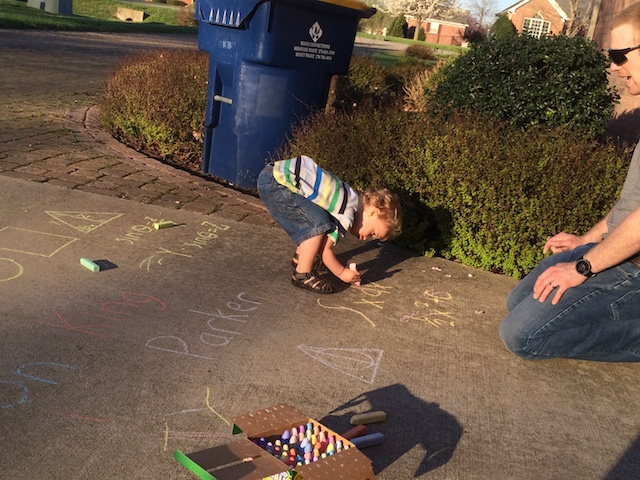 Hudson loves to help me clean and I absolutely let him!  I know he won't always like it but I'm hoping this will teach him some important skills and such.  He likes to use my Norwex dusting mitt and dust the furniture.
Showing Daddy some of our yoga moves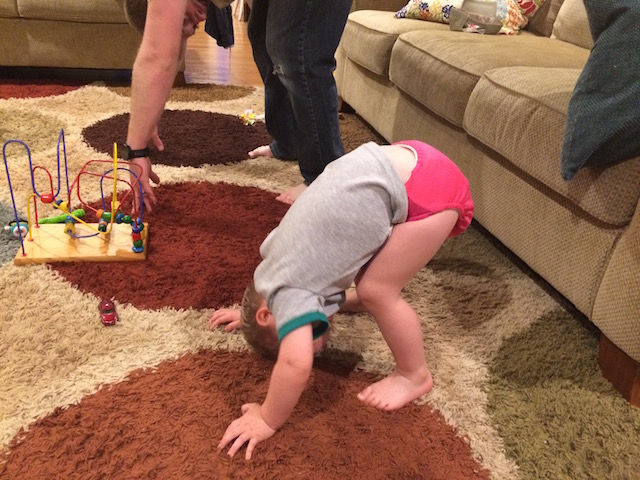 Michael his this thing that he uses for his bicycle and after reading "Where the Wild Things Are" one day Hudson started putting it on his head and calling it a crown (like Max's in the book)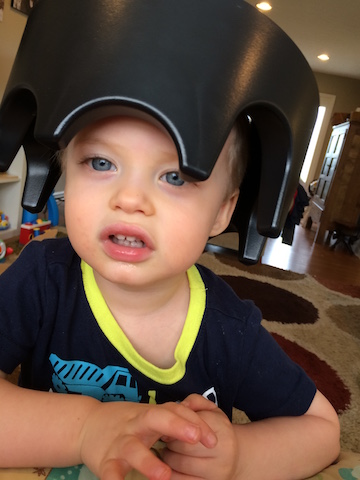 Snuggling with my sweet boys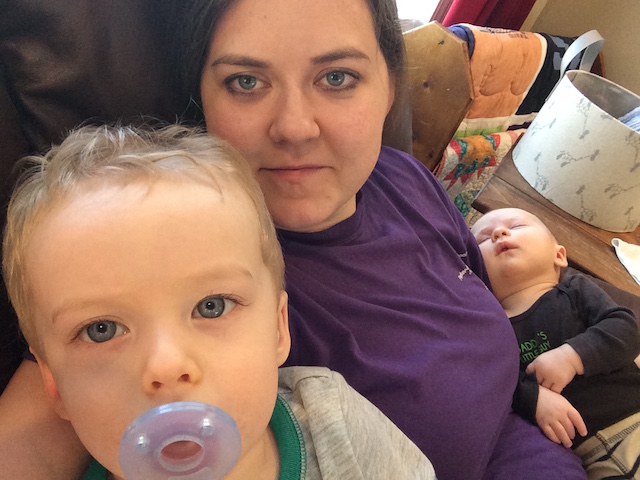 He has no idea who Batman is but he was pretty proud of his Batman pajamas anyway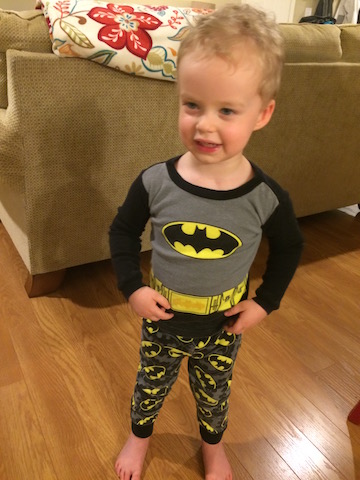 The stuff that goes through his head…he just cracks me up!  He piled all the balls into Parker's swing and called it a "nest".  Then he laid his baby doll on top, grabbed the calculator he plays with (he calls it "calcy phone" and pretends it's a cell phone), and pretended to take pictures of his creation.  Hilarious!

Looking very serious in his safety goggles.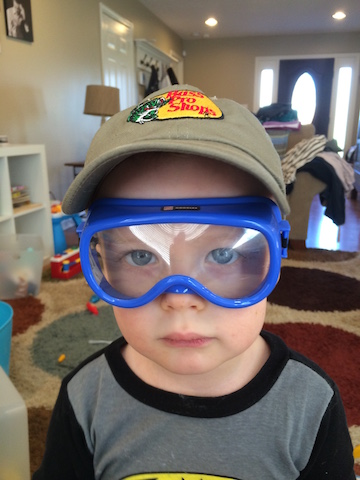 He lined up his cars on my leg and we counted them over and over.  He did a great job – he can count to 10 when he wants to.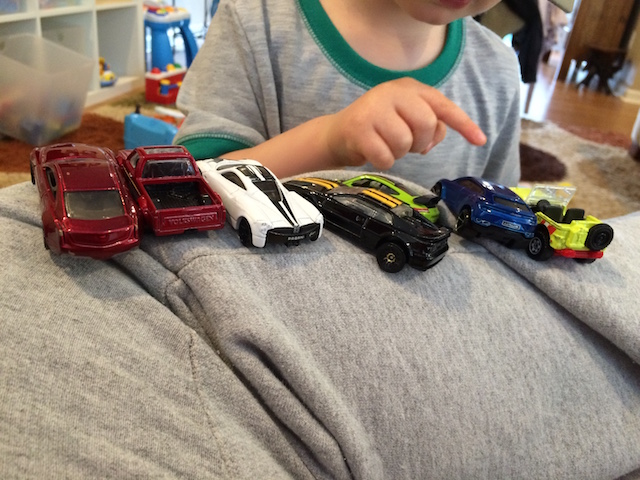 Hudson wanted to hold Parker after nap one day so I helped him.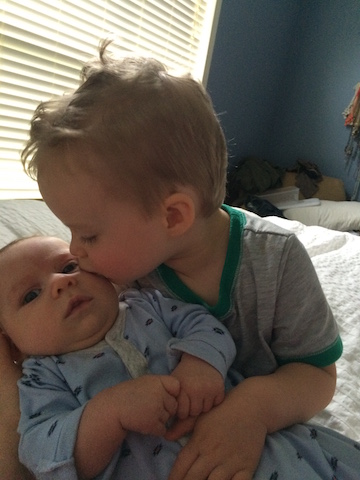 But then he decided he needed a drink of water so he got to practice a very important parenting skill – multitasking.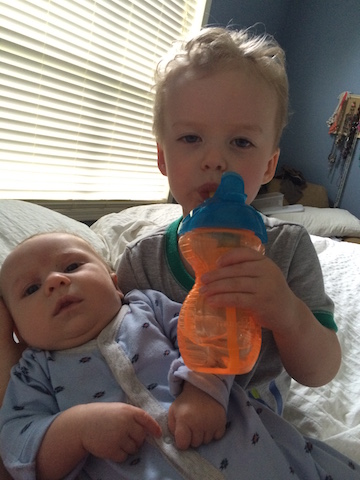 I love nap time!  Not just because I get a much needed break but also because I just love snuggling with the boys.  I know we won't be napping together forever so I'm soaking it up while I can.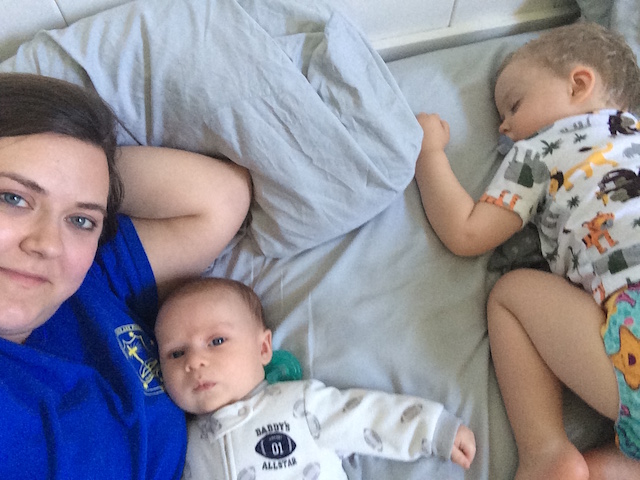 Hudson got some sunglasses for Easter and he loves them.  He wants to wear them all the time – even in church or when it's dark!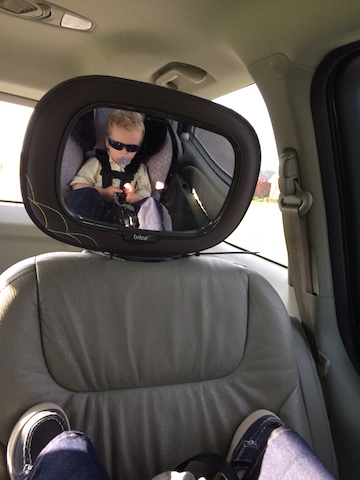 Playing at the park.  It's amazing to me how much he has changed.  Last year he was totally timid when we'd go to playdates.  Now he jumps right in and starts playing, and he loves to slide down the slide (which for a child who was terrified of basically everything is pretty great!)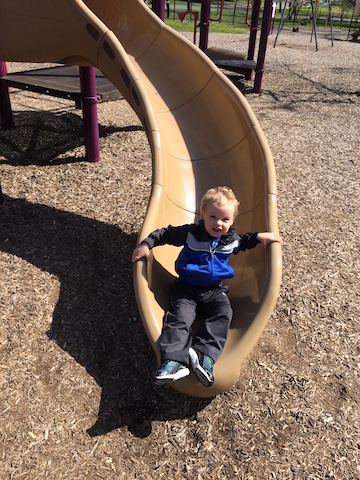 He set out all of these toys and told us this was a "cupcake party".  He talks about cupcake parties a lot (we ate cupcakes at his birthday party in January and he talks about that pretty frequently)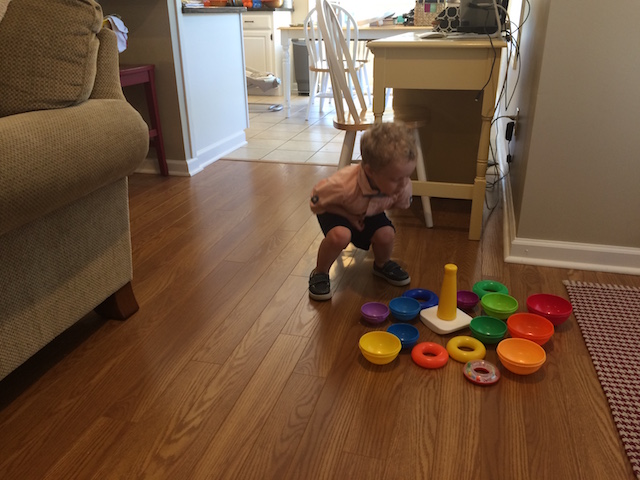 He looks practically grown in this picture here!  Where did my little baby go?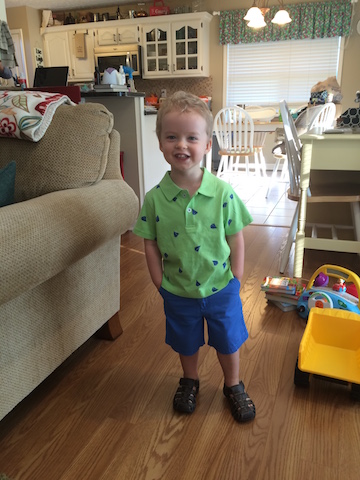 The water department laid a sewer line along the back side of our property.  They tore down a bunch of trees and while it was sad to see all those trees go, Hudson enjoyed watching the construction vehicles at work.  He got on his own digger and sat there observing.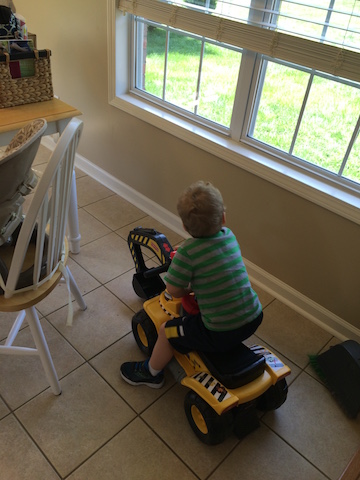 Hudson has gotten a lot better about smiling for pictures instead of giving a stoic stare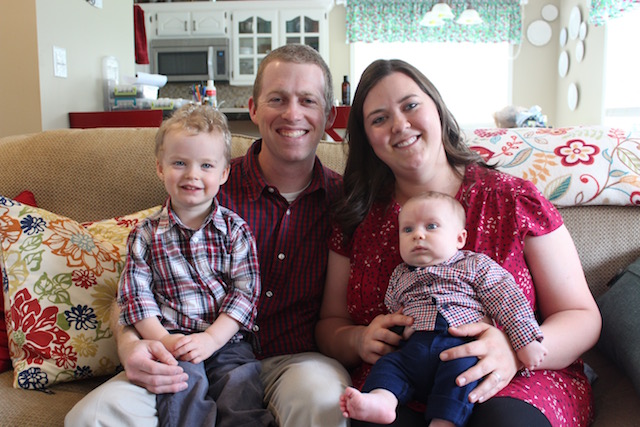 Checking out Parker's new Bible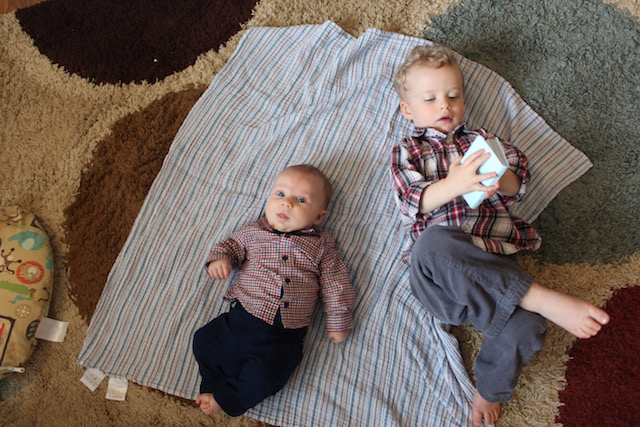 Taking selfies at the deli counter.  Shopping with two is not the easiest thing in the world but thankfully Hudson is pretty well behaved which makes it do-able.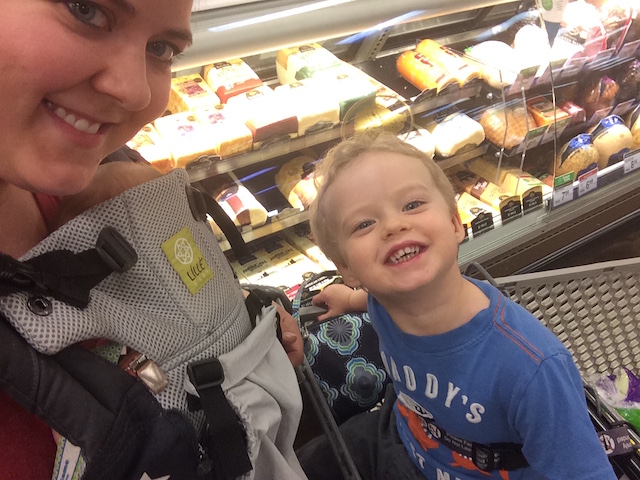 This was so sweet – Hudson really wanted Parker to play with him so he kept putting the hammer and balls in Parker's hand.  They are going to have so much fun together as they get bigger!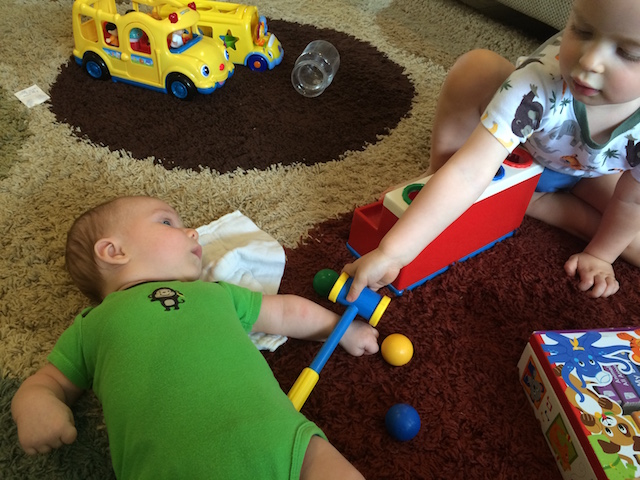 Daddy is definitely his favorite playmate right now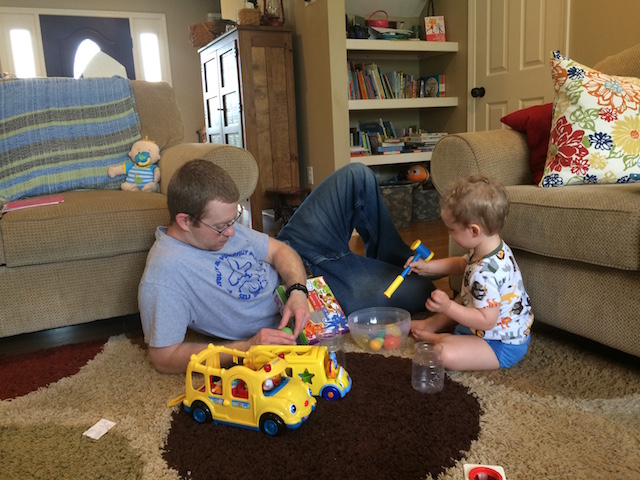 Hudson is strong willed and stubborn and…well…two.  I guess it's just part of toddlerhood.  But he's also incredibly sweet and caring and loving as well.