Parker is three months old – he's growing and changing like crazy!  Here's what he's been up to:
growth
Parker is now 15 pounds, 6 ounces and 24.5 inches long (approximately…measuring a baby is hard!)  He has outgrown the majority of his newborn cloth diapers and fits nicely into our one size diapers now.  He's currently on the smallest rise snap but I actually think he could move up to the middle rise.  In disposable diapers he's in a size three.  In clothes he wears some 3 months and some 6 months.  In sleepers he's in 6 months because otherwise his feet are all scrunched up, in onesies he can still wear some 3 months since they're stretchier and don't have legs.
I took this comparison picture when I was working on my newborn cloth diaper post – on the left was his very first cloth diaper and on the right is that same diaper at 2.5 months.

In a one size diaper cover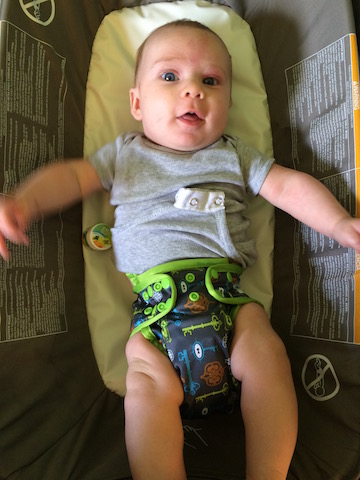 Busting out of a size 2 disposable so we went and got size 3s.
eating
He's still pretty much on the same "schedule" (put that in quotes since I don't keep him on a schedule, he just eats when he's hungry but that usually falls into a pattern) of eating every 2-3 hours.  Most nights he goes about 5 hours in between feedings.  He's still a great eater and is obviously gaining weight.  He spits up like crazy but that's normal for our kids apparently.
sleeping
Parker is still a great sleeper, especially compared to the way Hudson was.  We've fallen into a nice little routine too which I think has helped.  With Hudson we didn't really have a night time routine until much later but since Hudson already had his routine Parker has kind of just adapted to that as well.
After supper we get them both in their pjs and ready for bed.  I lay down with them (usually around 8pm) and nurse Parker to sleep (unless he has just recently eaten, then I just pat his back until he falls asleep) while Hudson falls asleep.  Once they are both asleep I move Parker to his crib (which is attached to our bed) and get up.  Most nights Parker will wake up one time to eat during the night and then be up for the day around 6 or 7.  Occasionally we'll have nights where he will wake multiple times and nurse off and on all night but for the most part he's just waking up once to eat.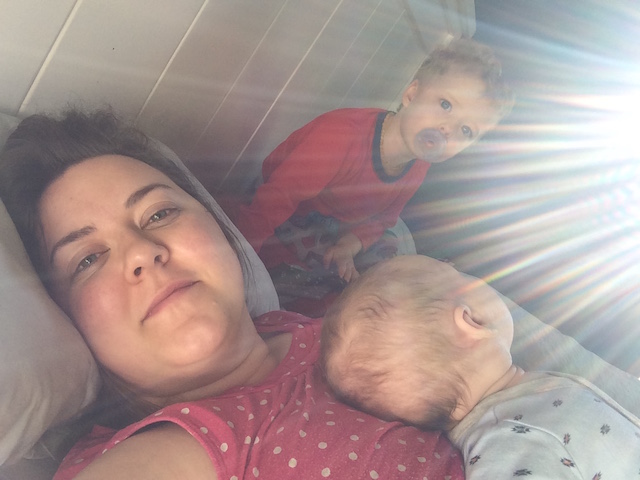 During the day all three of us lay down for a nap after lunch time and I do the same thing – nurse Parker to sleep while Hudson falls asleep.  Parker usually sleeps most of that time and often continues to sleep even after I get Hudson up (I can't let Hudson sleep past about 3:00 or he won't go to bed so I have to wake him up).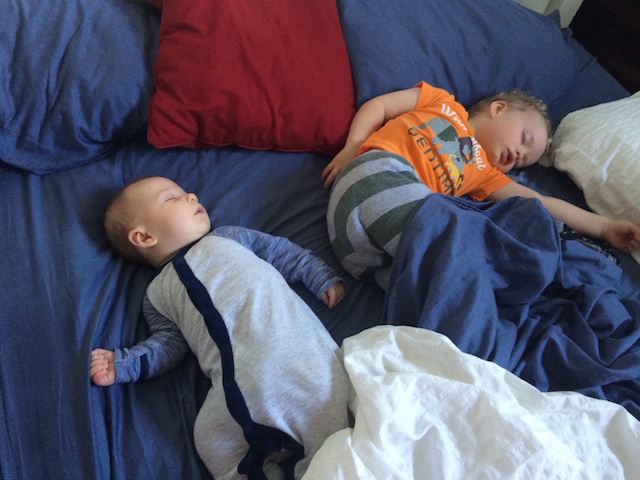 The rest of his naps aren't quite as structured.  I do usually rock him and lay him down for a morning nap after Hudson and I eat breakfast.  Then he'll fall asleep randomly during the day if I'm wearing him in the carrier or while we're in the car.
His gas issues aren't gone totally but are definitely better and not waking him up as often.  I've been giving him a probiotic daily which I think helps and also putting him on his stomach to sleep has made a big difference in how well he sleeps too.
new accomplishments 
Parker is holding his head up really well.  When I lay him on his stomach he pulls his head up and looks all around.
He smiles all the time and "talks" constantly, especially in the early morning hours.  He also rolls from stomach to back easily and once he almost made it all the way over from back to front.  Not quite there yet though.
He has started chewing on his hands some and drooling.  I have a teething necklace for him that I want to put on but because he spits up so much it would get all nasty from the spit up so I haven't done it yet.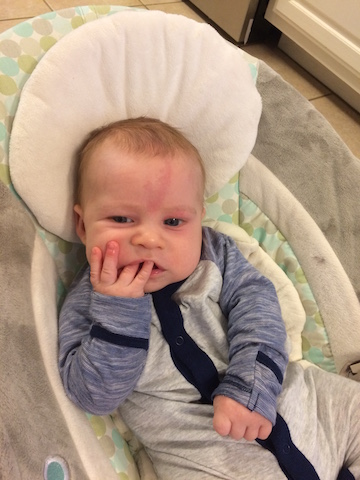 He has started holding on to a ball that has lots of finger holes and it distracts him for a few minutes if he's getting fussy.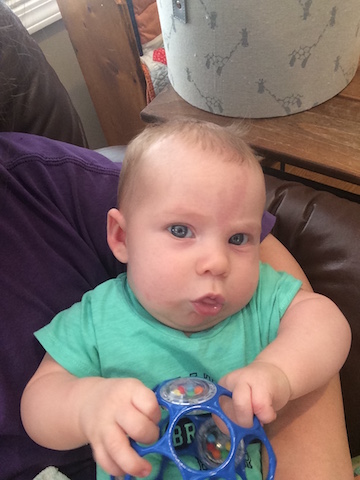 adventures
Our church presents new babies with a little Bible in front of the congregation.  Parker got his Bible this month.
(photo cred Stephen Hunter -thanks for capturing this for us!)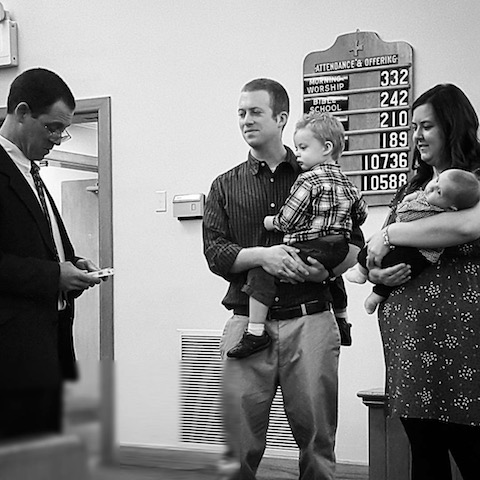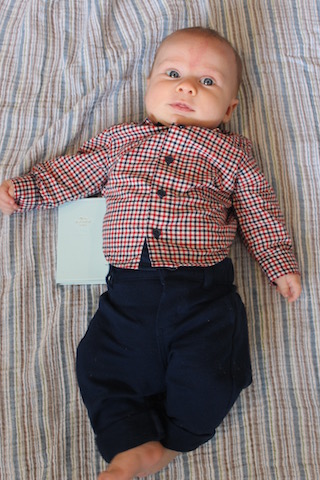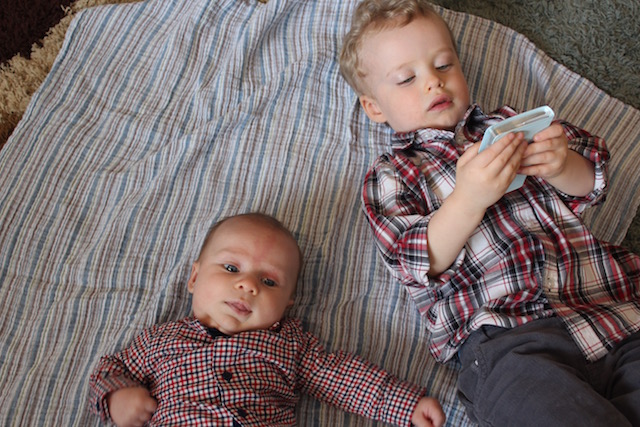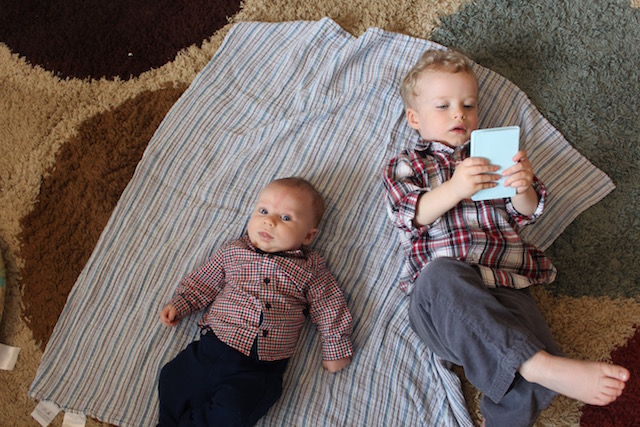 We tried out my new camera remote control to take a family picture of us in our coordinating clothes.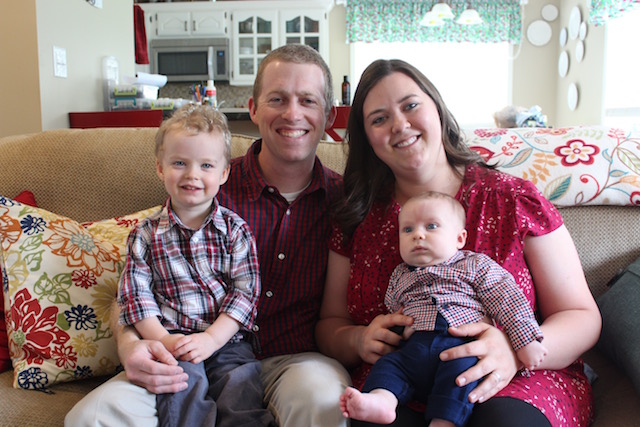 random photo dump
Hudson loves his little brother!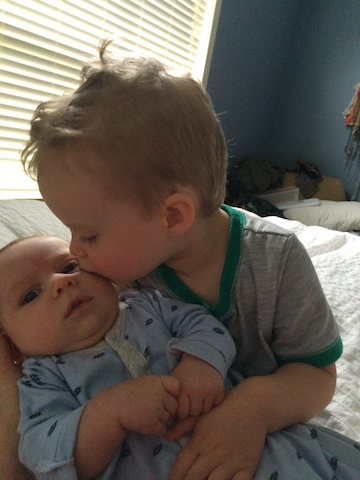 Hudson really wanted Parker to play with him – he kept putting the hammer and balls in Parker's hand, it was so sweet!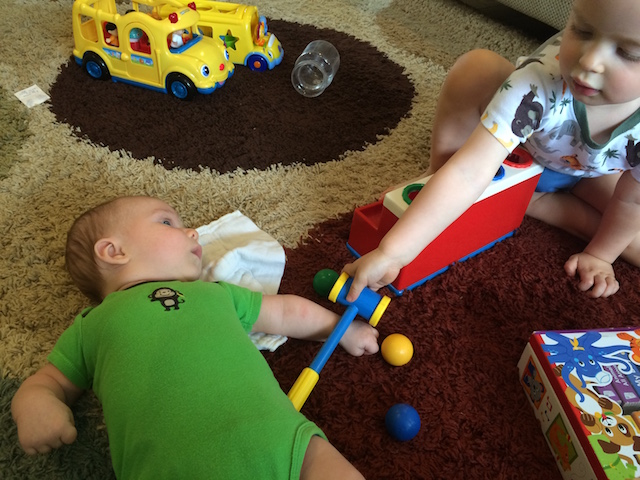 family play time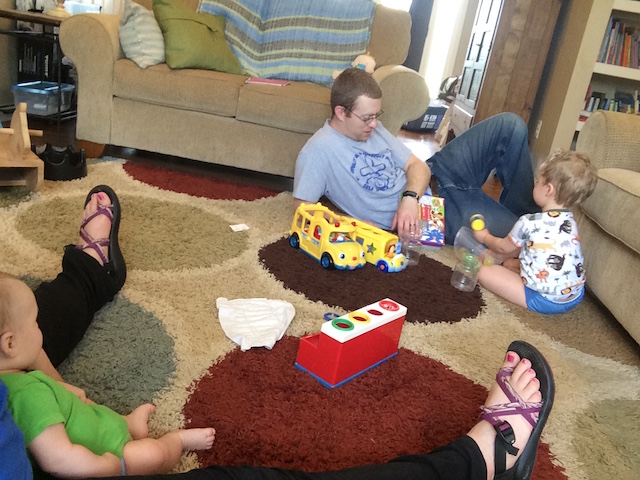 I love watching these two together!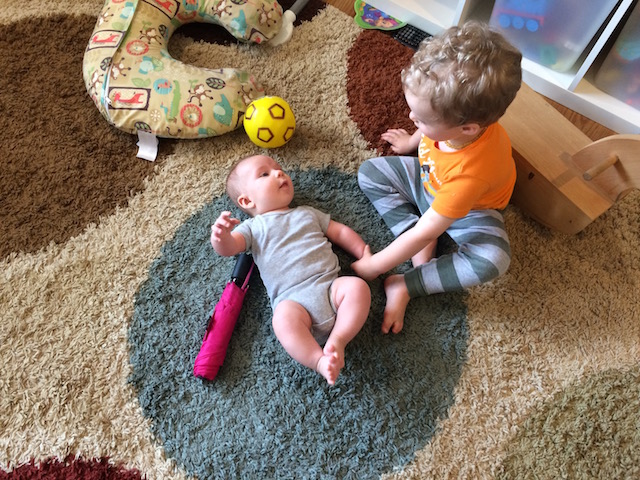 Thankfully Parker is a better car rider than Hudson was – he cries when he's over tired or hungry but a lot of the time he just sits quietly or falls asleep.  That's nice.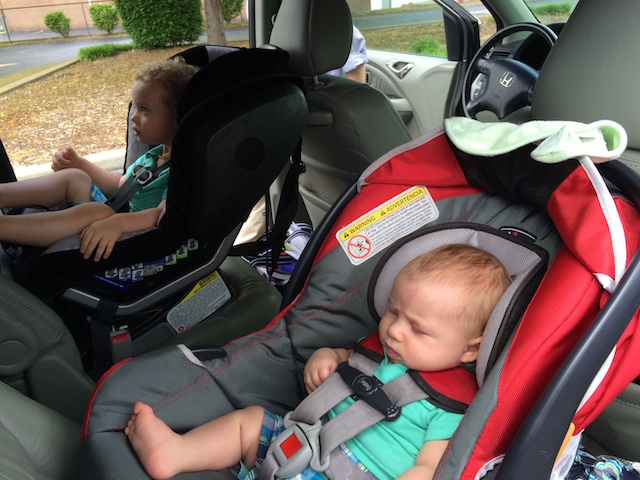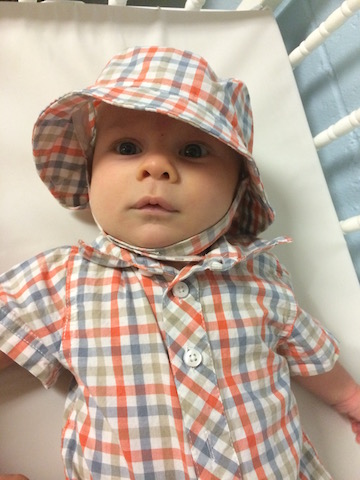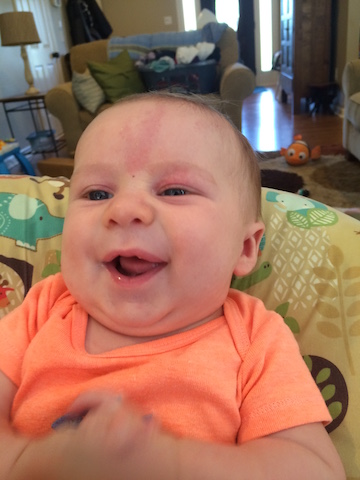 Fridays are grocery days for us.  I was worried about how hard it would be to grocery shop with two but it hasn't been as difficult as I expected – I wear Parker and he sleeps the whole time.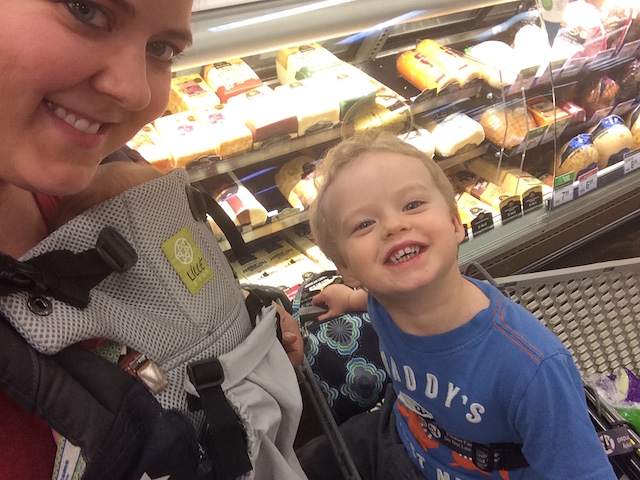 Parker is usually easy to get to sleep but on the occasions that he fights it I put him in the Lillebaby carrier and he passes out right away.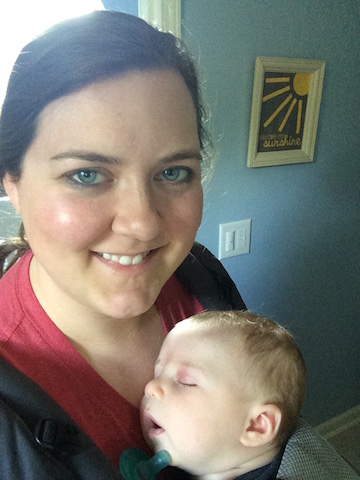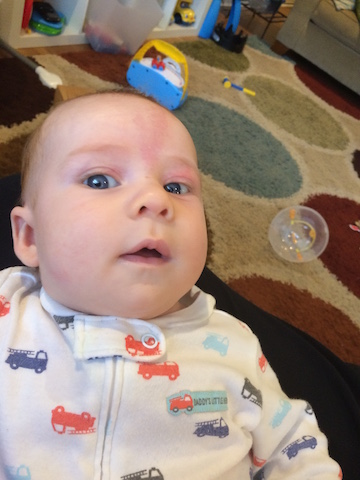 We tried some Mommy and Me yoga.  It wasn't a very good workout for me but Parker had a blast and smiled tons!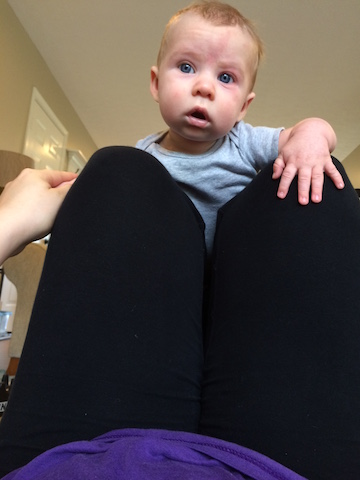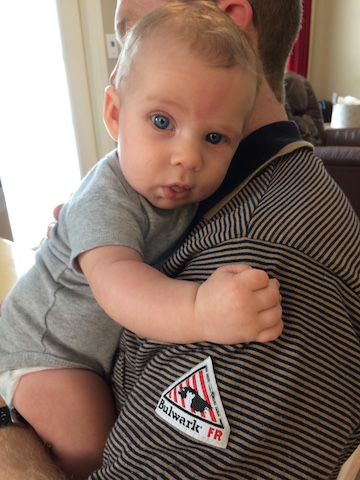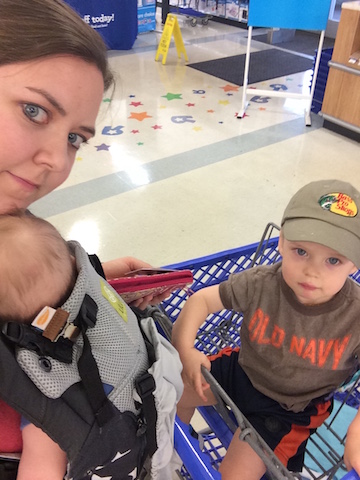 We ran some errands at the mall and Parker started to get fussy.  Hudson held his hand and he calmed right down.  That didn't last very long though and by the time we got in the car Parker was full on mad…and then we got stuck in traffic that made our trip home very long with lots of screaming.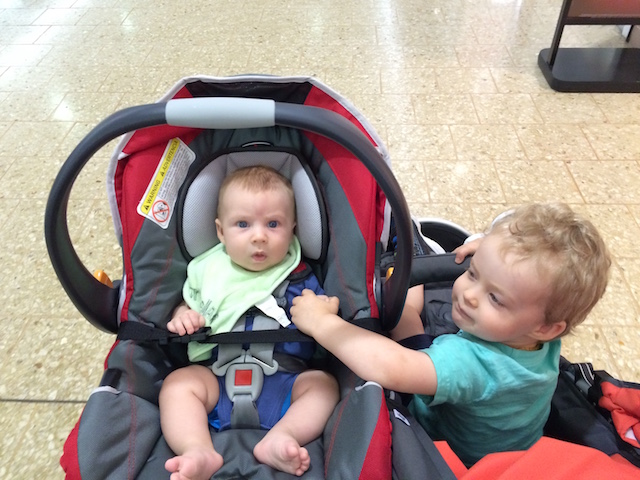 walking around the neighborhood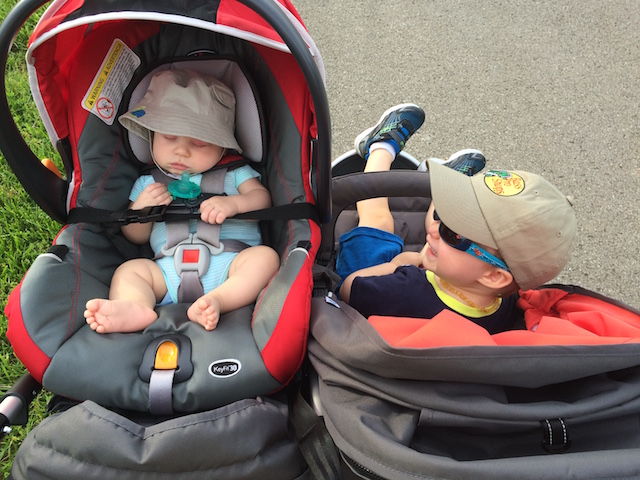 I love dressing the boys in matching or coordinating clothes!  It's hard to get a good picture of them both but we try anyway.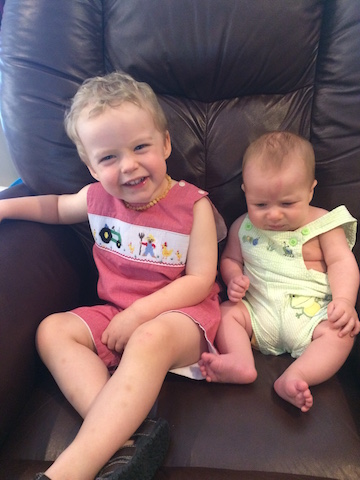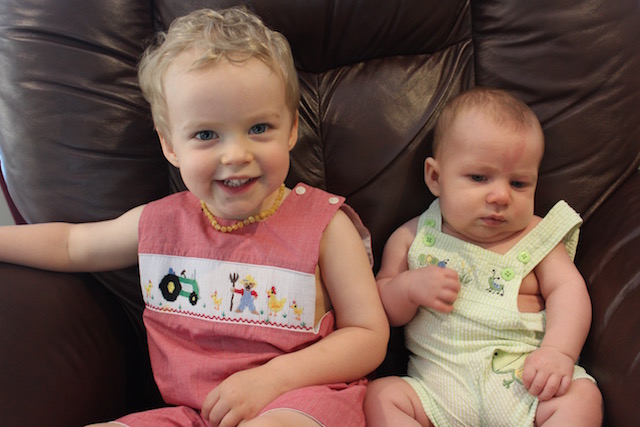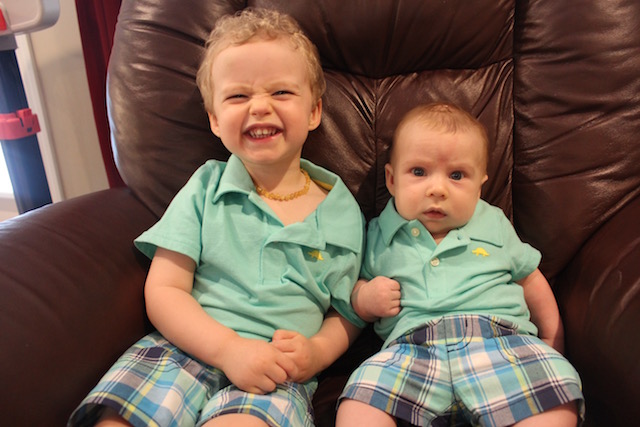 Happy three months, sweet precious!