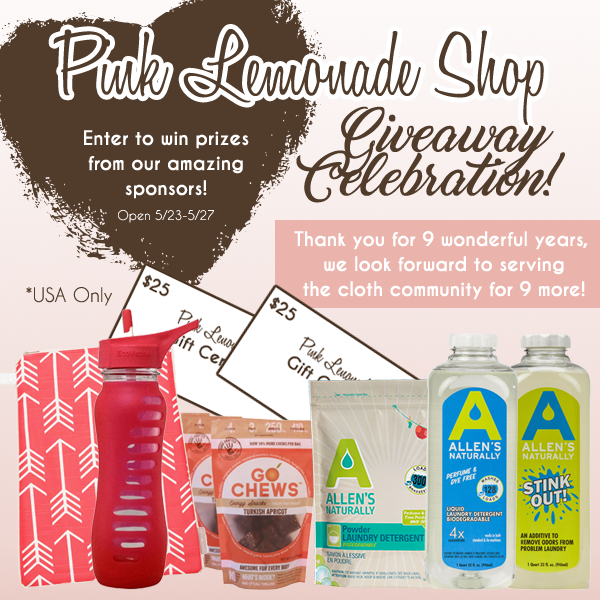 I've posted several times about mama cloth and specifically my favorite brand, Pink Lemonade Shop.  If you're a fan of my Facebook page you know I routinely share sales and stocking announcements and such over there too.  Well PLS is turning 9 years old this week and they're celebrating by teaming up with several great brands and bloggers (like me!) to bring you a cloth pad chat and tons of giveaways!
Monday through Friday they'll have a Flash Giveaway every day on their Facebook page. They also have a HUGE Rafflecopter giveaway you can enter to win right here at the bottom of this post. On Thursday they're hosting a Cloth Pad Chat with EIGHTEEN winners chosen from those who attend and who knows what else they'll share, Sue always has something up her sleeve!
Pink Lemonade Shop is thrilled to have been in business 9 years. They've come so far and they can't wait to see what the next 9 years has in store for them.
The Flash Giveaways
Flash Giveaways will be daily and the sponsors include, in order of appearance, Taylor's Pure & Natural, Eco Sprout, Grace Green Beauty, Smart Bottoms and Eclipse Sun Sleeves.  Follow PLS on Facebook to enter these.
The Rafflecopter Giveaway
This giveaway includes prizes from Allen's Naturally, Eyla's, Logan + Lenora, Momme Meals and of course, Pink Lemonade Shop!  Keep scrolling down to enter!
The Cloth Pad Chat
Our Cloth Pad Chat w/ Flash Giveaways is Thursday May 26th at 7pm est. Nine winners will be chosen to receive 50 points each and nine winners will be chosen to receive a mystery cloth pad or pantyliner! Winners must be present to enter to win and will be chosen at random from those who participate.
*The Cloth Pad Chat prizes are open to both USA & International winners.
RSVP for the Cloth Pad Chat here.
If you are totally confused about what all this is about check out my blog posts about mama cloth 101 and how I used mama cloth for my post partum recovery.