It's that time again – time for Hudson's monthly update!  I have been terrible as of late at keeping notes each month so mostly I'm just going to share pictures I took.  The biggest changes in him these days are in the funny things he says and how he perceives the world.  Michael and I crack up all the time at his conversations!  He's talking in multi-word phrases but not really sentences yet.  That doesn't stop him from getting his point across though!
His #1 favorite thing right now is bicycles.  He loves to talk about them, watch videos with Michael about them, and ride them.  He calls mesh shorts "bicicycle shorts" and that's all he wants to wear these days.  He loved riding this tricycle at a playdate we went on and didn't want to do anything else.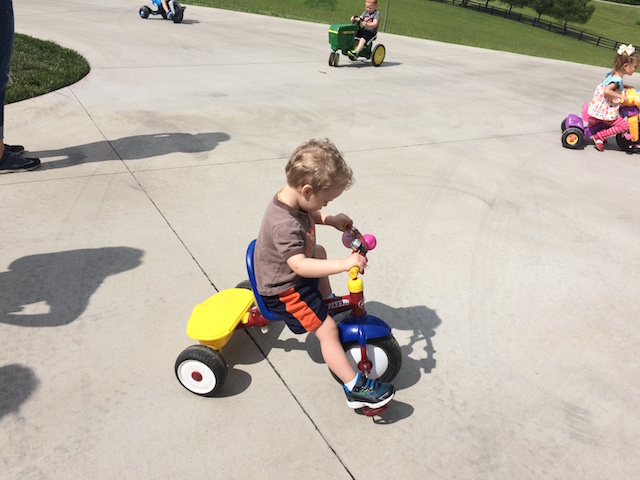 We borrowed a little bike called a strider from some friends of ours – it's a bike with no pedals and it's used for little kids to teach them balance.
Side note: Hudson is growing like crazy!  I didn't notice until I looked at the picture how very short his pants had gotten.  Also those green tennis shoes are new – he's already outgrown the tennis shoes we bought him 2 months or so ago and had to move up another half size.  He's currently in mostly 3T, only a few 2T clothes, and size 8.5 shoes.  I haven't measured how tall he is but I do know that he weighs about 30 pounds (he loves to weigh himself on my scale, then he'll tell us he is "thirty point pounds"…he can never remember the .4 or whatever it was that day).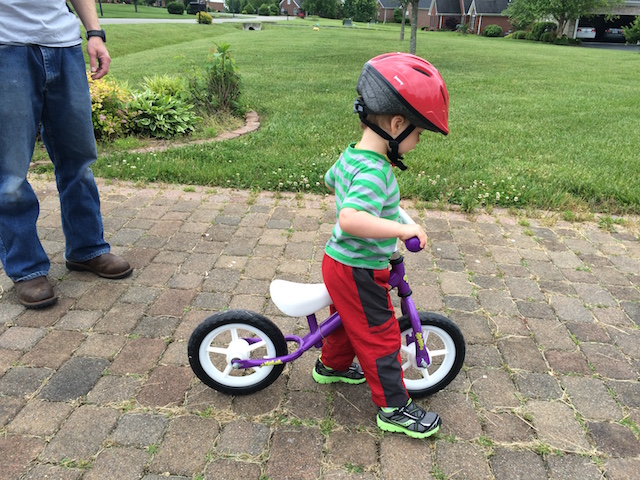 Another hilarious thing that he does is he narrates everything.  "Hudson running", "Hudson laughing", "People walking", etc.  One day he laid down next to Parker and said "Two boys sleeping!" – so cute!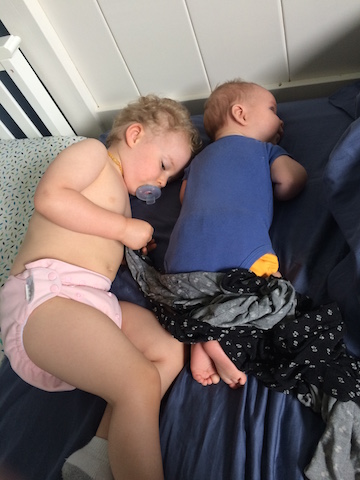 He is a much better sleeper than he used to be.  I lay down with him at bed time and at nap time and he flops around for a while (not very long at nap time but usually quite a long time at bed time) and then falls asleep.  He typically sleeps from about 9pm – 7am and then takes one nap from about 1pm to 3pm.  He still sleeps in our bed.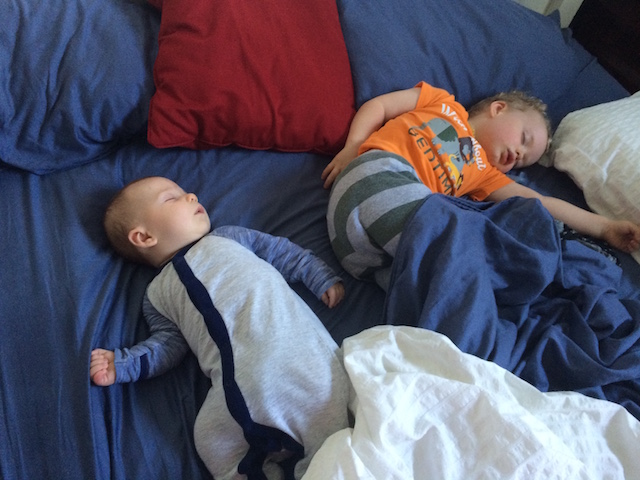 Hudson loves to be outside.  He would play outside from the time he woke up to the time he went to sleep if we'd let him.  He loves drawing with sidewalk chalk, playing with a ball, riding his bike, eating strawberries out of our garden, going to the park, and just running around.  He's not as big a fan of sitting in the stroller for our walks but he tolerates it.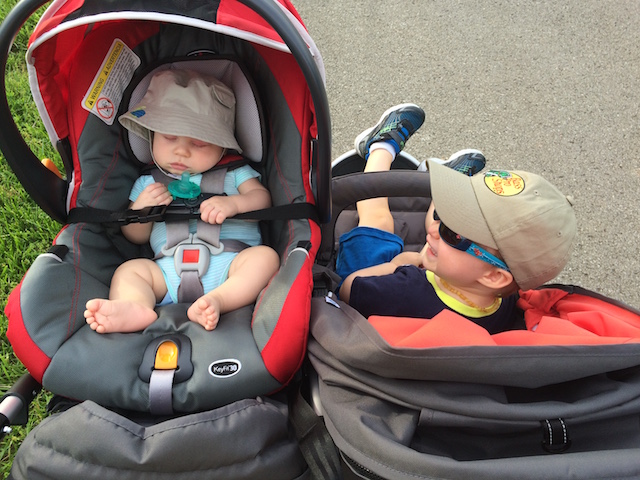 I love this picture.  We were at the mall and as we were getting ready to leave Parker started crying.  Hudson reached over and held his hand and that calmed him down long enough for us to get to the car before he really let loose.  It was so sweet!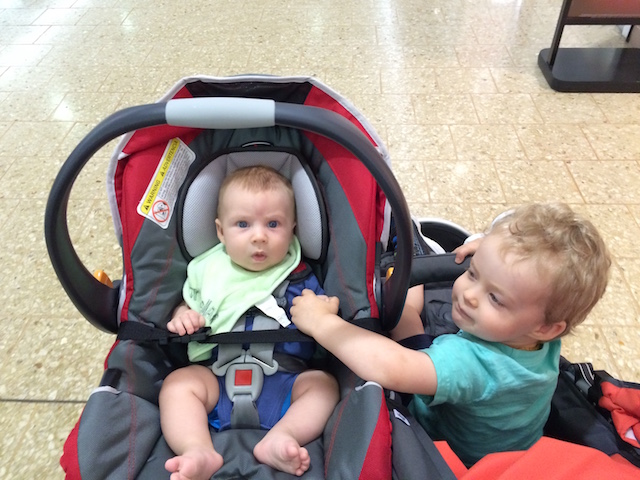 Hudson has gotten so much better about playing independently.  Before Parker was born he wanted me to play with him nearly all the time.  I'm not sure if he's just growing up and changing developmentally or if the fact that we had a new baby made him have to get used to not having me 24/7 but either way he plays a lot more on his own than he used to.  I like to observe him as he plays because he's always thinking up new stuff.  This particular day he got a bunch of books off the shelf and arranged them very carefully on the floor.  I have no idea why but he certainly was enjoying himself!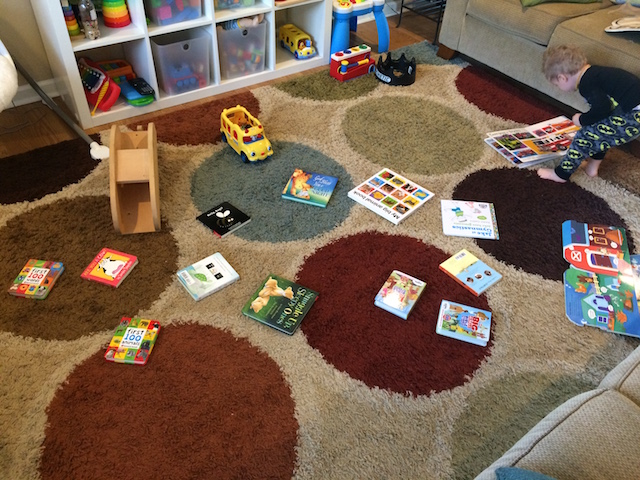 Another day I was trying to make a rare phone call (those are SO hard with little ones) and while I was talking he piled all the balls from our ball basket on top of me.  He said "Mommy nest!" (he likes to put the balls in/on something and call it a nest)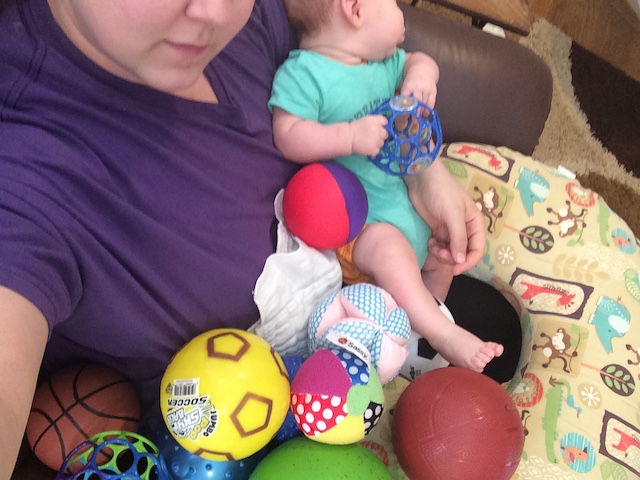 He is so very observant!  Scary observant sometimes – he'll mimic things that he's only seen or heard once.  He got a small wooden cylinder from his blocks and was pretending it was a bottle of eyedrops and he was putting the drops in his eyes like Michael does.

Another thing he is pretty obsessed with right now are eggs.  He takes some Easter eggs, taps them on the table to "crack" them, then opens them up and pretends to put the egg into the skillet.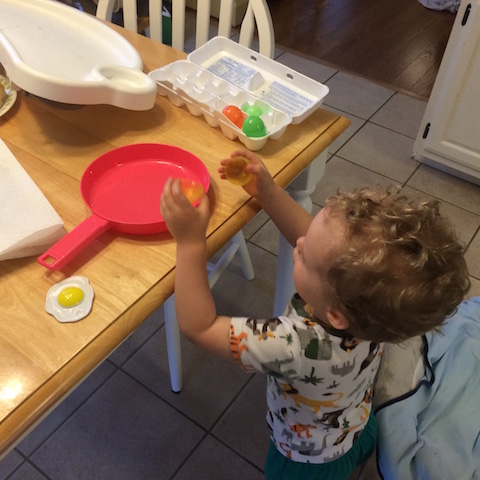 He enjoys helping me "do yogas" (aka workout – he calls all exercise "yogas").  One day while I was doing a resistance band workout he took one of the bands, positioned it on the floor, and then announced to me that he had made a circle.  I think that was the first time I've ever seen him purposefully make any shape other than a straight line when he's drawing (which he calls a pretzel) or a triangle with his fingers.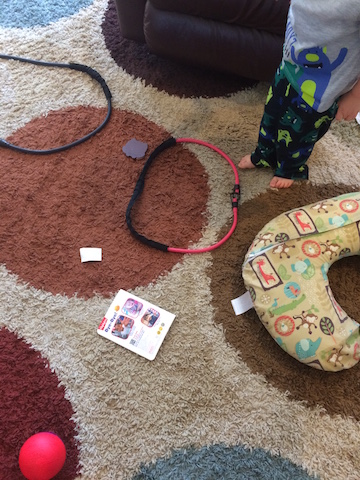 Helping me take a selfie after a workout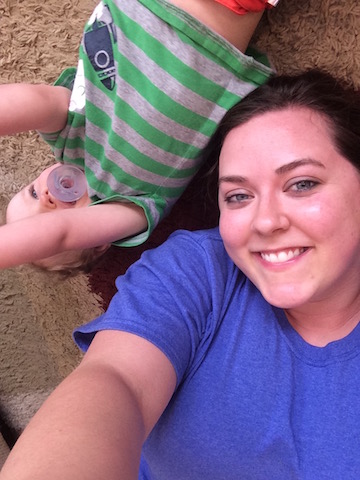 He loves to help me clean and I try to involve him as much as possible by letting him help me unload the dishwasher, wipe down counters, wipe the stainless, scrub the toilet, dust, etc.  I caught him playing on his own one day pretending to clean – he was pretending to squirt the floor with cleaner and use his mop to mop it up.  Then he went and got one of the rags that came with his cleaning set and started wiping the wall (where he'd scratched it up many months ago and left a bunch of marks).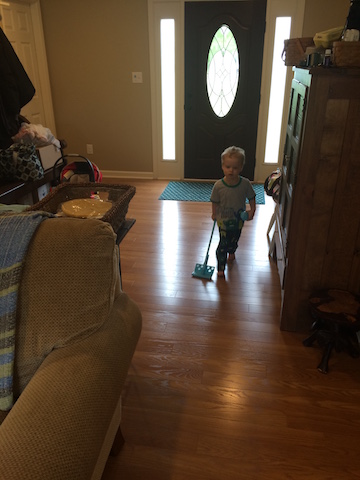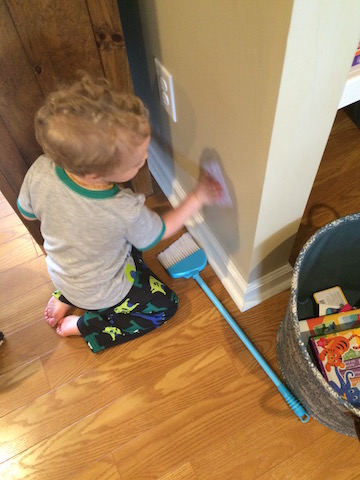 Fuffle and paci are still his favorite objects.  Recently he's started putting fuffle up to his nose and kind of breathing it in and out or rubbing it on his face.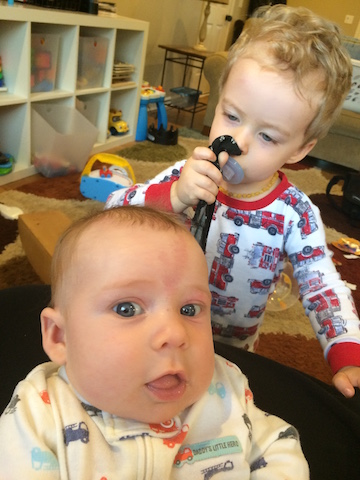 Hudson is usually such a sweet big brother.  He got Parker a ball to play with and then got a similar one himself and sat down next to Parker so they could play together.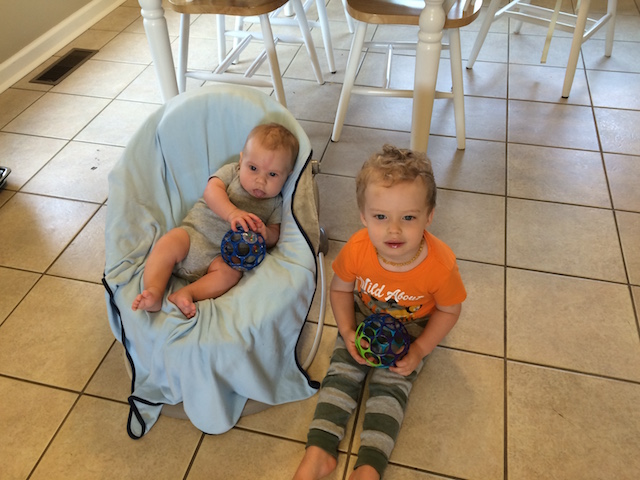 He really wanted Parker to hold this umbrella one day.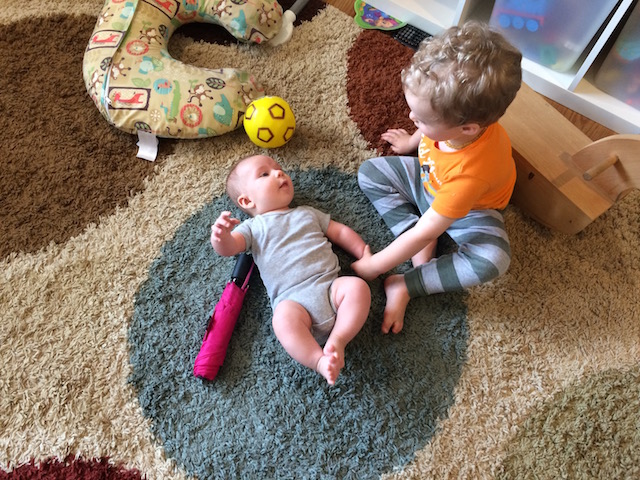 Shopping with two kiddos is not the easiest task but Hudson is pretty well behaved while we shop so that makes it a lot easier.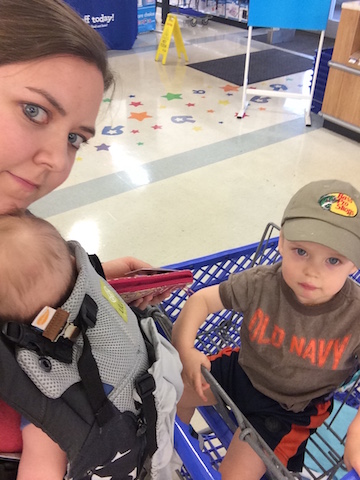 While it looks like he's making an "oops" face (which would have been very appropriate for the situation because we'd just had a debit card debacle at Kroger) he was actually spitting into his hands because he wanted to rub them together and "wash his hands".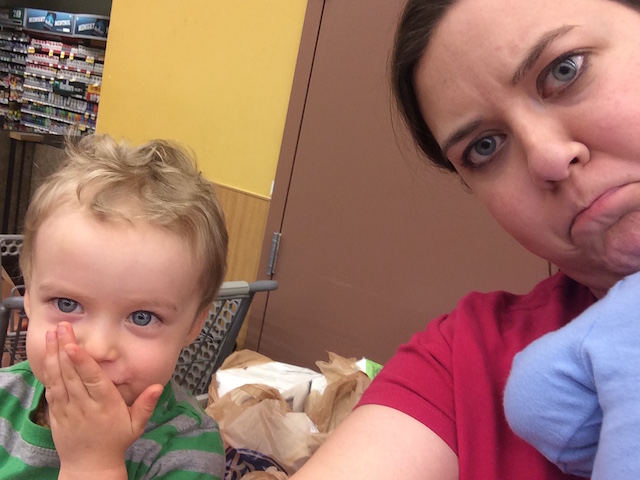 Picking out plants for our garden at Lowe's.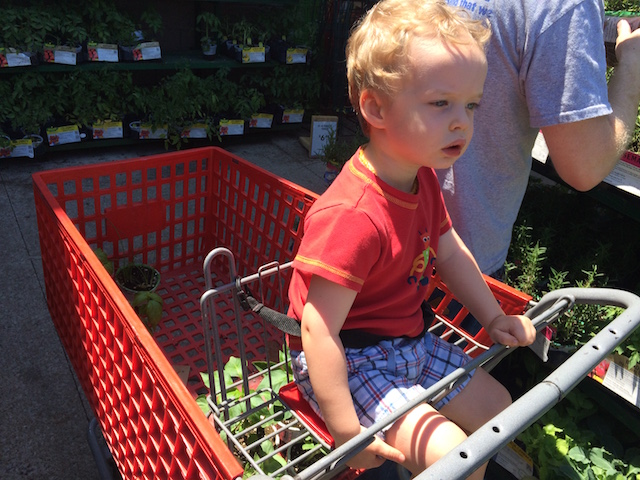 Hudson has to inspect all of Parker's toys.  We got the playmat out for Parker and of course Hudson had to lay on it and try it out for himself.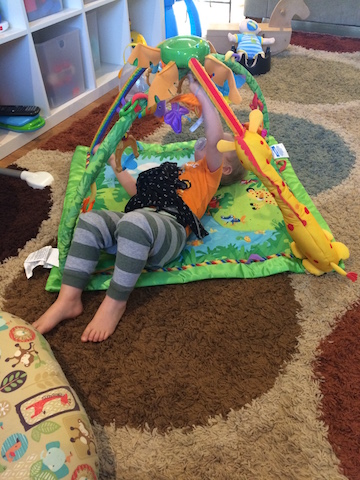 Same with the Bumbo seat – and amazingly he actually could fit down in there!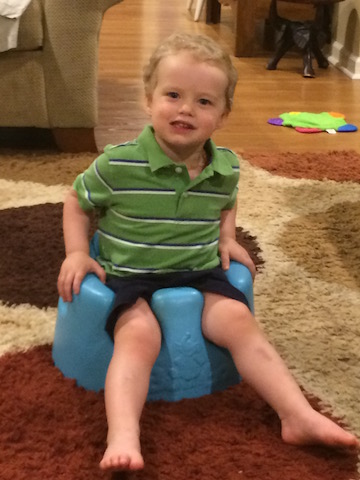 Hudson loves pizza.  I'd say it's one of his favorite foods for sure.  Since I've been trying really hard to eat healthy so I can lose some weight we haven't been eating out hardly at all and instead have been making some yummy homemade pizza. Hudson loves helping to roll out the dough!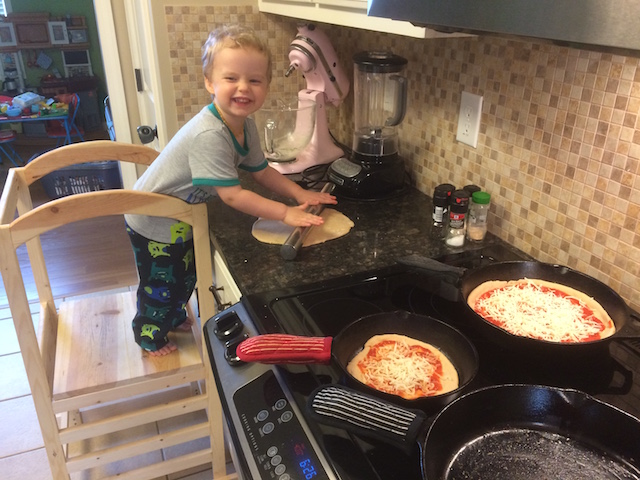 I haven't been wearing Hudson nearly as much as I used to.  Actually I hadn't worn him at all since before Parker was born, but this particular day Hudson was just having a really hard time and kept having little tantrums so I put him up on my back so I could finish getting food fixed and surprisingly he loved it and was totally content to ride back there.  I was afraid he wouldn't like being worn anymore but that was not the case so I think I'm definitely going to do that more often!  It keeps him contained and makes him happy.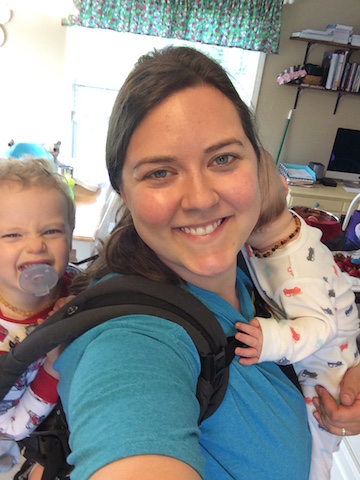 We went to visit my grandparents for a couple of days and Hudson had a ball pushing my Granddaddy's walker around.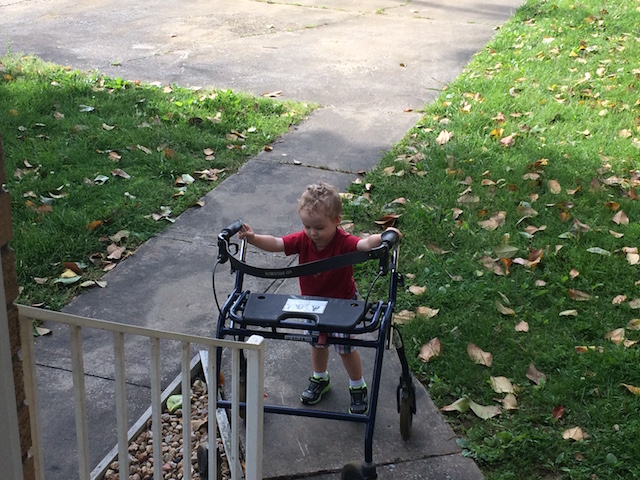 This boy loves to eat!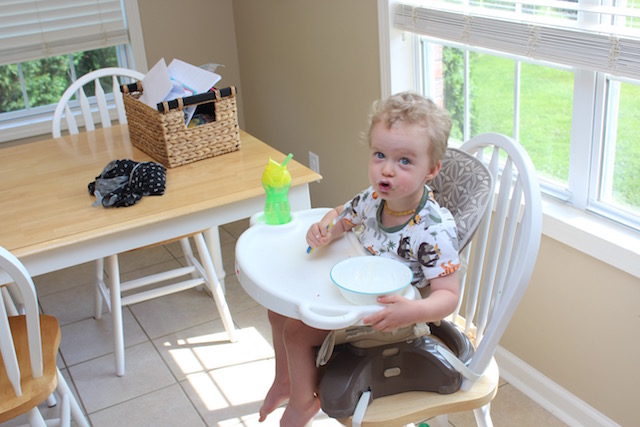 Sweet brothers ready for church.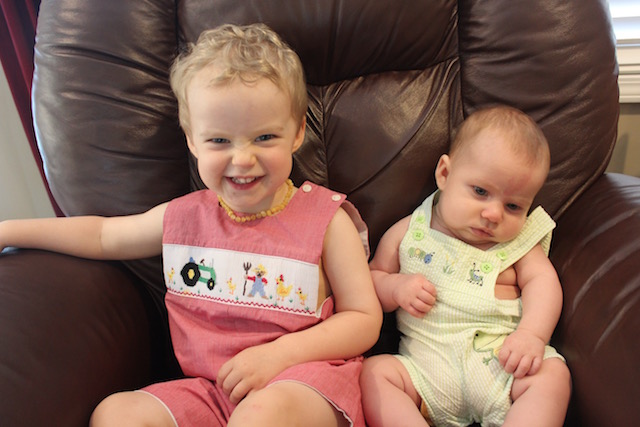 This picture.  Heart. Melter.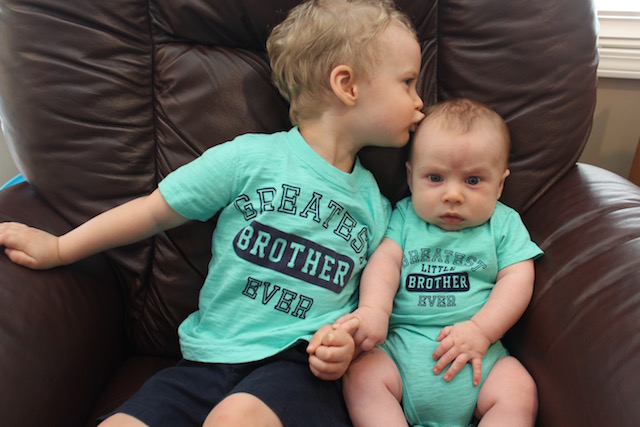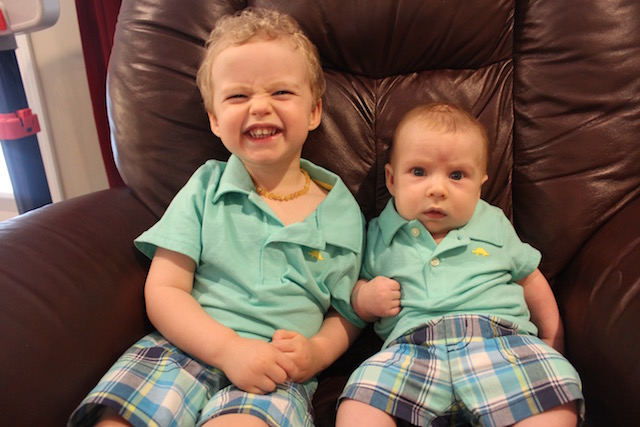 Mother's Day picture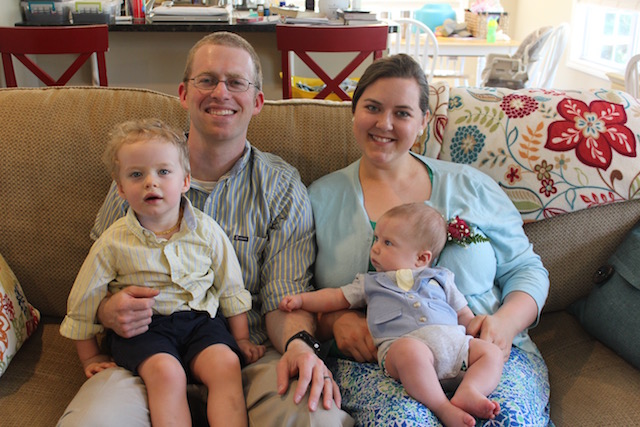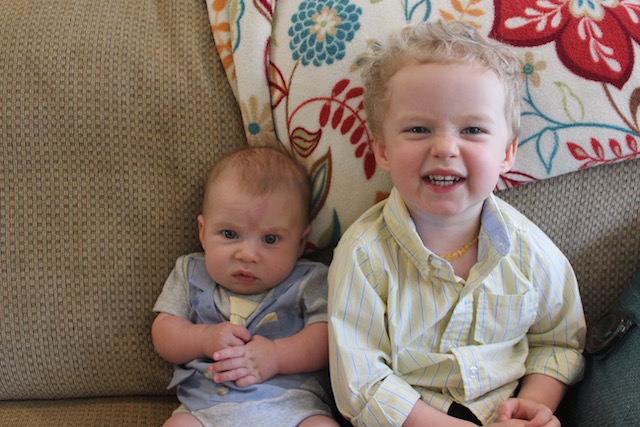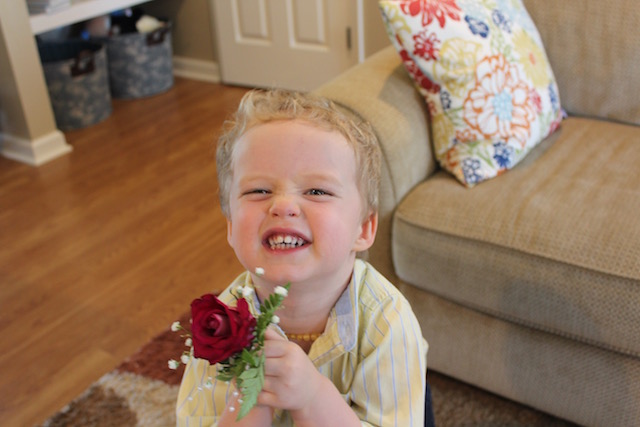 Two is definitely a challenging age!  Everything (good and bad) is very big and dramatic (in fact as I proof this post Hudson is throwing a bit of a fit about nap time).  He has his periods of being very defiant and disobedient and emotional but he's also loving and sweet and precious and hilarious!