Four months with this little sweetie here in our lives!  Here's what's up with our little man.
growth
At his four month well baby visit Parker was 17 pounds, 2.5 ounces and 25 1/4 inches long.  I had to move him up to the middle rise setting on his cloth diapers.  He's totally out of three month clothes and already on to six months.  He's so much bigger than Hudson was at this point!  Hudson was 3 pounds lighter and the same length as Parker at 4 months but Hudson was still in 3 month clothes.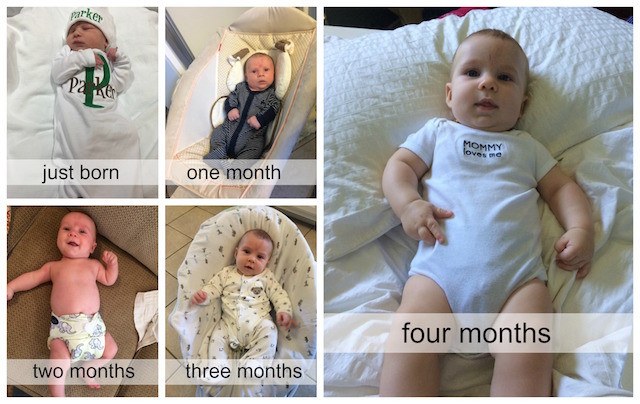 eating
Parker eats every 3 or so hours.  He still nurses several times during the night.  He spits up a lot but it's not nearly as much as he used to.
sleeping
I lay down with both boys around 8pm and nurse Parker to sleep while Hudson falls asleep.  Parker sleeps until 6 or 7 in the morning, waking a couple of times during the night to eat.  During the day he takes a couple of naps.  For a while he and Hudson (and sometimes me!) were taking a great afternoon nap right after lunch (and then Parker would take a couple of other naps during the day).  Now they only nap at the same time about 50% of the time, a lot of days Parker takes a morning nap and wakes up right before Hudson goes down for his nap.  Having them on opposite nap schedules is a bummer since I don't get a break but oh well, things will straighten out eventually.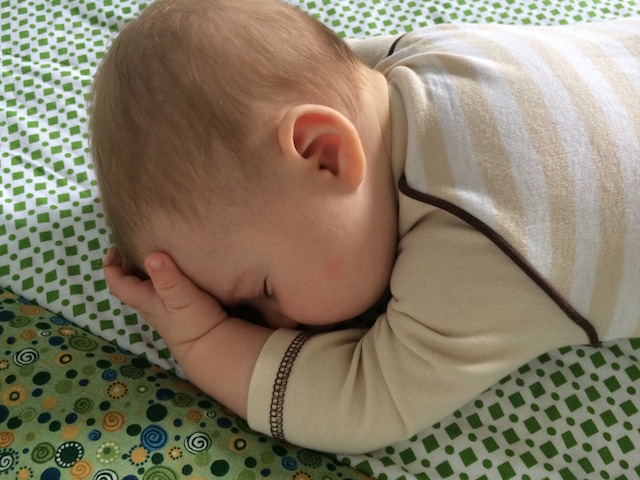 We had one crazy night where Parker was wide awake for a couple of hours during the night.  I finally strapped on my Lillebaby carrier and walked him around the house and he fell asleep.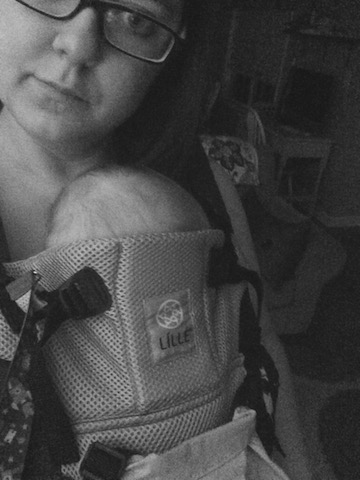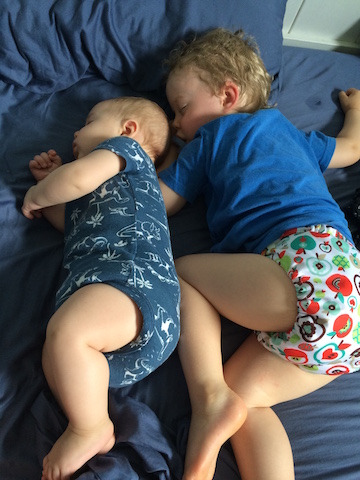 new accomplishments 
He is rolling from back to front and from front to back very easily and frequently now.  He babbles and talks and coos all the time.  He's not crawling but he uses his legs to push himself forward or he rolls around, especially in his crib during nap time.
I put his teething necklace on him this month because he has been chewing on his hands and drooling like crazy.  I don't see any teeth yet though!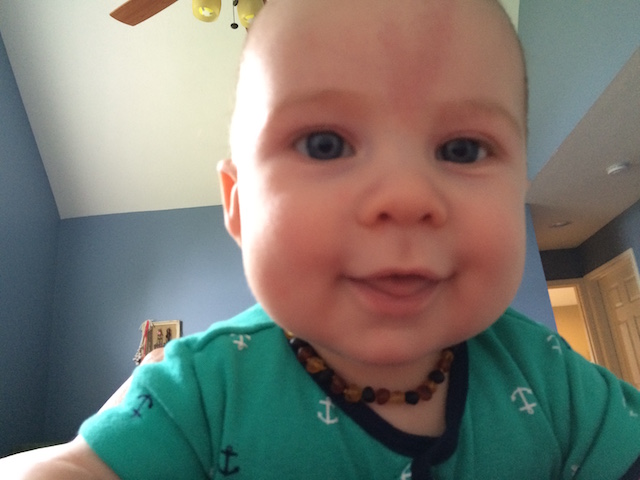 He takes a paci and sucks his thumb but doesn't seem totally sold on one or the other yet.
We started using the Bumbo seat this month and Parker loves it!  I think he really enjoys sitting up and looking around.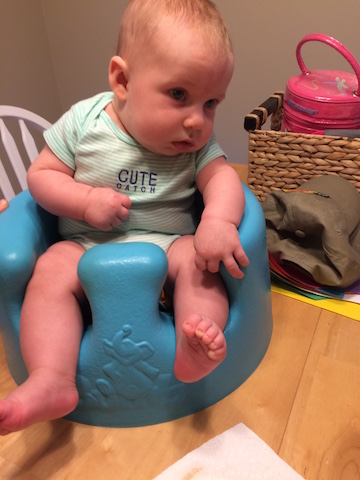 adventures
Since Parker is holding his head up so well and sitting up in his Bumbo we started putting him in the seats in the nursery class at church.   He doesn't typically last through the whole class and sometimes he needs to eat or nap but he sits in there for a little bit.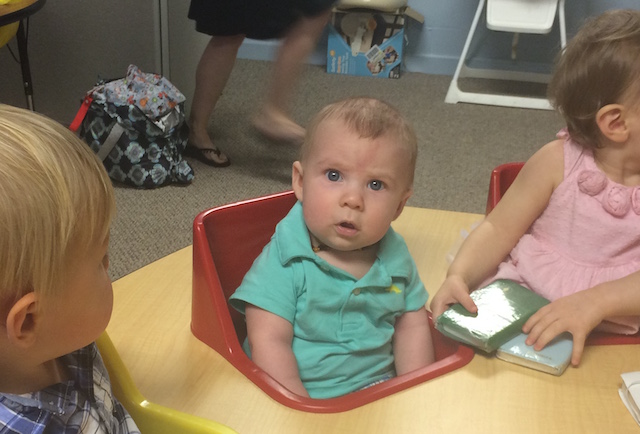 I took Parker on his first trip this month to visit my grandparents 2.5 hours away.  My mom rode with us so I wouldn't be totally on my own with the boys.  Both boys did great on the trip and we had a lot of fun.
random pictures
Hudson shared his Fuffle with Parker.  He loves his little brother!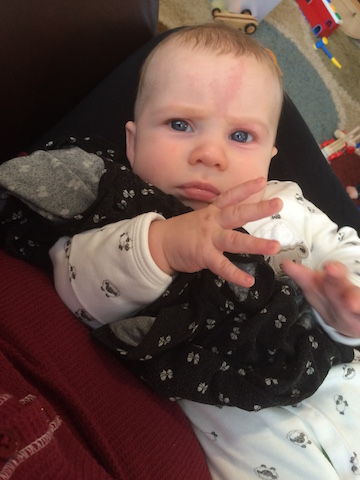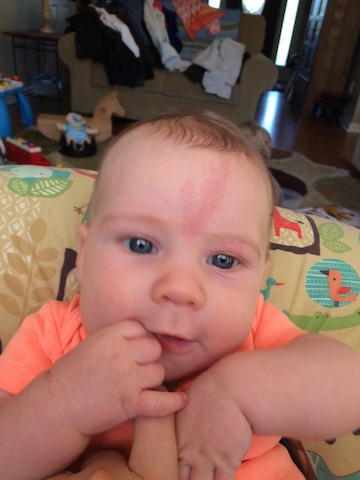 We got the play gym out and Parker seems to like looking at everything and grabbing at the different objects.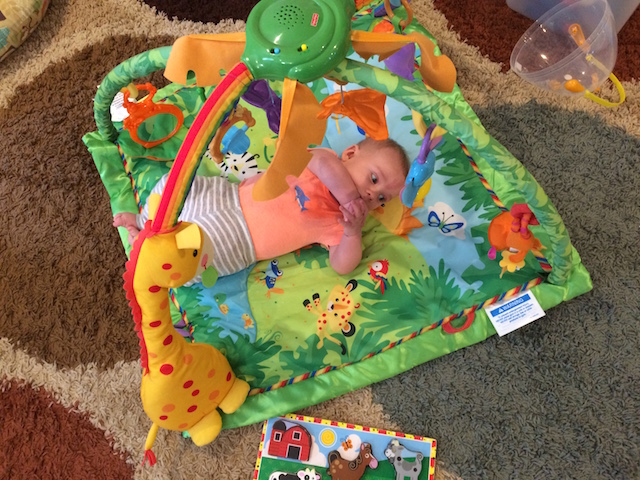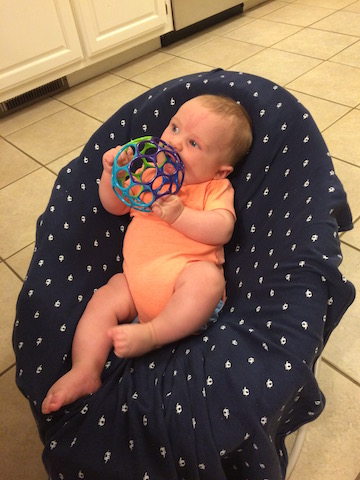 I was holding Parker like this at supper one night and Hudson said "Parker doing yoga!".  Funny boy!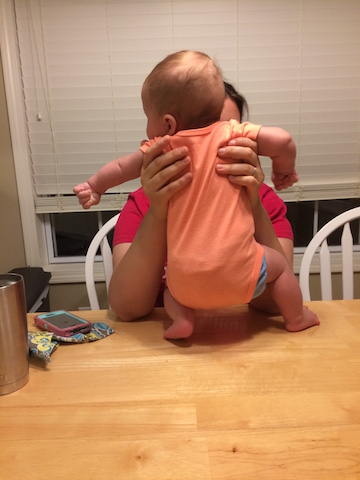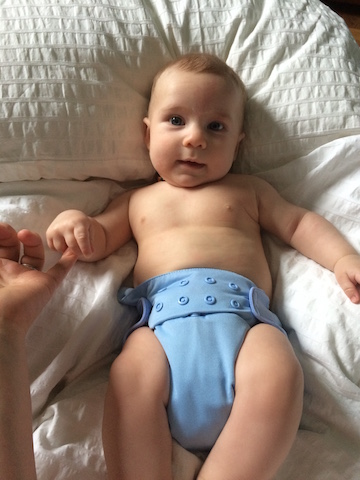 Hudson brought Parker one of those mail in card things that are inserted in magazines for Parker to "read" while we were playing.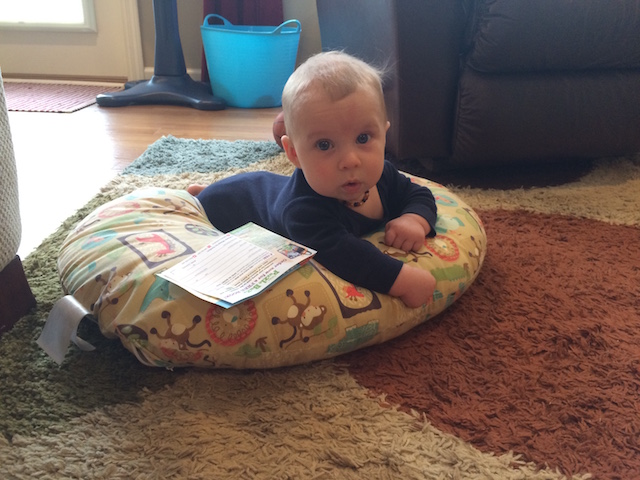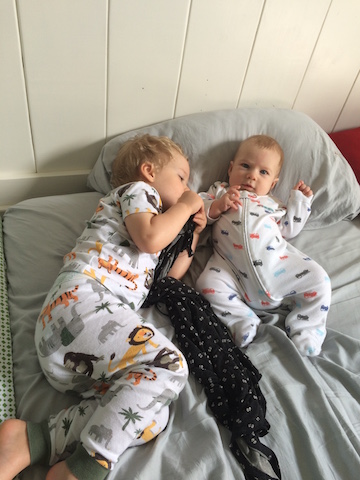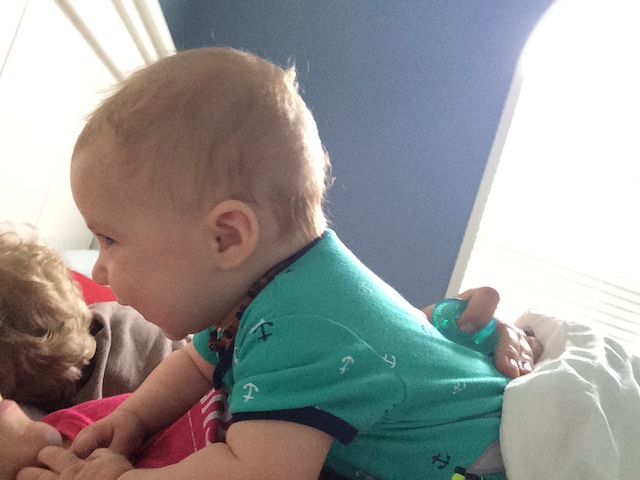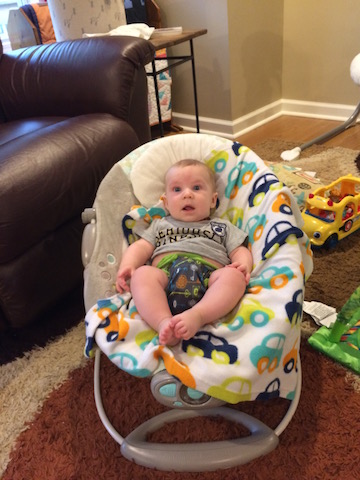 He's so squirmy and he keeps nearly sliding himself out of his bouncy seat!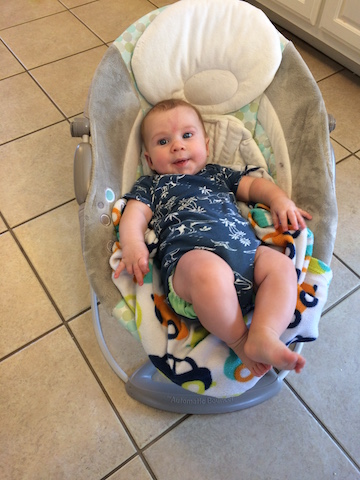 Afternoon walk with my precious boys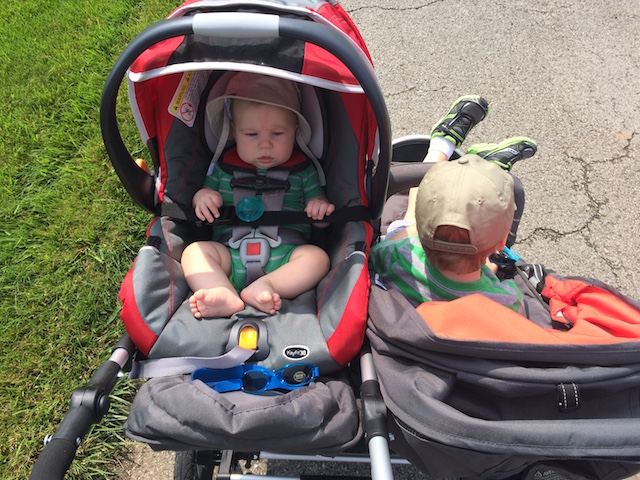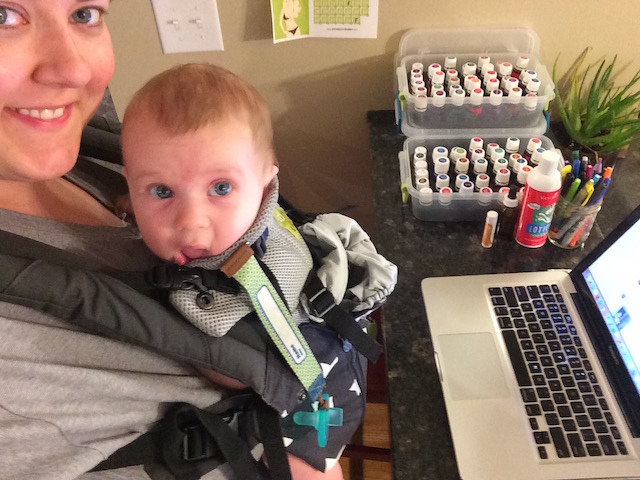 Parker does this funny little thing with his mouth, we call it his turtle face because of the way he holds his lips.  Cracks me up!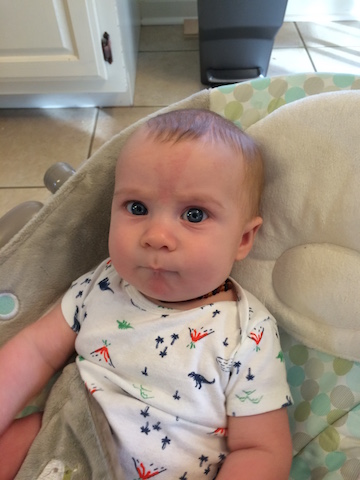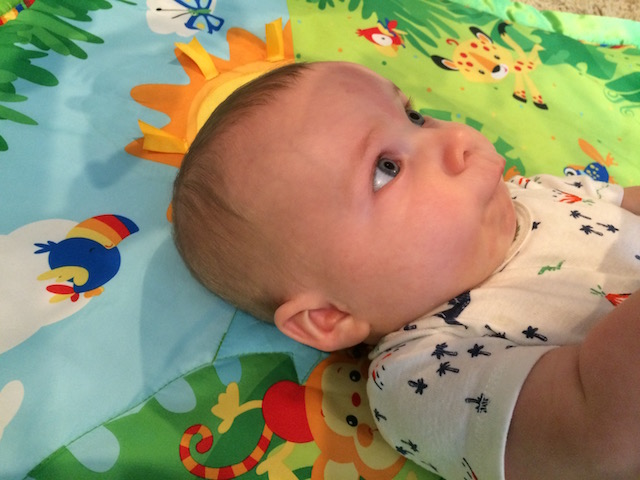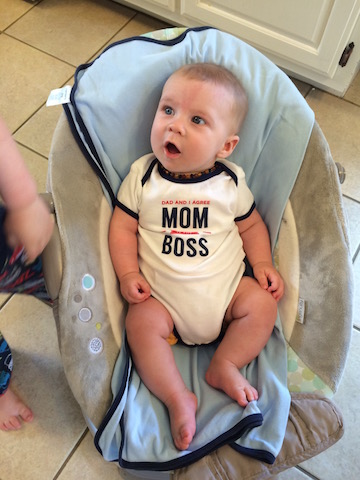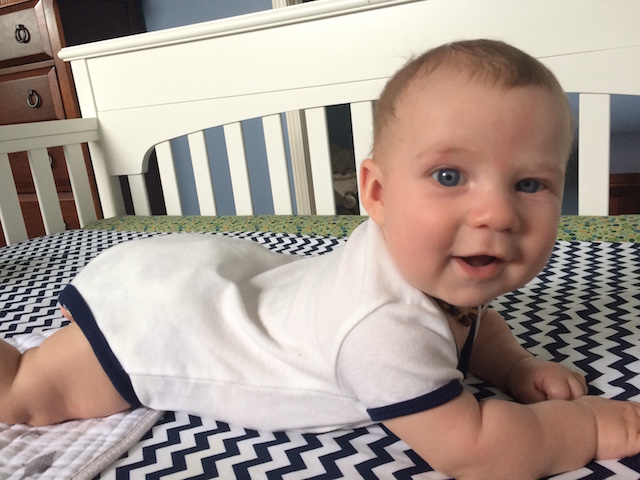 In case you missed them, here are Parker's 3 month pictures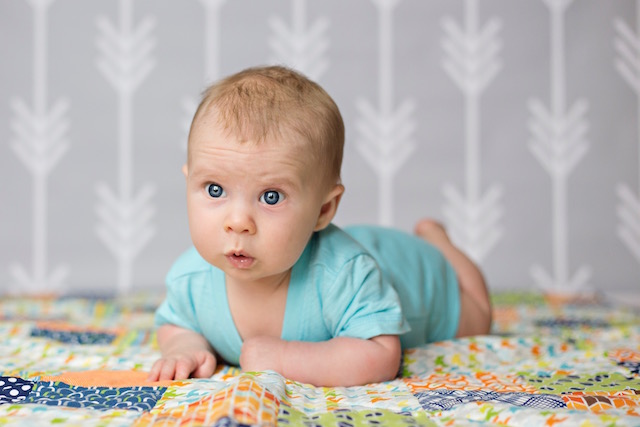 Mother's day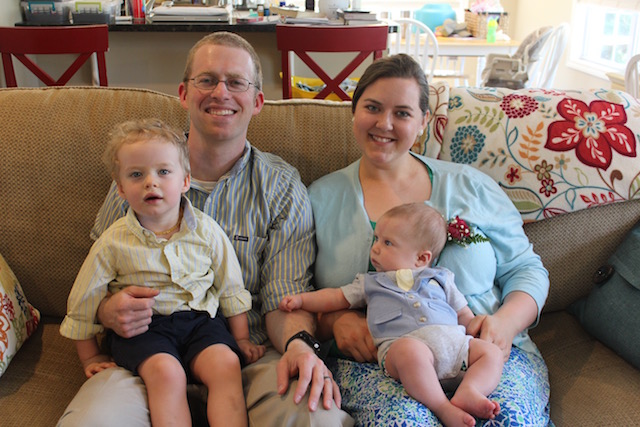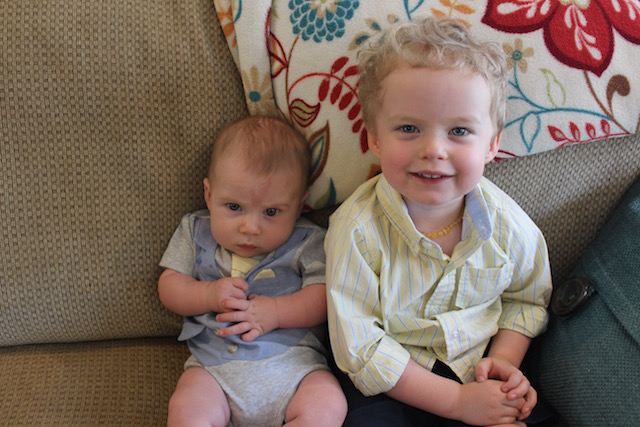 Most everyone agrees that Parker looks like me (it's nice to have my own mini-me since Hudson is totally Michael's clone).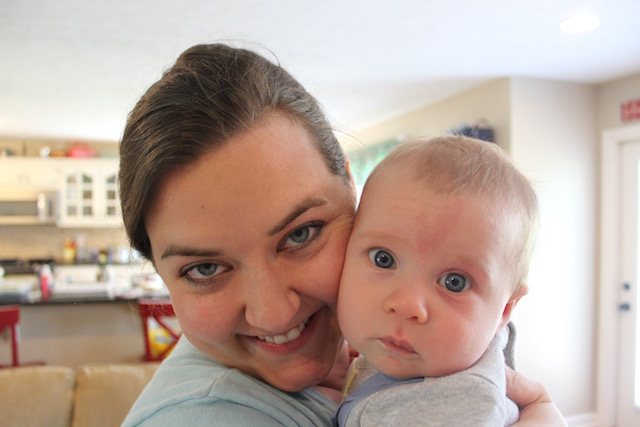 Happy four months, precious boy!