Better late than never, huh?  I may be three months behind but here's Hudson's 2 year, 5 month update.
Some funny things that Hudson says and does:
– For some reason he calls clothes "dresses" so he'll ask to put his dresses on when he really means a t-shirt or other clothes
– He now says banana instead of "bana".  I'm happy when he learns correct pronunciation but at the same time I miss his cute baby talk
– He says "op a door" instead of "open a door"
– When you ask him how old he is he says "two years older" instead of two years old.
We made these DIY chia pet things at Hudson's playdate and the hair has grown like crazy!  Hudson loves it, every day he looks at it and says "hair growing!"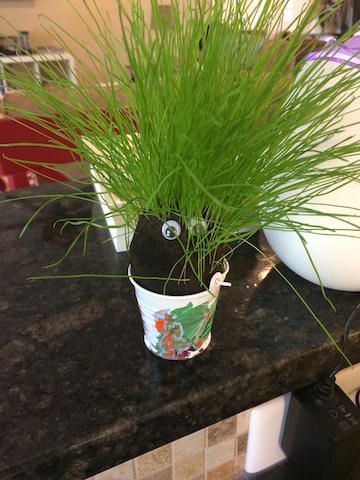 Everything is for building – paper towels, Mommy's foam roller…it if stacks, it's a block!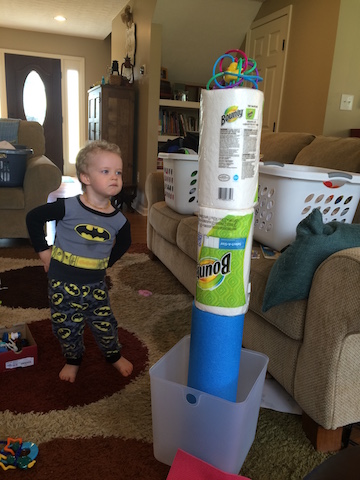 Out for a walk, both in green and gray stripes (that was an accident but I loved it!)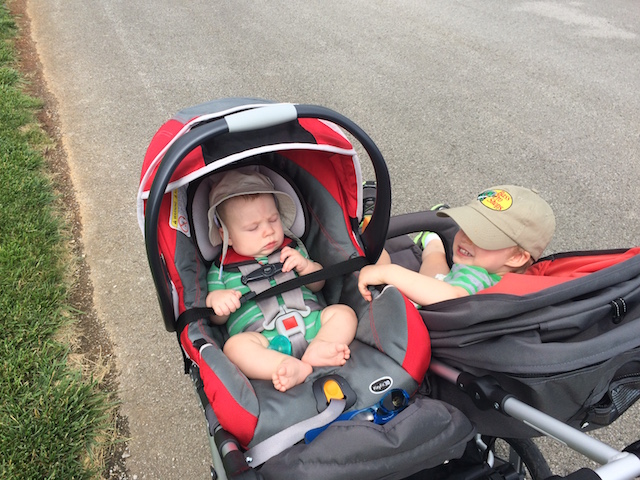 Precious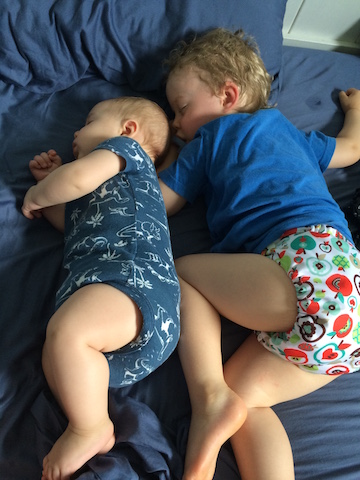 Hudson loves to climb on me while I stretch after my workout (or "yogas" as he calls it…even though it's not yoga)

My sweet boy picked me some of my favorite flowers – buttercups!  (don't worry about the red face, that's hereditary and totally normal when he gets hot)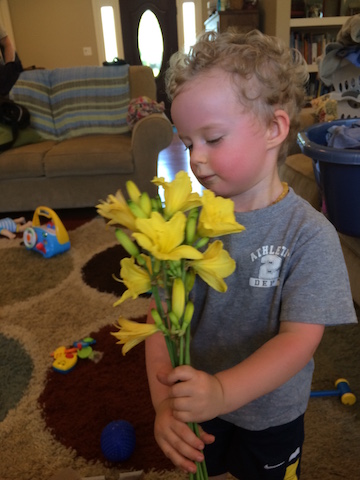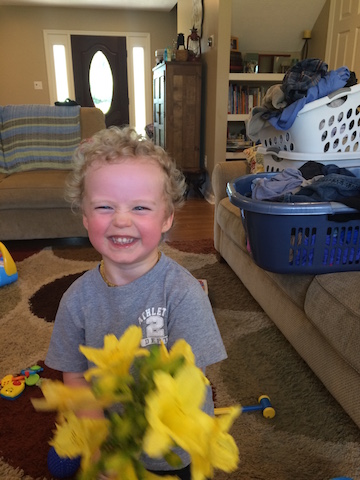 Hudson is not a fan of water at all.  He like the bathtub (as long as his hair doesn't get wet) but anything outside of that is a no-go.  There is a fountain downtown, one of those splash pad things that kids can play in, and we've been a couple of times with friends but Hudson is too scared to go in.  Michael was off work for Memorial Day so we thought we'd take Hudson and see if he'd get in if one of us got in with him.  Unfortunately it was PACKED.  Kids everywhere; at least one kid sitting on every jet so the water wasn't even coming out in good streams.  That kind of ruined our plans because no way was Hudson going to go out there with all those kids.  We stayed for about 15 minutes then headed to a nearby park, which was surprisingly empty, and played there instead.

Hudson mimicking my stretches while we workout.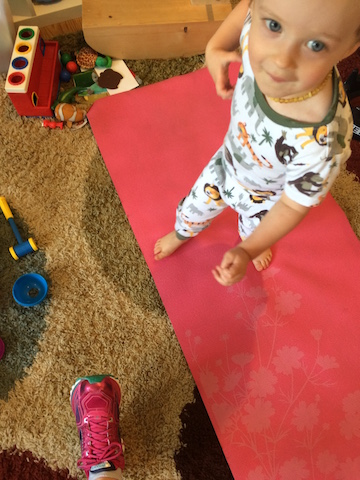 Wearing Daddy's shirt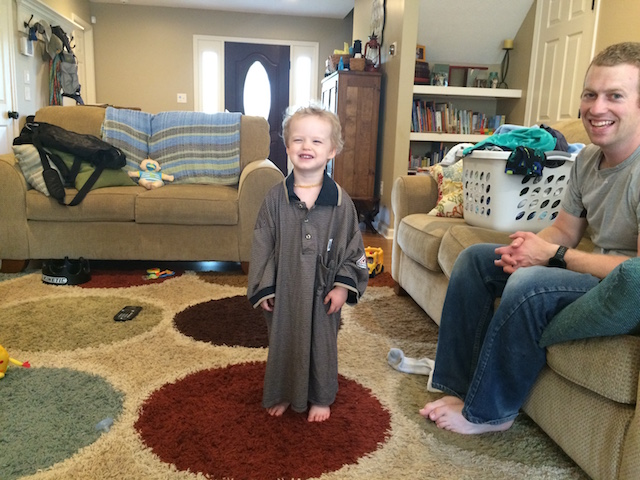 Hudson loves my oils.  He's gotten to where he climbs up on the chair to get to my oil stash and wants to open them all – he smells them and says "mmmm oil class!"  Funny boy.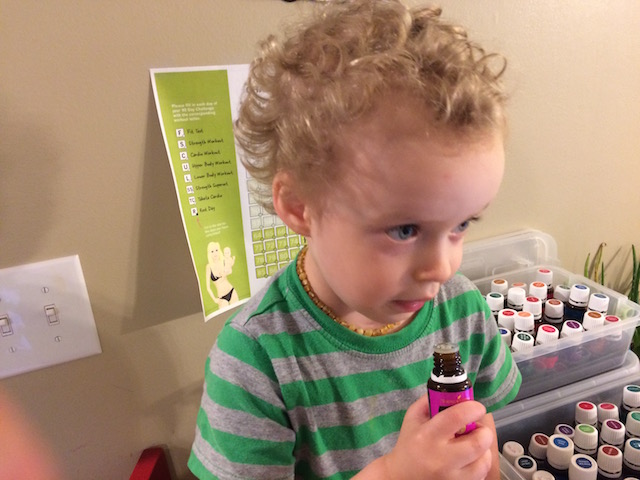 Sweet diaper babies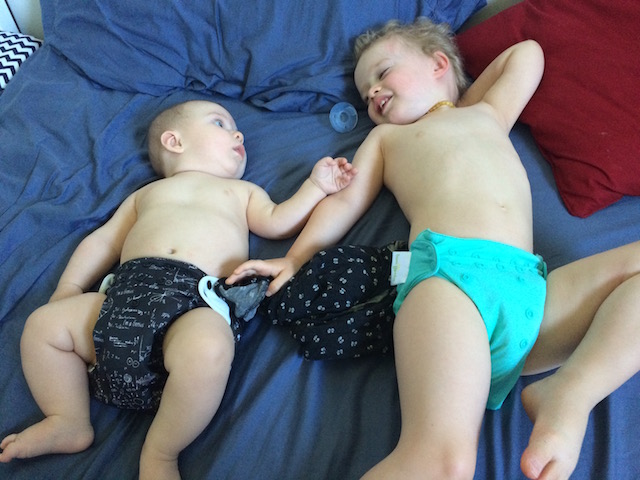 I see a lot of wrestling and roughhousing in my future with these two…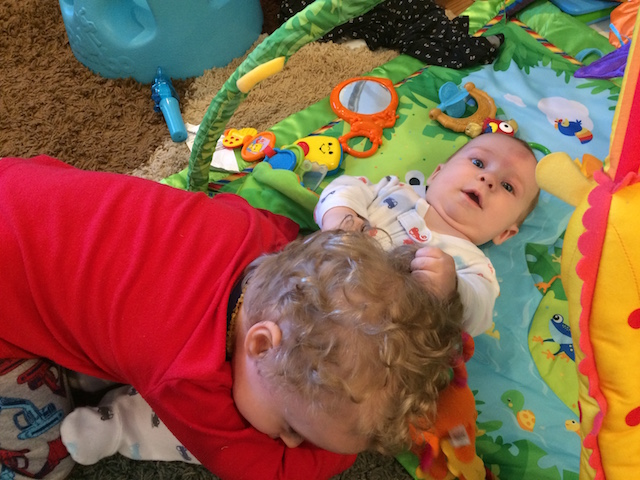 Love a freshly bathed, lotioned up kiddo!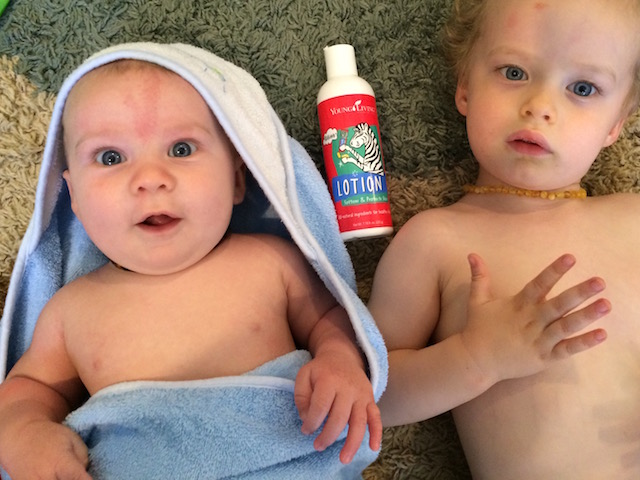 Hudson wanted to hold Parker.  He was very proud of himself, despite what this picture looks like.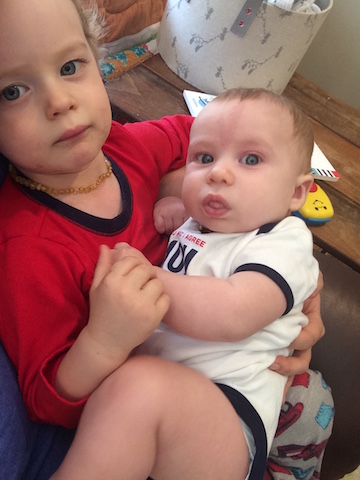 Wearing Daddy's tennis shoes
I took the boys to my mom's for a night so that we could go see my brother in the play Oklahoma.  Hudson did great last time we went to a play but that had been a year ago so I wasn't sure how it was going to go.  He did ok…the play hadn't even started though when he was already saying "All done church!  Get down!"  He liked the songs but wasn't thrilled during the acting and dialogue.  Somehow I was able to keep him relatively quiet and still through the whole thing and we made it until the very end!  Thankfully Parker slept the whole time!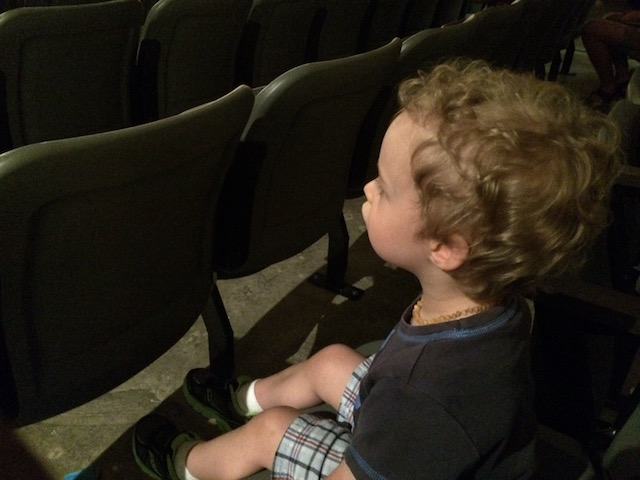 The next day my mom's neighborhood was having a big yard sale so she set out some stuff and participated.  We had so much fun just chatting with the neighbors and everyone that came by!  Hudson had a good time playing with all of Mamie's stuff too.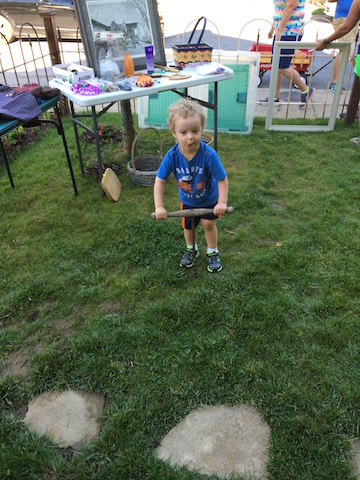 I had a little display for my oils at the sale too.  Hudson enjoyed smelling them!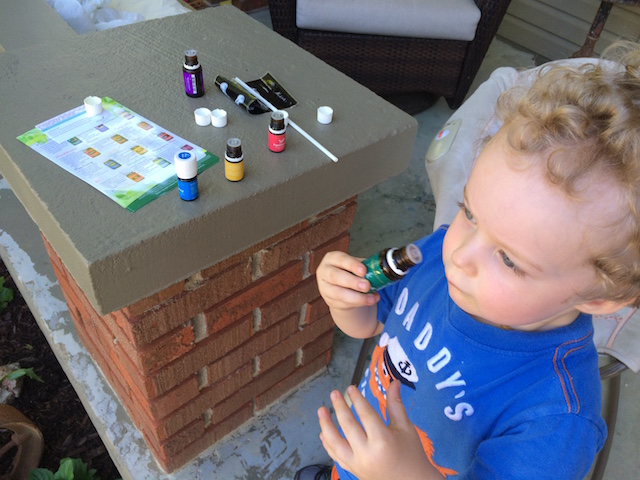 Popsicles to beat the heat after the sale!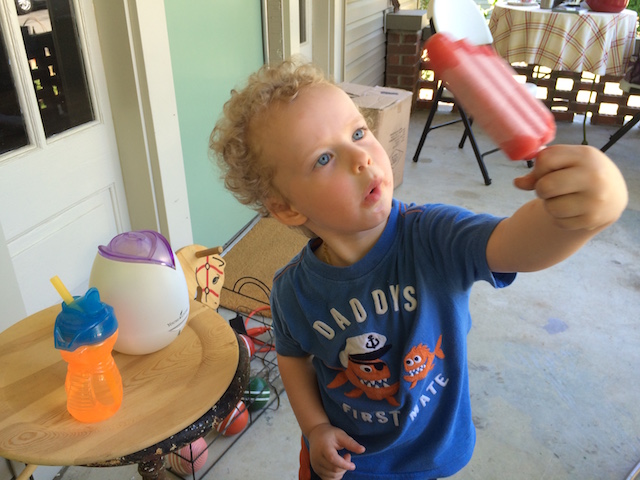 I don't have any pictures but my mom got a new dog.  If you know Hudson's history you know he is terrified of all animals.  We have no idea why but he's always been this way, since he was 6 months or so.  Anyway, so needless to say he was not a fan of Maggie.  But it was so funny because after we got home that was all he wanted to talk about!  He would say "Luff Maggie.  So, so sweet" (Luff = love) and "See Maggie again?"…even though I knew he would be very unhappy next time we saw her again!
Some exciting news around here is that Michael got a new car!  We sold his truck (the only vehicle he'd ever had) and for a while now he had been driving my old car (the only vehicle I'd ever had before I got my van a few years ago) but we were putting more money into it to keep it running than it was worth.  He decided to go with an electric car (a Nissan Leaf), which was a totally new experience and he bought it used from Carvana (an online site where you don't even see the car in person before you buy) which was another new experience.  It's definitely an upgrade from our old cars!  I still prefer the space that my van has but he loves it and Hudson loves "new car".  We drive it a lot since it doesn't use any gas and it's saving us a lot of money!  Yay!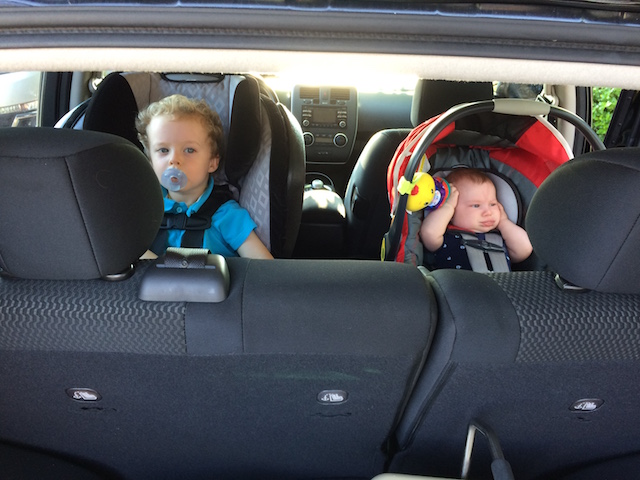 These two crack me up!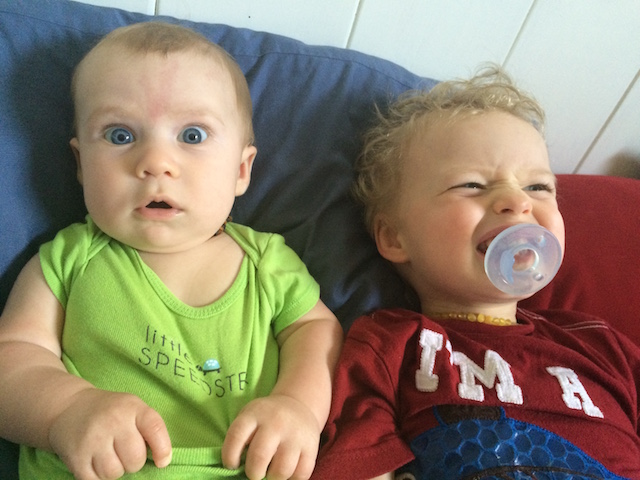 Cooking eggs and pancakes with Daddy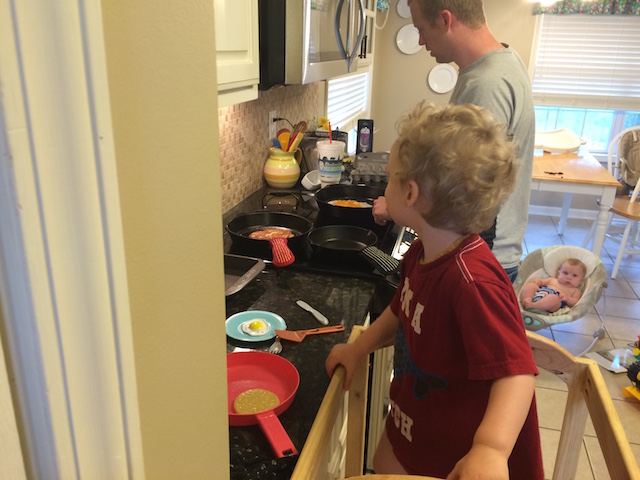 Making ice cream with play doh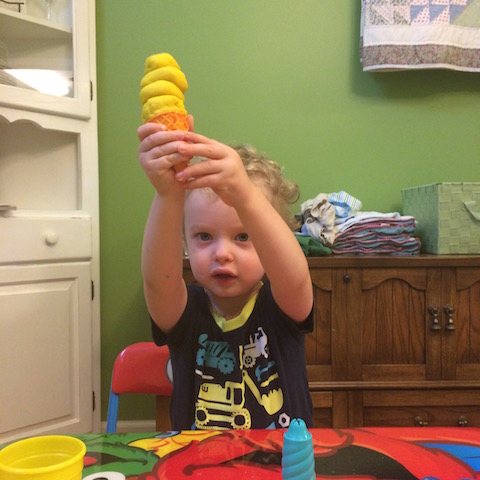 We had a big month…in addition to getting a new car we also got a swing set!  We had talked about getting one next summer but quickly realized that Hudson was ready for one this summer so we decided to go ahead and get it.  We did a bunch of shopping around before deciding to get one from Sam's.  Everyone warned us that it was a TON of work to put together on your own and it was a ridiculous amount of pieces but Michael did a great job putting it together!  He pulled some crazy late nights but got it done!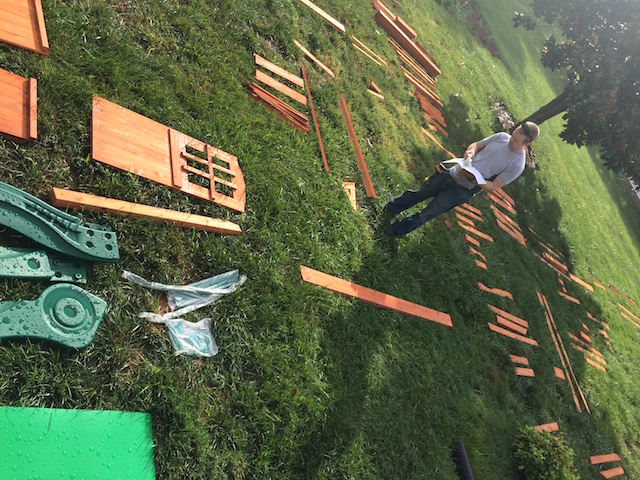 Watching Daddy work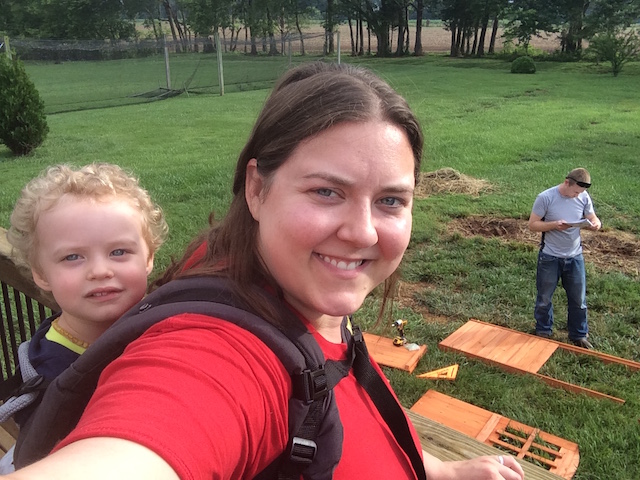 Doesn't it look great?!  Hudson loves it!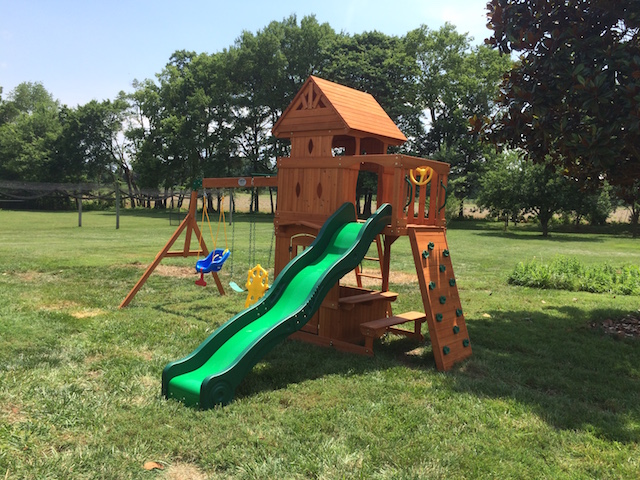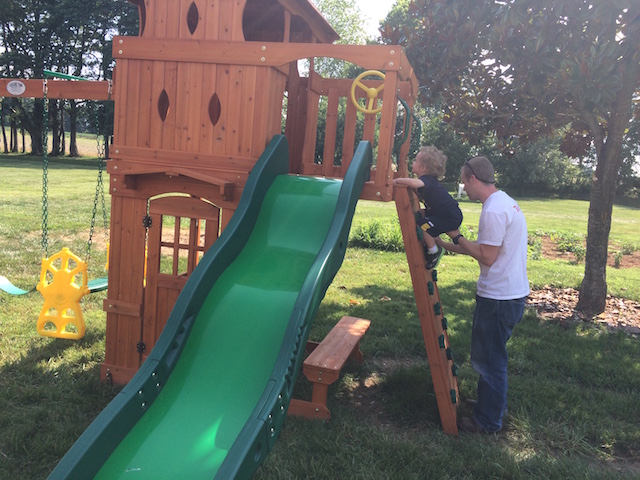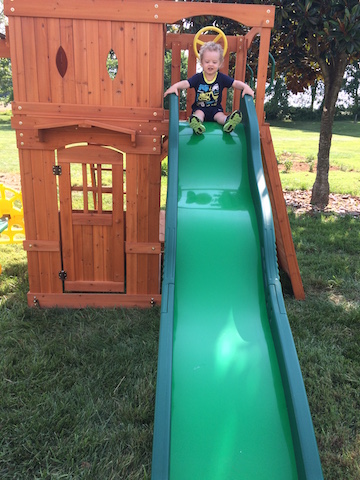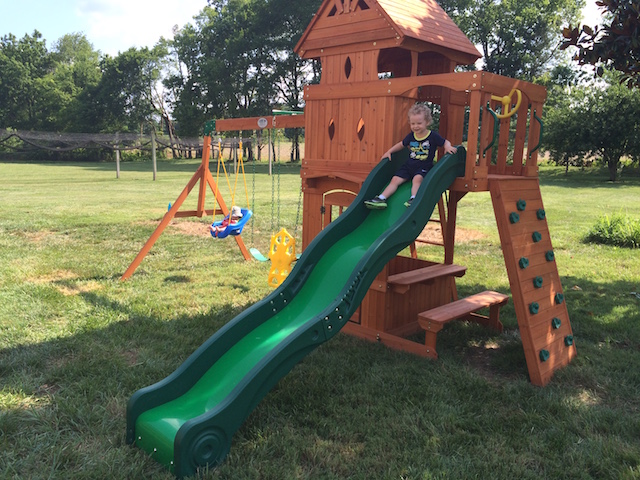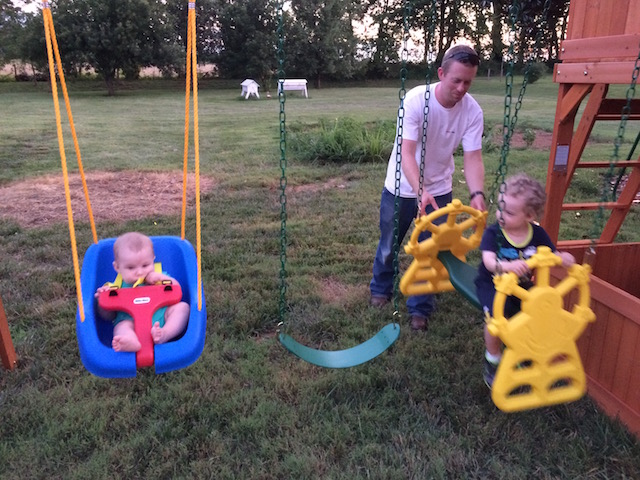 I got a second Lillebaby carrier and tried out tandem wearing for the first time.  Need some practice but it's do-able!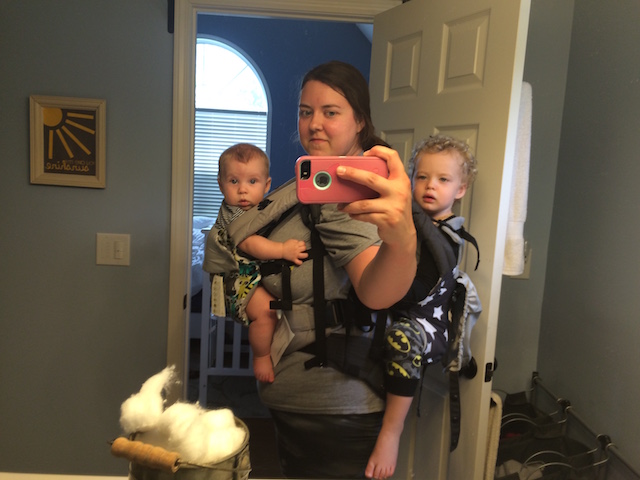 Playing together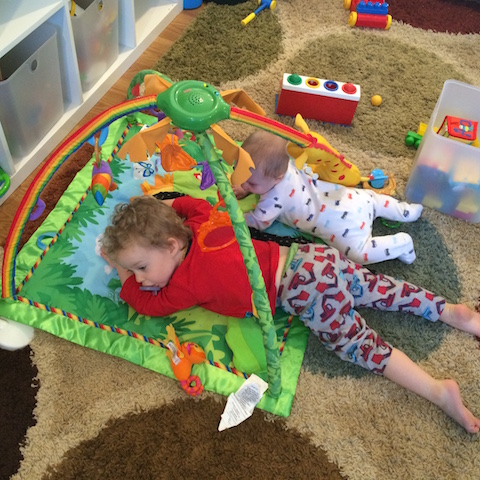 As much as I hated it we were unable to go to church camp this year.  I took Hudson when he was 6 months and again last year at one and a half but this year with him plus Parker it would have been too hard.  But we did go up to visit for a few hours one day and Hudson had a blast playing.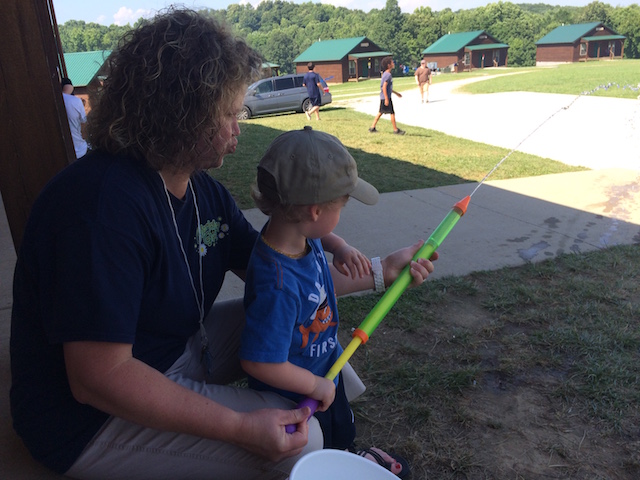 Sweets are a rare treat around here so when I make cookies Hudson gobbles them up!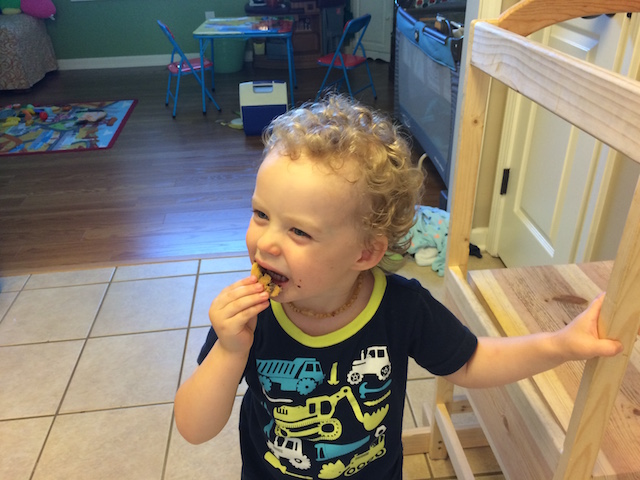 Hudson loves loves loves to read/be read to.  His current favorite is this book called "Are you a Cow?"  It asks "Are you a ______?" and then says "No!" after each one, but Hudson likes to answer "Yes!" and then laugh and laugh because he knows he is being silly.  Cracks me up.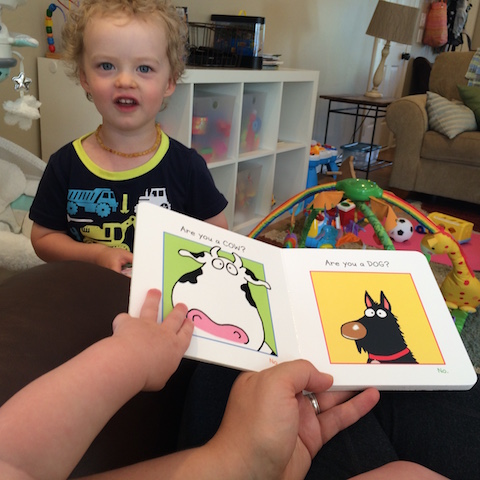 Funny boy!  He sure is full of personality!