Two and a half already?  Time is flying!  Here's what's up in the world of Hudson.
We had Hudson's 2 month check up with his pediatrician.  It went TONS better than his last visit six months ago!  The last few visits he has screamed his head off and fought us when it was time to get weighed and measured but this time he was totally cool with it and didn't fuss at all.  The scales there said he weighed 36 pounds but our scale here that he likes to get on all the time (and is accurate compared to the scale at my obgyn's office) usually reads 31 pounds, give or take.
He was 38 inches tall.  According to their charts that puts him in the 90th percentile for height and the 94th percentile for weight.  I question that because he's doesn't appear to be overly tall or large to me, but I'm not sure I totally understand the charts either so who knows.
Like I mentioned I'm three months behind and playing catch up so I don't remember all the funny little details from the month but here's at least a photo dump!
When I was little my nickname was HP, House Police, because my parents said I always had to know what everyone was doing and where everyone was.  Aka I was nosey.  Hudson is the same way!  He loves it when we get mail and wants to know "What's in there?".  He gets his screwdriver, pretends it's a pair of scissors, and tries to open my packages for me.  I have to watch him or he'll actually tear them open!  Christmas will be a bit tricker this year!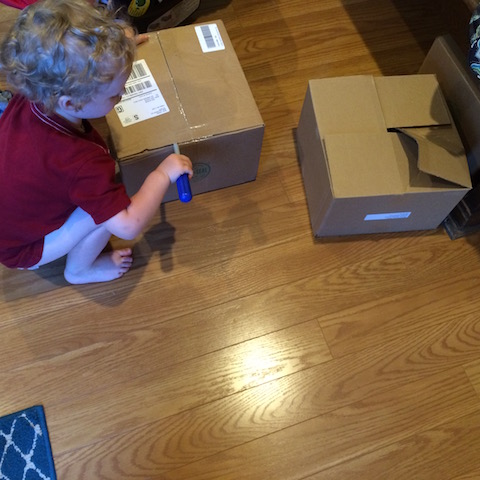 Hudson put hats on himself and Parker while I was doing my workout one day.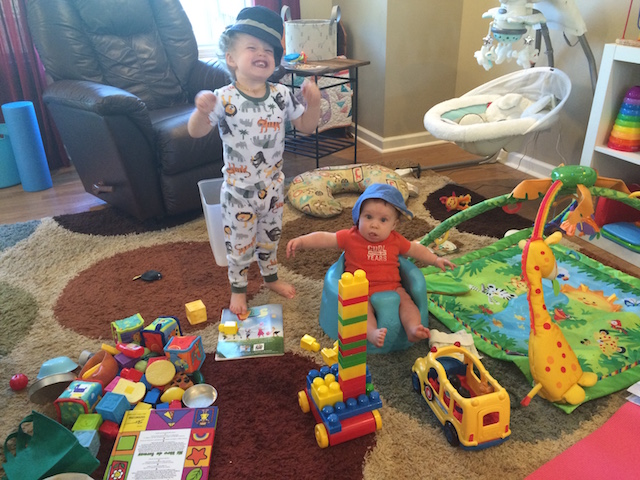 Hudson woke up early from his nap so we laid in bed to rest for a while and he listened along to a webinar with me.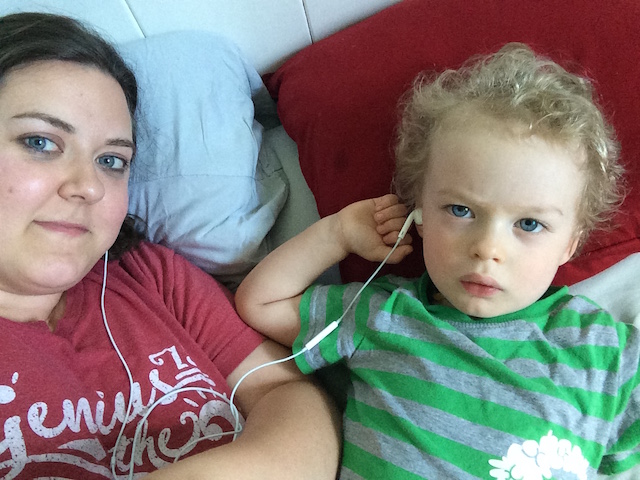 We weren't sure how fourth of July was going to go with the kids this year.  We were afraid that Hudson would be really scared of the fireworks but we wanted to take them if at all possible.  We don't have any kid sized ear protection but Michael was able to size a pair of ours down small enough that it served it's purpose.  Hudson loved wearing the "muffs".
For the fourth we had some friends over to eat pizza and play (we were planning on being outside but it rained all day) and then went to a local church that puts on a huge fireworks show.  Last year we took lawnchairs and set up early and watched them on the church grounds but this year we weren't up for the hassle, weather, or traffic so we parked on the side of the road and watched from there.  It worked out perfectly – we pulled up less than five minutes before they started and pointed the car where the back was facing the fireworks (since the kids are in rear facing seats, that way they could see out the back window).  We had a great view and Hudson was happy to watch as long as he was in the car with his muffs on.  Parker cried some but that's normal in the car seat anyway.  Then when the fireworks were over we started up the car and pulled out before the traffic came pouring out.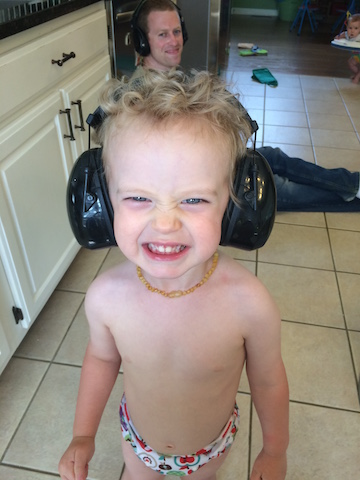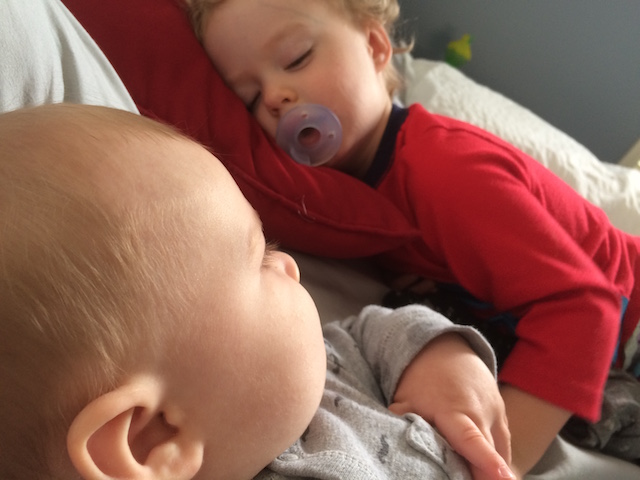 Hudson's face here cracks me up!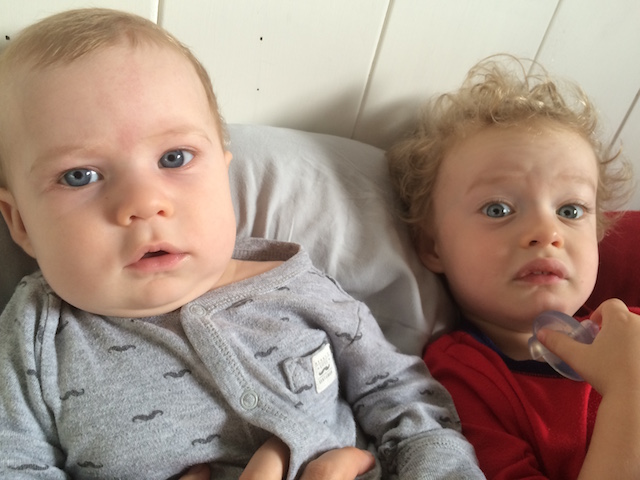 Hudson is always talking about "Two boys" – "Two boys playing", "Two boys sitting", etc.  Here are my two boys in their high chairs together.  It cracks me up how Hudson narrates everything that he and Parker do!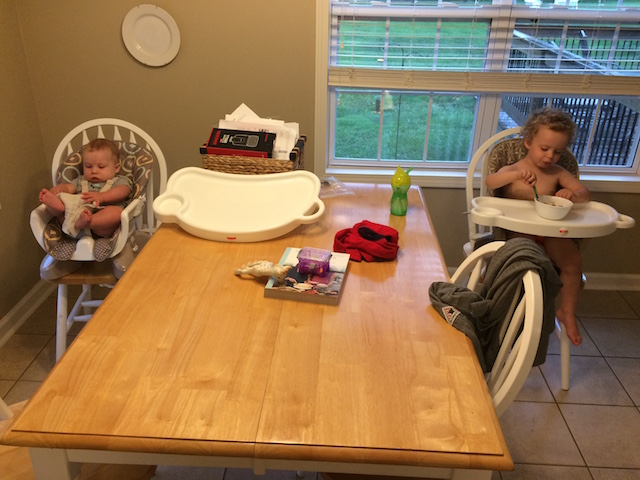 We got a new food processor and Hudson claimed the instructions as his own.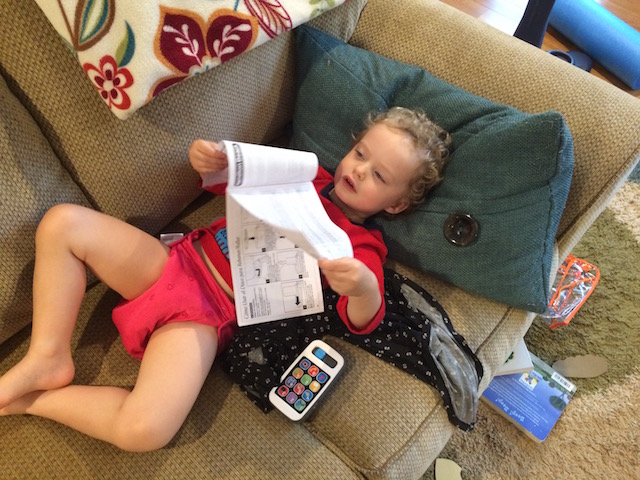 I know I always have a million pictures of the kids napping but it's just so sweet!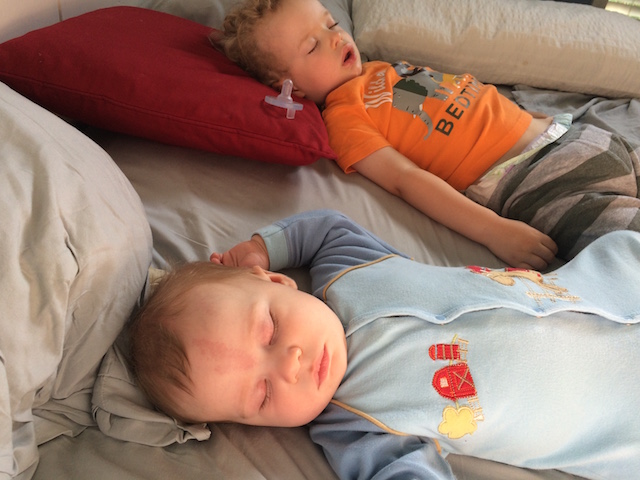 This month we had Vacation Bible School at church.  It was a pirate theme and Hudson had an absolute ball!  The first night he was a little apprehensive, especially about puppets, but by the end he loved it – puppets and all.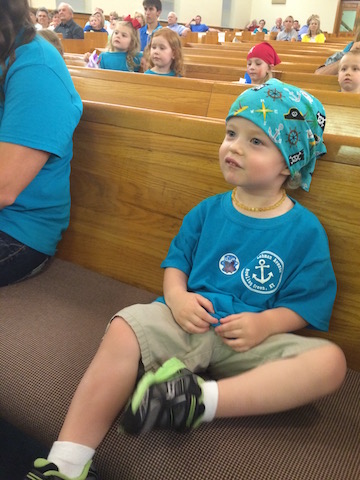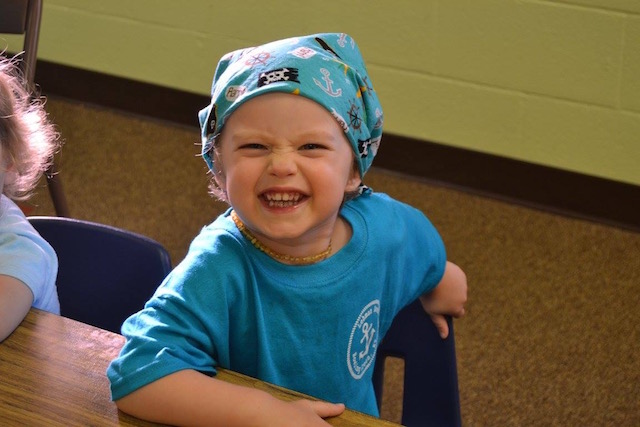 Our neighbors across the street got some of their trees trimmed and that provided quite a bit of entertainment for Hudson!  I moved his toddler tower to the window so he could watch them work.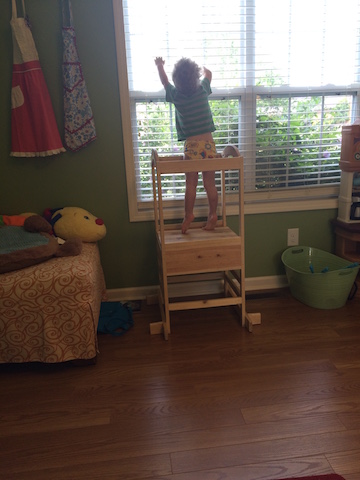 This is a farm toy that was mine when I was little that my mom let us borrow.  Hudson calls it "animal farm" ("want to play animal farm!") and has played with it a ton.  I had to take this picture because it cracked me up how he crammed all the animals into the fence.  He better watch out or PETA will get him!  Ha!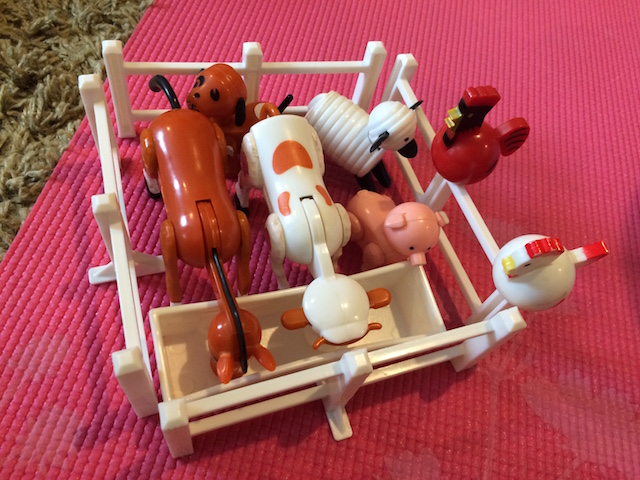 We went to visit my mom and brothers for a day during their church camp. Hudson had a blast!  He loved getting to play outside and even played in the creek after a while!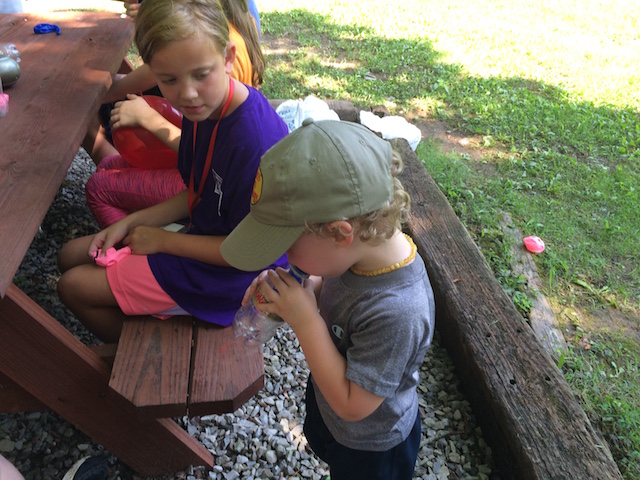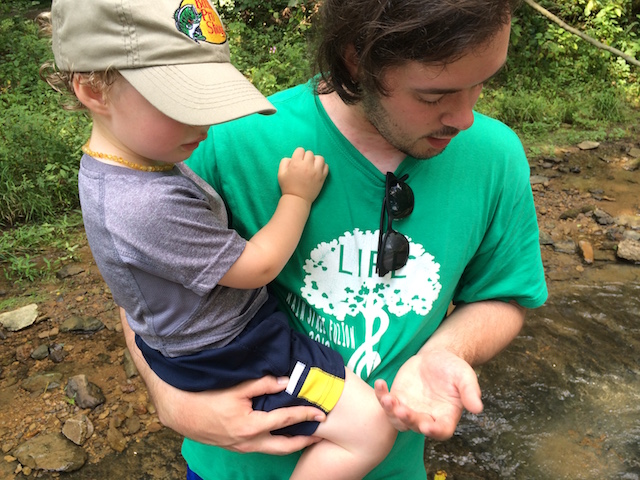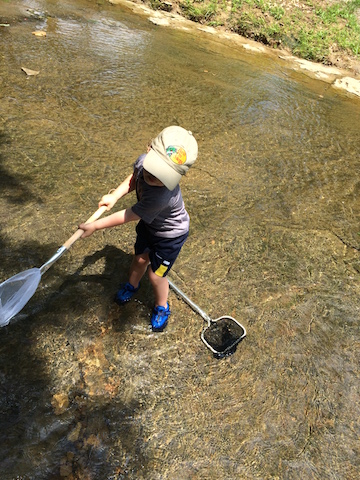 Yet more proof that they are watching and imitating everything we do!  Hudson gets his camera and tells us to smile, then turns the camera around to "show" us the picture he just took.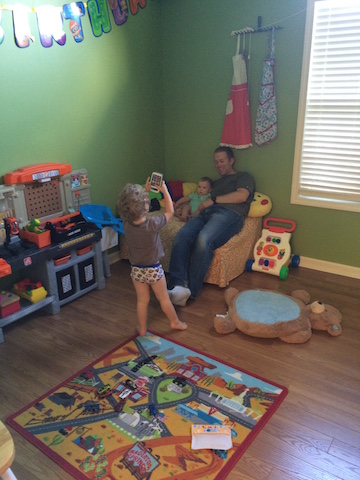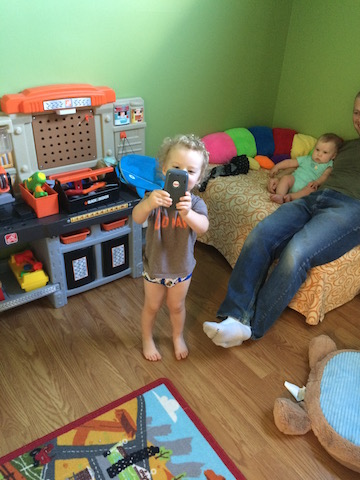 Our big news this month is that we've started potty training for real!  We bought Hudson a potty chair at Christmas (right before he turned two) just to let him get used to the idea but have never pushed the issue.  About a month ago out of the blue he asked to go potty so we took him and he peed in the potty!  Since that point he had sporadically asked to go but it wasn't consistent at all, however since he had been showing interest we decided to give it a try!  We waited until we were done with things like VBS and camp and would have a stretch of time without any obligations where we'd need to be leaving the house.  We bought some underwear and blueberries (his treat of choice for going to the potty) and got started!  As of the end of this month we were just a few days in and things were going much better than I expected!