Finally getting caught up – here's Parker's 7 month update!  This has been a very eventful month as far as milestones go!
growth
Our chunky monkey weighs 20.5 pounds and is 26 inches long.  He is busting out of most of his 9 month clothes and I need to get the 12 month stuff out for him!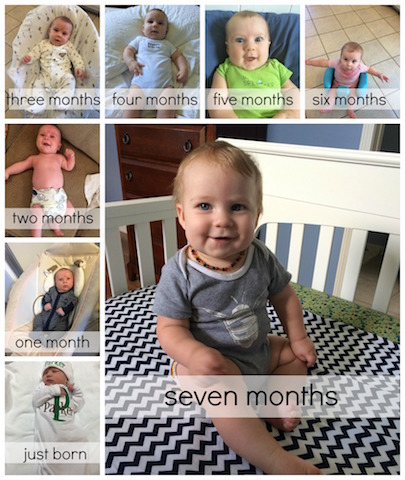 I loved this little suit when Hudson wore it and I tried to wait until fall so Parker could wear it too…we went ahead and put him in it a few weeks ago even though it's still hot and obviously I waited a bit too long because we couldn't even button the top button or sleeves!   Still cute though.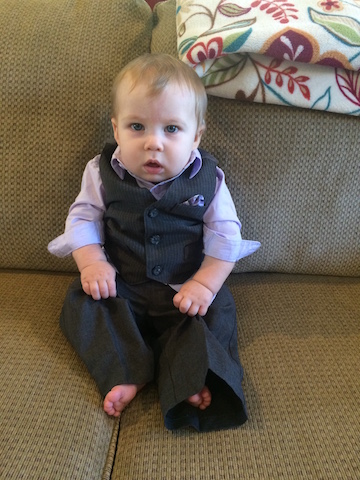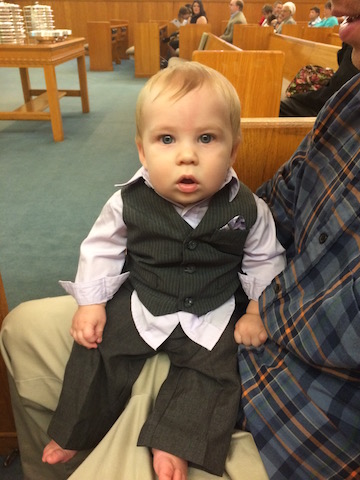 eating
Parker still nurses about every three hours during the day and several times during the night.  He has also hit the "gymnurstics" phase where he turns and wiggles and kicks and punches and in general is a very active nurser.  Hudson did some of the kicking and hitting stuff but never the full body turning around so this is a new (and rather painful) experience!
We also began introducing solid food toward the end of this month.  Like with Hudson we are following the Baby Led Weaning method of introducing solids where we skip the cereals and purees and go straight to table food.  His first food was cauliflower and cucumber and he has since had avocado and yellow squash.  So far he loves gumming on his food!  If nothing else it keeps him occupied during supper so he's not crying.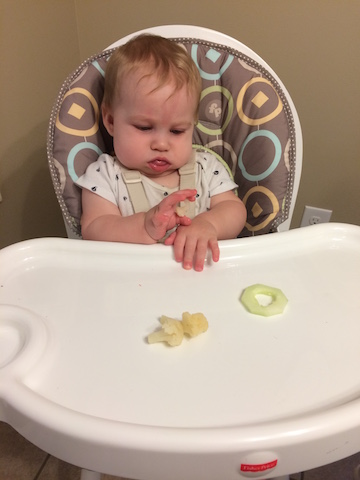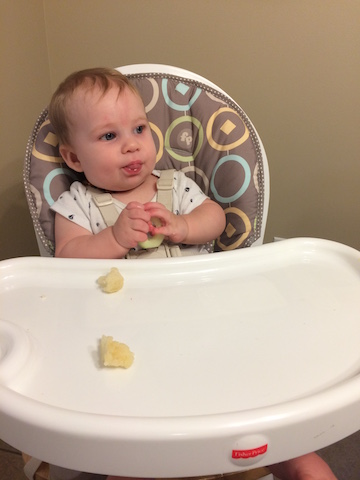 sleeping
Parker's sleep schedule is still pretty much the same. He sleeps about 7:30pm to 6:00am, give or take, plus a morning nap around 9 or 10 and an afternoon nap right after lunch when Hudson takes his nap.  He's not a great sleeper; naps are short unless I'm laying there with him to get him back to sleep when he inevitably wakes up.  He goes to bed pretty easily but then is up several times during the course of the night.  He also used to sleep until 7 or 8 but now tends to get up at 6:00 or earlier.  Lots of mornings Michael takes him while he gets ready for work so that I can sleep a little bit longer until he has to leave.
It's not the most productive part of the day but I love nap time and getting to snuggle with my sweeties.  They won't be little forever so I'm drinking it in now!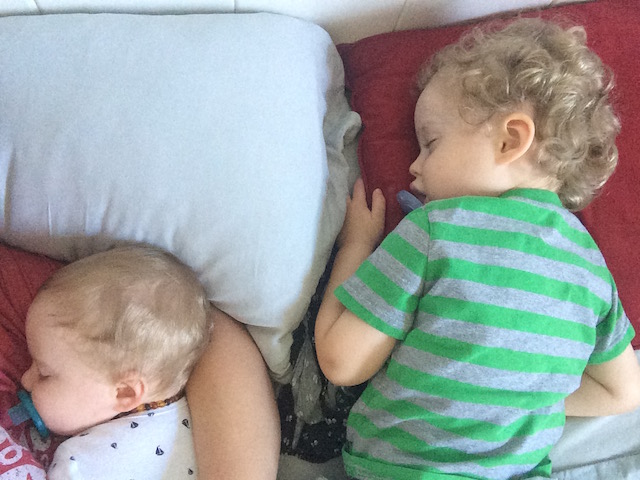 Parker loves Hudson's fuffle and if it's within reach he goes for it.  Somehow even in his sleep he grabbed fuffle from Hudson…don't worry, I rescued it and returned it to it's rightful owner before Hudson woke up ;).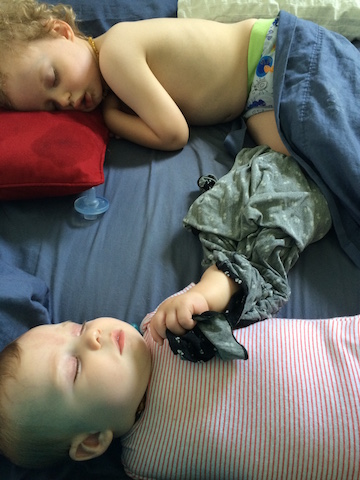 When you have a home based business and the baby refuses to sleep unless he's being held then sometimes you just have to get creative about how you get your work done!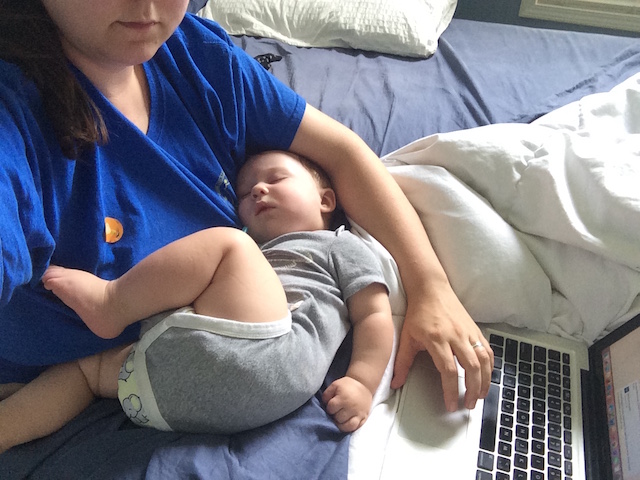 Crazy bedhead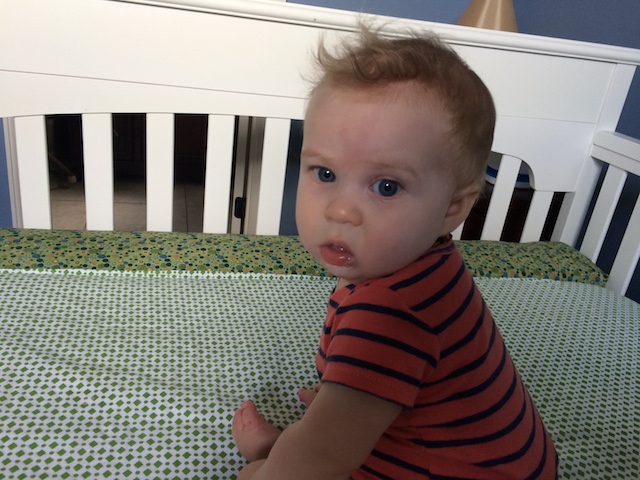 new accomplishments
Whew this month has been a doozy!  In the course of just a couple of weeks Parker started sitting up well on his own, then scooting all over the place, then crawling, and then pulling up to standing!  I am NOT ready for all this!  I looked back at Hudson's updates and saw that he too crawled and pulled up to standing in the same week…except he was about a month and a half older than Parker is so Parker is mobile much earlier than Hudson was.
In some ways this makes life easier because now Parker can get to what he wants and it's frustrated all the time but in other ways life is much harder now!  The biggest change has been having to re-babyproof some things.  I didn't realize how relaxed we'd been able to become as Hudson got older and didn't shove things in his mouth all the time or tear books up!  And this time around I'm having to teach Hudson not to leave his things laying around or else Parker will get in to them.
Here he is trying to crawl.  I'm not sure that I've gotten a picture or a video of him actually crawling yet #secondchildproblems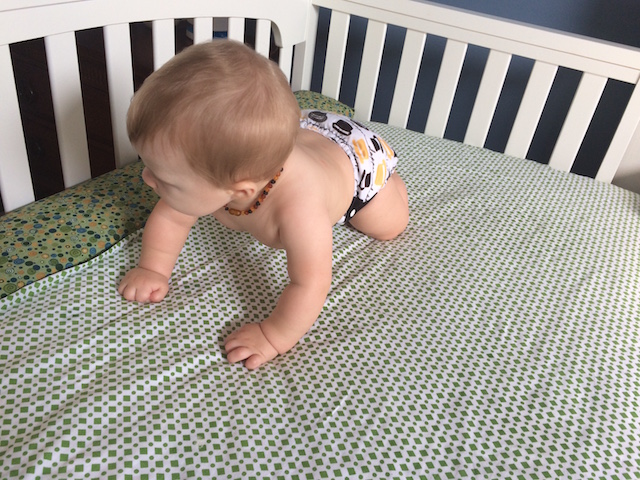 Time to find a new sleeping solution now that he can pull himself up on the edge of the crib!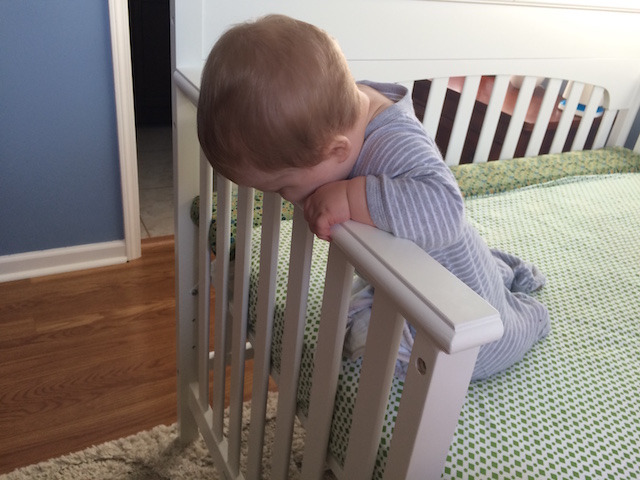 In case this picture confuses you we turned our crib into a cosleeper/side car before Parker was born – removed one side and attached it to our bed level with our mattress so that it's almost like an extension of our bed.  That way he can sleep next to me yet still be in his own space.  Not that he actually stays in the crib most nights…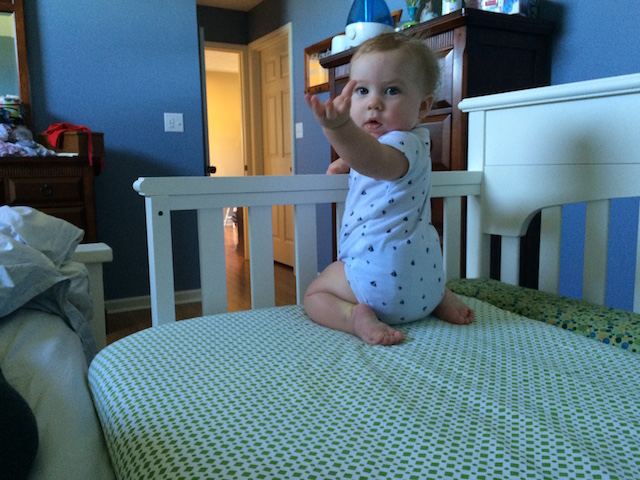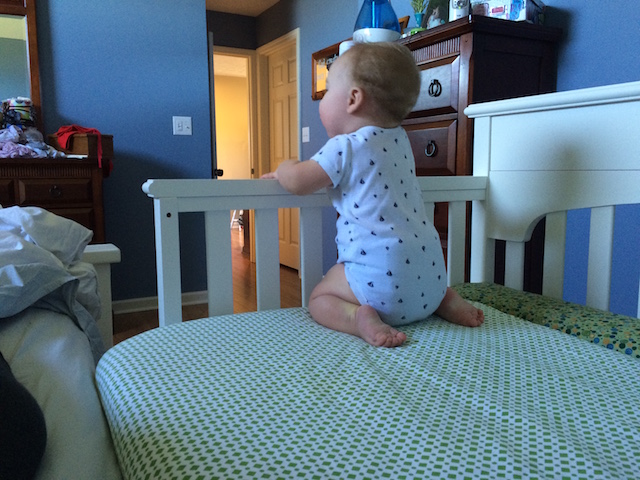 We have a crib in our church nursery – I sat him in there so I could use the bathroom and he just pulled himself right up!  Oh my!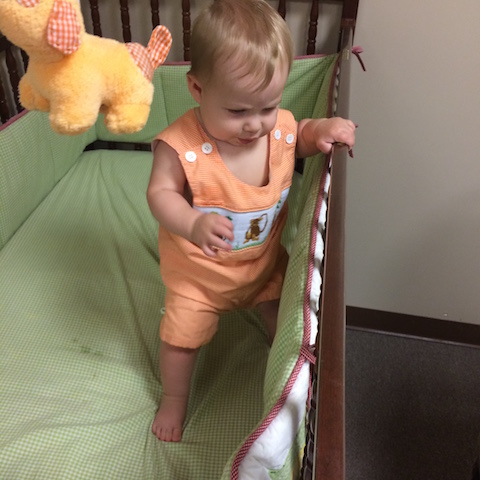 adventures
We didn't really do much this month due to Hudson potty training and needing to stay close to the house or a bathroom.  Plus Parker still screams at least 50% (if not more) of the time when he's in the car so going anywhere is stressful and not really worth it right now.  Our most exciting event consisted of watching tons of Olympics.
This picture makes me laugh a little bit as far as how different I am with my second child compared to my first.  Hudson never, and I mean NEVER, watched tv at this age.  We were very cautious about any screen time at all.  But we do let him watch tv now and since it's kind of hard to keep Parker from watching too he gets a lot more than Hudson ever did (and by a lot more I mean 30 minutes to an hour a day of Signing Time, which is pretty educational, and then the occasional things like the Olympics, but still tons more than Hudson did).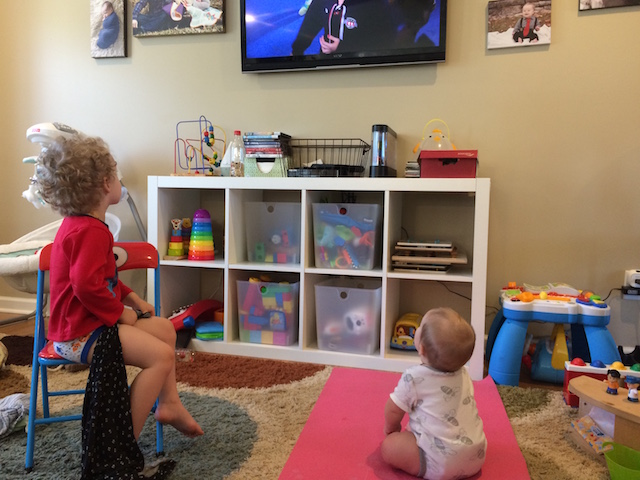 other random pictures
First back wrapping!  I never ever use my woven wrap anymore (I need to sell it actually…any takers?) but my normal carriers were dirty or in the car and he was fussy so I threw him back there to get dinner made.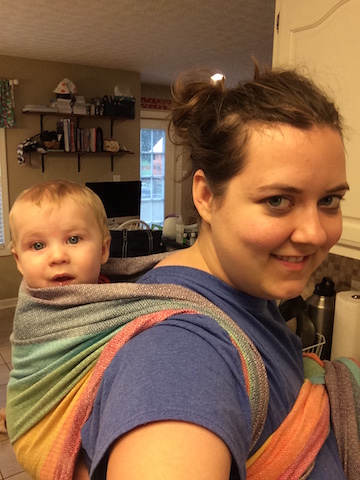 All my boys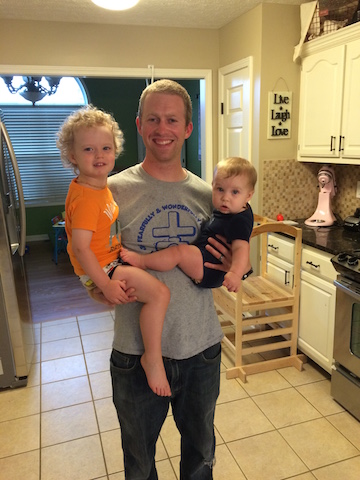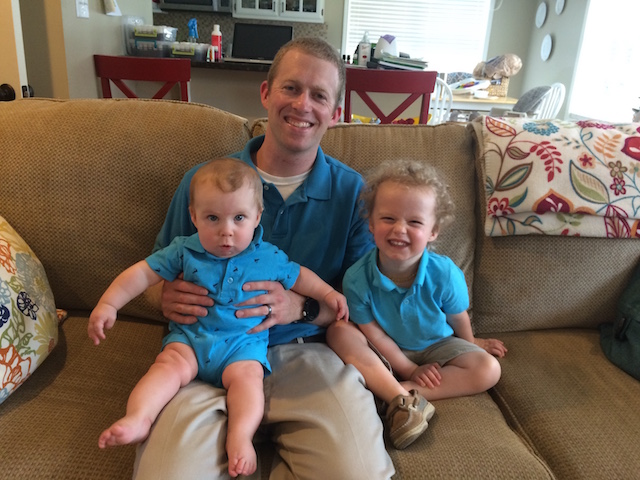 Love those chubby baby legs!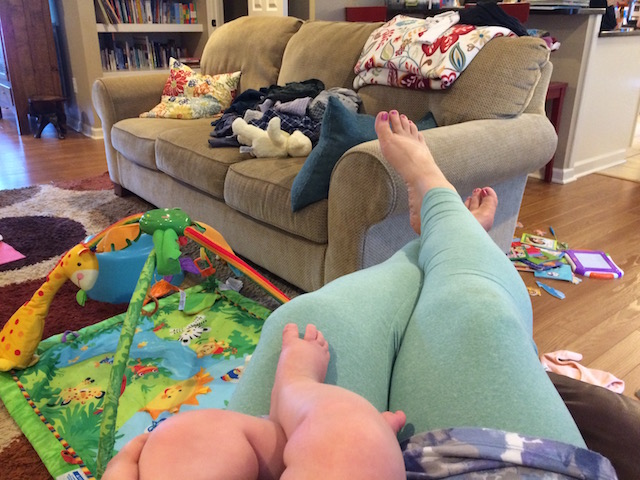 I recently finished a 90 day bikini body mommy challenge.  When I first started Parker was just barely able to sit up in the Bumbo seat while I worked out.  At the end he was sitting up by himself and scooting all over the place.  Then a week after I finished the challenge he started crawling so now while I work out he unties my shoe laces, tries to eat my yoga mat, climbs on me, sits on my weights, and crawls underneath me.  It's an interesting experience!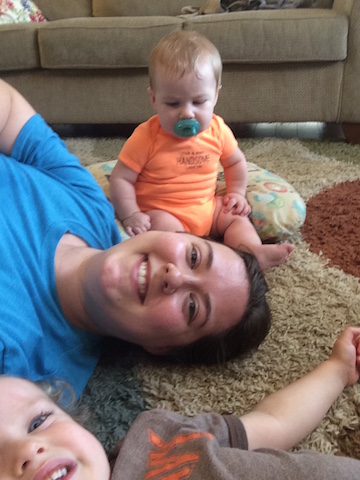 I know this is blurry but I had to share it!  This is his "the light is so bright!" smush face that he makes when he wakes up during the night.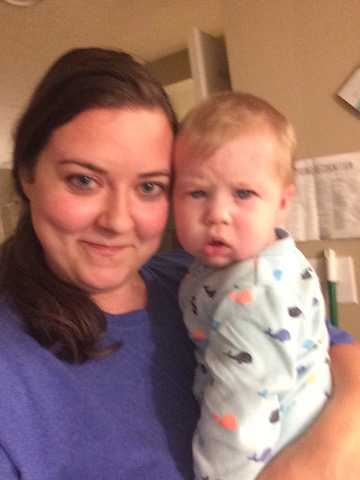 Sweet boys playing together.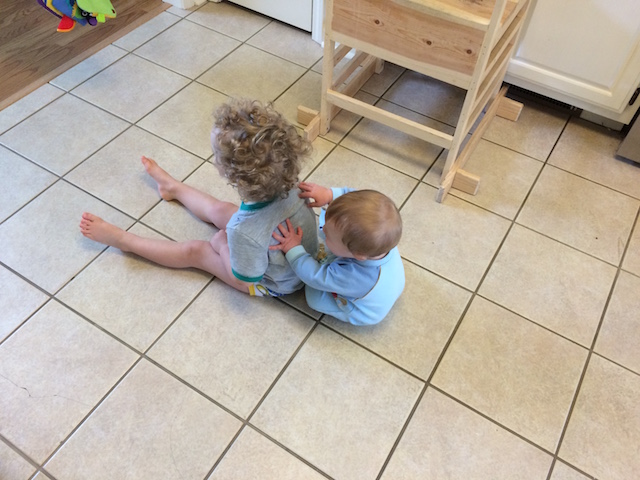 It has finally cooled down some here and we're able to go out for walks without thinking someone might melt from the heat.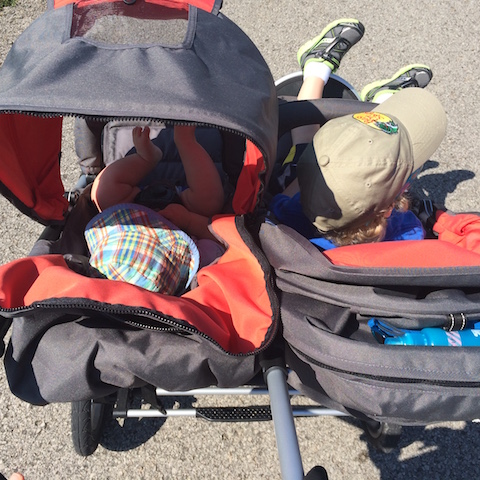 Happy 7 months little one.  Seriously though, feel free to slow down with all this growing and developing and stuff!