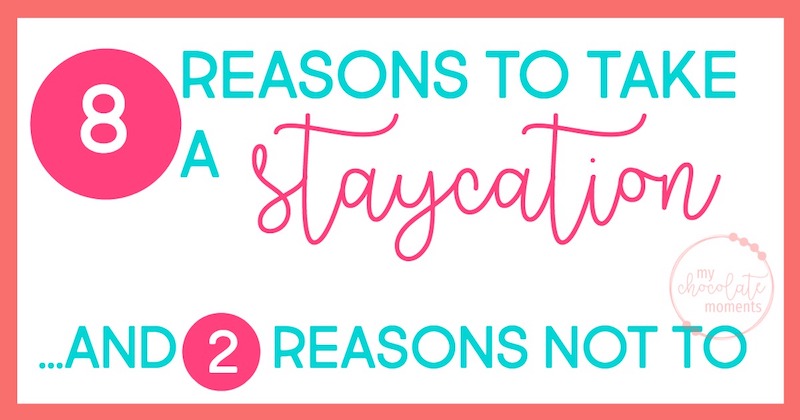 This year we decided that instead of taking a vacation somewhere we were going to do a staycation at home.  Michael had mentioned doing a staycation before and I was kind of meh about the whole thing but after another friend shared their experience it started to sound more appealing so we decided to give it a try!
Based on our experience here are 8 reasons you might want to consider a staycation for yourself:
 You get to sleep in your own bed.  When I was younger I didn't really care but the older I get the pickier I am about my bed!  I just never sleep as well away from home as I do at home and hotel sheets gross me out.  And even more importantly than my own comfort is the fact that my kiddos got to sleep in their own bed (which is, coincidentally, our bed…but that's beside the point).
No packing.  If you're an overpacker like me then packing to go anywhere is an ordeal, but especially on vacation for a week!  And when you add kids into the mix you might as well rent a uhaul for all their stuff.  With a staycation you don't have to pack anything and you don't have to worry about forgetting things since you're at home with all your usual stuff.

You save money

.  No hotel costs, no plane tickets, significantly less gas usage…that saves you a bundle and make staycationing a wonderful option for people on a tight budget.

It's easier to eat healthy

.  Maybe not everyone's top priority but it's important to me.  I've packed food with me on trips before so that I could save money and/or eat semi-healthily and it's quite a hassle!  Doing a staycation meant I had access to my own kitchen and ingredients and food so that helped so much!  We ate breakfast at home most days, I packed snacks to take with us while we were out, and I had yummy but healthy late night snacks.  Of course we still ate out most of the time (it was vacation after all!) and I indulged some but this helped it not be a total free for all.

Less travel

.  If you've read my blog for a hot minute you know my kids HATE the car.  Well, Hudson is better now but for two years he hated it and now Parker is following in his footsteps.  Listening to Parker scream for hours and hours on end as we drive to a vacation spot is in no way, shape, or form my idea of a good time.

You can stay somewhat on a routine

.  This isn't so important unless you have little kids…which I do so it was important to me!  They definitely weren't totally on their normal routine but being at home at least for bed time and in the morning helped a lot.

Your vacation can be longer

.  With a typical vacation you are limited by the number of nights at a hotel you can afford and you usually have a couple of travel days that eat up vacation time, with a staycation you don't have to worry about those things.

Less stress overall

.  Vacations, while fun, are a lot of work.  Staycations are (in my experience) much more relaxed and less stressful.
…and 2 reasons you might not
If you need to actually go somewhere to feel like a vacation

.  Sure you're off work and you're doing things outside of your norm but you don't have the packing, loading, driving, staying somewhere different, arriving home from being gone, etc. that is typically a big part of vacation and for some people being away from home is important.

If you have a hard time not doing things around the house

.  You'll be at home and might have the tendency to fold laundry and clean the kitchen and work in the yard and do whatever other things you typically do during the week that you wouldn't do if you were on vacation.
I had some misgivings about staycationing at first.  For Michael getting to stay home from work was a vacation in and of itself, but for me as a stay at home mom staying home is…well…just another day in my life.  Also, I was concerned that I would get pulled into the "Let me just fold this one load of laundry" "I'll just clean the kitchen real quick" "Oh sure you can come by the house, we're home anyway" mindset since we were at home.
Thankfully we went out and did plenty of things and ate at all kinds of cool new restaurants so I didn't feel like it was just another day in my usual routine.  And we made a conscious effort to be lazy, relax, watch tv, hang out, etc. instead of doing work around the house.  You can read all about what we did here.
All in all it was a blast!  I still think vacations are great and I enjoy going new places so we won't staycation every year but for right now, at the stage of life that we're in, it was absolutely perfect!
Would you ever consider a staycation?  Or do you need to go somewhere away from home for it to feel like a vacation?