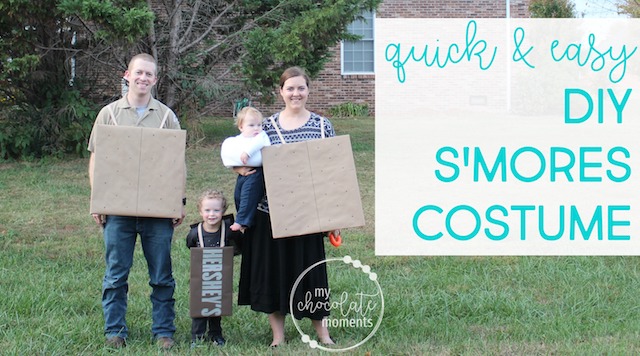 I know Halloween is lonnnnnnnng gone by now and most people have totally shifted to Christmas (and skipped over poor Thanksgiving) so this post isn't really relevant but maybe you can pin it and and save it for next October :).  Some years, like last year when we were mad scientists, I have an idea a long time in advance (though I might not actually execute it until the day of…) however this year I had no idea what we were going to be for Halloween.  I was scouring Pinterest the day before our church's Trunk or Treat trying to decide what to dress up as.  I finally decided we would be a s'more so the morning of Trunk or Treat I ran to Hobby Lobby, picked up all the supplies I needed, and put it together during nap time.
All the supplies I purchased cost me $25 and in total I spent a little less than three hours making the costumes. I'd like to say that's because I'm an amazing magical crafty goddess but really it just means this is a super easy costume that anyone could whip together in a short amount of time.
I stink at remembering to take pictures WHILE I'm actually making a craft so there are no visuals, you'll just have to use your imagination.
What you need:
– 4-6 pieces of foam board (this depends on how big you need your chocolate bar to be.  I was able to get by making the chocolate bar using the leftover from the graham crackers so we only needed four; if an adult or older child is going to be the chocolate bar you would probably need five or six)
– a roll of brown kraft paper
– 1 or 2 large pieces of dark brown paper (I found some that was perfect in the foam board section of Hobby Lobby, it was thinner than posterboard but the same size; I only needed one piece for Hudson's chocolate bars but if you're making them bigger you would need two)
– ribbon or twine for the shoulders
– silver paint pen or silver paper (depending on if you want to write the Hershey's letters on or cut them out and glue them on)
– white fabric (I found some fleece in the remnants section)
– white ribbon
– batting or something else to stuff inside the marshmallow (you could even just use a blanket or something)
– sharpie, glue gun, scissors
To make the graham crackers:
Cut the foam board into a square.  Wrap the brown kraft paper around the foam board (I basically just wrapped it as if it were a large present) and glue or tape to the back.  Use a sharpie to draw the lines and dots that make it look like a graham cracker (make the lines thick and the dots large – mine looked fine close up but from a distance it wasn't very noticeable.
Repeat that four times so that you have two crackers per person.  Then attach two crackers together with two strips of ribbon that you can slip over your head and wear your graham crackers like a sandwich board.
To make the chocolate bar:
Cut the foam board into two appropriate sized rectangles.  If you are making one for someone very small like I was, the rectangle pieces left from cutting the graham crackers will be plenty. If you are making one for an adult then a whole length of foam board may be needed.  Wrap with dark brown paper and attach with ribbons to go over the shoulders.
If you don't have a Cricut or Silhouette you can hand letter the word Hershey's, thankfully I have a Silhouette so I downloaded the Hurshey's font from Da Font, used my Silhouette to cut it out of cardstock, and used that as a stencil to fill in the letters with paint pen.  Alternatively you could also use your Silhouette to cut the letters out of silver paper and glue them on.
To make the marshmallow:
I can't really tell you sizes since I was making this for an 8 month old and you could very well be making one for a 15 year old, so you'll have to do some measuring to decide how wide you want it to be and how long it needs to be to go around the person.  But the execution is easy – fold your fabric into a rectangle and sew the long side up.  Flip it inside out so that you have a tube and stuff the batting (or blanket or whatever else you use to stuff the marshmallow) inside.  Cut four pieces of ribbon and sew in to the openings on each end (I did one on the top and one on the bottom of each end) so that you can tie the marshmallow "tube" around the person's middle.  Sew the ends shut (I hand sewed it really quickly so I could turn the ends under, you could machine stitch it too, either way it doesn't have to be fancy).
And there you go!  A super easy, super quick, and super cute DIY s'mores costume!