We are serious bookaholics around here.  I guess my kiddos come by it honestly because Michael and I both love to read and I was an elementary librarian for crying out loud.   I mean, I went into labor with Hudson in my library.  It's kinda in their blood.
Anywho, we LOVE books.  Hudson would have us read to him all.day.long if we could/would.  It's his favorite.  So when my friend Laura, who is an Usborne Books & More consultant, asked if I'd like to review some books on my blog and do a giveaway I was like SIGN ME UP!  Right!?
She sent me these books that she'd picked out for us and I am in love with them.  They are so interactive and fun!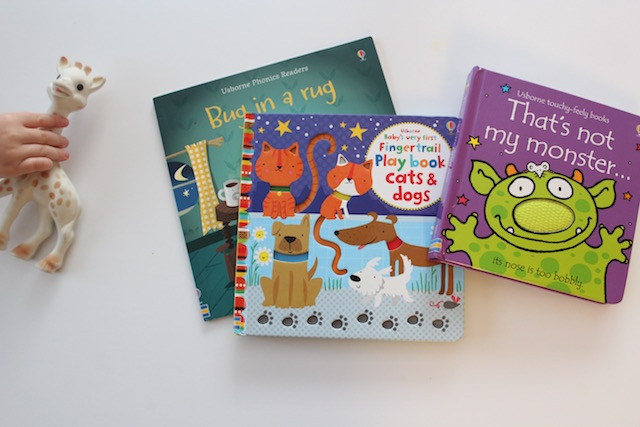 That's Not My Monster is part of a That's not my …. series – all the books have the wrong whatever (monster, train, etc.) on each page up until the end.  But the really cool thing is that they're very tactile with hairy eyebrows, fuzzy spikes, etc.  Perfect for little ones!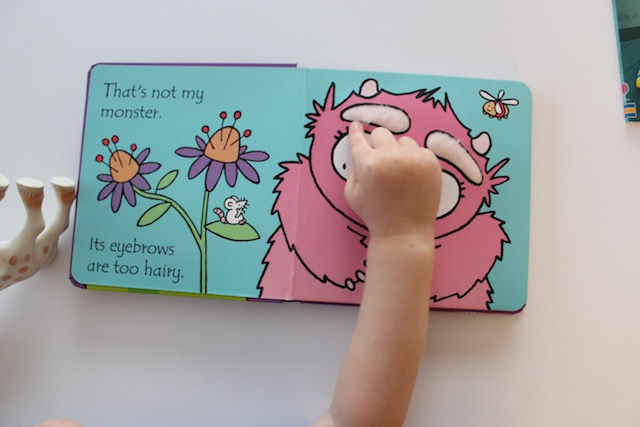 The Fingertrail books that Usborne carries are unique – each page has these little "trails" that dip down into the books so you can both see them and feel them.  Very good for developing those fine motor skills as they follow along the line with their fingers!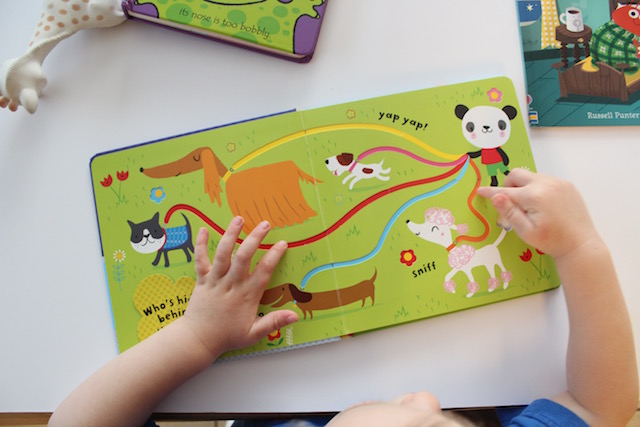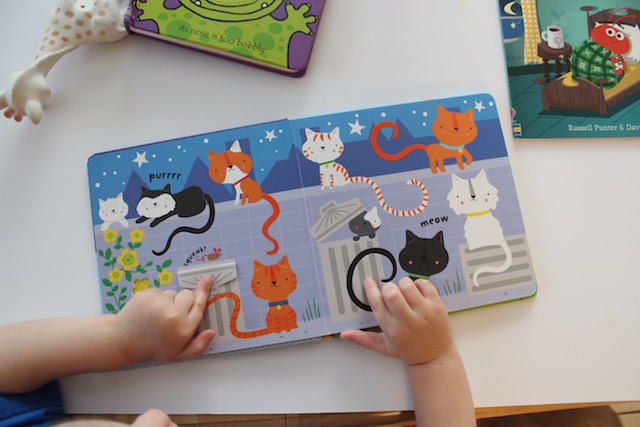 There was also a book called Bug in a Rug that I didn't get a good picture of.  It was a little bit of a higher level and will be a good first reader once Hudson gets to that stage.  For right now he just enjoys listening to me read it and helping me "read" as he memorizes the words.
These came at the perfect time too!  I brought them with me when we went to Parker's well baby visit and they kept Hudson occupied for quite a long time (which was good because we had a long wait!).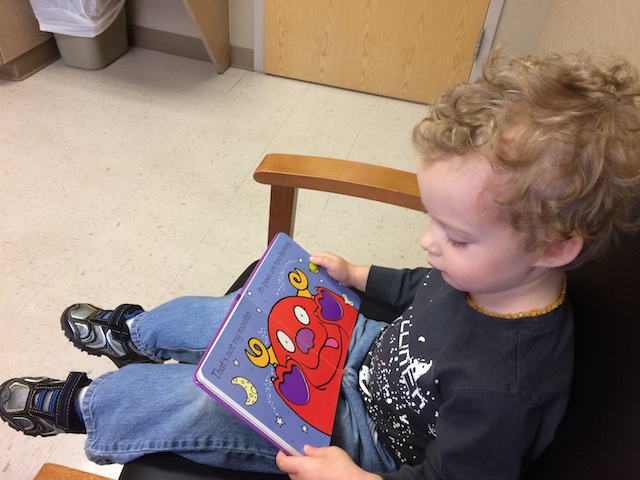 One of YOU lucky ducks will get to win your choice of one of the That's Not My … books as well!
To enter to win:
– Comment below telling me what topics your child(ren) (niece/nephew/grandchild/friend/etc.) are interested in right now
– Make sure you use an active email address when you submit your comment because…
– I will send you an invite to Laura's Usborne Christmas Facebook event via the email address you used when you submitted your comment so make sure you check your email
– Click through and join the event
This giveaway ends tomorrow night during the Facebook event.  May the odds be EVAH in your FAVAH!
(P.S. This is the first time Laura or I have tried inviting to Facebook event via email so if you have any issues comment below or email me at caitlin @ mychocolatemoments.com and we'll get them worked out.)