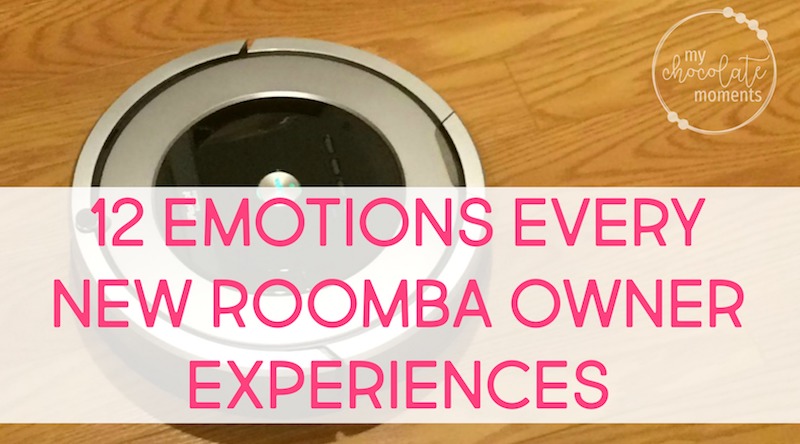 A couple of months ago we bought a Roomba.  Yep, a robot vacuum cleaner.  Never thought I'd own one of those!  After having it for several months I thought I'd share my self proclaimed 12 Emotions Every New Roomba Owner Experiences.  Very important for all who might venture into the world of robotic house help.
1.  Refusal: A robot vacuum? No way am I getting one of those, surely it doesn't work.
2.  Intrigue: *starts reading reviews on Amazon* Hmmmmmmm…interesting…
3.  Research: How do they work?  What's the best deal?  Can I use here, there, with this, with that?  Pros?  Cons?
4.  Excitement: Yay!  We bought one!  I can't wait to use it!
5.  Fascination: *follows Roomba around the house as it moves in a seemingly erratic pattern to see if it'll hit that piece of furniture, get up on that rug, or get stuck behind that object*
6.  Shock: *empties full bin into trash can* It picked up HOW much dirt during that first run?!?
7.  Disgust: More!?  There was MORE?!
8. Horror: My house was a filthy dump and I had no idea!
9.  Vengeance: I will Roomba my house from top to bottom non stop until it finally quits picking up loads of yuck each time!
10.  Reality: This deep cleaning is taking WAY longer than I expected.  We are obviously animals.
11.  Maintenance: Now that we've cleaned up the years worth of build up now it's time to run Roomba frequently so that we can continue to keep the house clean.  Maybe we should make a schedule.
12.  Schedule: Roomba becomes an integral part of your family.  Your very own house elf.  You give it a nickname.  Your child tells it "Good job!" Running Roomba becomes a regular part of your routine.  You seriously don't know how you lived without it.
If you couldn't tell from this post we lovvvvvvvve our Roomba.  I was totally skeptical but it has been amazing!  Our old vacuum was horrible and picked up almost nothing from our rug.  When we decided we were ready to get a new one Michael suggested a Roomba.  I didn't think they actually worked but after doing some research we decided to give it a try.  Needless to say we were impressed (and shocked at how much it picked up).  Several months later I'm *still* shocked at how much it collects if we skip a couple of days of running it.
On our main level (where we use it the most) we have mostly hardwood and tile floors with a few area rugs.  It does fine with the rug in our bedroom but struggles (struggled, I should say) with the rug in our living room.  Our living room rug has large dark circles on a light background and the Roomba thinks that it's on the edge of a stair or something so it won't cross over from light to dark (good morals, that one).  Michael fixed that by taping some paper over the Roomba's sensors so it doesn't see that and now it runs fine on the rub.
It does a great job navigating around objects, under furniture, and not bumping in to walls.  Corners are hard since it is round and corners aren't (obviously) so sometimes I do have to sweep up a little junk out from the corners but honestly for the most part I don't use a broom or Swiffer anymore.  I just run the Roomba and somehow it magically gets everything up – dust, hair, dried food chunkies.  Amazing.
We have the the Roomba 860 model
.  I've linked to it here on Amazon but we actually bought it from Bed Bath & Beyond because with the 20% off coupon it was about $100 cheaper than buying from Amazon.  It has been a great purchase!
What do you think, would you try a robot vacuum?